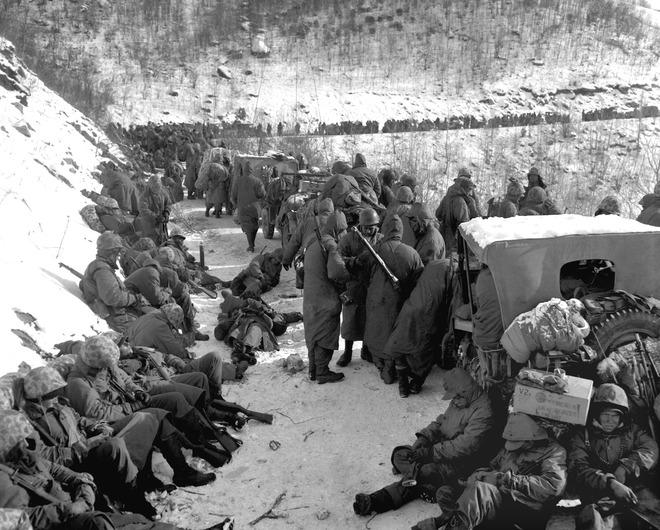 (American Marines at the Chosin Reservoir in North Korea, December, 1950)
Hampton Sides latest book, ON DESPERATE GROUND: THE MARINES AT THE RESERVOIR, THE KOREAN WAR'S GREATEST BATTLE has met, or even surpassed the high standards for excellent narrative history that he has set in his previous works.  The book is based on extensive interviews, memoirs, command of secondary sources, and the ability to place the reader along side historical decision makers and the soldiers who carried out their orders.  Whether Sides is writing about James Earl Ray and the assassination of Martin Luther King; the last survivors of the Bataan Death March; a biography of Kit Carson; or the late 19th century voyage of the USS Jeanette to the unchartered Artic waters, he tells his stories with uncanny historical accuracy and incisive analysis.
In his current effort Sides conveys the authenticity and intensity of war on the Korean peninsula.  His portrayal of the bravery of America soldiers is clear and unsettling as the realism of combat is laid bare for all to see.  At times it is difficult to comprehend what these soldiers were able to overcome and reading the book during the week of Veteran's Day makes Sides work that more relevant.
(Major-General Oliver Prince Smith)
Sides integrates all the important historical figures into his narrative, including American Marines and members of the US Army.  We meet the egotistical General Douglas MacArthur and his staff of sycophants and supplicants.  MacArthur can carry out the Inchon landing against all odds, but this logistical miracle seems to fuel is insatiable need for further glory.  Fed by men like General Ned Almond whose main goal was to carry out MacArthur's wishes, sluffing off any advice or criticism by other planners the only result could be the disaster that encompassed American soldiers at the Chosin Reservoir and along the Yalu River.  Disregarding intelligence that went against his own staff, MacArthur and Almond would push on disregarding and ignoring contrary opinions.  President Harry Truman appears and seems to go along with MacArthur, particularly at the Wake Island Conference until proof emerges that over 250,000 Chinese Communist soldiers have poured into North Korea from mid-October 1950 onward.
(Major-General Edward "Ned" Almond)
Perhaps Sides most revealing portrait in explaining how American soldiers met disaster in the Chosin Reservoir region was his comparison of the views of Major-General Oliver Prince Smith, the Commander of the First Marine Division, a by the book Marine who described MacArthur as "a man with a solemn regard for his own divinity;" and Major-General Edward "Ned" Almond, MacArthur's Chief of Staff.  All Almond cared about was speed, disregarding the obstacles that Smith faced in planning MacArthur's assault on northern Korea.  Smith was a deliberate and  fastidious planner who resented Almond's constant goading.  He felt that Almond strutted around (like MacArthur!) and made pronouncements based on minimum intelligence.  Almond was a racist who down played the abilities of Hispanic American troops and thought very little of the fighting ability of the Chinese.  For Almond's part he viewed Smith as an impediment to his overall goals of carrying out MacArthur's wishes.  He believed that Smith was overly concerned with planning minutiae, and his deliberate approach detracted from his grand plans.
(General Douglas MacArthur watching the Inchon Landing)
Sides portrayals of American soldiers and the their character provides insights and provide a mirror for the reader into the person's abilities and their impact on their units, individual bravery, and the success or failure of their unit, battalion, or company's mission.  Studies of Lee Bae-Suk, a Chinese-American who escaped North Korea as a teenager and enlisted in the Marines; Captain William Earl Barber, Commander of Company F, 2nd Battalion role protecting the Toktong Pass, a key route to the Chosin Reservoir, and a student of Sun Tzu as was Mao Zedong; the exploits of Seventh Marines' Company E, known as "Easy" Commander, First Lieutenant John Yancy at Hill 1282; Lieutenant Chew-Een who led the column to rescue Fox Company encircled by Chinese troops; the Jersey contingent of private Kenneth Benson and Private Hector Cafferata, Jr.'s heroism in Fox Company; Lieutenant Thomas Hudner who would earn the Congressional Medal of Honor for his bravery for his attempt to rescue Ensign Jesse Brown who hailed from a Mississippi sharecroppers background to become the first African-American fighter pilot in the US Navy; are among many along with other portrayals that are eye opening, as so many soldiers continued to fight on against all odds, despite wounds that would not have allowed most to even stand upright.
(General Douglas MacArthur and President Harry Truman at their Wake Island meeting)
Sides description of combat is almost pure in of itself, but completely unnerving.  A prime example is the fight for Hill 1282 and the rescue attempt of Fox Company.  The Chinese would attack American soldiers in human waves by the thousands paying little, or no attention to casualties as Marines repeatedly cut them down.  The carnage and suffering are hard to comprehend as is the bravery of US Marines fighting in sub zero temperatures in the middle of the night to protect a small piece of geography in northern Korea against an enemy, lacking in communications using the unnerving sounds of bugles, cymbals, whistles and such to organize their attacks.  Battles are seen through the eyes of the participants and the will and desire of each man is on full display.
Sides has written an excellent narrative military history, but on another level, he has produced a study that highlights the relationship between men in combat and how they rely upon each other for their survival.  It is a book about heroes, the idiocy of war, and the incompetence of decision-making by people at the top who are willing to send men to their deaths, in many cases without batting an eye.  The book reads like a novel, but it presents history as truth, that cannot be denied or dismissed.
(US soldiers retreat from the Chosin Reservoir, December, 1950)