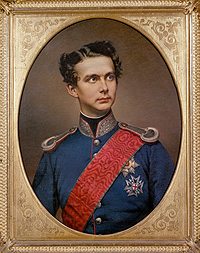 (King Ludwig II of Bavaria)
King Ludwig II of Bavaria is one of the most enigmatic figures in world history.  Assuming the throne in 1845 at the age of nineteen the monarch known as "mad King Ludwig" or the "fairy-tale king whose castle, Schloss Neuschwanstein was the model for Walt Disney's company logo died on June 14, 1886 probably by suicide, but the actual cause of death remains a mystery.  Novelist Oliver Potzsch makes Ludwig II the centerpiece of his novel, THE LUDWIG CONSPIRACY, a historical thriller that centers on an encoded diary of one of Ludwig's confidantes and a love story that follows diverse historical periods.
If you are a fan of Robert Harris, Steve Berry, William Martin and others of the genre that alternates between the past and the present providing historical lessons and context as a means of solving a contemporary mystery, Potzsch's effort should be right up your ally.  Employing Dan Brown's vehicle of ciphers and codes, and in this case German legends and poetry as literary tropes, Potzsch returns the reader to late 19th century Bavaria as he develops his story.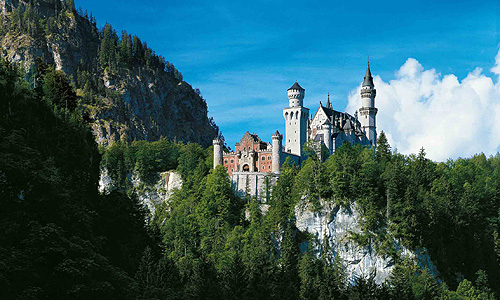 (Schloss Neuschwanstein Castle)
Potzsch is best known for his HANGMAN'S DAUGHTER series set in 17th century Bavaria, which is based on his ancestors, the Kuisls, a notorious dynasty of German executioners.  My favorite Potzsch book is THE CASTLE OF KINGS  set during the German Peasants Revolt of the 16th century which features an iconoclastic noblewoman with a flair for falconry.  Potzsch states he wrote the book to move away from torturing and killing and focus on castles, knights, secret chambers and hidden treasure .  In THE LUDWIG CONSPIRACY he delights his readers with a tale that deals with political machinations, monarchial intrigue involving Bismarckian Prussia and Bavaria under Ludwig II as he focuses on how the "mad monarch" may have died.
The format is a contemporary one in which Munich rare book seller, Steven Lukas becomes involved in a conspiracy related to Ludwig's death when he becomes in possession of evidence that Ludwig may not have committed suicide.  As the story develops Lukacs becomes the target of the Cowled men, a secret order who are bent on proving that the monarch was in fact murdered.
(Schloss Neuschwanstein Castle)
Ludwig's life is an ostentatious spectacle in which he lived in his own dream world.  This approach to life saw him build castles as his raison d'etre for living but resulted in bankrupting the Bavarian treasury and produced numerous enemies among the Council of Ministers who are out to depose him by declaring him insane.  When he died on June 14, 1886 probably by suicide, a method we cannot totally confirm numerous questions arose surrounding his passing.
Potzsch once again has proven himself to be a master of the historical thriller as Lukacs must navigate his possession of evidence that Ludwig did not commit suicide and the Cowled Men who seek to retain and purify the king's historical reputation.  The vehicle for Lukacs' involvement is the discovery in his bookshop of the memoirs of Theodor Morat, the assistant to Doctor Max Schleiss Lowenfeld, royal physician to Ludwig that is hidden on a shelf in his establishment.  The memoirs are located in a wooden box and once discovered the novel gains speed as the bookseller is teamed with Dr. Sara Lengfeld, an art historian and detective.  The author creates a mystery anchored in reality, sophisticated plotting, and makes good use of a real historical puzzle that is equal to the Da Vinci code.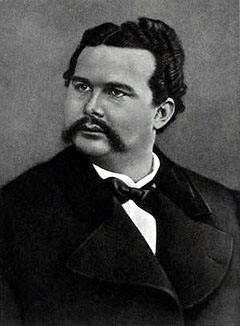 (Ludwig II, later in life)
As with any historical fiction one wonders how much is factual.  In the present case it is accurate to state that when it comes to Ludwig's death nothing can be definitively proven.  His death is wonderful fodder for conspiracy theorists and Potzsch includes a separate glossary that is meant for those who like to delve into that arena.  Numerous characters are included, some figments of the author's mind and others actual historical figures.  Among the wonderful individuals that are created include Theodor Morat, Maria, a peasant girl who is a servant and confidante of Ludwig, Albert Zoller, an eccentric expert on the Bavarian monarch, Luise Manstein, the mad industrialist, and of course Lukacs and Lengfeld.  Among hitorical personages is Otto von Bismarck, Chancellor of the recently unified German state, the Cowled Men, and Ludwig himself.
All in all, Potzsch has written a fascinating yarn with a firm grounding in history.  It is a fascinating story that should satisfy conspiracy theorists, and historical fiction aficionados.  It is a book that is worth picking up when one wants to become engrossed in a story and watch their reading pastime fly by.