John Feinstein's reputation is based on his excellent reporting and the 45 books he has written.  His approach is multi-faceted whether books or articles that cover baseball, golf, tennis, college and pro football, basketball, college and professional.  Feinstein's writing is clear and insightful, and these characteristics are evident in his latest book, and perhaps his most important, RAISE A FIST, TAKE A KNEE: RACE AND THE ILLUSION OF PROGRESS IN MODERN SPORTS.  At a time highlighted by a former racist president, the Black Lives Matter movement, the death of George Floyd and too many others Feinstein effectively explores the issue of racial inequality in sports, a microcosm of our larger society which should open the eyes of its readers.
After reading the introduction by former NFL quarterback Doug Williams and Feinstein's opening chapter it brought me back to my own experiences with racism. In my early twenties I joined a group of friends in a softball tournament in Staten Island, NY. When the games where completed, a teammate came up to me and said, "for a Jew, you are a pretty good guy," I was dumb founded. Earlier, I had undergone basic training in the army at Fort Lost in the Woods Misery, better known as Ft. Leonard Wood and the first thing I heard at reception station was "Freiberger, Jew boy we gonna whoop your fucking ass." This was 1969 and being in a company where the majority of recruits were from Mississippi, Georgia, and Alabama I should not have been surprised. Needless to say, things went downhill from then on.
After reading Feinstein's work and revisiting my own experiences which go beyond the two experiences I describe one would think that almost fifty years later as a society we would have made greater progress, including sports.  However, as Feinstein clearly shows in football where the vast majority of players are black, there are only three head coaches and two general managers.  In baseball, as of May 2021 according to USA Today, "just under 8% of the league's players are Black. Dave Roberts of the Dodgers and Dusty Baker of the Astros remain the only Black managers. There are currently no Black general managers in Major League baseball.  If this is not an indicator of the current trends in sports then nothing is."

Feinstein has conducted a prolific amount of research which is reflected in his discussion of numerous topics germane to his thesis.  A case in point is the number of black quarterbacks in the NFL and what it takes to become a quarterback if you are black.  Interestingly today there are a number of exceptional young quarterbacks in the NFL, but if the past is prologue many black players who aspire to stand behind a center have been steered in the direction of wide receiver, cornerback or safety because of course they were fast, and if we include racial tropes hinted by coaches like Mike Shanahan they are not able to grasp the intricacies of running the offense of a professional football team.  This is out and out racism and Feinstein provides examples to support his argument including the likes of Donavan McNabb, Colin Kaepernick and Marlin Briscoe. In Kaepernick's high profile case he took a knee during the national anthem to protest the lack of racial justice in America, resulting in being blackballed by all 32 NFL teams.
As one reads Feinstein's work a number of extremely important points emerge. First, the NFL is 75% black but if you are a white coach who has been dismissed one or two times the odds are you will get another opportunity to be a head coach. If you are a black under the same circumstances you will most likely spend your career as an offensive or defensive coordinator, never given the opportunity to become a head coach. Again, Feinstein points to a number of individuals to support his conclusions, Marvin Lewis, Jim Caldwell, and Lovie Smith. Further, he asks the question many others have; why hasn't Kansas City Chiefs offensive coordinator Eric Bieniemy been hired as a head coach based on his career resume and success? Football is not the only sport that exhibits these discrepancies. In college basketball there are 332 coaching jobs, 82 of which are held by blacks – a sport where 50% of the players are black. (161)
Second, why are black quarterbacks in college expected to change positions in order to play in the NFL?  Feinstein takes us inside the Baltimore Ravens 2018 draft room where it took a black General Manager, Ozzie Newsome to choose a black quarterback.  To understand this process and the choice of Lamar Jackson in addition to the cadre of young black quarterbacks in the league who are a success, we must ask, is the process changing?  Interestingly, in 2017 the Chicago Bears drafted Mitch Trubisky with their second round draft pick while Patrick Mahomes went in the 10th round and Deshaun Watson was chosen in the 12th.  Today Trubisky is a backup QB and not even with the Bears, but he is white and the others black.  The situation for blacks who aspire to become general managers face the same obstacles. The numbers do not lie. 
Third, when blacks peacefully protest they are usually stigmatized for life – exemplified by John Carlos and Tommie Smith of 1968 Mexico City fame and Colin Kaepernick.
Lastly, something Pittsburgh Steeler coach Mike Tomlin refers to as "the talk," how you engage white police officers when you are pulled over if you have black sons whose only transgression is "driving while black." This has nothing to do with sports, but it provides a lens into how black parents try and protect their children in the larger society. "The talk" is a result of the experiences of black fathers who for generations have been treated poorly by police.
(PITTSBURGH, PA – DECEMBER 17: Head coach Mike Tomlin of the Pittsburgh Steelers looks on from the sidelines in the third quarter during the game against the New England Patriots at Heinz Field on December 17, 2017 in Pittsburgh, Pennsylvania)
Feinstein does an excellent job providing the personal background for each of the sports figures he discusses.  Whether it is John Carlos, Tony Dungy or a host of other we get to see the world through their eyes and are exposed to an important perspective when it comes to race based on what they have been through leading to their professional careers. 
Perhaps Feinstein's most entertaining and insightful chapter, "Pathfinders" focuses on the life and career of Georgetown coach John Thompson. Thompson was a man with a tough exterior and took an exceptionally weak program and turned it into a national powerhouse. But beyond the façade, Thompson was a wonderful person who took care of his players and was "thoughtful and eloquent and never ducked a question, once you got the chance to ask one." What is clear in college basketball most head coaching offers to Blacks are given by programs that are in poor shape. According to Thompson, "there have been plenty of Black coaches capable of winning a national championship. Only a handful have been given a realistic chance to do so."
Feinstein's discussion of the NBA, a league that is the most progressive and places itself at the center of society's ills with protests by players and its commissioner are eye opening. Focusing on Doc Rivers whose commentary encapsulates the plight of blacks in the larger society as opposed to zeroing in on the NBA is important because it shows how racial attitudes are intertwined between sports and the "real" world. For Rivers, the deaths of George Floyd, Jacob Blake, Ahmaud Arbery, Breanna Taylor and so many others are too much as is the constant experience of Black While Driving. The NBA may be more progressive, but it too has some key issues that must be addressed.
Feinstein finds the same issues that plague football and basketball in baseball. Though he does not dig down as deep as he did with other sports the problems that exist sound familiar. For example, why has Willie Randolph who had a successful career as a player, coach, and even as a manager of the New York Mets been out of baseball since 2011 and has not had the opportunity to manage another team since the Mets fired him. Jeff Torborg has been a manager five times and his record is not as strong as Randolph. If we are to examine this example and others it is clear, Randolph is black, Torborg is white. Why did A.J. Hinch, the manager of the Houston Astros who was fired and suspended by Major League baseball for the illegalities in winning the 2017 World Series, get rehired by the Detroit Tigers immediately after he served his suspension? He was white!

If we follow the path of Dave Stewart, an all-star pitcher and World Series champion to become a general manager the pattern is the same, and of course he is black therefore he missed out on the executive position with the Toronto Blue Jays who hired a "white" person whose resume did not hold a candle to Stewart's.  If one follows Black men with executive positions in baseball we see Derek Jeter, part owner of the Florida Marlins and Kenny Williams as executive vice-president after being a GM of the Chicago White Sox, but it took twenty-one years – obviously, the pattern remains clear.
Feinstein has authored an important book, made even better with his sense of humor and sarcasm.  With the death of George Floyd and the events of last year hovering over each sentence Feinstein must be commended for his impeccable research, easy writing style, and the importance of his topic which makes the book difficult to put the book down.  If there is one area that Feinstein could have improved upon is that he can get repetitive at times, but this is probably nit-picking.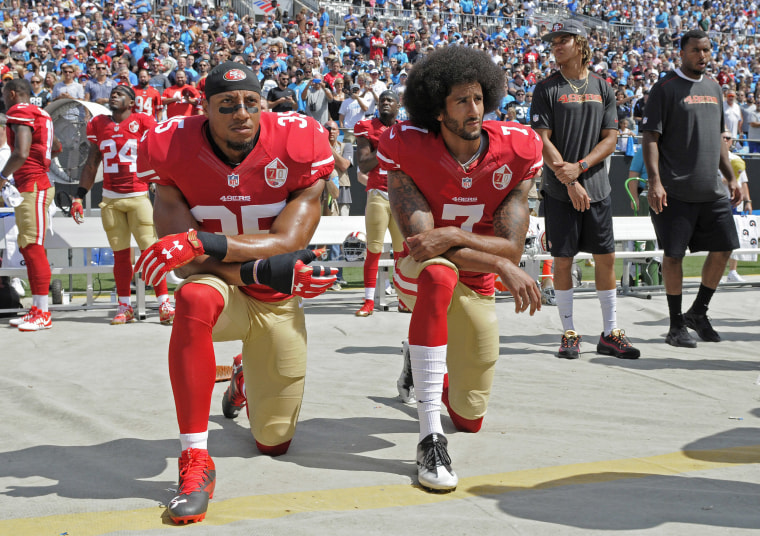 (San Francisco 49ers' Colin Kaepernick, right, and Eric Reid protest during the national anthem before an NFL game against the Carolina)