We have all heard the expression, "like father like son."  In the case of Connor Sullivan his approach is markedly different from his father Mark.  In his excellent debut thriller, SLEEPING BEAR: A THRILLER, Connor Sullivan has written a taut suspenseful story that describes the plight of the Gale family who live in Montana but find themselves in the midst of the remnants of the Cold War with Russia that dates to the former Soviet Union.  Mark Sullivan's approach is different in that he develops true historical figures and events and morphs them into novel format as he did with Pino Lella, an Italian teenager who guides Jews escaping the Nazis across the Alps in his award winning BENEATH THE SCARLETT SKY, and Emil and Adeline Martel who must decide what do as the Nazis push their way into the Ukraine in his most recent novel, THE LAST GREEN VALLEY.  Both authors are wonderful story tellers who know how to lure the reader into their fictional web, but their techniques diverge as Mark relies on historical characters, and Conner recreates a tableau from the past, but his presentation is fictional.
Conner Sullivan's debut focuses on the plight of Cassie Gale, a former Army Ranger, who has reached the depths of despair after she finds her husband Derrick after he hanged himself in the family barn. Other issues have also influenced Cassie's psychological downfall and she decides to travel to the Alaskan wilderness to try and get her "head on straight." While camping she is kidnapped and winds up in a Russian prison, a plight she cannot understand. Cassie is not the only American who has been kidnapped in the same manner from the Alaskan terrain. Paul Brady, a former chief Petty Officer on Seal Team Two suffers from PTSD from tours in Iraq and his attempt to solve his personal issues in Alaska also bring him to a Russian prison. A third person, Billy French, a young environmentalist who had met Cassie north of Dawson City in the Yukon has also been taken by the Russians.
Cassie happens to be the daughter of Jim Gale, a former CIA operative whose family is unaware of his past and it is interesting how Sullivan creates a scenario that links his past and present through Russian General Viktor Aleksandrovich Sokolov, Chief of SVR Lines, the Illegal Directorate in the Russian Foreign Intelligence Service. Sokolov is an eighty-one-year-old who has strong ties to Russian president Vladimir Putin and is a throwback to the old Soviet Union in charge of torture for the KGB.
As the novel unfolds each character's role emerges and the plot becomes increasingly complex. Sullivan does an excellent job presenting the bureaucratic in fighting in the Russian intelligence agencies, the lack of law enforcement in Alaska to help locate and rescue those that have gone missing, the inner workings of the Gale family, and the links between Russian spies in America that include Ned and Darlene Voight who have helped the Russians extract Americans from Alaska for over thirty years to be used for experiments by Captain Akulina Yermakova, a pseudo psychologist for the Russian GRU, int heir Science Directorate.
The question that eventually dominates the novel is what is the relationship between Sokolov and Gale, and what does Cassie and her sister Emily have to do with it. A series of interesting characters are brought to the fore that include Sergeant Meredith Plant, six months pregnant, who oversees finding Cassie for the Alaska Bureau of Investigation. Others include Max Tobeluk, a drunken Alaskan Public Service Officer in Eagle, Alaska, Ralph Condon of the Canadian Mounted Police, Peter Trask, Emily Gale's husband, Maverick, Cassie's ex-Marine guide dog who plays a major role, Eve Attla, a Han village elder who knows the people and region of the search better than anyone, Susan Carter, Director of the CIA, Prescott McGavran, Gale's handler when he was known as Robert Gaines, Earl Monks, the FBI's expert on locating missing persons in Alaska, among several others.
Sullivan writes with an intensity and determination that makes SLEEPING BEAR: A THRILLER the type of mystery that is difficult to put down. Sullivan uses the captured Americans as victims of a sick Russian entertainment practice of pitting them against the dregs of the Russian Gulag in combat against each other as well as conducting medical experiments on those extracted from Alaska. Higher ups wager on this "sport" and it contributes to the tenseness of the Navy Seals rescue mission. Sullivan's debut is the type of book you read from cover to cover during cold winter nights when you want to curl up with a book and not pay attention to the time!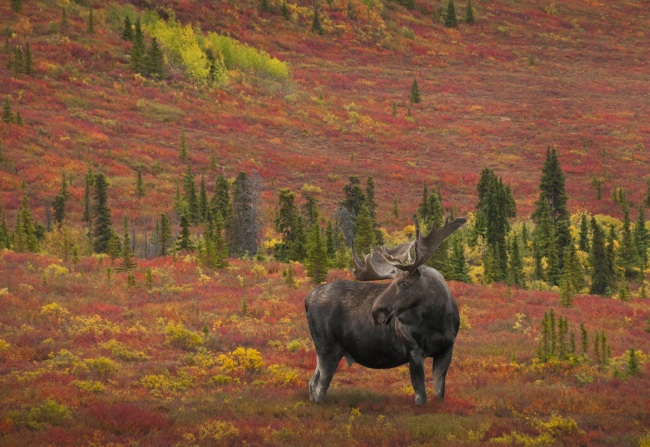 (A bull moose with antlers in velvet stands knee deep in the colorful tundra of Denali National Park)