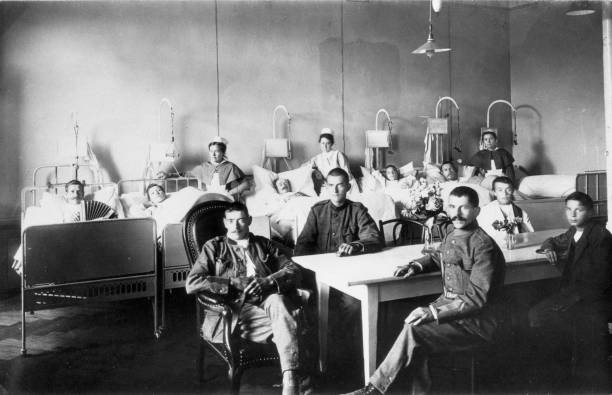 As I sit at my desk and examine the latest Covid-19 statistics and fantasize about what might have occurred had the Trump administration carried out its constitutional duties to care for American citizens instead of fomenting a civil war against democratic governors and denying their role in the current pandemic I am appalled and overwhelmed.  At this moment there are 927,000 cases of people testing positive for the virus in the United States out of 2,790,000 worldwide.  The death rate is 52,400 in the U.S. out of 196,000 worldwide, and each day we add thousands to the total.  Words like mitigation, social distancing, ventilators, and numerous others have entered our everyday vocabulary.  The questions that pervade the news are when we will "open up" the country? what happens if we do it too fast? and what will happen if each state goes its own way?  Writer and philosopher George Santayana is credited for stating that "those who cannot remember the past are condemned to repeat it."  In our current circumstances it would be best for those in charge of leading us through the crisis to heed Santayana's words.  All one has to do is turn the clock back one hundred years to learn certain lessons.  Those lessons are portrayed based on excellent historical research in John Barry's 2004 book, THE GREAT INFLUENZA: THE EPIC STORY OF THE DEADLIEST PLAGUE IN HISTORY.  A pandemic that "likely caused at least fifty million deaths worldwide, and possibly as many as one hundred million."
Barry immediately caught my attention with his opening section that dealt with the state of the American medical infrastructure, readiness, and state of mind in the late 19th and early 20th century.  Barry's discussion of American medical schools and their lack of standards, i.e., it was not necessary to have a college degree, once admitted no work on actual human bodies, and engaging in no laboratory science is eye opening in addition to being appalling.  In the late 19th century the United States lagged behind the rest of the world in the study of life sciences and medicine.  The inability of American medical schools to accept science as part of the curriculum is shocking.  American physicians would travel to Europe, Germany in particular to study laboratory science and the advances that existed in record numbers and returned to implement what they learned in American classrooms and setting up laboratories.  The key development was the launching of Johns Hopkins in 1876 and their medical school in 1893, along with their hiring of Daniel Gilman as the school's president, and William Henry Welch who studied in Europe to head the medical school, a man who would become the most influential scientist in the world.
Hopkins would begin the transformation of American medicine as they employed Welch's reputation to hire the best physicians and researchers in the world and developed a laboratory research component.  In a sense Dr. Welch was the Dr. Fauchi of his era!  The other important development that Barry delves into is the role of the Rockefeller Foundation whose donations led to the creation of the Rockefeller Institute in 1901.  The Institute would be headed by Simon Flexner, a protégé of Welch. Flexner had a large vision; "in his own work, he had what Welch lacked: the ability to ask a large question and frame it in ways that made answering it achievable."  The Institute developed a small affiliated hospital to investigate disease, where patients would pay no fees but only those suffering from diseases that could be studied were admitted.  Flexner saw the hospital as a testing ground for ideas generated by laboratory scientists.  Further, Flexner used Hopkins as a model medical school and was also able to attract philanthropic funds to deserving institutions.  Those institutions were weeded out as medical schools were ranked based on how well they prepared their students to practice.  As a result, those schools that did not measure up dropped their medical schools and others either reformed their approach or faded away. The next important reform on Welch's agenda was the creation of the Johns Hopkins School of Hygiene and Public Health, which was scheduled to open October 1, 1918, toward the end of World War I.
William H. Welch
Barry correctly develops the role of World War I in fostering the worldwide influenza pandemic.  Evidence seems to suggest that the virus originated in Haskell County, Kansas.  By January/February 1918 Dr. Loring Milner who had treated influenza throughout his checkered career noticed a much more virulent type that was killing people and it completely overwhelmed him.  New cases declined in the spring but would reemerge later in the year.  With the American entrance into World War I in April 1917 one of the training centers was Camp Funston, part of the Fort Riley Reservation, located about 250 miles from Haskell County.  On March 4, 1918, a soldier was diagnosed with influenza at Camp Funston, three weeks later there were 1100 cases – the problem is that there was a great deal of traffic flow between Haskell County and Camp Funston.  These soldiers would carry the flu virus with them as they were assigned to units that then traveled to Europe.
Barry points to a great deal of disturbing statistical information for the reader to digest.  He examines the history of warfare and concludes that more soldiers died from disease than wounds suffered in combat.  In the Spanish-American War more men died of disease in a 6:1 ratio than on the battlefield.  The US lost more personnel to disease 63,114 than to combat 53,402, largely due to the influenza epidemic of 1918.  If one includes the overall US losses to influenza it is roughly 675,000.  In terms of combat losses, the American military was in no condition to deal with an epidemic with 776 doctors in the military out of an overall total of 140,000 for the entire country.  Lastly, influenza-related deaths reflected that one in 67 American soldiers in the army died of influenza and its complications, nearly all in a ten-week period beginning in mid-September 1918.  It was a disease that targeted those in the prime of their lives as opposed to the old and weak.
The ramp up to prepare for WWI created a situation that made the possibility for an epidemic in the US extremely plausible.  In an important chapter, "Tinderbox," Barry focuses on the number of physicians who were needed overseas leaving the US short of physicians to care for civilians, and those that remained stateside were mostly over 45 and trained in the older methods that were not very effective.  Further, by the fall of 1918 research laboratories could only function on a reduced scale.  Research was cut back and focused on the war, on poison gas or defending against it, on preventing infection of wounds, on ways to prevent diseases that incapacitated troops like typhus.  Laboratory animals were unavailable, and the war sucked into itself technicians and young researchers.  As a result, the US was at a disadvantage in fighting the flu epidemic from the get-go.
Barry dissects the impact of politics on the spread of the flu and combating it in detail.  The role of machine politics in New York and Philadelphia are cases in point.  In Tammany Hall, the New York Health Department was purged replacing qualified people with patronage weakening the response to the virus.  In Philadelphia State Senator Edwin Vane's political machine and the response of Public Health Director William Krusen were a disaster.  The Liberty Loan parade on September 28, 1918 is a case in point.  Health officials advised against it, but Krusen who did little in preparation to mitigate the disease allowed it to take place with disastrous results.  The Liberty Loan parade is emblematic of the role of President Woodrow Wilson.  His administration was obsessed with morale and did everything they could to keep news of the epidemic from the public.  Between J. Edgar Hoover's new internal security agency in the Justice Department, and George Creel's Committee on Information prosecutions increased markedly as anyone seen as a security threat was arrested, i.e., Eugene Debs who ran for president in 1912 and Congressman Victor Berger were incarcerated.  Newspapers did not report accurate information and a good percentage of the public was left in the dark.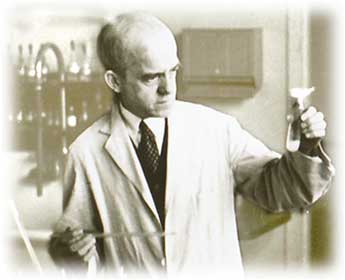 (Oswald Avery)
The horrific details of the epidemic appear in a number of chapters from its impact on the treatment and deaths of soldiers in various army encampments, i.e., Camp Devens in Massachusetts and the Philadelphia Naval Yard.  The impact on civilians is described as is the attempts by scientists to combat the disease.  The work of William H. Park, Chief of the Laboratory Division of the New York City Health Department and his deputy Anna Williams in what was considered the best laboratory in the country is explored in detail as was the work of Paul Lewis who earlier proved that polio was a viral disease and centered his research at his lab in Philadelphia, and Oswalt Avery from the Rockefeller Institute.  The overriding issue for all of these scientists is that of time and the need for speed which meant they had to forgo the usual protocols and approach to research which of course caused many problems.
Barry does not neglect the scientific details of research.  He describes in detail how viruses were determined, explores previous research dealing with pneumonia, typhus, malaria etc. as a means of introducing the reader to what scientists were up against and their approach.  Barry assumes the reader knows nothing as he treats the reader to mini lectures in microbiology, immunology, and epidemiology.  There are a few chapters that engage in this material and for a "biology novice" like myself it became  much to detailed particularly the various types of bacteria, other aspects of lab research, and as a result the book comes across as very text bookish.
Barry's work is important and should be consulted by public health officials and members of the Trump administration to learn lessons that seem to have bypassed them today.  Though the flu epidemic was a hundred years ago certain aspects provide important lessons – it comes in waves and Covid-19 will return in some degree in the fall and possibly well past.  Ignoring the past is akin to signing a death warrant for many.  Barry has done a service for the American people and though the book was written in 2004 it provides many important guidelines and is  a very effective piece of historical research.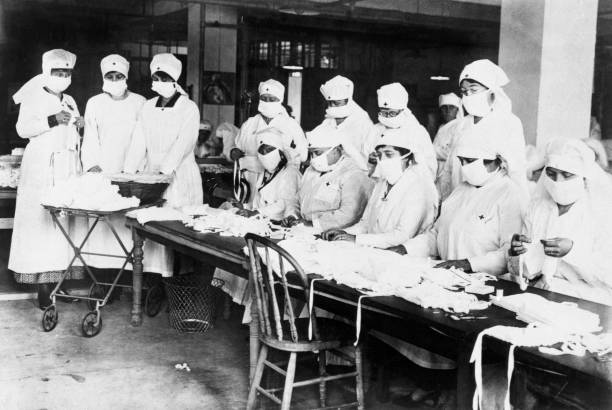 (1918 Flew Epidemic….making masks)