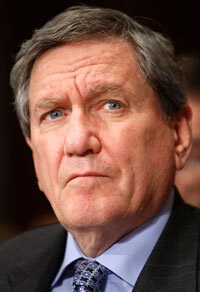 (Richard Holbrooke)
Perhaps the most colorful and able diplomat in American history has been Richard Holbrooke.  The possessor of an irascible personality who was not the most popular individual with colleagues and presidents that he served but was a highly effective strategic thinker and negotiator with a number of important accomplishments to his credit.  The success that stands out the most is his work that produced the Dayton Accords in 1995 that brought closure somewhat to the civil war that raged in the former Yugoslavia throughout the 1990s.  But he should also be given credit for his work as Ambassador to the United Nations, Assistant Secretary for East Asian Affairs, and his last position as Special Representative for Afghanistan and Pakistan for which he gave his life.
Holbrooke exhibited a powerful ego that did not always play well with others be they friend or foe, but in the end,  he was at the center of American strategic thinking throughout a career that spanned the beginning of US involvement in Vietnam through our continuing imbroglio in Afghanistan.  A self-promotor who saw his work and ideas as the key to American success, Holbrooke was a dominating presence in the American foreign policy establishment for decades and is the subject of George Packer's important new study, OUR MAN: RICHARD HOLBROOKE AND THE END OF THE AMERICAN CENTURY.
Holbrooke owned many personality flaws for which he paid dearly.  His drive would in part destroy two marriages and his closest friendships.  His character defects would cost him any chance of being chosen Secretary of State, a position he craved,  for which he was eminently qualified.  If he had the capacity of introspection and a dose of self-restraint, he could have accomplished anything.  However, if he was able to tone himself down, he would not have been true to himself which is the core of why he was successful.
(Anthony Lake)
For George Packer, Holbrooke was the embodiment of the American Century (or half century!) which encompassed Holbrooke's life.  He was part of the belief that the US could accomplish anything, be it the Marshall Plan, remake Vietnam, bring peace to Bosnia, or make something out of the quagmire that is Afghanistan.  For Holbrooke to be part of great events and decisions was his life blood and that is why it is important to tell his story.
In many ways Packer's narrative is a conversation with the reader as he imparts practically all aspects of Holbrooke's private and public life.  He takes us inside his subject's marriages and family life, his intellectual development, travels throughout the world and the important individuals who were his compatriots or enemies, and his obsession to create a foreign policy that would embody the liberal internationalism that was so effective following World War II.  Packer makes assumptions about how conversant the reader is with post-war history as it relates to Holbrooke's career and to his credit, he offers a great deal of background information to make the reader's task easier.  Packer prepares character sketches of all the major personages that Holbrooke shared the stage with; be it Edward Lansdale, the CIA psy-ops guru; Averill Harriman, a mentor and benefactor; David Halberstam, the New York Times reporter; Henry Kissinger, Zbigniew Brzezinski, Hillary Clinton, presidents Carter, Clinton, and Obama among many others.
(Sarajevo, 1995)
Perhaps the most poignant relationship that Packer describes is that of Anthony Lake who was a close friend of Holbrooke in the early 1960s as they both entered the Foreign Service and served in Vietnam.  Packer follows their relationship and competition over the next five decades, they're ups and downs on a personal level, policy disagreements all of which would ruin their friendship and turn them into bureaucratic enemies.  At times it feels like Packer has inserted Lake's autobiography amidst the narrative as a means of comparing the two and providing insights into steps and positions Holbrooke might have taken which may have altered his career path.
Holbrooke's Vietnam experience would stay with him throughout his career.  The military self-deception of Vietnam and the role of the national security establishment created doubts and reinforced the idea that Holbrooke himself knew what was best and would usually consider himself to be the smartest person in the room.  This is evident in Holbrooke's writings which critique US policy as he integrates his personal life into the narrative.  Packer does an excellent job culling Holbrooke's thoughts as he incorporates segments of his notebooks into his story.  When it came to Vietnam, Holbrooke was very astute as he saw the failure of the Strategic Hamlet program early on and that fighting the Viet Cong only from the air could only result in failure.  For Holbrooke the watershed date for the war was February, 1965 as the Pentagon issued an "evacuation order" for non-essential personnel and families as it brought an end "to the pretty colonial town of Saigon" and "was the beginning of sprawling US bases and B-52s and black market Marlboros and industrial scale-prostitution."
(Henry Kissinger)
Packer's discussion of Kissinger and Brzezinski are fascinating.  Both men despised Holbrooke and the feelings were mutual.  When three egos as large as theirs the result had to be intellectual and verbal fireworks.  For what it is worth, Holbrooke felt Kissinger was a liar, amoral and a deeply cynical man with an overblown reputation who had contributed to the culture of Watergate and the events that followed.  Kissinger described Holbrooke as possessing minimal intelligence and "the most viperous character I know around town," which was something coming from Kissinger.  Holbrooke saw Brzezinski as another Kissinger type who would destroy Secretary of State Cyrus Vance and seize control of President Carter's foreign policy through his role as National Security Advisor.  Brzezinski's hard line view of the Cold War was born out with Russia, but "he did help destroy the last pieces of any postwar consensus, bringing viciousness and deception into the heart of the government."  Both men loved the spectacle of power and wielded it for its own sake, bringing Vance to tell Holbrooke, "I still cannot understand how the president was so taken with Zbig.  He is evil, a liar, and dangerous."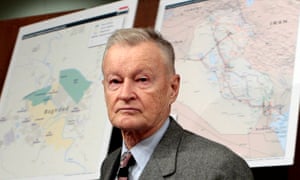 (Zbigniew Brzezinski)
Holbrooke's greatest accomplishment was his work bringing a pseudo peace to Bosnia.  Packer delves into the Yugoslav civil war in great detail providing character studies of the major players and/or psychopaths from Slobodan Milosevic, the president of Serbia, Fanjo Tudjman, the president of Croatia, Alija Izetegovic, president of Bosnia and Herzegovina, and Radovan Karadzic, president of Republic Srpska, among many other "interesting individuals."  Packer's details of the Dayton negotiations are priceless and reflect Holbrooke's doggedness and highlights the difficulties that he faced dealing with such diverse characters steeped in their own ethnic, religious, and nationalistic hatreds.  Packer describes Holbrooke's negotiating tactics, ranging from bombasity, reasonable proposals, and Bismarckian type threats to achieve his goals.  In so doing he believed he was rectifying Bill Clinton's disinterest, ignorance, or lack of gumption in dealing with the Balkans.  With the slaughter of Srebrenica and the siege of Sarajevo, Holbrooke was able to rally Clinton, foster NATO action by our European allies, who had done nothing to that point to bomb and coerce the participants to the negotiating table and foster a diplomatic agreement.
Holbrook always believed he should be Secretary of State, but his personality and poor judgement would turn off Presidents Carter, Clinton, and Obama in addition to his colleagues in the diplomatic arena whether it was Cy Vance, Madeline Albright, Susan Rice and a host of others. The bureaucratic battles behind the scenes and some in public are present for all to see, many of which Holbrooke won, but many of which he lost.  It was only Hillary Clinton who saw the positives in using Holbrooke's talents as she made him the Special Representative for Afghanistan and Pakistan which Packer discusses in great detail as Holbrooke worked to try and bring about negotiations with the Taliban and gain Pakistani cooperation.
(Kati Marton, Holbrooke's third wife)
Packer delves into the personal side of Holbrooke particularly his marriages which resulted in two divorces and a decades long marriage to Kati Marton, who was more than a match for Holbrook in terms of ego, self-centeredness, and their own special type of charm.  Holbrooke's feelings are explored when he failed to achieve the positions he desired and Packer provides numerous insights into policy and personal decision-making that affected himself, his family, and the professionals around him.
Packer's effort is to be applauded as he seems to have captured Holbrooke, warts and all in conducting research that included over 250 interviews, the liberal use of Holbrooke's notebooks, and a strong knowledge of American post-World War II foreign policy.  But one must remember that Packer and Holbrook were friends who strongly believed in a liberal-internationalist approach to foreign policy that encompassed a strong humanitarian component.  The importance of the book cannot be in doubt as it rests on the major impact that Holbrooke had on the conduct of US foreign policy over four decades.