For those of you who are familiar with C. J. Sansom's novels that center around Matthew Shardlake during the reign of Henry VIII, Iain Pears' AN INSTANCE OF THE FINGERPOST, and perhaps the novels of Hillary Mantel that focuses on Henry VIII's vicar, Thomas Cromwell you might do well to consider S.J. Parris' (the pseudonym of British journalist Stephanie Merritt) novels whose main character Giordano Bruno is a true historical figure set during the reign of Elizabeth I.  Parris' exploration of Bruno's beliefs, life's work, and talents emerge in the first of seven novels entitled HERESY a story that has the inauspicious beginning of Bruno sitting in the privy at San Domenico Maggiore in Naples reading Erasmus' COMMENTARIES.  When he is caught with this reading material, he is forced to throw it into the cesspool.  One must remember that in 1576 anyone in Catholic Naples who criticizes Catholicism is committing blasphemy and a crime that a Father Inquisitor might deem worthy of death.
The author employs Bruno's life journey as an excellent vehicle to portray the religious schism that has overtaken Europe since Martin Luther nailed his 95 Thesis to the Castle church door in Wittenberg, Germany in 1517, and for Parris' purpose its later impact on the reign of Elizabeth I who has rested her throne on the Act of Supremacy issued in 1558. Bruno provides a superb foil against Catholic teachings as his life's journey consisted of joining a monastery as a teenager and taking his vows at San Domenico Maggiore which he would come to reject after thirteen years. He would wander Italy teaching and staying one step ahead of the father Inquisitor who had branded him a heretic. He would escape to Geneva, where he was also branded as a heretic this time by the Calvinist power structure, Paris, and finally to England. While in Paris, King Henri III would become his patron and would then travel on to London where he will be recruited by Elizabeth I's spymaster, Sir Francis Walsingham to penetrate the Papist hotbed at the universities at Oxford.
Parris' dominate theme that permeates the novel is the schism between Catholics and Protestants as Bruno had traveled to England to write books which he believed would rock Europe to its foundations and search for a book that proved the universe was infinite going much further than Copernicus' heliocentric theory of the universe, a book written by the Egyptian sage, Hermes Trismegistus. Bruno believed that a universe without end existed, as did a universal soul which we are all part of. Bruno subscribed to the view that "the divinity is in all of us and in the substance of the universe with the right knowledge, we can draw down all the powers of the cosmos. When one understands this, we can become equal to God."
Parris' plot unfolds as Bruno is accompanied to Oxford by Sir Philip Sidney, an aristocratic soldier-poet who he had met in Padua, and palatine Albert Laski, a conceited Polish poet.  Bruno's purpose is to engage the Rector John Underhill of Lincoln College in a disputation.  Before the debate can take place, Bruno comes across the body of Roger Mercer one of the fellows who dined regularly at Underhill's table.  It appears that the rest of the college is at pains to cover up the murder and Bruno's charge is completely changed, and it appears that someone has created a grisly scenario in the name of Catholicism or is it Protestantism.  Bruno's investigation allows Parris to accurately convey life in the English countryside during the period sprinkling in seedy taverns, mysterious bookshops, in addition to Oxford's world renown libraries.
Parris has employed a number of characters to carry out her story line.  Each character associated with Oxford and its colleges seem to reflect English arrogance and an anti-Oxford bias throughout the novel.   The most important individuals include Rector Underhill's daughter, Sophia  an interesting individual who craves learning and resents the role of woman in English society.  Bruno's main foil within the college is the Bursar Walter Slythurst with other individuals like James Coverdale who will now accede to the office of Deputy Rector with the passing of Mercer, William Bernard, a fellow who had been the librarian in 1569 when the library had been purged of heretical materials, Master Richard Godwyn, a mild mannered  librarian and fellow, Gabriel Norris, a student who used his long bow to kill Mercer's assailant, Rowland Jenks, a bookseller who chopped off his own ears, Mr. Cobbett, an alcoholic porter involved in security, and Thomas Allen a student whose father, the former sub-Rector and teacher had been unceremoniously removed from the college resulting in his son's loss of his scholarship.
Parris has written an atmospheric thriller dropping Bruno into the paranoid world of Oxford Papists which he must navigate to survive intellectually as he tries to solve the murder of Mercer, and unravel Oxford's tangled loyalties, some of which border on treason. As the novel unfolds a number of other Oxford fellows are murdered as Bruno becomes part detective as well as a humanistic philosopher who seems ahead of his time as he tries to offer further enlightenment to Europe.
On the whole the novel is well conceived, and once the reader acclimates themselves to Parris' dialogue, they will become engrossed and will be exposed to a fascinating historical mystery.  The next installment of Parris' Bruno series PROPHECY examines an astrological phenomenon that portends the death of Elizabeth as her throne is constantly threatened by her Catholic cousin, Mary Queen of Scots.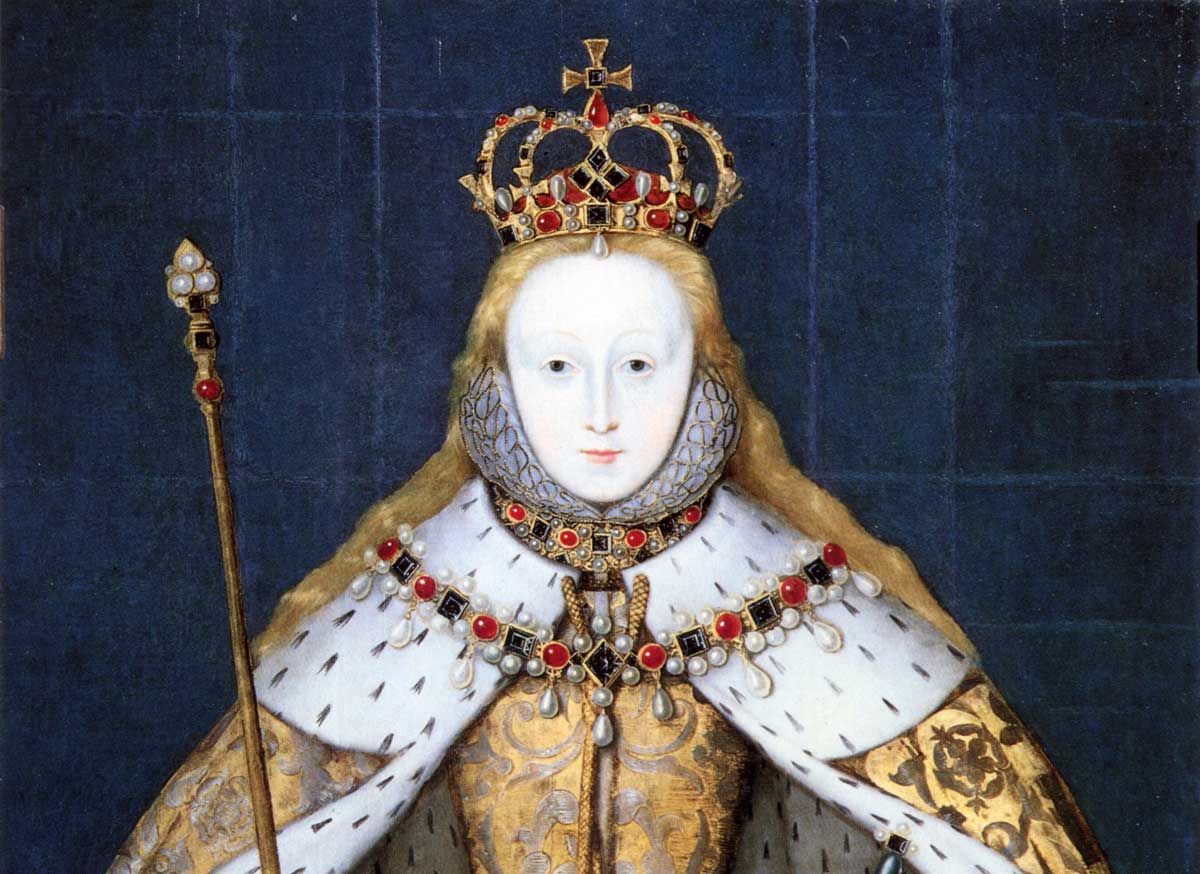 (Queen Elizabeth I of England in her coronation robes, c.1600)