This week I have tackled Peter Baker and Susan Glasser's exceptional account of the Trump administration, THE DIVIDER: TRUMP IN THE WHITE HOUSE, 2017-2021.  As I was reading the book I tried not to pay attention to the news of an impending indictment of the former president, but it was impossible.  Baker and Glasser's narrative are almost encyclopedic in its detail and as I pushed on words describing the Trump presidency kept going through my mind; scary, unimaginable, unprecedented, unbelievable, inconceivable, overwhelming, mind-boggling, etc.  Today I find myself comparing events and comments related to the Trump presidency with the barrage of racist, anti-Semitic tropes that the former president is currently bombarding the airwaves and it seems he is willing to foster violence and say or do anything that will protect him.  It is the Roy Cohn playbook on steroids and there is no daylight concerning Trump as president and Trump as a possible defendant in the Maro-Lago documents case, the Georgia election obstruction case, the special prosecutor's investigation into January 6th, and the hush money paid to a porn star grand jury in New York.  All the descriptive words mentioned above apply.
After reading THE DIVIDER one should not be surprised by Trump's current behavior. The authors dig into all aspects of the Trump presidency, be it how the White House was run, domestic policy, foreign policy, and of course Trump's behavior. The cast of characters is long, and concerning based on how people were chosen for government positions and how frequently they were fired or left based on their own concerns. The authors repeatedly point out that people like James Mattis, Rex Tillerson, John Kelly, H. R. McMaster and numerous others took positions in the administration and remained long after they wanted to as a means of protecting the country, but all would be gone within a year. The authors point to March 2018 as the watershed moment as Trump relieved himself of anyone who could control him and now was able to do as he pleased, not necessarily for the betterment of the country, but for the betterment of Donald J. Trump. It is clear, no matter what your opinion of Donald Trump is, America has never experienced such a presidency and post-presidency.
Baker and Glasser's narrative can easily be framed beginning with Trump's "American Carnage" speech given at his inauguration on January 6, 2021 encouraging his followers to march on the capitol and overturn his election defeat. The authors base their work on assiduous research culled from over 300 interviews, private diaries, contemporaries notes, emails, texts, along with personal access to many of the players inside and outside the Trump administration. For Baker and Glasser Trump was a rogue president who took the country closer to conflict with Iran, North Korea, and to the brink of blowing up NATO even as Russia prepared to use force to redraw the map of Europe. His erratic behavior and belief in his own instincts saw him vindictively pullout thousands of troops from Germany because he was mad at Angela Merkel who refused to kowtow to his ego. He tried to buy Greenland after a billionaire friend suggested it to him. He secretly sought to abolish a federal appeals court that ruled against him. He privately expressed admiration for Hitler's generals, while calling his own generals "fucking losers," and subjecting them and others to racist rants that made it clear his "shithole countries" commentary was not an aberration.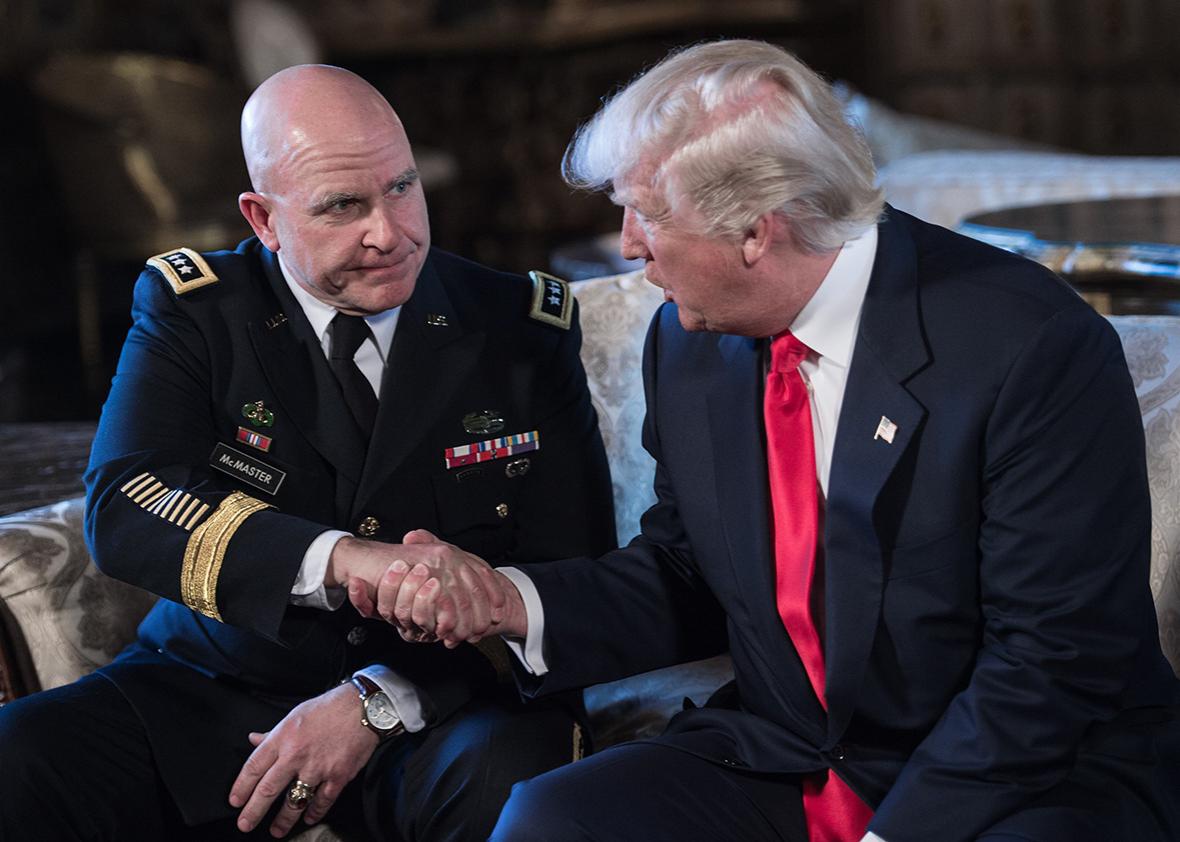 (Army Lt. Gen. H.R. McMaster shakes hands with President Donald Trump at the Mar-a-Lago resort in Palm Beach, Florida)
Trump was consumed by his own image on television and twitter and both forms of communication dominated his presidency.  Whether dealing with FOX "news" and their minions, a daily barrage of tweets, Trump needed to dominate the airwaves with his worldview.  From the outset of the administration people like Jared Kushner, Reince Priebus, Steve Bannon, Steven Miller, and Kellyanne Conway fought for control of the White House.  The polarization based on constant lies and personality conflict dominated policy decisions.  In addition to exploring these personalities and others, Baker and Glasser delve into the Trump family.  It is clear that Ivanka and Melania had no love lost for each other, Donald Trump had no use for his son Don, Jr. until after the 2020 election defeat, and it appears that a dysfunctional family greatly contributed to a dysfunctional presidency, a White House in chaos.
From the outset the announcement of the Muslim "travel ban," the hiring and firing of Michael Flynn as National Security advisor, the firing of James Comey to avoid an investigation into Trump ties to Russia, Trump's obsession with destroying any remnant of the Obama administration, the role of FOX "news" and Rupert Murdoch, and threatening to withdraw from NATO are on full display. The authors spend a great deal of time discussing "the Axis of Adults," Mattis, McMaster, and Tillerson who worked to achieve some sort of normality reassuring overseas allies that things would work out, but at the first NATO summit Trump refused to reaffirm Article 5 of the alliance, a portent of the future.
Reading this book was like reliving a nightmare, particularly the chapter dealing with Roy Cohn who mentored Trump in New York and whose playbook of "take-no-prisoners approach to business and politics would define the 45th president." Trump admired Cohn's underhanded ways and educated Trump into the "netherworld of sordid quid pro quos" that defined Cohn. The authors describe a president who was his own worst enemy as he pursued self-destructive policies. A case in point is firing FBI head , James Comey because he would not stop his investigation of Russia's role in the 2016 election and pay fealty to Trump. Advisors begged him not to do it abruptly, if at all, but they could not control him and by doing so he obstructed justice by interfering in a federal investigation.
(General James Mattis, Secretary of Defense)
The authors put forth numerous examples of Trump's self-destructive approach whether backing racist, incompetent candidates for office, condemning the American intelligence community in Helsinki in front of Vladimir Putin, his bromance with Kim Jong-un, withdrawal from the Iran Nuclear deal, and of course his handling of the Covid-19 pandemic.  For Trump it was all about wielding power and promoting his support for autocrats worldwide – perhaps his own jealousy of the power employed by the likes of Putin, Orbán in Hungary and Erdogan in Turkey was the reason he wanted to create an image of the all-powerful ruler.
Baker and Glasser have the knack of integrating comments by important characters into their narrative which are shocking and at times bizarre. A good example is their discussion of Mike Pompeo's quest to be Secretary of State. Using his perch at the CIA, Pompeo attached himself to Trump's hip and finally was able to gain the appointment. According to one American ambassador who worked with Pompeo, he was "like a heat-seeking missile for Trump's ass." Another example pertains to the convoluted relationship with Senators John McCain and Lindsay Graham. McCain, a war hero, despised Trump and could not get over the fact his close friend, Graham "sucked up to him." The story has been told many times how McCain got even with Trump over the Obamacare vote and the exclusion of the president from the family funeral, however the account of Trump's refusal to put federal flags at half staff after McCain's death further reflects the depths of Trump's inhumanity and insensitivity. Trump's comments went public, "What the fuck are we doing that for? Guy was a fucking loser." Trump would finally give in, but not before he stated to John Kelly, "I don't know why you think all these people who get shot down are heroes but do what you want to do." Perhaps one of the most demented remarks uttered by Trump to John Kelly as he grew tired of "his generals" taking principled stands against him; "You fucking generals, why can't you be like the German generals…..Which generals?….The German generals in World War II." This was the model he craved. Trump's audacity knew no bounds, pressuring Japanese Prime Minister Shinzo Abe to nominate him for the Nobel Peace Prize! Baker and Glasser's inclusion of conversations/arguments was priceless as Nancy Pelosi confronted Trump at their last meeting; "all roads lead to Putin, you gave Russia Ukraine and Syria."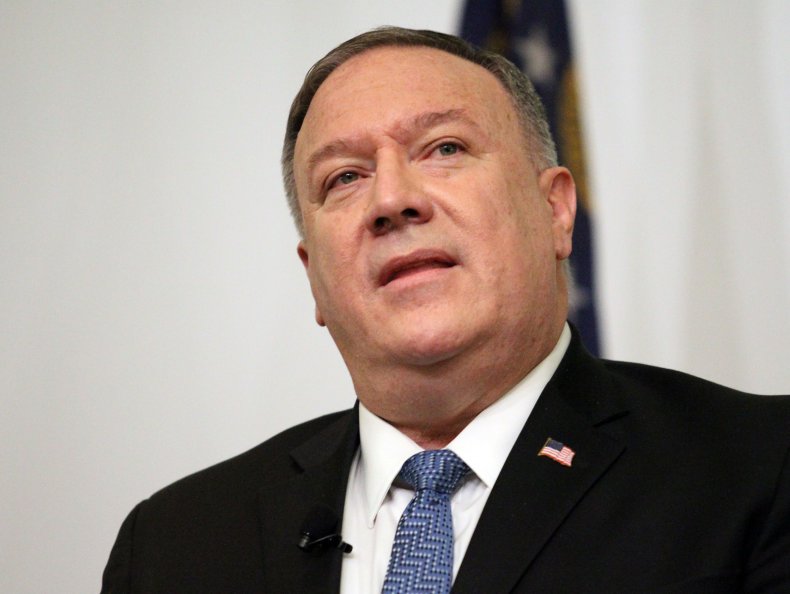 (CIA Head and Secretary of State Mike Pompeo)
Perhaps the second important watershed period for Trump was following the 2018 congressional elections when the Republicans lost control of the House of Representatives.  According to Baker and Glasser, Trump felt liberated and believed he could move on and do what he saw fit.  This would lead to the final firing of John Kelly as Chief of Staff and replacing Attorney General Jeff Sessions with Bill Barr.  Further he would replace Joe Dunford as head of the Joint Chiefs with Mark Milley and make it so intolerable that James Mattis would resign.  Next, Mick Mulvaney became Chief of Staff, and his approach was simple and disastrous, "Let Trump be Trump." This would become a disaster for democracy and the rule of law.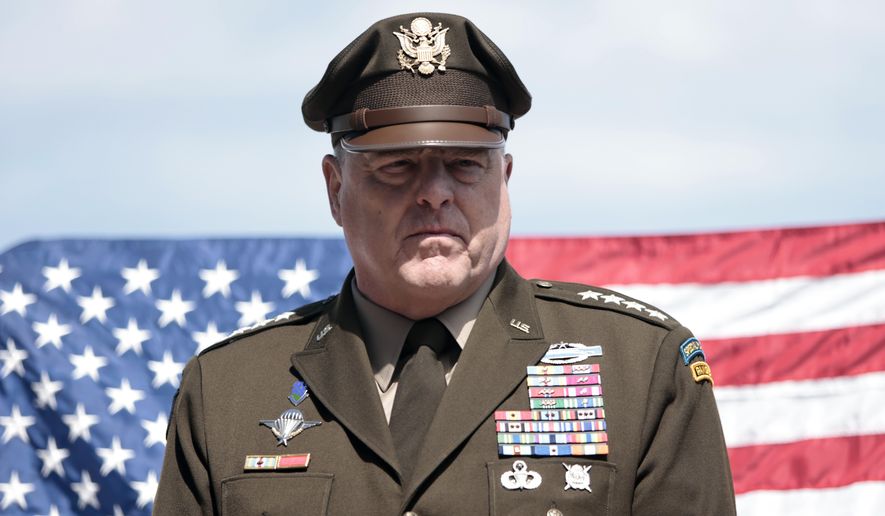 (Joint Chiefs of Staff Head, General Mark Milley)
The dive into the Russia investigation is fascinating. It is clear that Putin worked to undermine Hillary Clinton's run for the White House seeking and gaining revenge for her approach as Secretary of State dealing with Crimea and sanctions among other grievances. Baker and Glasser unearth many interesting aspects of the probe including the fact that White House Counsel Don McGahn was feeding the Mueller investigation a great deal of information and Mueller's belief that he could not prove in a court of law a Trump-Russian conspiracy. However, they did believe that they could gain a conviction over obstruction of justice, but Justice Department protocols against indicting a sitting president disallowed such an action.
Baker and Glasser devote a considerable amount of attention to the conduct of American foreign policy under Trump. The dysfunction of the administration in the national security realm is on full display with the arrival of Mike Pompeo as Secretary of State and John Bolton as National Security advisor. Though both men had similar views theirs was a relationship that was bound to fail. Trump's "love affair" with Kim Jung-un is well told as are the machinations within the White House, State and Defense Departments over policy.
(Jared Kushner and Ivanka Trump)
By February 2019, Bolton began implementing his agenda by arranging the withdrawal from the Intermediate-Range Nuclear Forces Treaty, one of the last remnants of Cold War agreements.  Further he laid the groundwork to pull out of the Open Skies Treaty of 1992 and pushed Trump to quit the United Nations Human Rights Council.  Bolton continued his onslaught by pushing for regime change in Venezuela replacing General Nicolas Maduro with opposition leader Juan Guaido.  The initiative would fail no matter how hard Pompeo and Bolton pushed.  If this was not enough Iran was clearly in their sights.  In June 2019, the Iranians shot down an American drone over the Gulf of Hormuz.  What followed was the usual Trumpian bluster resulting in the canceling of a major American response as Trump could not make up his mind.  Throughout the infighting and dysfunction reflected an administration which was incompetent in the conduct of foreign policy.
Ukraine would reemerge as an issue as Rudy Giuliani convinced Trump that Ukraine had interfered with the 2016 election not Russia.  This was another flashpoint for Trump because any questions surrounding Russian interference in the election delegitimized his victory in 2016 and his presidency.  Baker and Glasser take the reader through attempts to blackmail Ukrainian President Vladimir Zelensky over American military and economic aid linking the Biden family to corruption in Ukraine, and the firing of American Ambassador Marie Yovanovitch.  This would culminate in the "perfect phone call" between Trump and Zelensky and the former president's first impeachment trial which the authors carefully detail including the various personalities and why they pursued the course they did.
The result, by following the "Clinton playbook" from the nineties of deny, deny, deny worked well, despite the fact that Trump released a transcript of his phone conversation with Zelensky which was direct evidence of a quid pro quo in return for an investigation of the Bidens. For Trump foreign aid was a normal cudgel to be employed to get what he wanted from foreign leaders. He had done it with the Palestinians, Pakistan, Central American countries, and of course Ukraine. The fact it was illegal was immaterial, especially for Republicans.
The authors do not shy away from the successes of the Trump administration. They spend a good amount of time discussing Jared Kushner's accomplishments in achieving the Abraham Accords that brought recognition by Arab states for Israel and left open the possibility of Saudi Arabia joining later. Kushner was able to take advantage of fears of Iran and disenchantment by certain Arab states with the Palestinians. The vaunted Trump tax cut that was geared toward the rich, the renegotiation of NAFTA, and a few other successes are detailed.
The Covid-19 crisis gets a fair hearing and a number of important points are presented. The Trump-Fauci falling out was due to the former president's jealousy of Fauci's popularity and his constant advice that Trump disagreed with. Though nothing discussed is new the emphasis on treating the pandemic in the context of his reelection and looking tough led to a further bifurcation of America culture over the use of masks, vaccines, and shut downs. Deborah Birx, the White House response coordinator has said there was little the United States could have done to prevent the first 100,000 deaths from Covid, but the next 900,000 certainly would have been much lower had the Trump administration followed a rational path. Trump's lack of empathy for those who passed and his laser vision on reelection ultimately cost hundreds of thousands of American lives.
(January 6, 2021)
Baker and Glasser rehash the details of Trump's election defeat, his refusal to concede, his war on election denials leading to the January 6th insurrection, and the final impeachments of Trump.  Each issue is covered with the same detail and sourcing as other topics in the book and the ultimate conclusion is that as even certain Republicans and administration members stated, Trump was "crazy" and was destroying democracy.  That may have been the case, but the Kevin McCarthys and Lindsay Grahams of the world found it easy to return to the good side of the Napoleon of Mara-la-go.
It is a credit to the authors that they manage to include the culture wars, corruption, demagogy, autocratic-love, palace intrigue and public tweets, the pandemic and impeachment in one well written volume.  THE DIVIDER reconstructs all aspects of the Trump White House and the impact of decision-making and events.  What is clear is that Trump may have left office in January, 2020 but his legacy of obstruction, promoting violence and hatred still plays out each day.