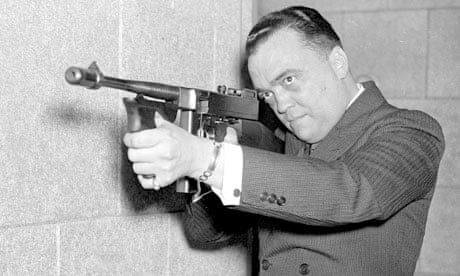 (Long arm of the law: J Edgar Hoover in 1936)
J. Edgar Hoover is considered one of the most controversial figures in 20th century American history.  His reign as FBI head is fraught with controversy and certain peculiarities associated with Hoover on a personal level.  Though Hoover believed the federal government could accomplish great things, his view of the American people was rather narrow, and he felt that minorities and supposed communists did not belong to the American fabric.   He held a strong racist streak and demanded total loyalty and conformity from those who served under him.  He was probably the most powerful government employee of his era serving eight presidents during his reign at the FBI, remaining in power, decade after decade, employing the tools of government to create a private empire unrivaled in American history.
Hoover used his office as a vehicle of intimidation for those he saw as enemies, either personal or governmental, and embodied conservative values ranging from anticommunism to white supremacy to a crusading interpretation of Christianity. If he were in power today he would fit right in with the MAGA crowd that dominates the rightwing of the Republican party. Since there has not been a major biographical reassessment of Hoover's life and role in government in decades, Beverly Gage's new work, G-MAN: J. EDGAR HOOVER AND THE MAKING OF THE AMERICAN CENTURY fills an important void.
Gage, a professor of American history at Yale University has written an almost encyclopedic biography of Hoover exploring his personal, ideological, and political development. The keys to his personality are examined very carefully along with his personal life. Cage delves into the myths surrounding Hoover and develops sound conclusions based on fact and research not conjecture. The book should become the go to source on Hoover due to Cage's research, writing style, and analysis and she should be commended for her effort.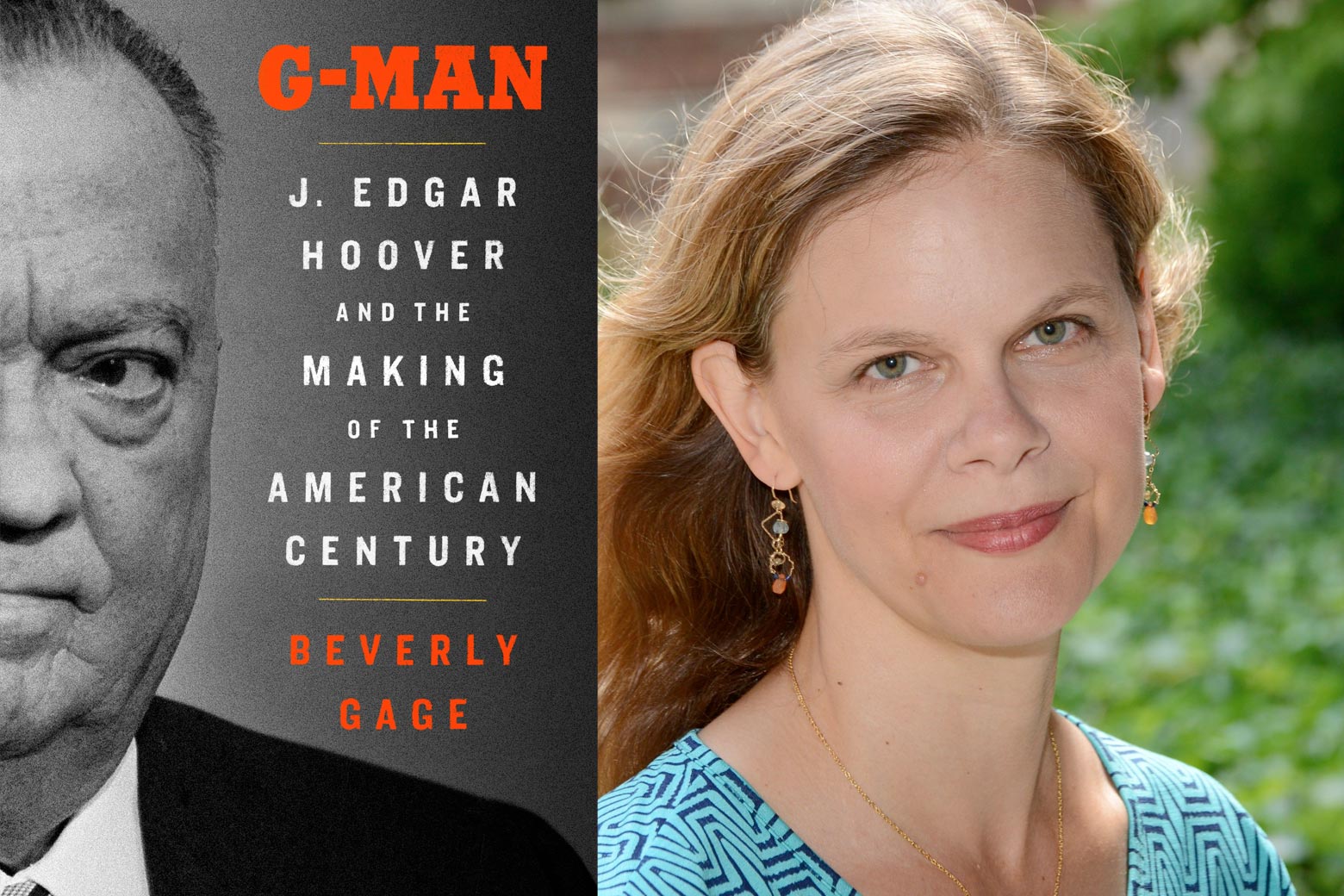 Author, Beverly Cage
Cage's approach focuses on how Hoover tried to twist events to fit his preconceived view of people and movements, particularly those that dealt with civil rights and what Hoover believed was the jurisdiction of the FBI.  Cage's narrative explores Hoover's attitudes and role in numerous situations involving the deprivation of civil rights for certain groups especially minorities.  Early in his career the focus is on Hoover's role in the Palmer raids after World War I.  Here Hoover laid down certain principles regarding leftist politics in American society.  These principles were followed throughout his career and are prevalent in the Roosevelt administrations approach to organized crime in the 1930s, the internment of the Japanese during World War II, and the second Red Scare that emerged after the war.  Though Hoover supposedly believed in following certain FBI protocols designed to follow law, it did not stop him from developing counterintelligence programs like SOLO and COINTELPRO that implemented misinformation, surveillance, wiretapping, and intimidation among his strategies.  This approach dominated the post-World War II period as the FBI was involved in the prosecution of the Hollywood Ten, Julius and Ethel Rosenberg, Alger Hiss, and others who were convicted of spying for the Soviet Union.  If Hoover smelled a link of some sort with communism, particularly the CPUSA, the FBI head was like a bloodhound until he was able to put his targets away.
The case that stands out is Hoover's pursuit of Martin Luther King, his strategy in dealing with southern violence against blacks in the 1950s, and his treatment of Freedom Riders and other civil rights actions in the 1960s. Cage correctly points out that at times Hoover could appear to be working with King and his movement, but his hatred for the head of the Southern Christian Leadership Conference was all consuming. Hoover was obsessed with bringing King down and he employed COINTELPRO techniques to achieve his goals as he tried to prove that Dr. King was a communist with links to the Soviet Union and was a threat to American national security.
It is clear from Cage's portrayal that Hoover was a racist and she does a commendable job tracing his views back to his upbringing in Washington, DC, then a segregated city, his attendance at George Washington University, and his participation in Kappa Alpha, a southern fraternity which highlighted segregationist and other racist views. Kappa Alpha played an important role in how Hoover filled positions at the FBI, and the perfect agent for Hoover was part of the fraternity who attended George Washington University Law School and other similarities to the FBI Head's own background. This in large part explains how FBI personnel approached many civil rights issues.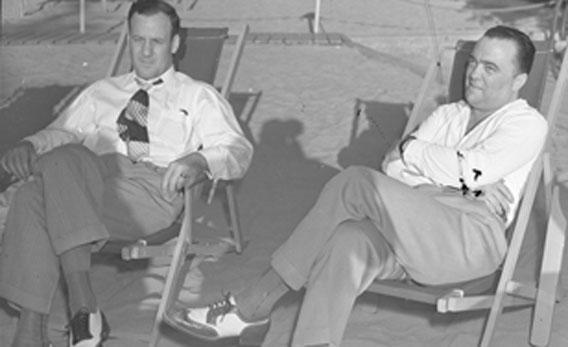 (Clyde Tolson and J. Edgar Hoover never openly acknowledged a sexual or romantic relationship)
Cage investigates Hoover's relationship with each president he served.  A number of surprising things emerged.  Hoover had a very unique relationship with FDR.  Historians usually describe the New Deal leader as a progressive, however his approach to civil rights in many cases was in line with Hoover and they come across as allies in a number of situations according to Cage.  Hoover's relationship with Harry Truman was poor and Cage quotes a number of derogatory comments by Hoover pertaining to the man from Missouri.  Hoover greatly enjoyed working with Dwight Eisenhower, in large part because his good friend and ideological soulmate Richard Nixon was Vice President.  Hoover's relationship with the Kennedy's was fraught with negativity due to the actions of Attorney General Robert Kennedy who he despised.  As far as John F. Kennedy is concerned, Hoover thought very little of him and was not beyond using intelligence he gathered against the president to remain as head of the FBI.  Lyndon Johnson and Hoover got along well, except for Civil Rights legislation, but they had been friends and neighbors going back to the 1930s.  Richard Nixon was a special case.  They were very close friends and Hoover shared intimate information with him.  By 1968 they became more than friends but political allies as Nixon was trying to resurrect his presidential ambitions and Hoover was fighting off calls for his retirement after the King and Robert Kennedy assassinations.  Once Nixon became President Hoover was ecstatic as his "red baiting" past lined up well with the new occupant of the White House. 
One of the most fascinating aspects of Cage's narrative is her discussion of the image and policies Hoover projected. His belief in "gentlemen" law enforcement types like lawyers and accountants as opposed to officers with guns. His credo concerning agents with guns would change as time went on and crime and violence dominated American society in the 1930s and after World war II. Hoover's goal of a professional bureaucracy dealing with crime would be altered and Cage does a wonderful job integrating Hoover's policies with that of the larger society. Apart from the political implications that surrounded Hoover's tenure in office, Cage delves into social and cultural aspects that affected FBI policies. A prime example is how Hoover appointed his close friend Clyde Tolson to head up the public relations office at the FBI to promote certain policies and images. For Hoover, Tolson's job was to promote Hoover as the moral leader of the country, though when one digs deeply as Cage has done, hypocrisy was more Hoover's calling card. The Tolson-Hoover relationship is explored in detail, keeping away from any salacious stories and sticking to opinions that rely mostly on facts and not conjecture.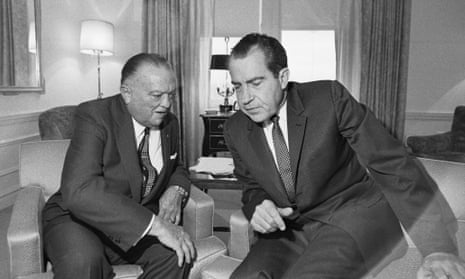 (FBI director J Edgar Hoover with Richard Nixon in 1968).
Cage stresses Hoover's popularity among politicians and the American people that lasted for decades.  As she summarizes the course of Hoover's career she correctly argues that "If the period from 1924-1945 had been one of institution building – and of constructing Hoover's national reputation – the period from 1945-1959 was when he learned to wield power as an independent political force, no longer subordinate to other man's agendas."  Despite his role in the Red Scare, McCarthyism, the rise of Castro, and his actions in dealing with southern white racism his popularity seemed to increase.
One of the more interesting chapters entitled "Atomic Drama" explores the period when the Soviet Union successfully tested the atomic bomb, the Chinese Communists were victorious, North Korea attacked the south, and Russian spies infiltrated Britain's MI6. Cage offers portraits of Elizabeth Bentley, Kim Philby and others and digs into the poor relationship between Hoover and British intelligence which had a very low opinion of the FBI head. This chapter also includes a step by step analysis of how the Soviets infiltrated the Manhattan Project and how the Harry Gold network was uncovered which led to the trials mentioned earlier.
1953 was a watershed year for Hoover's career with the arrival of Eisenhower in the White House and the weakening of Joseph McCarthy on the American political scene.  From this point on it appears that American presidents were wary of the intelligence Hoover had accumulated over the decades, i.e.; JFK's sexual liaisons, anyone who might have even the most minute link to communism and on and on.
The breadth of Cage's research is on full display throughout the narrative. She did not stop with traditional areas of historical research and includes the application of other social sciences. A case in point was her discussion of Hoover's possible homosexuality in the midst of the "Lavender Scare" (that coincided with the post-World War II Red Scare) and integrates the ideas of psychoanalyst Karen Horney's work in trying to understand a number of Hoover's motives and inner guilt to the point that Hoover pushed for and gained legislation keeping suspected homosexuals from being employed by the federal government.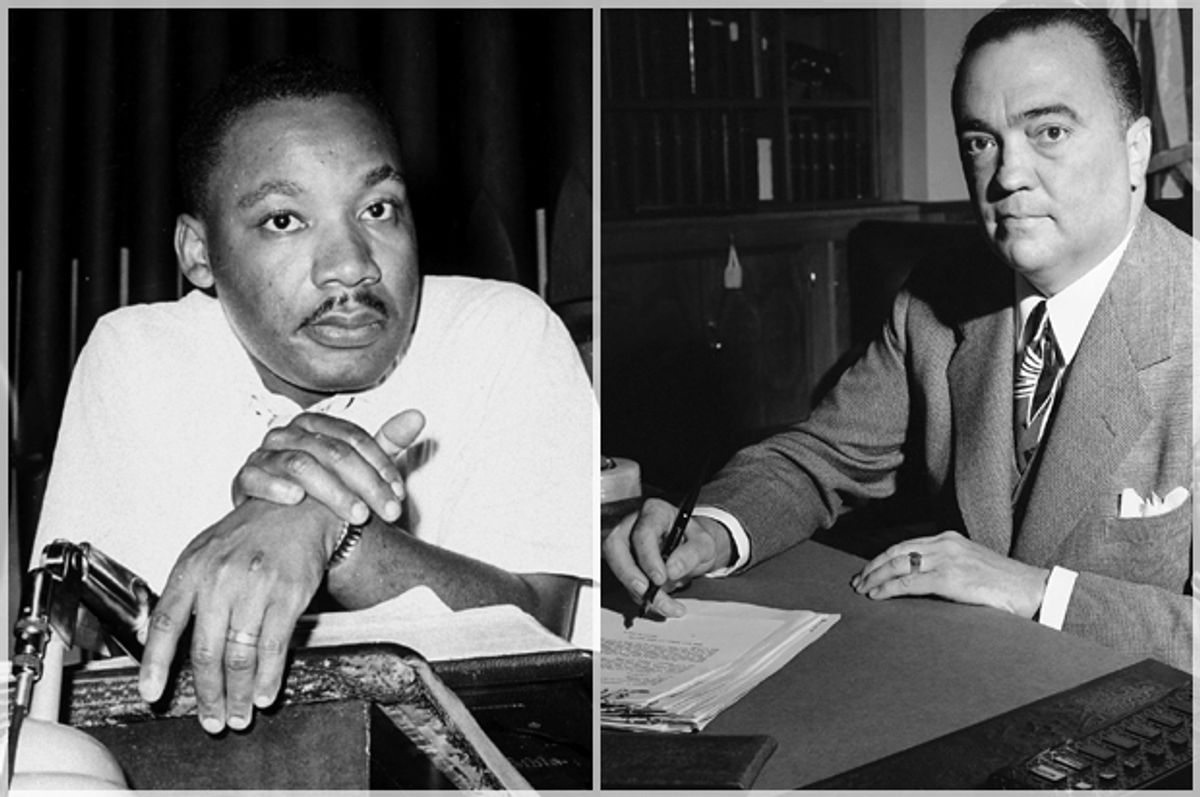 (Martin Luther King….J. Edgar Hoover)
What is interesting is that Hoover's career began red baiting the left after World War I, going after supposed anarchists, members of the Communist party and others.   The result was the Palmer raids and intolerance toward immigrants.  Hoover's work came full circle in the late 1960s and early 1970s  as he went after the evolving "New Left," and instituted elements of COINTELPRO against Martin Luther King and groups like the SDS, SCLC, and the Black Panthers.  Clearly Hoover's career had evolved 360 degrees.
Cage is very succinct in her analysis and her attention to detail is amazing.  She concludes that Hoover finally had difficulties in the 1960s as "he departed more and more from his vision of the FBI as a professional, apolitical institution and a bastion of upright, objective government men.  The contradictions that he had negotiated for so long – between liberalism and conservatism, between his faith in apolitical governance and his commitment to an ideological cause – finally collapsed in on themselves.  So did the American consensus that had once sustained him….He began the 1960s widely celebrated as the nation's greatest living public servant.  He ended it as one of the country's most polarizing and controversial men."  No matter what your opinion of Hoover might be after reading Cage's excellent work, it is clear that his impact in most areas of American society for over five decades cannot be denied.   Jennifer Szalai conclusion put forth in her ­New York Times review of November 19, 2022, is dead on in that "this is a humanizing biography, but I wouldn't call it a sympathetic one — as Gage shows, Hoover accrued too much power and racked up too many abuses for him to be worthy of that. What she provides instead is an acknowledgment of the complexities that made Hoover who he was, while also charting the turbulent currents that eventually swept him aside. Today, the once mightiest of G-men "has few admirers and almost nobody willing to claim his legacy," she writes, "even within the F.B.I."
(FBI director J. Edgar Hoover is seen in his Washington office, May 20, 1963. The 1971 burglary of one of the bureau's offices revealed the agency's domestic surveillance program).