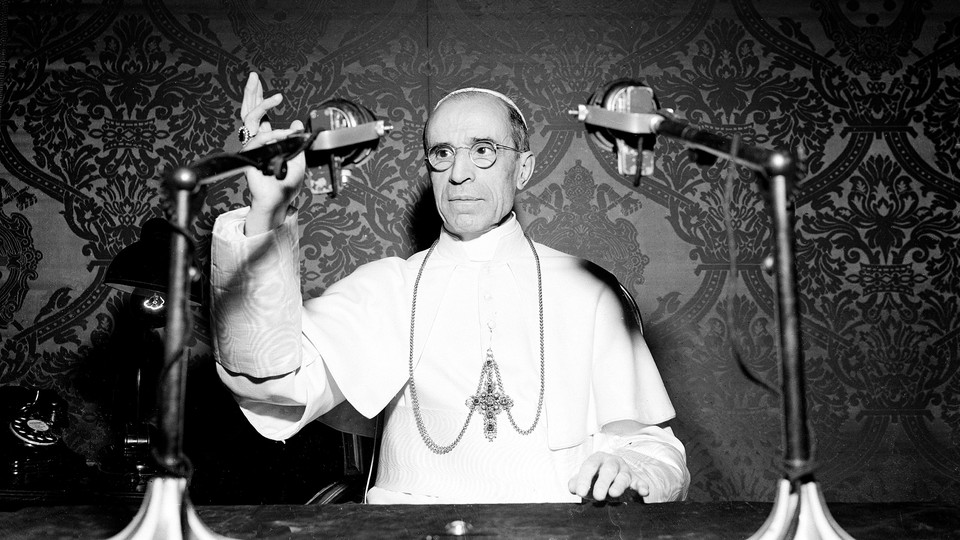 For many, one of the most polarizing figures of the Second World War was Pope Pius XII. Up until 2019 the Vatican archives did not allow access to most of the documents related to Pius XII's actions before and during the war. Under the current leadership of Pope Francis, the archive has been made available to historians and has brought about a reassessment of Pius XII's relationship with Italian dictator Benito Mussolini and Nazi leader Adolf Hitler in addition to his attitude toward the Holocaust.
Until the opening of the archive, historians were of two minds; either Pius XII was too close to Mussolini and Hitler and did not confront them publicly concerning their murderous atrocities and said and did little in relation to the genocide of European Jewry or he did as much as he could in balancing the protection of the Catholic clergy in Germany and working behind the scenes to assist Europe's Jews. It is understood that Pius XII was in a very difficult position and Pulitzer Prize winning historian, David I. Kertzer, the author of THE POPE AND MUSSOLINI: THE SECRET HISTORY OF PIUS XI AND THE RISE OF FASCISM IN EUROPE has availed himself of the opportunity to consult newly released documentation and has written what should be considered the definitive source in dealing with Pius XII in his latest work, THE POPE AT WAR: THE SECRET HISTORY OF PIUS XII, MUSSOLINI, AND HITLER. Kertzer's book documents the private decision-making that led Pope Pius XII to stay essentially silent about Hitler's genocide and argues that the Pope's impact on the war is underestimated – and not in a positive fashion. As David M. Shribman writes in the Boston Globe, for Pius XII "silence was easier, safer, more prudent. Silence was deadly."*
Kertzer's presentation is excellent as it is grounded in his previous research and his recent access to the newly opened Vatican archive. The book is clearly written and tells a story that many have heard before, however it is cogently argued, and he has unearthed new material which may change or reinforce deeply held opinions by many when it comes to Pius XII. Kertzer makes the case that Pius XII's obsessive fear of Communism, his belief that the Germans would win the war, and his goal of protecting church interests motivated him to avoid angering Mussolini and Hitler. The Pope was also concerned as the book highlights, that opposing Hitler would alienate millions of German Catholics.
Kertzer does an excellent job tracing Pius XII's relationship with Mussolini; the evolution of Italy's military failures which negatively impacted Hitler's plans, i.e.; Italy's failed invasion of Greece; and Hitler's growing dissatisfaction with Mussolini. Kertzer relies heavily on the comments and diaries associated with foreign ambassadors to the Vatican, particularly those of England and France and their negative commentary related to the Papacy. The descriptions of these ambassadors focused on Pius XII's lack of action, periodic support for the war effort in Italy, and obsession with German power. Further, Kertzer focuses on Pius XI's opposition to Mussolini's adoption of racial laws targeting Italian Jews. Despite this opposition, Pius XII would not comment on the increase in Italy's oppression of Jews and racial laws in general.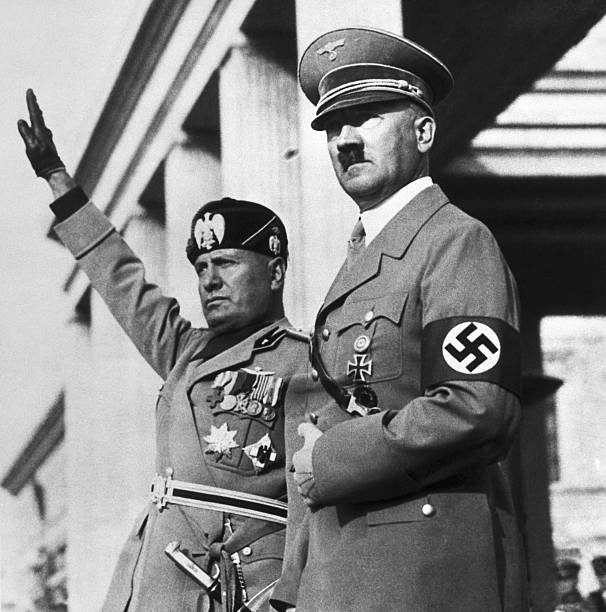 (Benito Mussolini and Adolf Hitler)
Pius XII's predecessor, Pius XI had been somewhat of a thorn in the side of fascist dictators. He saw Mussolini as a "buffoon," and believed that Hitler was a danger to all of Europe. Both dictators feared he was preparing an encyclical denouncing Nazi racism and anti-Semitism and feared that the Vatican Secretary of State, Cardinal Eugenio Pacelli who would succeed him as Pontiff would try and talk him out of it, as well as any other anti-fascist comments. When he died a few days before he could release his encyclical, Mussolini and Hitler experienced a great deal of relief.
Kertzer correctly points out that Mussolini never felt comfortable around priests and complained bitterly about Pius XI barbs. He was worried as he was aware that Hitler viewed him as a role model and did not want the Pope's commentary to ruin their relationship. Once Pius XI died and was replaced by Cardinal Pacelli criticism was reduced and if any were made it was done in private. Hitler's main complaint concerned articles in the Vatican's daily newspaper, Osservatore Romano that focused on Nazi anti-Catholic policies from arresting and beating Catholic priests to closing Catholic schools in Germany. Pius XII immediately made overtures to Hitler to relax the pressure on German Catholicism and refused to comment publicly on Hitler's seizure of Czechoslovakia in March 1939, in addition to remaining quiet as Hitler's pressure on Catholic Poland over Danzig escalated.
Mussolini resented Pius XII's diplomacy as his ego would not allow anyone to detract from his role as the dominant figure in Italian politics. Kertzer's comments concerning Mussolini, his son-in-law Count Galeazzo Ciano, the Italian Foreign Minister, Joachim von Ribbentrop, the Nazi Foreign Minister, and countless other figures is insightful and at times entertaining, but it does not detract from the danger and derangement of these individuals.
In a very important chapter, Kertzer provides details of secret meetings between the Papacy and Germany before and after the war began. The conduit for Germany was Prince Philip von Hessen whose goal was to bring about an accommodation with the Papacy and keep the Pope out of politics. Hitler resented the clergy's meddling in German domestic politics and wanted the Pope to refrain from comments on Nazi racial policy. Pius XII's, his main goal was to protect the German clergy and Catholicism in general, but he expressed the belief that an honorable religious peace was achievable, and in all instances talks should be held in secret.
Once the war began Pius XII refused to break his silence concerning Nazi aggression arguing he would not endanger the church's situation in Germany. This argument was repeated throughout the war, but he promised he would pray for the Polish people or whatever nationality was endangered by a Nazi onslaught. Morality, rights, honor, justice were always met with methods, practicality, tradition, and statistics on the part of the Vatican. When priests were sent to concentration camps Pius XII did nothing, no statements, no audiences with the Pope in Rome etc. The only diplomacy Pius II seemed to engage in was to try and talk Mussolini out of following in Hitler's footsteps as it was clear, even to Il Duce, that Italy was totally unprepared for war.
One could argue that Pope Pius XII evolved in his approach toward fascism and the war. At first, at least up to 1943 he waffled between neutrality and making general statements structured "as not to be offensive by either side." At first the Papacy believed the Germans would win the war and once it was concluded Pius XII was convinced that in a few years the anti-Catholic policies would dissipate and fade away. As the war progressed and when it was clear that the Russians had broken out of Stalingrad and made their way westward, and that the United States and England would invade Italy, Pius XII's attitude shifted. Pius XII priority was to prevent allied bombing of Rome and Vatican City (particularly as England was bombing Turin, Milan, and Genoa) which led to messages to President Franklin D. Roosevelt who responded with a demand that Mussolini be replaced, and Italy should drop out of the war. Pius XII's other priority was to warn allied leaders (apart from Stalin) that Communism was as large a threat to Europe as Nazism, and he worked to manufacture a peace agreement with the US and England and organize in response to the Soviet threat to all European Catholics.
As to the Holocaust, Pius XII received increasing numbers of reports of Nazi atrocities and extermination camps. This information came from reliable sources and churchmen like Father Scavini, an Italian military chaplain that the Pope had great faith in. However, Pius XII refused to publish details contained in these reports to stay on the good side of Hitler and Mussolini. The only area that the Pope did complain about to the German and Italian governments was the application of racial laws to those he considered Catholics – baptized Jews and the children of mixed marriages. Pius XII accepted advice that there was no confirmation of Nazi atrocities and was told not to even use the word, "Jew." In relation to the Vatican's attitude toward the roundup of Italian Jews right under their noses provoked little response as Kertzer quotes Lutz Klinkhammer, the foremost historian of Germany's military occupation of Italy, "it is more than clear that all their efforts were aimed above all at saving the baptized or the 'half-born' from mixed marriages," the Jews who did not fit this category would wind up dying at Auschwitz.
Pius XII's actions are clear even when he was approached to try and mitigate the actions of Roman Catholic priest Jozef Tiso, the head of the Slovakian government who was about to send 20,000 Jews to Polish concentration camps. When a move was made to try and send 1000 Jewish children to Palestine, Pius XII did little to facilitate this plan as he was anti-Zionist and he argued that he held little sway with the Nazis and their minions and any Papal criticism risked provoking a backlash against the church in German occupied Europe. No matter the circumstances Kertzer's conclusions that Pius XII's messaging was always weak and vague to protect the church's interests.
Pius XII's silence and overall inaction emerges as the dominant theme of Kertzer's work. It is clear that any other conclusion is a result of Church propaganda, obfuscation, and analysis that conveniently avoids the facts. Kertzer's work is to be commended as it should put to bed once and for all the truth concerning Pius XII's role during World War II.
*David M. Shribman, "A Deadly Silence: Assessing the Moral Failings of Pope Pius XII during World War II," Boston Globe," May 26, 2022.