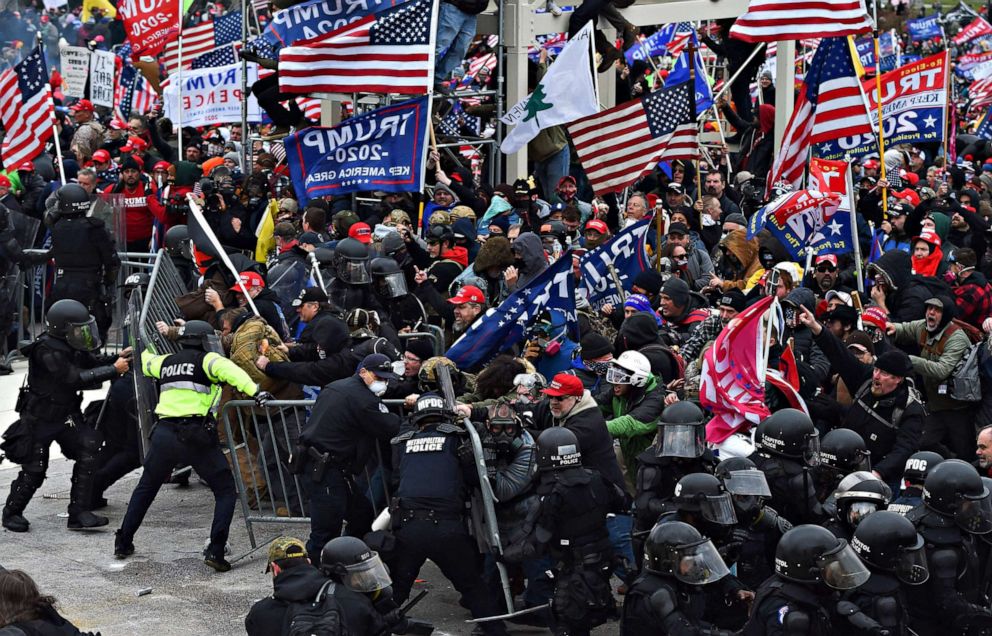 "Tis the season to read Trump books, fala la la lah….."  It appears this summer is the publishing season for monographs on the final year of the Trump administration.  A number of important books are available, i.e., Yasmeen Abutaleb and Damian Paletta's NIGHTMARE SCENARIO, Michael Wolff's LANDSLIDE: THE FINAL YEAR OF THE TRUMP PRESIDENCY; Michael C. Bender's "FRANKLY WE DID WIN THIS ELECTION," and Carol Leonnig and Paul Rucker's sequel to A VERY STABLE GENIUS, I ALONE CAN FIX IT: DONALD J. TRUMP'S CATASTROPHIC FINAL YEAR.  All zero in on Trump's final year in office which has turned out to be one of the most consequential years in American history since the flu pandemic of 1918.  Leonnig and Rucker's latest effort continues to take readers deep inside Trump's chaotic and impulsive presidency and Leonnig must be recognized as a few months ago she released another important work ZERO FAIL: THE RISE AND FALL OF THE SECRET SERVICE.
Leonnig and Rucker are Pulitzer Prize winning reporters for the Washington Post and have had access to numerous sources inside and outside the Trump administration.  They have consulted over 140 sources that include senior most Trump administration officials, career government officials, friends, Trump himself, and outside advisors.  As in her previous book, Leonnig along with Rucker have produced a well sourced, crisply written monograph that is equal to her previous efforts.
What separates the first three years of the Trump administration from the last is that between 2017 and 2019 Trump faced no major crises. It was a period dominated by Trump's bluster, self-aggrandizement, scandal, and self-preservation, characteristics that were not conducive to the events of 2020. As Trump made loyalty and personal power the number one traits that dominated his management skills his immigration policy that ripped children from their parents, his denigration of the rule of law, his threats to democracy, his support for white supremacy, his contempt for allies are all important, but he faced no economic or military crises, or a public health disaster until his last year in office.
( June 1, 2020, President Donald Trump holds a Bible as he visits outside St. John's Church across Lafayette Park from the White House)
The authors give Trump credit for Operation Warp Speed in helping to develop vaccines in record time, but his ineptitude, back biting, lack of empathy and cruelty in combating the virus through mask wearing and making vaccines a partisan political issues have resulted in the death of over 600,000 Americans and the infection of tens of millions of people with Covid-19.  Apart from the pandemic, Trump's White House oversaw the collapse of the economy, heightened racial tension after the George Floyd murder, conducted political rallies that became super spreader events, and the policy of "law and order" was being manipulated to the point that advisors had to talk him out of giving orders to shoot demonstrators.
Trump's refusal to accept the 2020 election result created further chaos as he resorted to misinformation and lies that the election was stolen from him. He created a "personality cult" that politicized any effort to combat the virus and introduced disastrous treatment options such as bleach and hydroxychloroquine. The result is that 50% of the American people are fully vaccinated and the country is now on the precipice of a fourth wave of the disease as cases are rising in areas that are under or not vaccinated. We have become a country that is split between those who are and those who are not vaccinated. As an aside Trump and his family are also fully vaccinated at the same time, he fueled the distrust in government that led to the January 6th insurrection to overturn the election of Joe Biden.
Leonnig and Rucker correctly point out that the concept of the "common good" is alien to Trump as every issue; race, economics, health, immigration, foreign policy, and finally the pandemic is seen through the lens of what he believed to be in his best personal and political interests. Trump's toolbox of bluster, bullying, and manipulation would not work during a pandemic. Muzzling experts like Dr. Anthony Fauci, picking feuds with public health officials, holding super spreader events, and refusing to be a correct role model during the pandemic helped to spread the virus further.
Leonnig and Rucker provide a detailed narrative outlining the cause of the virus, the role of China, and how it spread to Europe and the United States. They relate the efforts of Dr. Robert Ray Redfield Jr., Director of the Centers for Disease Control and Prevention, and the administrator of the Agency for Toxic Substances and Disease Registry. Dr. Anthony Fauci, the Director of the U.S. National Institute of Allergy and Infectious Diseases and the chief medical advisor to the president, Matt Pottinger, former Deputy National Security Advisor of the United States, Dr. Deborah Birx, White House Coronavirus Coordinator, Stephan Hahn, head of the Food and Drug Administration, Francis Collins, head of the National Institute of Health, and others who worked to control the virus but who also were targets of President Trump as he railed against Public Health professionals.
(Joint Chiefs Chairman Gen. Mark Milley)
The dysfunction inside the Trump administration as it sought to deal with the pandemic are numerous and the authors present a series of them to support their points.  Jared Kushner was brought in to deal with the lack of PPE and ventilators.  He in turn brought in a bunch of his friends and associates, called "financial whiz kids," who knew nothing about government procurement or how international markets functioned.  One person described them as "the whiz bang crew of numb nuts" as Kushner's "sourcing team" were in way over their heads and chaos reigned.  The turf battles, messaging, fealty to Trump, and inability of advisors to get along dominate the narrative as the White House tried to speak with one voice, but the leaks proliferated.  Leonnig and Rucker's recreation of dialogue between HHS Head Alex Azar, Chief of Staff Mark Meadows, Trump advisor Michael Caputo, White House Director of Strategic Communications Alyssa Farah, and White House Spokesperson Kayleigh McEnany places the reader inside the room where the dysfunction takes place.
If there is a hero in Leonnig and Rucker's account it is Joint Chiefs of Staff Head Mark Milley. A good example of the role he played is depicted in his comments toward Stephen Miller, Trump's sycophant and immigration guru. After listening to Miller spout his hatred, Milley told him to "shut the fuck up," and that US troops could not be used against peaceful demonstrators. The conversations that led up to the clearing of Lafayette Square of demonstrators by Park Police, National Guard and others so Trump could have a photo op in front of St. John's church fit Leonnig and Rucker's ability to explain why and how things evolved and their implications. Once Defense Secretary Mark Esper spoke out against what occurred the tongue lashing he experienced by Trump is available for all to read. Milley and Esper were in a constant battle with Trump over the politicization of the military as the former president became laser focused on demonstrations in Seattle and Portland and having a large military parade on July 4th. For Milley and Esper it was all about preserving democracy and preserving the constitution.
The misinformation seems to appear on every other page as the Trump administration tried to develop a narrative that the president was doing all he could to stave off the virus. At one point Kushner's "whiz kids" and others were asked to develop new models to offset public health predictions of the number of Covid-19 cases for the future if something was not done. They were to do so by prioritizing economic recovery over public health. This goes along with Trump's attitude that things were doing well no matter what the evidence reflected. Trump was obsessed with the number of covid-19 victims as it reflected negatively on this reelection. The stock market was another Trump obsession and when it did not cooperate he would blame others and accuse them of "killing him!" Of course, it was all the fault of the "deep state." Once the senate voted 52-48 not to impeach him, Trump received the memo that no accountability for his actions existed, and he went on his revenge crusade getting rid of the likes of Lt. Colonel Alexander Vindman and Olivia Troye once an advisor to Vice President Pence who publicized the illegalities in dealing with Ukraine.
Leonnig and Rucker do not miss a trick even including Melania Trump's attempts to speak some sense with her husband in February 2020 to no avail.  They recount advice particularly by former New Jersey governor Chris Christie among others on how Trump could win reelection but as in the case of his spouse, the former president felt he knew what was best by going after "Sleepy Joe" and discarding a series of sound suggestions.  According to the authors the turning point in fighting the virus came with the arrival of Scott Atlas. For Trump, the virus stood in the way of his continuation in office and finally in July 2020 he found a public health official who would parrot his medical beliefs, Dr. Scott Atlas.  Atlas was a neuroradiologist at the conservative Hoover Institution who knew nothing about contagious pathogens, but he wanted to open up the economy, refused to endorse the wearing of masks, and was an advocate that the US was approaching herd immunity.  Atlas' views were used to undercut public health officials and he went after Anthony Fauci with abandon. 
As Leonnig and Rucker shift to discuss the election about halfway through the book they bring the same talent and relentless reporting as Trump ratcheted up misinformation about the virus and every other issue as he tried to ignore the virus, but events would not let him, i.e.; the disastrous super spreader rally in Tulsa in June. By the end of July Trump began his campaign that would result with the accusation that the election was stolen. He suggested on July 30 that the election should be postponed, and fraud dominated mail in voting. Further on September 23, 2020, Trump stated for the first time he might not honor the results of the election if he lost. Tweets concerning the election such as "the most INACCURATE AND FRAUDULENT election in history" still reverberates today as the House began its hearing concerning the January 6th insurrection.
The William Barr-Trump relationship receives a great deal of coverage apart from the Attorney-General's role at the Justice Department. Leonnig and Rucker recount Barr's repeated attempts to prevent the former president from self-sabotage. Barr, known more for his role in defining the Mueller Report for Trump's benefit and interfering with the sentencing of Michael Flynn and Roger Stone, offered Trump advice about his campaigns shortcomings and what he needed to do to win reelection. Barr's political advice was mostly ignored and the author's recount the numerous examples of how Trump was his own worst enemy in trying to improve his position in the polls visa vie Biden, i.e., allowing Mark Meadows to cut federal funding for the CDC while Redfield was trying to get the billions needed for vaccine distribution once it was available.
Rudy Giuliani emerges as a comical figure with his conspiracy theories, distorted advice to Trump over election fraud, and trying to get Trump to just declare victory despite the evidence that he had lost the election to Biden.  Leonnig and Rucker's daily account from January 2020 to January 2021 doesn't leave out much that occurred or important conversations that took place.  They culminate their story of administration incompetence and back biting with the run up to January 6th by explaining why it occurred and who in their view is to blame.  The book offers a strong narrative, but is a bit light on analysis and interpretation, but if you are looking for an engrossing recapitulation of the last year you cannot go wrong consulting I ALONE CAN FIX IT.