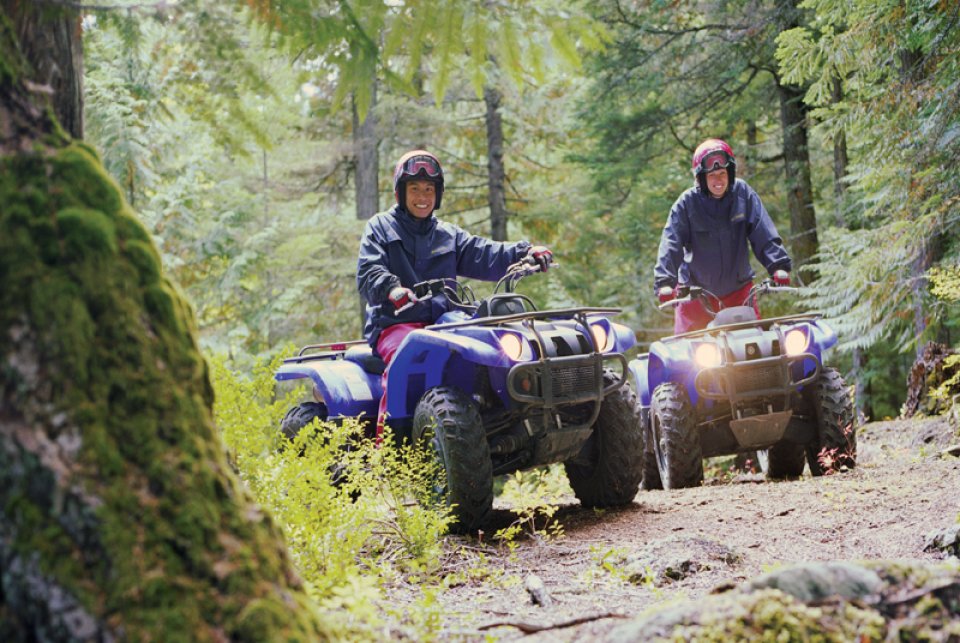 (ATV Riding in Maine)
After whiling away the hours reading Paul Doiron's THE POACHER'S SON and enjoying it immensely, I decided to move on to the second iteration of Maine Game Warden Mike Bowditch in TRESPASSER.  The book lived up to my expectations as Doiron develops a taut plot that carries through the three hundred plus pages that justified the time spent with Warden Bowditch.
Doiron continues to develop Bowditch's life story and character after the events in THE POACHER'S SON. In TRESPASSER, Bowditch continues to show up at murder investigations and when the higher ups warn him off and tell him to tend to his "warden" duties" he can't control his curiosity which are based on his empathy and sensitivity to the cases that emerge. In the current situation Bowditch finds himself chasing a demented family bent on using their ATVs in order to anger their neighbors as they destroy private property and deal drugs. Further, there is another father and son partnership engaged in similar activities as Doiron's commentary of the "interesting" types of people who live in certain parts of Maine seemed justified. Apart from his Warden duties, Bowditch has a sixth sense when it comes to crime. Bowditch follows up a call of an accident where automobile has struck a deer and the driver just walks away from the accident and disappears. The State Trooper who showed up late to the accident scene is incompetent and full of himself leaving Bowditch holding the bag. Later, Ashley Kim, a graduate assistant at the Harvard Business School is found dead after being sexually assaulted in her mentor's house – of course discovered by Bowditch.
The problem that emerges is that the crime is reminiscent of a murder seven years previous where a young lady is raped and murdered, and controversy surrounds the conviction of one Erland Jefferts who receives a life sentence. However, the prosecution withheld evidence and cut corners raising the question as to whether Jefferts was railroaded. A group referred to as the J Team made up of Jefferts Aunt and Uncle and a series of lawyers are convinced he is innocent which creates a number of theories as to whether Jefferts was in fact guilty and what is the relationship to the death of Ashley Kim. Of course, Bowditch pursues his own investigation and lo and behold he locates the individual who was the prime suspect, Professor Hans Westergaard dead in his car.
Doiron is master in plot development.  He slowly allows his story to unravel with numerous twists and turns that draws the reader in.  In my case after a few pages, I was hooked and I decided to get comfortable and read the novel through in one sitting absorbing the plot, the author's commentary describing "Mainers," the ecology of the region, and the intricacies of Bowditch's life.  As Doiron develops his whodunnit the two murder cases come together as number of people begin to feel uncomfortable. Among them is one of Doiron's new characters, Assistant Attorney General Danica Marshall, a tough and attractive prosecutor who does not care for Bowditch.  Other new characters include Calvin Barter, a sexual predator and drug dealer; Dave and Donnie Drisko, poachers who replicated the actions of the Barter family; Knox County Chief of Police, Dudley Baker, among others. 
Doiron reintroduces characters from his first novel. Sgt. Kathy Frost, Bowditch's boss reappears as does Charley Steven, the retired Game Warden pilot, Sarah Harris, Bowditch's girlfriend, and Detective Mike Menceri, who seems to be in a running argument with Bowditch throughout the novel. For our protagonist he seems to have a career death wish as he continually angers higher ups by his actions. But he is obsessed with finding justice for victims whether they are non-human or human. For Bowditch, whose own life was recently shattered by violence turning away from these crimes is not an option. His investigation has reopened old wounds among the locals and the rich summer "invaders" and because of his persistence he puts his life in danger as well as the women he loves as he has touched a nerve among certain people who refuse to allow him to solve the case.
Doiron's first two novels can stand alone but I would recommend they be read one after the other and then move on to third the installment in the Mike Bowditch series, BAD LITTLE FALLS.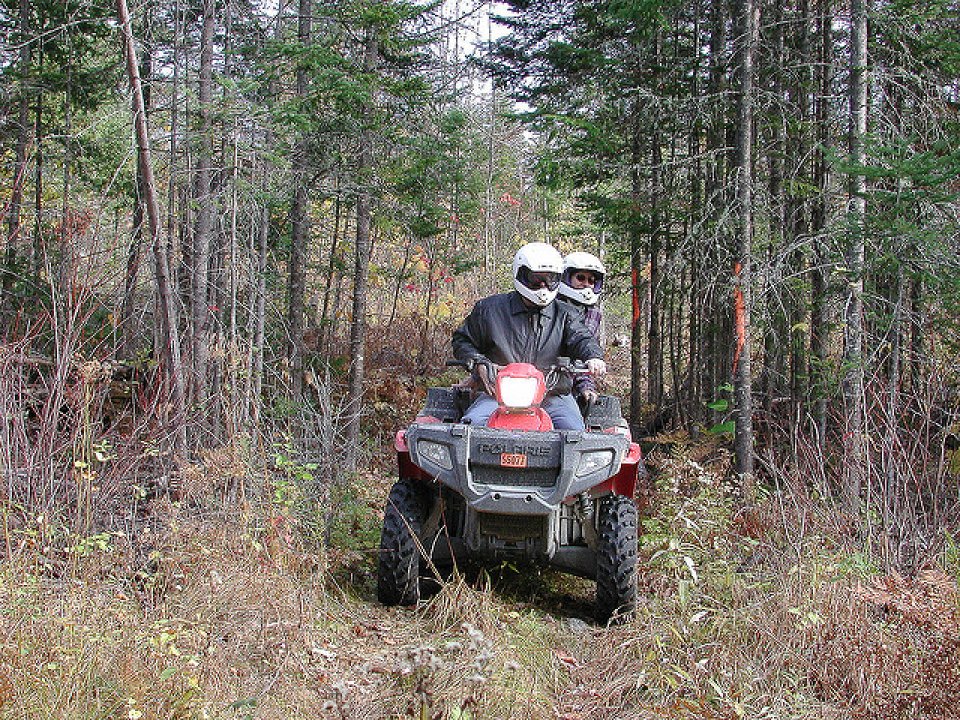 (ATV Riding in Maine)