Remember when Amazon first came online in 1995, they would discount books by 33-40%. This pricing lasted for a good 10-15 years then the discounts were reduced under the theory that once they conditioned you as a customer, they could slowly increase their profit margins. After a year of Covid-19 restrictions Amazon's popularity and bottom line boomed as people were sequestered at home. Today the discount on books is usually 10-15%, and sometimes less, reflecting Amazon's commitment to the bottom line. Only speaking of book pricing, but I have noticed similar trends with other products. The question is how we arrived at the present juncture, who is responsible, what are the historic trends when it comes to Amazon, and lastly what role has Jeff Bezos played in the process. These questions are answered in full along with a partial biographical portrait of Bezos and how he built Amazon into the most dominant consumer source in the world and a company worth $1.76 trillion today in Brad Stone's new book, AMAZON UNBOUND: JEFF BEZOS AND THE INVENTION OF A GLOBAL EMPIRE.
Stone, the senior executive editor of global technology at Bloomberg News has written an in depth account of Amazon's phenomenal growth from 2010 through 2021 focusing on the managerial style of Jeff Bezos and his incredible ability to support, develop, and implement projects that would be worth billions. Stone also digs deeply into the culture at Amazon and its mantra of putting the customer first, however, that "bumper sticker" is disingenuous as its record of employee safety, philanthropy, and demanding a certain belief system from executives and others reflects.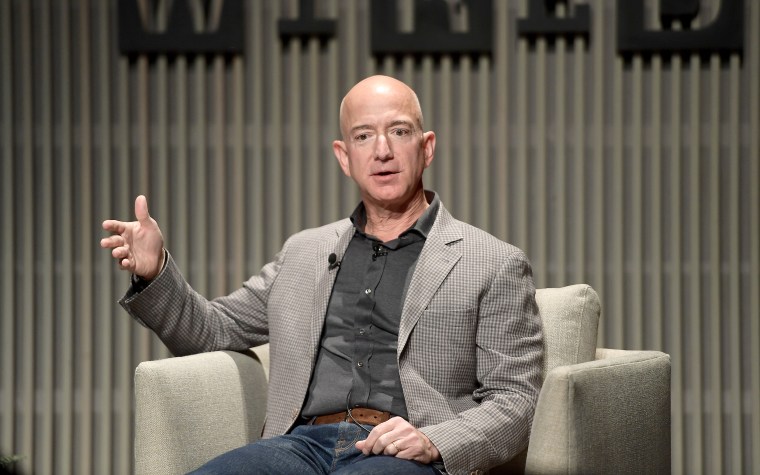 Bezos' genius and overbearing personality are on full display in Stone's account. According to the author the watershed year for Amazon's overwhelming dominance in multiple markets with varied products is 2010. From its inception through 2010 Amazon was not a very profitable company, but the infrastructure groundwork for what Bezos was able to achieve was in place. Stone covers every facet of the Amazon experience and how it developed into the economic behemoth it is today. Stone delves into the development of Alexa, Kindle, Amazon Go, Amazon Web Services, Amazon Prime, Amazon Prime Video, Amazon advertising, the creation of Fulfillment Centers, its success in India, development of third party sellers, and the purchase of Whole Foods and the Washington Post in detail.
Bezos was the driving force behind Amazon's technology innovations harnessing artificial intelligence, robotics, and other ingenious developments. However, his management style pushed his engineers to the breaking point in many instances and his nasty commentary when not happy at meetings are legend. Bezos could be "remorseless with those that did not meet his exacting standards, but he seemed to have an unusual wellspring of patience for those who practiced the challenging act of invention." Bezos gets a great deal of the credit for the Amazon experience and success, but he had tremendous executive talent and engineers to work with. Stone explores the work of people such as Dilip Kumar, Greg Hart, Andy Jassy, Dave Clark, Jeff Wilke, Stephanie Landry among many others. Bezos and his deputies believed that algorithms could do the job better and faster than people. In many ways it explains the insensitivity that exists at Amazon toward certain employees especially in Fulfillment centers.
According to Stone the ultimate goal was turning Amazon's retail business into a self-service technology platform that could generate cash with a minimum amount of human intervention. In accomplishing their mission, a number of negatives emerge. Stone's research uncovers a male dominated culture at Amazon reflected in the lack of women in upper echelon positions. Women complained about the working environment and deals made with the likes of Harvey Weinstein, Woody Allen, Kevin Spacey, Jeff Tomba, and Ray Price all for naught. Female anger emerged at the same time the "Metoo" movement gathered momentum as sexual inuendo, jokes, touching etc. came to the fore. Casting a net around Amazon working conditions and treatment of employees also does not enhance the company's reputation. The use of robotics at Fulfillment Centers created repetitive motion/health issues; pressure on workers to gather products quickly and package them; worker performance was monitored by tyrannical invisible robots, poor benefits and low pay, periodically firing people at the lowest level of the employee chain, in addition to the constant threat of termination, all take the luster off of Amazon's workplace propaganda. Further, Bezos and company are very anti-union and went out of their way to expand in areas, i.e.; airplane procurement and location which were also anti-union. During the pandemic when Amazon's work force passed one million and its annual earnings exceeded $380 billion as sales rose by 37%, the company pursued a virulently anti-union policy. A way to sum this up is that the monograph highlights genius, innovation, and greed.
Stone is not a stylist, but he has the ability to explain a great deal of technical jargon in a very easy manner. Whether explaining the role of artificial intelligence in the creation of Alexa or Amazon Go the reader can easily comprehend the arguments presented at executive conferences and meetings, particularly those of engineers. Stone explores numerous topics aside from the development of new products or strategies that in the end created billions in sales and profits. A key part of his discussion is not to reinforce the role of retail in Amazon's success but focus on "Cloud Computing" which generated the revenue to fuel Amazon's supercharged expansion. As Mark Levinson points out in his review in the Washington Post, "with cloud computing, an organization can rent computers, programmers and security experts from an external provider such as Amazon instead of maintaining its own data centers. Amazon pioneered cloud computing in the early 2000s, and by the 2010s it was easily the market leader. Bezos divined that finding new uses for Amazon's burgeoning cloud infrastructure was the key to the company's future."
Stone's discussion of the location process for a second headquarters when difficulties developed in Seattle with the city government and the ability to expand facilities is eye opening reflecting Amazon's insensitivity toward local government. In addition, the chapter on Amazon Web Services which became the most profitable component of the company is key as was the formation of their own advertising strategy and the creation of an airplane fleet and purchase of delivery vans to bring about next day delivery.
The Amazon story is one of amazement. How could one company become so powerful economically and culturally as most people seem to consult Amazon on a daily basis, even before the onset of Covid-19 which would allow Amazon to expand exponentially as people had few alternatives to acquire products they needed while they quarantined. By the end of 2020 "Amazon boasted a $1.6 trillion market cap and Jeff Bezos was worth more than $190 billion. His wealth had increased more than 70% during the pandemic…a breathtaking achievement." Stone stresses that the key aspect of how this was achieved was Bezos' management style as his underlings knew if the boss had an idea, it was their job to bring it to fruition which in most cases they did. To his credit Stone has laid out the Amazon success story for the general public, but also its warts. Though at times the narrative gets bogged down in details it is worth the read if you wonder when you "click" how did it come to that action by your finger for everything you need.