If you are seeking an explanation for Russian President Vladimir Putin policies, domestically and externally, you should consult Steven Lee Myers recent book THE NEW TSAR: THE RISE AND REIGN OF VLADIMIR PUTIN.  According to Myers it was the Ukrainian Presidential election of 2004, coming on the heels of the Beslan school massacre of September 3, 2004 that pushed Putin to recalibrate his plans.  When Chechen terrorists seized close to 1000 people on the first day of the school year, resulting in the death of 334 hostages, 186 of which were children, Putin was beside himself.  With repeated Chechen terror attacks inside Russia, and a war that was not going well, Putin resorted to his predictable stonewalling excuses.  Outside Russia events did not go Putin's way either. Already resentful of what he perceived to be western encroachment in the traditionally Russian sphere of influence in the Baltic, along with the election of Viktor Yushchenko as the Ukrainian president, a man who favored NATO membership and closer ties to the west, the Russian leader was forced to face another uncomfortable situation fostering a drastic shift in Russian policy.  Myers, a New York Times reporter spent seven years in Moscow during the period of Putin's consolidation of power, has written a remarkably comprehensive biography of the Russian president that should be considered the standard work on this subject.
The books title, "The New Tsar" is a correct description of Putin's reign that even included a Tsarevitch, Dimitri Medvedev, as Putin's handpicked successor as President of Russia in 2008.  For Putin the greatest catastrophe of the 20th century was the collapse of the Soviet Union, a belief that provides tremendous insight into his policies.  Emerging from the corruption and incompetence of the presidency of Boris Yeltsin, Russia by 1998 was in deep trouble economically and politically.  Yeltsin also hand-picked his successor, a former KGB operative, who was stationed in Dresden, East Germany in 1989, Vladimir Putin.  Meyers presents an objective approach to Putin's life before the Berlin Wall came down.  Putin would grow up listening to stories of his father, Vladimir, fighting on the western front during World War II and being wounded by the Germans.  His mother, Maria survived the siege of Leningrad and escaped into the countryside.  The harrowing experiences of his parents left an indelible impression on the young Putin.  His father suffered with a limp after the war, and his mother was overly protective of her son.  Putin had a slight build as a child and turned to the martial arts to deal with bullies.  His success at Judo provided Putin with a certain toughness and a means of asserting himself.  Putin craved orthodoxy and rules, neither of which he found in religion and politics.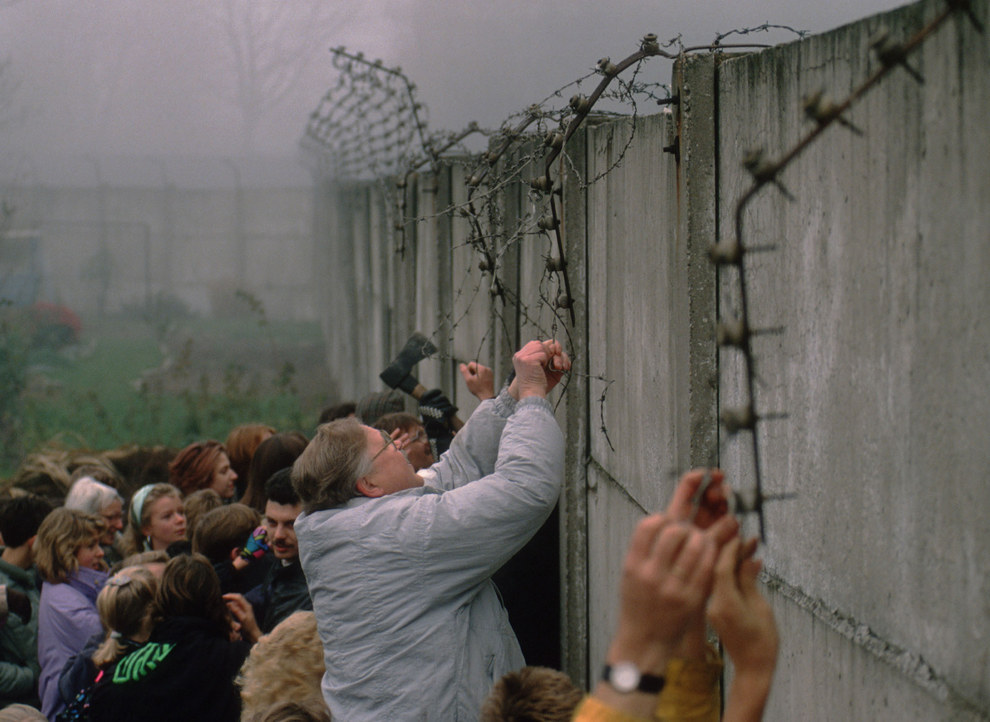 (People tearing down the Berlin Wall, November, 1989)
Myers stresses Putin's education in economics and law school, but more importantly he points to Putin's time in the KGB when he was stationed in Dresden.  While being posted to East Germany Putin was exposed to the Stasi and their practices.  Putin was involved in intelligence operations, counter intelligence analysis, and scientific and technical espionage.  The KGB's goal in East Germany was to gather intelligence and recruit agents who had access to the west, especially individuals who had relatives near American and NATO military bases.  Putin was heavily involved in recruiting and running agents to determine East German support for the Soviet Union.  In 1987, Putin who was very popular with his superiors was promoted to Lieutenant Colonel and the Dresden Station Chief's senior assistant, or enforcer.  Myers traces Putin's actions as Mikhail Gorbachev instituted Glasnost and Perestroika and his reaction to events in November, 1989 as the Berlin Wall came down.  Two years later, the Soviet Union finally gave way after a failed coup against Gorbachev, and Yeltsin emerged as the dominant political figure in Russia.  Putin's reaction to events led him to resign from the KGB.   The future "Tsar" was now cast adrift.
In contemplating Putin's career one must ask, how he progressed from being a former intelligence operative to President of Russia in seven years.  Myers does an excellent job framing Putin's behavior and beliefs following the collapse of the Soviet Union.  Rising to the position of Deputy Mayor of Leningrad he attached himself to the coattails of a former law professor at his alma mater, Anatoly Sobchak.  It was during Sobchak's administration that Putin, because of his economics background negotiated no bid contracts with newly created corporations that involved numerous kickbacks and extensive fraud.  Leningrad's treasury was almost empty and casino gambling was seen as a source of revenue.  This would lead to organized crime and the emergence of the new corporate oligarchs controlling the local economy.  Myers points to rumors of Putin's involvement, but can't make a definitive case.   It was at this time that a number of these new oligarchs that emerged under Yeltsin, businessmen like Yuri Kovalchuk and Vladimir Yakunin whose metal company received licenses to export aluminum and non-ferrous metals grew very close to Putin, and years later would become titans of Russian industry.  Putin's role in Leningrad's economy increased under Sobchak and more and more cronies from his KGB past were given prominent positions in the city's government.  Myers refers to these men as the "St. Petersburg boys," who would emerge as important players when Putin assumed power.  Sobchak's goal was to make his city the friendliest to foreign investment in the entire country.  Putin's goal was to help create a new "window to the west," the first major transformation of its kind since Peter the Great.  Putin would operate in the background with no fanfare and little emotion.  He knew how to slice through the bureaucracy and Russia's opaque laws and used his Leningrad experience as a primer on how to get things done.
(Russian President Boris Yeltsin)
Putin would remain in Leningrad until 1996 when Sobchak was not reelected mayor.  Putin was without a job, but Yeltsin would be his savior.  Yeltsin's own support in the presidential election of 1996 were the bankers, media moguls, and industrialists who had acquired controlling interests in major industries in return for keeping Yeltsin's government afloat.  Putin was appointed to the Presidential Property Management Directorate to oversee the legal issues as he was in charge of reasserting the government's control over certain properties and dispensing with others.  Seven months later Putin was put in charge of investigating abuses of Russian property and restoring order, and ending the corrupt schemes that were destroying the Russian economy.  Putin's work brought him into contact with the FSB (really a new KGB with another name!) and earned a graduate degree with a thesis focusing on Russia's natural resources.  More and more Putin believed that the state had to reassert its control over its own natural resources that were being pilfered by "oligarchs."  This belief would form the basis of Putin's economic policy once in power as he would use Russia's vast energy resources as a tool against the west and former Soviet republics that did not conform to his vision of Russia's spheres of influence.
Putin had gained a reputation as a competent, hard-working individual who did not press a particular agenda on Yeltsin.  With the corruption in the FSB, the economy imploding, Yeltsin appointed Putin as the head of the intelligence agency, Putin had come full circle.  Myers description of Yeltsin's reign as president is one of economic disaster, corruption on a scale not imagined by many in his inner circle, and navigating from one crisis to another.  Throughout it all Putin was loyal and conducted himself in a ruthless and efficient manner that made him essential to Yeltsin's political survival and he rewarded Putin with the leadership of the Security Council in addition to his duties as Director of the FSB.
Myers successfully integrates the second Chechen war into the narrative on top of Yeltsin's domestic troubles.  This occurred at the same time NATO was bombing Serbia because of its actions in Kosovo, and the Russian leadership was powerless to support its Slavic brothers and  greatly feared that the west could do the same in Chechnya.  Yeltsin could not run for reelection in 2000, so he needed an heir that he trusted.  He offered Putin the office of Prime Minister and then he would resign before the election, to provide the little publicly known Putin a leg up on the presidency.  Myers does a superb job describing these machinations that resulted in Putin's elevation.  One of his first moves upon assuming office in September, 1999, was to send Russian forces back into Chechnya, after four attacks in and around Moscow that killed over 300 people, a move he would stand by for years despite negative results.
(Russian troops bring out the dead and wounded after their assault on the Moscow theater to free hostages from Chechen terrorists, October 23, 2002)
Myers discussion of Putin's reign is sharp and focused and explains many of the problems that the United States faces today with the Russian leader.  Putin's approach to government is his version of the "dictatorship of law" or "managed democracy," which may reflect some of the trappings of democracy, but are fixed or manipulated to accomplish certain ends.  Putin was aided by the strong recovery in energy markets after his election in 2000.  With increasing funds in the Kremlin coffers, Putin prosecuted his war in Chechnya in a vicious fashion.  This would produce a series of terrorist attacks that would cost Moscow dearly.  When Putin's leadership and tactics were questioned during terrorist attacks at a movie theater on October 23, 2002 in southeast Moscow that resulted in the death of 130 hostages, and the terrorist siege of a school in Breslan in North Ossetia, the Russian President stonewalled any explanations for his military responses.  This was Putin's pattern in a crisis, as was evidenced earlier when the nuclear submarine Kursk sank in 2000 with the loss of 118 men.  Despite these disasters and the Chechen war that was turning into a quagmire, Putin's popularity could not be questioned, in large part because reporters, commentators, or politicians who raised issues or made negative comments about Putin, tended to disappear.  Putin had a carefully crafted image supported by his media friends who would not pursue the truth concerning the assassinations of Anna Politkoyskaya, a journalist critical of Putin, Alexsandr Litvinenko, a former FSB operative who exposed corruption and bribery in the agency, among numerous others.
Myers does a commendable job explaining the second "rape" of the Russian economy, the first under Yeltsin that produced the first wave of oligarchs, the second under Putin.  Names like Yukos, Gazprom, Rosneft, and their CEO's are explored in detail and the reader acquires an inside look at how Putin dealt with economic threats to his regime as he sought to recover the state's assets.  However, at the same time he allowed many of the "St. Petersburg boys" access to new wealth, creating a second wave of "new" oligarchs.  The trial of Mikhail Khodorkovsky, the head of Yukos, the largest oil company in Russia is emblematic as to how Putin operated.  The end result is that Putin gained control of all aspects of the Russian economy, and of course with the attendant corruption, his own wealth accumulated tremendously, estimated at about $40 billion by Russian journalists and the CIA.  As an editorial in Kommersant opined, "the state has become, essentially a corporate enterprise that the nominal owners, Russian citizens no longer control."
(the nature of American-Russian relations is obvious from the faces of Presidents Obama and Putin)
When Putin first rose to power many hoped a strong relationship between the United States and Russia would result. Putin was very supportive following 9/11 and approved of American military bases in former Soviet republics to conduct the war against al-Qaeda and the Taliban.  After meeting Putin for the first time, President George W. Bush had a positive reaction as he said, "I looked the man in the eye, I found him to be very straight forward and trustworthy…..I was able to get a sense of his soul; a man deeply committed to his country and the best interests of his country."  Bush was either naïve or uninformed about Putin and the course he pursued.  Putin grew angry at the United States when the Bush administration refused to alter provisions of the 1972 Anti-Ballistic Missile Treaty (ABM), and the eventual American withdrawal from the treaty.  Further, Putin was against the American invasion of Iraq and the overthrow of Saddam Hussein, and this was capped off with the Ukrainian election of 2004 where reformers and government protestors wanted to move closer to the west and become members of NATO.  Putin's frustration and anger at the United States further increased when President Bush decided to negotiate with Poland and the Czech Republic for bases for a Missile Defense System.  This led to the February, 2007 Putin speech at the Munich Security Conference where the Russian president excoriated the Bush administration in what Myers describes as similar to Winston Churchill's Iron Curtain speech.  With the economic collapse of 2008 and its effect on the Russian economy, Putin would only blame the United States.  Further, the election of Barrack Obama, the Russian invasion of Georgia, trade disagreements, events in the Ukraine and Crimea, and the current Syrian crisis, it is not surprising that it seems we are now witnessing a second Cold War.
Putin could not run for reelection in 2008, but as Myers points out, like Yeltsin he also had an heir, Dimitri Medvedev, a former head of Gazprom, and an individual who appeared to be easier to deal with.  However, with Putin as Prime Minister pulling the strings, Kremlin policy remained the same, accept with a softer face.  During his presidency Medvedev was consistently forced into the background be it the 2009 economic crisis, the Russian invasion of Georgia, and other issues-Putin just could not stay in the background.  Medvedev's speeches were vetted by Putin and it was demeaning for the Russian president as he was now overshadowed by his Prime Minister.
After reading Myers' book, the reader should have a handle of who Putin is and what he believes in.  I agree with Gal Beckerman's description of Putin as a man who represents his country, represents stability, and "stands against the chaos of the street; one man who still believes in the unique power of the state personifies its sovereignty and its prerogative to defend its interests; one man who embodies calm, measured authority resists the emotional swell of undisciplined, angry people, and understands that the appearance of forcefulness and obstinacy can be as powerful as an actual show of force."  After digesting Myers' narrative of Putin moving from crisis to crisis, some self-created and some external to Russia, it becomes clear that he simply believes that "he's the last one standing between order and chaos," whether he is dealing with protesters challenging his return to the presidency during and after the 2012 elections, "Chechen separatists, E.U.-loving Ukrainian politicians or the West as a whole, working through nefarious pro-gay N.G.O.'s or NATO." (New York Times, November 2, 2015)
(Demonstration against Ukrainian government in Independence Square, Kiev, February 2, 2014)
Putin's greatest gamble according to Myers was his illegal seizure of the Crimea in reaction to the violence in Kiev on February 2, 2014.  Protestors had taken to the streets forcing Ukrainian President Viktor Yanukovych to flee the capitol.  Putin was presiding over the closing ceremonies of the Sochi Winter Olympics and saw events in the Ukraine as a western plot to deny Russia the accolades that it deserved because of the success of the games.  Incensed, Putin met privately with a few trusted advisors and planned to foster the breakup of the Ukraine by seizing the Crimea.  The Russian invasion began on February 27, 2014 negating the argument he employed against President Obama about unilaterally invading countries as the US had done in Afghanistan, Iraq, and Libya.  Putin correctly calculated that since that the west would not react as it had in 1990 removing Saddam Hussein's forces from Kuwait, as it had not acted against the Russian invasion of Georgia in 2008.  Putin's fait accompli would not be reversed and his rationale of protecting "ethnic Russians" was domestically popular and would later be used to justify Russian military moves in Eastern Ukraine.  Even after the dubious referendums in Crimea, Donetsk, and Luhansk; in addition to the Russian shoot down of a Malaysian airliner, Putin was convinced the west would do nothing, and he would rally his country against the foreign conspiracy to isolate Russia politically, and hurt her economically with sanctions.  Not only did Putin not worry about western actions, it seemed he no longer cared as is evidenced by the current situation in Syria as Russian planes continue bombing to prop up the regime of Hafez el-Assad, as opposed to his public position of fighting ISIS.
Myers conclusion that Putin no longer cared to rule pragmatically as he had done during his first two terms in office, and would focus on reasserting Russia's power with or without the recognition of the west, is correct.  Myers should be commended for his work and anyone interested in understanding, the "new tsar" should consult it.