(Nazi medical facility conducting "research")
While attending the funerals of his grandparents, Dr. Mark McConnell meets an old friend of his grandfather, Rabbi Leibovitz.  For years the Rabbi worked with McConnell's grandfather who had difficulty coping with his experiences from World War II.  It seemed that his grandfather had been awarded a secret version of the Victoria Cross, England's highest award for "unparalleled acts of valor and devotion in the face of the enemy," kept many secrets from his son and grandson.  McConnell is stunned as the Rabbi begins to tell him a story that dates back to February, 1944 in a place called Totenhausen located on the Recknitz River in northern Germany.  After reading Greg Iles opening salvo in the historical novel, BLACK CROSS, the reader's interest is captured.
The first Mark McConnell is an American educated at Oxford University with a medical degree and a master's in chemical engineering who is asked by one of Winston Churchill's senior advisors to join a British team to research poisonous gases.  It is 1940 and England is hanging on by a thread against Nazi Germany when McConnell agrees to join the British.  Fast forward to 1944 and McConnell is asked to head a group to develop a clear poisonous gas that was more toxic than Sarin (the gas that Hafez el-Assad recently used on the Syrian people).  McConnell is a pacifist, and agrees to work only on defensive weapons, but the issue has become immediate as Churchill and the allies believe that Hitler is about to deploy a deadlier version than Sarin called Soman, another clear toxic agent that short circuits the central nervous system to block any allied landing in France.  With Normandy planning already under way and scheduled for June the Nazi threat is immediate.  McConnell's problem is that his father had been a victim of poison gas during World War I and he witnessed the physical and mental scars throughout his childhood.
(General Reich Commissioner for Health and Sanitation, Dr. Karl Brandt)
The allied plan is designed to warn the Nazis that they have their own supply of Sarin and Soman by destroying Totenhausen, a Nazi camp that conducts medical experiments to develop these toxic gases.  Heinrich Himmler is in a race to show the Fuhrer the possibilities of using the gases to block the allies, before an allied demonstration influences his decision making.  The plot is not an imaginary one as during the war there was a race to develop toxic gases and a defense against them.  Iles creates a number of believable characters through which he tells McConnell's wartime experiences.  Churchill proposes to Eisenhower that the allies develop a toxic agent and use it against the Nazis in limited fashion or bomb the Nazi stockpile.  The Supreme Allied Commander refuses, arguing that President Roosevelt would never allow the United States to be the first to deploy such a weapon.  Churchill never one to be dissuaded once he made up his mind decides to go ahead with a plot of his own.
Iles has created a scenario that is historically believable.  He presents a number of historical insights that reflect the low opinion the British have of American fighting capability, and British arrogance.  Further, the conflict between Himmler's SS, the Gestapo, and the Wehrmacht for Hitler's "blessing" is dead on.  Historical characters that are presented seem true to life, particularly Himmler, Eisenhower, and Churchill.  The fictional characters are also extremely realistic.  Dr. Mark McConnell's evolution from a pacifist to an individual who is willing to kill innocent people in the name of saving the Normandy invasion is credible.  Brigadier General Duff Smith who is in charge of the secret British plan to destroy Totenhausen and steal Nazi research on Soman gas is right out of MI5.  Jonas Stern, is a Zionist guerilla fighter from Palestine who had served in the British army is captured and recruited as an integral part of the plan.  Stern agrees because he wants revenge as he is told that his father had been gassed at Totenhausen and as a partisan fighter witnessed four separate Nazi extermination camps.  Other important figures include Dr. Karl Brandt who headed the research at Totenhausen and conducted numerous medical experiments and selections that resulted in the death a large number of inmates.  Iles is accurate because the Nazi doctor, Karl Brandt did conduct medical experiments and was found guilty at Nuremberg and hanged in June, 1948.  Anna Kaas, a nurse at Totenhausen, Rachel Jansen, an inmate at the camp along with her two young children, Ariel Weitz, a collaborationist Jew, and a number of other characters play important roles in the story.
(Heinrich Himmler)
The novel raises a number of difficult questions, especially when decisions have to be made regarding who should be protected as the plan is implemented.  The issue of people "playing God," as people have to decide who shall live, and who shall die plays out throughout the novel.  Iles also explores the evolution of human relationships during the stress of war time.  The bonding that takes place between McConnell and Stern is very interesting, as is McConnell's relationship with Anna Kaas.  The dilemma of Rachel Jansen brings to mind the decisions that had to be made in the book/film, SOPHIE'S CHOICE.  World War II was supposedly the good war, but as Iles' characters confront evil, there is no such thing.
Iles' novel is suspenseful, realistic, and engrossing.  These literary traits seem to characterize all of his books.  A few weeks ago his latest work, MISSISSIPPI BLOOD, the third installment of his NATCHEZ BURNING trilogy was released and I cannot wait to get a copy and plunge right in.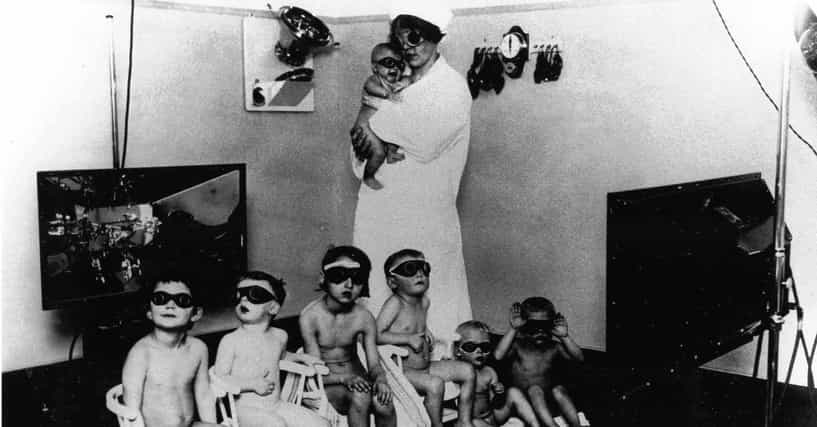 (Totenhausen, conducted Nazi medical research on children)