(Fascist propaganda)
For the longest time I have wanted to tackle one of Umberto Eco's novels.  I knew they were unique so I have digested his fifth work, THE MYSTERIOUS FLAME OF QUEEN LOANA.  To say the least the book was different from anything I have ever read before.  Eco introduces the main character a Giambattista Bodoni, with Yambo as a nickname suffering from memory loss due to a heart attack.  He lives in Milan and is fifty-nine years of age and he is crushed by the fact that he can remember things from the distant past, but nothing more recent.  He does not even know his name and it takes his wife Paola, who is a psychologist, and his physician, Dr. Gratarolo to introduce him to his identity and certain pathways of his life.  For Yambo familiarizing himself or relearning almost everything was similar to being Adam or Eve.
(Josephine Baker, singer and actress)
Eco offers numerous ruminations on memory; its depth, how difficult it is at times to retrieve its contents, and how hard it is to move forward without the knowledge that is buried within.  For Yambo his memory is nothing but frustration.  The brain is an amazing instrument as he can remember four stanzas of Dante's poetry, but can't remember if he ever had an affair with Sibilla who is his assistant at his antiquarian bookstore.  Yambo's heart attack has erased all memory of his own life while leaving every scrap of every book, comic strip, song, movie that he has ever experienced intact.  The most interesting part of the novel is the first part as he confronts his medical issue and tries to recapture his memory.  Eco incorporates sarcasm, and humor to relieve some Yambo's tension, but his stress is evident.  The solution that is reached is that Yambo should visit his grandfather's retreat at Solaro where he spent much of his childhood.  Since his grandfather was also a bookseller it is hoped that what is stored in the main house will stimulate Yambo and restore his memory.
In examining the attic of his childhood Yambo feels like he is an intruder in a forbidden kingdom.  He travels from one section of the attic to another, and one crate or bookshelf to another trying to locate clues of his previous life.  In doing so we witness a man rummaging through the attic and study in a Piedmontese country house in search of his past.  Yambo reads for the first time, or rereads countless books from his past, many of which he recognizes along with listening to numerous records.  He comes across Sherlock Holmes, Flash Gordon, Jules Verne, among many titles by Italian authors.  Eco provides numerous illustrations to highlight Yambo's findings.  Included are tins, cigarette cases, toys, calendars, dolls, soldiers, record cases, stamps, and of course numerous book jackets from his grandfather's library.  For Yambo the mystery of Solara was that at every turn he would approach a revelation, and it would come to stop on the edge of a cliff, the invisible chasm that kept him in a fog.
The book itself is not really a novel, but more of a revisiting of Eco's past reading life.  The book's illustrations are interesting, but not really necessary, perhaps they were thrown in to embellish the story.  The strong suit are a series of what appear to be essays on such diverse topics as Mussolini's influence on children's literature, his schoolboy notebooks depicting the exploits of Il Duce, Black Shirts, and colonial triumphs, then listening to a radio as the war turns to songs of bravery and coming defeat at Anzio, the landing at Sicily, bombing of Milan, all of life's reality as the family had left the city to wait out the war in Solara.  Yambo would learn a great deal about his grandfather's past in Solara as he searched for his own.  Particularly important were the reasons his grandfather turned from journalism to buying an old book shop.
(Ginger Rogers and Fred Astaire)
The most important episode of Yambo's adolescence turned out to be a teenage crush on a girl named Lila Saba.  She would become an obsession for Yambo even after her family moved to Brazil.  He would grill his friend Gianni who knew her also as he continued his quest to remember her face well into adulthood, to the point when he learned her real name was not Lila, but Sibillia.
(Fascist Italy stamp honoring Hitler and Mussolini)
In summation, Eco has presented a popular history of the 1930s and 1940s through his meandering approach to recapturing his childhood.  In doing so Yambo provides a narrative of World War II and its effect on Italy through the eyes of a boy.  For Yambo he becomes caught between listening to the messages of national glory and daydreaming about the fog in thinking about London and Sherlock Holmes.  In the end he would realize that he had rediscovered things that he and countless others had read, and aside from stories about his grandfather he had not relived his childhood, but he had relived the life of a generation.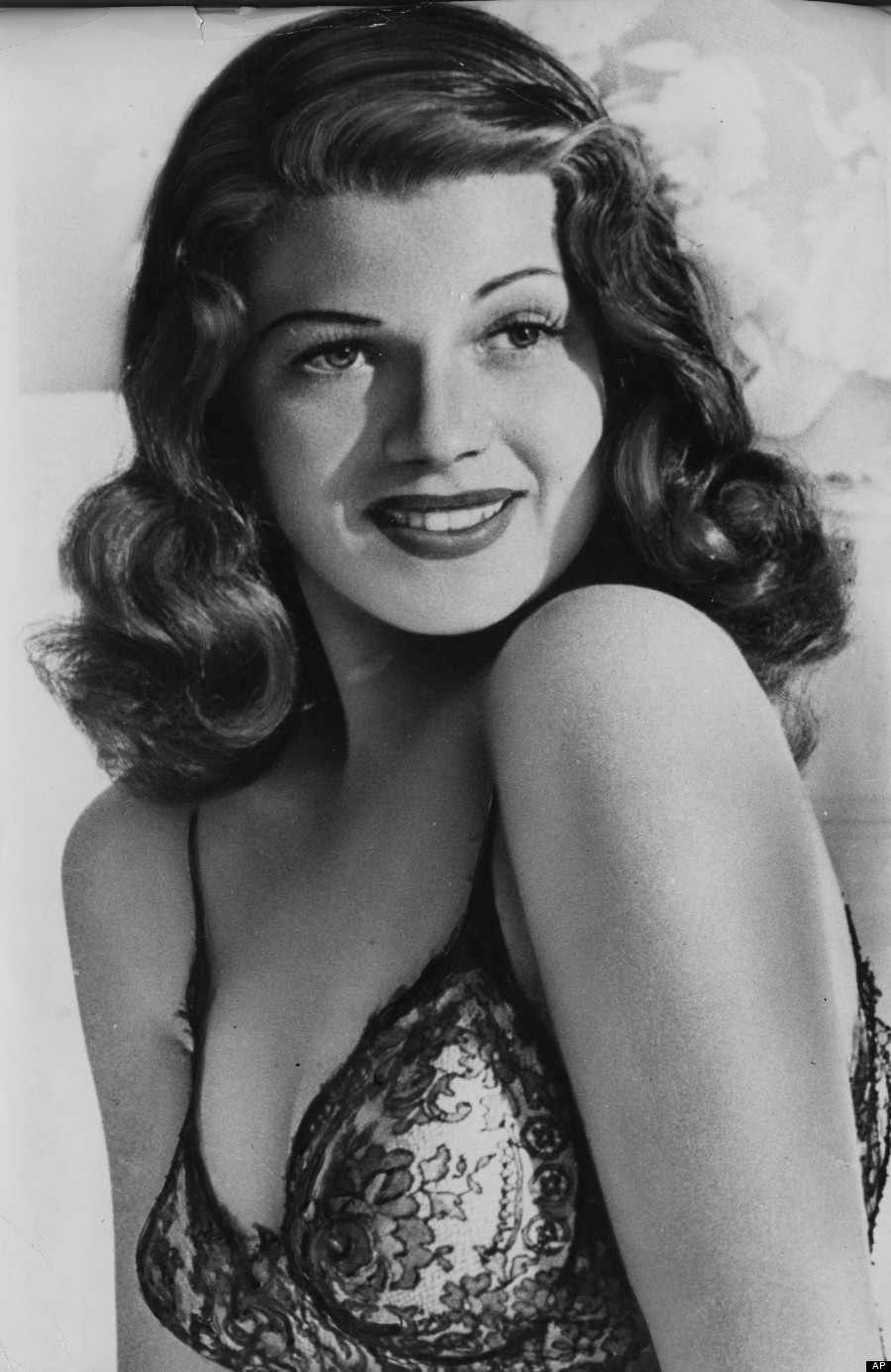 (Rita Hayworth)
Eco's effort does not flow evenly.  One page is a narrative about family and life.  Another deals with the war.  The next might deal with the temptations that religion does not permit.  Moving on you are following Yambo's reading history, then his opinion of film, stamps, and what not.  Then on to developing his sexuality and his obsession with Lila.  At times fascinating, at time engrossing, but also at times fantasy that can lose the reader's attention.  Eco's humor, sarcasm, and didactic knowledge reflect a fascinating author, but be prepared to concentrate fully because if you do not, you will get lost.