(Weimar Berlin, 1929)
After recently visiting the Jewish quarter of Budapest, former Nazi sites in Nuremberg, and several German towns along the Danube and Rhine Rivers, 20th century German history has taken hold of my thoughts.  When I travel I have a personal tradition of trying to discover regional authors who have written historical mysteries about countries I have visited.  In this case I have come upon, Volker Kutscher's first novel, BABYLON BERLIN, which introduces Book I of his Gerson Rath series.
Gerson Rath is an interesting protagonist who stems from a somewhat questionable background.  A former Cologne detective, he was forced to leave that police department due to a shooting incident where Rath was strongly implicated.  Because of the influence of his father, Police Director Engelbert Rath, he was able to transfer to a vice squad in the Berlin Police Department as an investigative detective.  From that point on Kutscher provides an insightful look at the underside of Weimar Berlin in 1929 as the depression looms and right-wing parties begin to proliferate.  Kutscher explores the role of drugs, pornography, and the actions of immigrant elements and their effect on German crime, politics and society in general.
(Weimar Berlin, 1929 witnessed the rise of the Nazi Party)
Rath soon finds himself involved in a series of vice raids, but his heart is in solving homicides, not busting pimps, prostitutes, or porno-film producers.  After several murders take place, Rath sees an opportunity to solve them as a vehicle of self-glorification to gain a promotion to the Homicide Division.  He keeps information from his superiors, becomes involved in an accidental murder which he hides, false in love with a stenographer in Homicide, all on the way to achieving a promotion, due in large part once again to his father's influence.
As Rath proceeds with his own investigations, the pervading atmosphere in Berlin is one of fear of communist demonstrations that could lead to a coup against the government.  This fear was further reinforced with the emergence of a group called the "Red Fortress." Pre-Hitlerite Berlin is on full display as we witness the rise of anti-Semitism and the Nazi Party, the cafes and dance halls infested with alcohol and cocaine, opium dens, mob killings, corruption, and labor unrest.  Berlin is a city where Communists and ultra-nationalists are at war with each other to wreck the Weimar Republic's fragile democracy. Another component to Kutscher's plot emerges as Rath discovers a connection with a circle of oppositional Russian exiles who try to purchase weapons with smuggled gold stolen from Stalinist Russia.  Rath's actions and machinations should be self-destructive as he himself becomes a murder suspect.  Rath is a character with many secrets, which include PTSD from combat in World War I, and Kutscher has no compunction about presenting Rath as an individual who is morally compromised as he tries to achieve a greater good for his city.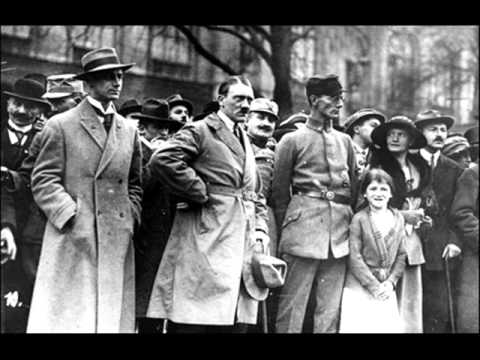 (1929, Hitler the politician in Weimar Berlin)
Kutscher introduces several interesting characters to carry his novel.  Among them are Charlotte Ritter, a stenographer in the Homicide Department that Rath falls in love with; Elizabeth Behnke, Rath's landlady who is jilted by Rath after a one night stand; Detective Chief Inspector Wilhelm Bohm, a boisterous commander that Rath must deal with; Dr. Magnus Schwartz, the coroner who repeatedly tests Rath's reaction to autopsies;  Berthold Weinert, a newsman and neighbor of Rath; Commissioner Zorgiebel, a friend of Rath's father, who needed publicity the way an addict needs his drug fix; Bruno Wolter, Rath's partner;  Countess Svetlana Sorokina, whose family held $80 million worth of gold; Alexej Ivanovitsch Kardakov, worked to smuggle gold into Germany; and Johann Marlow, a cocaine dealer linked to the Red Fortress plot. Other criminals and interesting personality types are also present representing the Russian mob, drug dealers, murderers, and Nazis, all designed to complete a complex plot line that meanders throughout the novel.  For Rath, as the investigation proceeds he is forced to ask himself; "how was it that every time he learned something new about the case, he understood less than before?"
Kutscher has written a fast-paced story that seems to twist and turn from page to page.  It will keep the reader's attention through an excellent translation from German and the end result should surprise everyone.  The end of the novel forms the basis of a continuing series involving Detective Investigator Rath in the second installment, entitled, THE SILENT DEATH.  For those interested, BABYLON BERLIN, currently forms the basis of a new series on Netflix.
(Weimar Berlin, 1933)