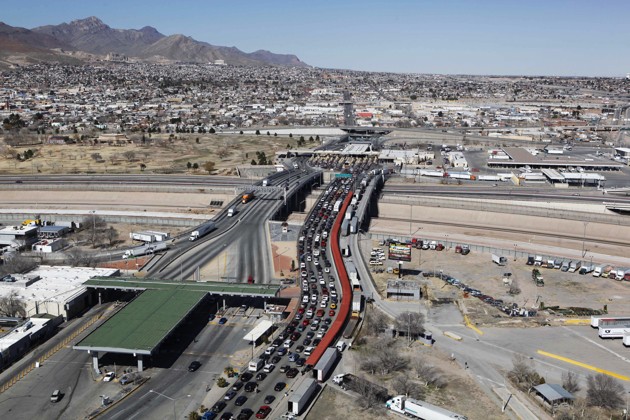 (Jaurez, Mexico border with the US)
"Mexico, the land of pyramids and palaces, deserts, jungles, mountains and beaches, markets and gardens, boulevards and cobblestoned streets, broad plazas and hidden courtyards, is now known as a slaughter ground.
And for what?
So North Americans can get high." (THE CARTEL, 314)
"Hard to believe that 2010, the annus horribiis of the Mexican drug war, has finally come to an end.
The final tally of drug related deaths in Mexico in 2010 comes to 15,273.
That's what we count now, Pablo thinks, instead of counting down to midnight.
We count deaths." (481)
Don Winslow's second installment of his narco trafficking trilogy, THE CARTEL seems nastier than THE POWER OF THE DOG.  The cast of characters is similar, but new ones are introduced that seem to be derived from the depths of humanity, and in this case the pit that is known for its violent drug culture.  However, Winslow's opening leads the reader to believe that the story line might go in a different direction as the reader is introduced to a bee keeper tending his bees in a monastery and during his free time he is at prayer.  One should not be fooled as the bee keeper is Art Keller, the hero of THE POWER OF THE DOG, a former CIA operative and DEA agent who has been fighting narco traffickers for over thirty years.  Once Keller is reintroduced so is Adan Barrera, narco kingpin and the bane of Keller's and the DEA's existence.  In fact, Winslow points out that Barrera is even rated 67th most powerful man in the world by Forbes  magazine. The latest version of Winslow's trilogy has all the elements of the first, but it might be my imagination, but it feels more violent and a steeper climb into the underworld of drugs that seem to seep into every crevice of Mexican society, government, and justice.  In addition, it is also a tale of two major business organizations that fight to the death for market share – it is eerie how this story unravels.
The hatred between Keller and Barrera is heightened as Keller fakes the funeral of Barrera's daughter to lure him into a trap that results in his arrest and imprisonment.  THE CARTEL is the perfect sequel as Barrera puts out a $2 million contract on Keller who is forced to live like a fugitive in Mexico and America.  From inside Puente Grande Prison, supposedly Mexico's harshest maximum facility, Barrera is treated as a "king" and begins to rebuild his drug empire.  Business is booming, which fosters envy from all those narco kingpin wan bees who believed he was out of the picture – the result is civil war, revenge, violence, torture, all emanating from within the narco world, but also outside as many innocent people are killed.  The civil war becomes extremely convoluted as the cartels keep switching sides, making it difficult to follow who is killing who, and for what reason.
(Mexico border at El Paso, TX)
While inside prison Barrera meets Magna Beltran, who becomes his mistress.  Beltran is just one example of the new characters that Winslow creates to carry his new novel.  She was arrested for drug running when she meets Barrera and he courts her as if they were on the outside.  She is an ambitious woman who realizes once her looks are gone, she will be discarded.  She worms her way into Barrera's good graces and develops a drug business of her own and becomes a major narco player.  Other important characters include Osiel Contreras who heads the Gulf Cartel and the Zeta army made up of former special forces soldiers, deserters,  and police that is trained and led by a former soldier, Heriberto Ochoa.  Ochoa oversees the Zetas as they try and infringe upon other cartel territories.  Eddie Ruiz, a former high school football star who, as with most characters in the book becomes involved in the drug trade as he builds himself a small empire but is forced to join Barrera for protection from Contreras' Zeta army.  It appears that each narco head has his own private army with the latest weaponry to go after each other and protect their investments.  Winslow is very astute or sarcastic as he points out that in the old days, the narco leaders would be at the forefront of the fighting, but now they send their own private forces to do their dirty work.  The violence becomes so bad that as cartel armies go against each other one gets the feeling they are in Iraq,  Syria, or Afghanistan.  In fact, the drug wars became terror wars with indiscriminate killing to intimidate and sow fear, rather than conquer targets.
Winslow uses Barrera's desire to expand into the Juarez cartel as a vehicle to explore the socio-economic problems of Juarez, a city that lies across the river from El Paso as well as the inability of the authorities to provide protection for its citizenry.  Using Pablo Mora, a reporter for El Periodico as a tool to explain how the police have a difficult time solving crimes, the reporter explains why the structure of policing is inefficient, and why duties are distributed in such a manner that they overlap creating redundancy and incompetence.  With combinations of city police, state prosecutors and police, federal prosecutors and police, a grab bag of intelligence agencies from the city, state, and national governments, and of course the influence of the cartels which have their own police forces made up of current and retired officers it is amazing that the police can accomplish anything for the public good.  Mora's work provides insights into cartel policies and their impact on Mexican and American society.  Mora is an important character as Winslow tries to integrate somewhat of a "normal" individual into the story, but he too suffers as his four-year-old son moves to Mexico City due to divorce.
(supposed caravans unwelcome at US border)
Another exceptional character is Marisol  Cisneros, a physician who Keller falls in love with.  She is stubborn to the point that she puts her safety in question.  Refusing to back down to the violence wrought by the cartels in Valverde, her home village where she runs a medical clinic for the poor, her story provides further evidence for the ruthless behavior employed by the sociopaths that head the cartels.
(The Author)
Winslow's ability to invent unusual characters that capture the reader's attention is limitless.  Two Mexican government officials, Louis Aguilar and Gerardo Veras begin working with Keller, but their loyalties are questioned making it hard to determine what their agendas are, and which one can be trusted.  Keller's relationship with DEA head Tim Taylor reemerges and the results are interesting to say the least. Eddie Ruiz acquires the nickname of "Crazy Eddie," or "Narc o Polo" and he eventually allies with Jesus "Chuy" Barajos, an eleven-year-old boy from the barrio who is trained as an elite soldier by the Zetas.  After a series of events he switches sides, joins Ruiz, and acquires the nickname "Jesus the Kid."  It seems that Chuy found religion when he was picked up by a religious cult called La Familia Michoacana, led by a cult figure, named Nazario. The cult engages in good works for Jesus providing food, medical care, and housing throughout the barrios of Mexico and American border regions.  The problem of course is how this is funded, and you can guess it was paid for by the "meth trade," whereby the family had built its own drug empire which of course had intruded on another cartel's area of control.  Another family/cartel is headed by Diego Tapia, who along with his two brothers are allied with Barrera, until they aren't.  If there is a common theme to many of the characters it is their fear of going to sleep, which brings them dreams about all the murders they have witnessed, covered, implicated, or for a few committed.  For Pablo it is "the dead, the dying, the grieving.  The dismembered, the decapitated, the flayed." (559)
There are other characters and story lines that emerge for the reader to discover, but they all revolve around the drug trade, the domination of supply and distribution, particularly the burgeoning heroine epidemic in the United States, corruption of the Mexican government and law enforcement, and the violence as the cartels go to war with each other, with certain personalities continuing their vendettas.
At times Winslow's sense of humor emerges as he points out that NAFTA, does not stand for the North American Free Trade Agreement, but "the North American Free Drug Trade Agreement."  THE CARTEL  is a bit longer that THE POWER OF THE DOG, but it packs an even greater punch and will keep the reader riveted as it expands its exploration of the drug trade from Central and South America feeding the habits of American citizens.  Winslow is a master of numerous story lines that eventually converge.  The reader needs to be on their toes not to miss a step as the author unveils his plot very carefully, i.e.; Keller's off book investigation of the Mexican justice system after he helped ignite the cartel civil war.  The book is an eye opener and difficult to put down.  After I finished reading, I can only imagine what new twists and turns Winslow will introduce in the third installment of his trilogy due out this February, entitled, THE BORDER.