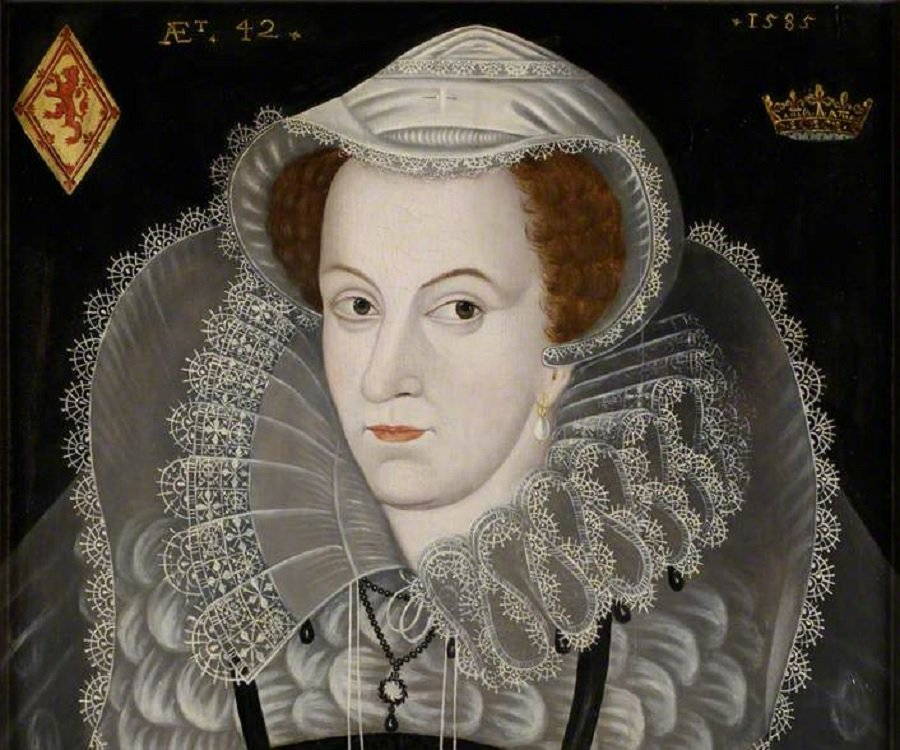 (Mary Queen of Scots)
The other day I went to see the film, Mary Queen of Scots  and as I do with most historical films, I wondered how historically accurate it was.  I vaguely recalled the biography of the Scottish Queen written over forty years ago by Antonia Fraser and it seemed there was a great deal of artistic license employed.  Since the most recent biography of Mary was written by John Guy it seemed like the best choice to read, however the film was based on that monograph. I decided to read an older classic account of the Queen written by Stefan Zweig in 1935 which has withstood the test of time.
Zweig, a prolific short story writer has written several biographies of major historical and literary figures that made him one of the most popular European writers in the 1920s and 30s.  Zweig delivers  a solid biography that encompasses her life begun during the time of Henry VIII who tried to pressure Mary's father, James V to reject Catholicism and accept Protestantism.  James V would die six days after Mary's birth (though Zweig seems to say they died on the same day), resulting in the ascension of Mary to the Scottish throne at birth.
(Lord Henry Darnley)
What is clear about Scottish history is that it was very difficult for any monarch to rule Scotland effectively due to the marauding and jealous clans, led by lords who had difficulty projecting fealty to any monarch.  These lords were arrogant and greedy and were part of a somewhat narcissistic nobility.  Any wealth the monarchy might posses apart from sheep herds were gifts and grants from the French king or the Pope.  Historically Scotland was a pawn in the battle between France and England, and when war would break out, the English would land at Normandy, and the French would foment problems with their Scottish allies in the rear.
Zweig writes in a pleasant literary style that most historians can not match.  He writes with a scent of sarcasm whether discussing dynastic politics or diplomacy, and his monograph reads like a novel.  A prime example are the negotiations between Henry VIII and the Scots to marry his son Edward to the six-year-old Mary.  However, even after the negotiations are successful, she is spirited away by the French King Henry II to marry his son Francis.
(Elizabeth I)
The basic problem is that Mary had a legitimate claim to the English throne once Henry VIII died and his heirs Edward and Mary died.  The Scottish Mary was the great grand daughter of Henry VII of England, and Elizabeth, the daughter of Henry VIII and Anne Boleyn was deemed a bastard.  Henry II would paint the English coat of arms on Francis and Mary's blazon in 1559 thus fostering the enmity and creating a rival for Elizabeth I.  For the remainder of her life, Mary was seen by Elizabeth as a threat to her throne and eventually it would not end well for Mary.
Zweig will lay out the history of Mary's short marriage to the sickly Francis and describe in detail her unwanted departure from France and return to Scotland.   Zweig effectively relates Mary's emotional state as she departs France.  Zweig integrates Mary's state of mind throughout the book and incorporates Mary's own writings and words into the narrative.  When Mary departs for Scotland on August 14, 1561, she is traveling to a country that is totally strange and foreign to her.  She faces several obstacles before she arrives that will dog her for her entire reign.  She is to rule over a poverty-stricken country, she must deal with a corrupt nobility that seems to make war at the slightest provocation, she must confront a clergy that is equally divided between Catholicism and Protestantism, and must deal with foreign neighbors who are waiting to benefit from the fratricidal disputes that seem to occur regularly.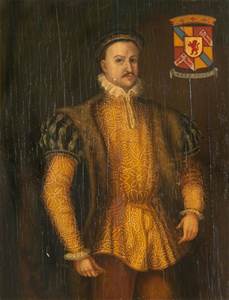 (Lord Bothwell)
Zweig lays out the barriers that Mary must face when she assumes the throne.  She is poor as her mother; Mary of Guise left no inheritance.  Further, she must deal with wars of religion where the towns support Protestantism, and the countryside Catholicism.  In addition, she must deal with fanatical priests and foreign powers, and lastly nobles who convert to Calvinism as a means of seizing Church wealth.  Mary learned fast and decided that perpetual warfare was the way to preserve her Stuart heritage.  The question that dominants is how does one rule when more than half of your kingdom believes in a different religion.
Several important figures emerge that influence the course of Mary's reign.  Her half-brother James Stuart, the bastard son of James V was her Prime Minister, and a Protestant.  A patient practitioner of the Machiavellian arts, he would have made the perfect king of Scotland.  James was wealthy in his own right and was always willing to accept subsidies to carry out the desires of Elizabeth I.  Another major figure was John Knox, the fanatical Calvinist preacher who refused to accept Mary as the legitimate ruler of Scotland.  His merciless antagonism and demagogic speeches designed to spread his dictatorial religious beliefs was a threat to Mary her entire reign.  When they finally meet for the first time, Zweig presents a wonderful description of their debate that demeaned Mary, who stood up to Knox but realized the difficulty that he presented.
Throughout Zweig allows the reader to experience Renaissance culture through the poets and their poetry of the period.  Mary who grew up during the French Renaissance was a cultured individual who did not fit in Scotland.  Zweig shifts his narrative to the social and cultural mores and norms whenever the situation warrants, and it is a pleasant change from the constant lack of decency and back stabbing that dominates Mary's reign.
Any biography of Mary must concentrate on her relationship with Elizabeth I.  Zweig
does an exceptional job and his narrative is based on facts presented or debated with a scholar's enthusiasm.  There is a psychological dimension to the relationship between the two Queens and Zweig does his best to explore it and reach his own psychohistorical conclusions.  He possesses a deep admiration for Mary and her refusal to give into a destiny that she should have been able to predict.  Reading this monograph at a time of the "me-too" movement one must not take out any sexist frustrations one might feel in regard to Zweig's comments, i.e.; "In spite of their superlative traits these two women remained women throughout and were unable to overcome the weaknesses inherent in their sex."  The narrative concerning the monarchial cousins centered on their differences that led to the ruin of Mary and victory for Elizabeth.
Zweig correctly points out that the Treaty of Edinburgh was at the center of their inability to reach a rapprochement despite the flowery letters between the two.  Mary would not sign the treaty recognizing Elizabeth's reign until Elizabeth had accorded the succession to Mary – but to Elizabeth that would be signing her death warrant.  Zweig points out the strengths and weaknesses of the cousins as well as their similarities and differences.  Mary possessed a madly heroic self-confidence that led to her doom.  Elizabeth suffered from a lack of decision making, but she would still be victorious.  Mary was the champion of the old Catholic faith and was a character out of the Middle Ages believing in chivalry which was dying out.  Elizabeth was the more modern monarch who was defending the reformation.  The approach to their individual kingdoms also sets them apart.  Mary's kingdom belonged to her on a personal level and she was interested in territorial expansion of her realm, only if it would benefit her personally.  For Elizabeth everything she did was to expand her kingdom and add to the glory of England, not her personal possessions.  The resulting engagement in wars, colonial expansion, and spreading England's influence around the world was the result.
Perhaps Zweig's most fascinating chapters deal with marriage diplomacy between the two Queens.  The narrative is priceless as negotiations between the two go back and forth and characters like Lord Henry Darnley and Robert Dudley become pawns between the two women.  Zweig's presentation is almost like a comedic sketch resulting in the secret marriage of Darnley to Mary that has grave repercussions as Elizabeth and James Stuart are shunned to the side and the result is war that at first Mary is victorious, but in the end creates tensions that could only result in her defeat.
Zweig constantly offers a lens into the human condition throughout the narrative.  He delves into the psychological imperative that drives Mary and provides a wonderful soliloquy encompassing her infatuation for Lord Bothwell and the repercussions of the murder plot to kill her husband and her almost immediate marriage to her husband's murderer.  Zweig's analysis is deep and carefully thought out and certain historical scenes are presented as if  from a Shakespearean play as there are constant comparisons to the Bard's characters.  The result is that Mary's psyche has deteriorated to the point that she is unable to face what she has done and how dark were her deeds.  A major component of the book is the decline in Mary's psychological well being as her behavior is detrimental to her political position and her own happiness resulting in her self-inflicted downfall.
(The execution of Mary Queen of Scots)
This decline is readily apparent as Zweig describes the negotiations between the cousins once she leaves Scotland and is "detained" in England in 1567.  Elizabeth wanted Mary to renounce her rights to the English throne and retire quietly.  Further, she wanted Mary to be cleared of involvement in the regicidal plot involving Bothwell and the death of her husband, Lord Darnley.  Zweig reproduces a great deal of documentation of the Westminster Conference which investigated the murder.  As in several cases dealing with Mary the results were not clear, but no matter the result Mary once again let her pride stand in the way of her safety as she lamented her situation and refused to give into Elizabeth's demands.  The situation could easily have been resolved had Elizabeth, who at times had difficulty making major decisions just had Mary found guilty and executed in 1568 and not let the situation drag on for years with the same results.
As an aside, if one compares the film, Mary Queen of Scots to Zweig's or other historical monographs it becomes clear there are several inaccuracies.  First, Mary and Elizabeth never met face to face as takes place toward the end of the film.  Second, the brutal murder of David Rizzio, Mary's confidante does not take place in front of the Queen as is shown in the film as he was dragged into another stateroom for the deed to transpire.  Third, it is debatable to assert that Darnley and Rizzio were lovers as is reflected in the film.  Fourth,  Mary did not have a Scottish accent as reflected in the film as she was raised in France, and lastly Lord Darnley probably raped Mary the first time they had sex.  The film overall is well done with a diverse cast, which of course did not exist in the 16th century, but the gist of historical accuracy does come across and one must remember a film is made to make money – not bring true history  to the screen.
(Mary Queen of Scots and Elizabeth I as portrayed in the film)
Zweig has written a somewhat entertaining and literary biography of Mary Queen of Scots.  In reading the book one must realize the time period in which it was written and Zweig's background as a writer.  It may not meet the criteria that today's historians might call for, i.e.; a full bibliography and endnotes, but it is a legitimate work of history and I would recommend it for those who seek clarification, those  who have seen the film, or those who are just curious about one of the most enigmatic figures in history.
(Mary Queen of Scots as portrayed in the film)