(Mel Brooks)
Recently I read ROBIN by David Itzkoff, a biography that described the comic genius and troubled life of Robin Williams.  The book was thorough and replete with explanations of why Williams turned out as he did, and the role comedy played in his life.  There are few people who can approach Williams' ability to transform themselves into different characters and employ improvisation.  One who might approach Williams' talent is Mel Brooks, the subject of a wonderful new biography by Patrick McGilligan entitled, FUNNY MAN.
Brooks' background and early life stems from the wave of Russian Jewish immigration to the United States at the turn of the 20th century.  Thousands would pass through or remain on the lower east side of Manhattan or move across the Williamsburg Bridge into Brooklyn as Brooks' family did in 1917.  McGilligan describes his subject as a pampered child as the youngest of four brothers and his role in the family seemed to be to make everyone laugh. All was not laughter as at the age of two and a half, Brooks' father passed away, leaving a void in his life that would affect him throughout adulthood.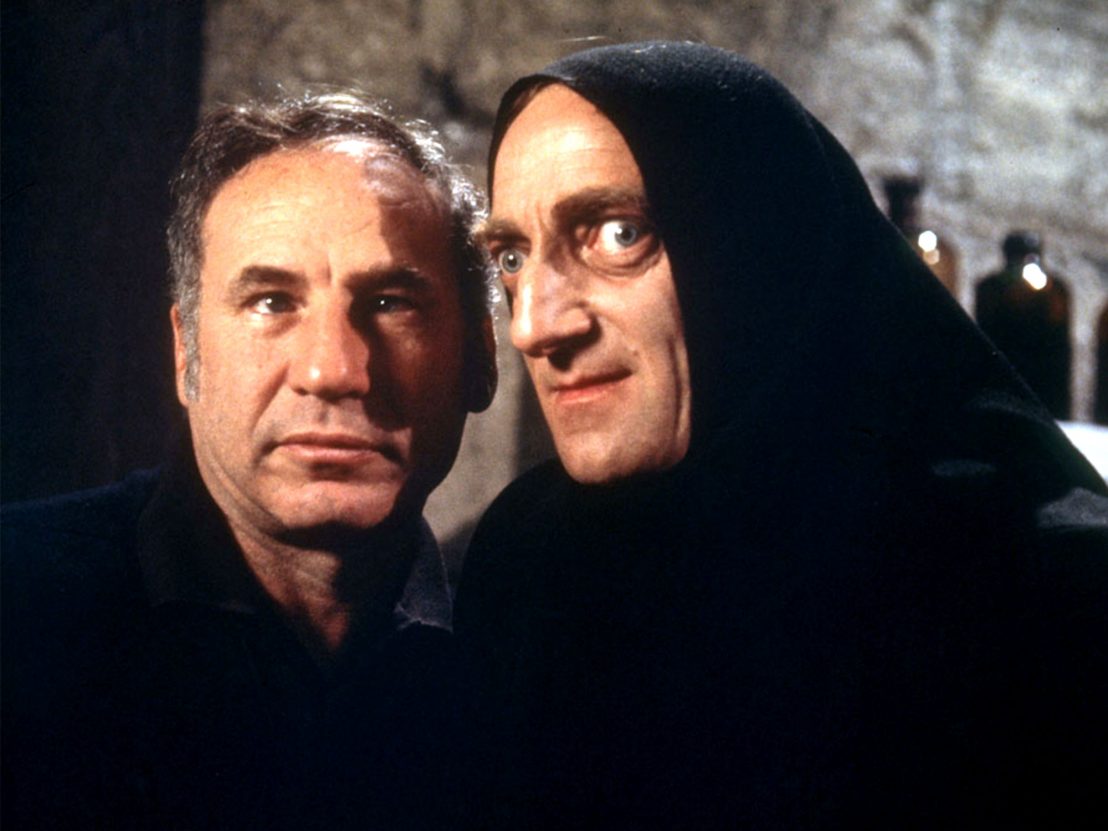 (Mel Brooks and Marty Feldman)
McGilligan goes on to describe Brooks' life in minute detail as he ponders his future leading up to World War II, a turning point as he will wind up as an "entertainment specialist."  Though he passed through areas of combat with the US Army as it made its way toward Germany, Brooks was considered a "barracks character" throughout the war.  McGilligan does a workman like job describing Brooks' transition from a grunt who entertained his comrades to scheduling touring entertainment for the USO, hosting programs, and even taking the stage with his comedy act.  By 1946, Brooks found his enlistment extended an extra year where he continued his "entertainment" responsibilities.
(A scene from Blazing Saddles)
McGilligan's narrative is replete with numerous watershed moments that altered the course of Brooks' career, personal life, attempts at psychological analysis to explain Brooks' actions, and a careful rendering of each of his films.  McGilligan's approach is fascinating though at times the constant entrance into the world of "psychobabble" can be annoying.  Important turning points are many and the key to Brooks' career is his association with Sid Ceasar dating back to the late 1940s.  Brooks would become an integral part of "Club Ceasar," a group of writers and later directors and producers who wrote for the Show of Shows and the Ceasar Hour in the 1950s.  The group includes Larry Gelbart, Carl Reiner, Mel Tonkin, Lucille Kallen, and Howard Morris.  McGilligan takes the reader inside the writer's room (called "the jockstrap") for the Ceasar's programs and the mayhem which was a daily occurrence.
He explores the relationships among the writers and how Brooks fit in on a personal and professional level.  We witness Brooks' obnoxiousness, crudeness, temper, rudeness, but also his overwhelming comedic talent.  Kallen would describe "writing scripts was like throwing a magnetized piece of a puzzle into a room with the other pieces racing toward it."  Reiner would always play his straight man and try and keep him out of trouble and their friendship would last for decades as he always indulged Brooks' outbursts.   Of course, McGilligan launches into an explanation of how Ceasar was a father figure for Brooks, who was trying to fill the void in his life.
(A scene from Young Frankenstein)
The author follows Brooks' career carefully from the Catskills, early television, and finally film pointing out how he was able to navigate the "comedic writing world" and the roadblocks that he had to overcome.  But the key to McGilligan's narrative in dealing with the Show of Shows and Ceasar Hour apart from the insights into the writer's relationships was how the history of comedy was shaped by them for decades.
Brooks' personal life receives extensive coverage particularly his two marriages.  The first to dancer, Flora Baum provides insights into what kind of character Brooks really was.  During their marriage and relationship Baum readily gave up her own career and the couple would have three children.  Once the philandering Brooks found himself in a failed marriage, he did his best not to own up to his financial obligations toward his soon to be ex-wife and children.  Brooks would miss alimony and child support payments on a regular basis and when he finally made it big with films like Blazing Saddles and Young Frankenstein his duplicitous nature came to the fore as he was able to avoid sharing his new found wealth with his first family through the approach taken by his lawyers.  His second marriage to actress Ann Bancroft followed a different pattern.  They had one child, but Bancroft was a stronger person who did not let Brooks run roughshod over her as Baum had.  She had an exceptional career of her own and was equal to her husband in talent and wealth.  They did have a happy marriage and they were able to pursue separate careers which is probably why their marriage was so successful.
(A scene from History of the World, Part I)
McGilligan digs down into Brooks' personality issues.  For years he was afraid of dying before the same age as his father had passed.  He was a hypochondriac who really was never sick.  But he would use his hypochondria to learn all he could about illness and diseases from books and medical journals and freely offered medical advice to friends.  His own psychiatrist, Dr. Clement Staff diagnosed him as having "anxiety hysteria," a phobia where the mental aspects of anxiety are emphasized over any accompanying physical symptoms.  His overly aggressive personality and sometimes crude comedic impulses sprang from defense mechanisms as he desperately tried to please his absent father, getting even with those who had rejected him in his past, and resentment for having been born short, poor, and Jewish.  Brooks himself would explain the choice of some of his characters from a Freudian perspective, i.e., in the film The Producers Leopold Bloom would be considered his ego, and Max Bialystock his id!
The strongest part of McGilligan's narrative is his review of the history of comedy in the 1960s and 1970s.  The program, Get Smart is a good example of how comedy was evolving, and the role Brooks played.  Perhaps an even more important component of the narrative is McGilligan's dissection of Brooks' film career.  The constant reference to "Springtime for Hitler" an idea that Brooks worked on for a decade and its evolution into the film The Producers is fascinating.  The description of the actual shooting of the film with the novice director Mel Brooks was eye opening as his insecurities concerning a project that was so much a part of his life are completely exposed.  One of Brooks' best decisions was to cast Gene Wilder as Leon Blum in the film and for the next few years Wilder would become Brooks' alter ego and the two would emerge as the key to the success of several future films.
(Anne Bancroft and Mel Brooks, married for 41 years)
McGilligan digs deep into the origins of Blazing Saddles which emerged from the novella Tex X written by Andrew Bergman.  Brooks loved westerns, wanted to skewer the genre, and told his writers to "write the craziest shit."  McGilligan's details are marvelous especially how Brooks cast the film.  His first choice for the black sheriff was Richard Pryor, but the comedian was too controversial for Warner brothers, so the part was taken by Cleavon Little, then an unknown singer-actor.  The substitution of Gene Wilder as the "Waco kid" at the last minute was genius and proved to be the key to the film's success.  These were lucky breaks and Brooks knew it.
McGilligan will unravel the production process taking the reader behind the scenes of Brooks' approach to directing and finally starring in his own movies, including how the films were edited and distributed.  He will continue the process with all of Brooks' major films including Young Frankenstein, High Anxiety, Space Balls, Silent Movie etc.  Though some where more successful than others and reflected Brook's obsession to be accepted by the critics they will reflect an evolution away from more crude dialogue and offensive scenes.
(Scene from the film, The Producers)
If there was anyone who competed with Brooks during the proliferation of his films it was Woody Allen, who McGilliigan brings up several times as he compares the critiques and popularity of the work of both men, especially when Allen's Sleeper and Annie Hall were so successful.  A major difference between the two according to Milligan was that Allen invited audiences into his semiautobiographical fictions, in which his lead characters often behaved as variants of himself.  Brooks' films had little or nothing to do with his private self.  Perhaps Brooks success as a director and comedic actor was due to his marriage to Ann Bancroft as it appears it was no accident that his career took off after their marriage.
Brooks will branch out with the creation Brooksfilms in the early 1980s.  Brooks will develop into a shrewd producer-director; however, his main successes were the films, Elephant Man and My Favorite Year. Brooks will shift back to the bad taste excesses that had made earlier films a success with History of the World Part I.  McGilligan analyzes the film in detail and the result is a series of skits that spoof historical events with song and dance routines which are hysterical, i.e., "The Inquisition" and others.  The critics were split on its quality which did not approach the popularity of his earlier successes in the United States but did well in foreign markets.  Brooks' last major accomplishment was bringing The Producers to Broadway for a six-year run.
(Carl Reiner, Sid Ceasar and Imogene Coca from the TV program, The Show of Shows)
Overall, McGilligan describes the differences of the "nice" Mel, and the "bad" Mel throughout the book.  This dichotomy is a useful tool in understanding Brooks, and McGilligan handles it well.  McGilligan is a veteran show business biographer and has written a monograph that reflects enormous research and extensive knowledge of the industry.  The main drawback to the book is that there is so much detail at times plowing through the narrative can become cumbersome, however it is an interesting book that explores American comedy, focusing in large part the role that Jews played.