Many of you are probably familiar with Ron Chernow's biography of Alexander Hamilton which was the basis for Lin-Manuel Miranda's musical "Hamilton."  The book is the ultimate source for the first Secretary of the Treasury, and it is a narrative that is hard to measure up to.  However, there are a number of important biographies of Hamilton, one of which is Richard Brookhiser's ALEXANDER HAMILTON: AMERICAN, a compact volume that covers all the important aspects of Hamilton's life in a very analytical fashion that can serve as a wonderful introduction to its subject.
Brookhiser presents Hamilton as the nation's accountant who was able to create the bureaucratic infrastructure that allowed the new republic to survive and fostered the basis of our current economy.  Brookhiser identifies a number of threads that run through his narrative.  First, despite his background as an immigrant throughout his life Hamilton saw himself as an American and a nationalist.  Second, Hamilton maintained his identity as a New Yorker and more importantly he brought his home state to center stage rivaling Virginia and Boston in influence.  Thirdly, was Hamilton's fondness for the military pushing for a standing army to be used in any opposition to governmental policy which created a great deal of partisanship.  Lastly, his role as a constitutional lawyer reflected in the cases he tried and his authorship of the majority of THE FEDERALIST PAPERS.  Brookhiser argues that Hamilton may have been the most important of the founding fathers, if not the most significant, he was certainly on par with James Madison, Thomas Jefferson, and George Washington.
(James Madison)
The author has the uncanny ability to distill large amounts of information and presenting the most important salient details and analysis in a concise and flowing prose.  For example, his discussion of the fighting in upstate New York during the revolution and the role of General Horatio Gates or how James Madison, once an ally evolved into one of Hamilton's most important intellectual enemies.  Brookhiser does an excellent job comparing Hamilton to other historical characters that he dealt with during his lifetime, presenting the strengths and weaknesses of his main subject in addition to the likes of Thomas Jefferson, James Madison, and a host of others.  Perhaps Brookhiser's most important contribution to our knowledge of Hamilton is how he interacted with Washington and Jefferson.  Brookhiser compares the political philosophies of these figures in addition to how their philosophies conflicted.
Brookhiser devotes an entire chapter to Hamilton's views about government, economics, and the future of the new republic.  Later, Hamilton was seen as a monarchist who admired the British system of government as well as their economic system particularly the role of the Bank of England.  In many instances Hamilton sought to replicate the best of what the British had to offer, a strong executive, and a three-year elective assembly that was similar to the eventual House of Representatives.  It is obvious from the narrative that the author admires his subject, but he does not shy away from certain blemishes in dealing with Hamilton's character, for example his affair with Maria Reynolds and though he was blackmailed by her husband James he continued the affair before going public with what he had done.  In discussing Hamilton's behavior in this episode and others, at times Brookhiser engages in pop psychology which is not a strength of the book.  A clear example is when he writes in reference to the Reynolds Affair that "some of Hamilton's wrath at Jefferson and his other enemies may well have been displaced anger at his own betrayal and folly."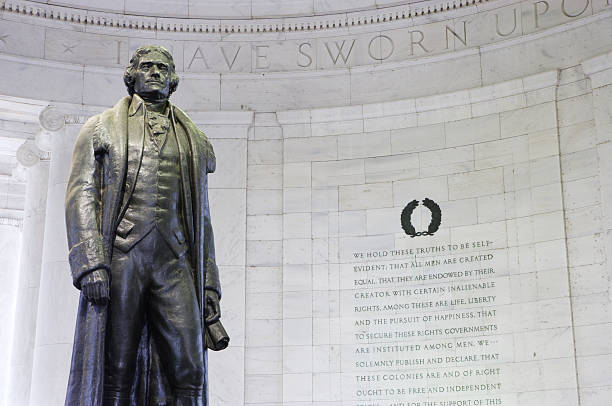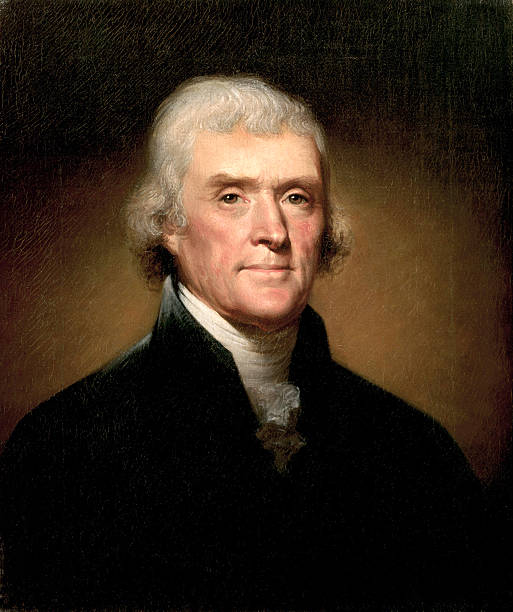 (Thomas Jefferson)
Brookhiser makes the interesting point that Hamilton was the least experienced of Washington's first cabinet.  Henry Knox, the Secretary of War had been a general during the Revolution, Thomas Jefferson, the Secretary of State had been ambassador to France, and Hamilton served on Washington's staff as an aide during the Revolution and was a prolific writer.  The key was that Washington could be his own Secretary of War and State because of his vast experience in those areas, but he did not have the economic background to function without his Secretary of the Treasury.
Brookhiser dissects the Hamilton-Jefferson relationship and reaches the conclusion that members of Jefferson's entourage believed that Hamilton did not have the right "to instruct the founding fathers, to ignore their fears, and to redesign their institutions" as he proceeded to develop an economic and political system that sought to mirror England and overturn their idyllic southern squire lifestyle.  The competition with Jefferson is fascinating as Brookhiser dives into the election of 1800 when Hamilton did all he could to elect his foe because of his fear of Aaron Burr.
(Aaron Burr)
Some might argue that Brookhiser's work is a bit esoteric as he includes chapters on Hamilton's writing ability, the role of passion in his contemporaries in addition to a chapter dealing with political and societal rights.  Be that as it may, the book is very effective in conveying the partisan hatred that existed during Washington's second administration.  Brookhiser delves into the debates dealing with the French Revolution and America's supposed debt for what the French had done during the American Revolution.  The character study of Aaron Burr is dead on as well as how Hamilton approached his family.  Overall, Brookhiser provides a valuable, incisive portrait of Hamilton's character as well as his impact on America's survival.  It is a concise work that will allow the reader to digest a great deal of information if they do not want to tackle other longer works encompassing Hamilton's life and career.