Meet the Doctor Who Convinced America to Sober Up
Meet Benjamin Rush, father of the temperance movement, signer of the Declaration of Independence
When we think of the Founding Fathers and heroes of the American Revolution the names that are mentioned include George Washington, Alexander Hamilton, Thomas Jefferson, John and Samuel Adams, Benjamin Franklin, and James Madison, among others.  Rarely if ever does the name Benjamin Rush enter the conversation.  However, in Stephen Fried's new biography RUSH: REVOLUTION, MADNESS, AND THE VISIONARY DOCTOR WHO BECAME A FOUNDING FATHER, the author presents a truly Renaissance individual who impacted the era in which he lived on multiple levels including science, politics, sociology, psychology, and other aspects of intellectual life.  The question must be asked why such a brilliant scientist and political thinker who influenced many of his contemporaries in countless ways has not been the subject of greater historical research.
Fried has filled that gap with an absorbing portrait and attempts to answer the question by arguing that Rush may have known too much about his fellow revolutionaries and physicians who made him privy to many of their deepest thoughts.  After his death in 1813, Adams and Jefferson, along with his family members suppressed his writings resulting in the diminution of his legacy.  According to Fried he would become the "footnote founder, a second-tier founder."
Stephen Fried at the statue of Benjamin Rush at Dickinson College (Photo: Carl Socolow)
No matter where Rush falls in the pantheon of the Founding Fathers after reading Fried's work it is clear he was an exceptional historical figure who impacted many aspects of American society and politics during his lifetime.  From his education as a physician, his polemical writings, his role during the revolution, the people he developed relationships with, his impact after the revolution in dealing with mental illness, and raising the level of the health of Americans Rush's life is worthy of exploration.  Fried begins with his medical education stressing the methods available in the 1760s.  The study of anatomy and the compounding of medicines created a baseline in which to compare what existed and the improvements that would develop as Rush's career evolved.  His mentors, Doctors John Morgan and Willian Shippen are important in that they provided Rush with knowledge of techniques and diagnostics which laid the ground work for what George Washington would complain, "those damn physicians" who later could not get along because of their egos causing a great deal of trouble during the revolution and after.  From the outset Rush's approach to medicine, i.e., dissection, obstetrics, and midwifery at the time were controversial and provoked a great deal of opposition.  As Fried lays out the development of Rush's belief system it was clear he was his own man and was not shy about putting his opinions in letters and pamphlets and rarely backed away from his approach to medicine or politics.
The strength of Fried's approach rests on integrating Rush's writings/opinions from his diaries, journals, letters, and common place books into the narrative.  Fried uses this material providing intimate details of Rush's most important relationships during a lifetime in which he developed  with John Adams, Benjamin Franklin, George Washington, and a host of medical contemporaries.  Rush was a prolific writer and soon employed "the pamphlet" as his major tool in letting the public know his opinions, many of which rubbed people the wrong way.  One of his first pamphlets reflects his dilettantish nature published in the early 1770s, "Sermons to Gentlemen on Temperance and Exercise," in addition to publishing his views as a Philadelphian concerning the English tax on tea which would lead directly to the Boston Tea Party, and his influence and editing of Thomas Paine's COMMON SENSE.  Rush would dabble in all types of subjects, but his underlying coda was to improve society, but from his own perspective.  Eventually he would be a signer of the Declaration of Independence.
Fried's narrative recounts the course of the American Revolution in a clear and concise manner.  There is nothing that is presented that previous historians have not mined.  What sets Fried's work apart is the role played by Rush in attending the medical needs of the colonists even crossing the Delaware with Washington.  Rush witnessed the horrors of 18th century warfare firsthand and he used what he experienced as a basis for a platform to improve medical care through diagnosis, technique, medicines, and the creation of military hospitals.  Rush tended to rub people the wrong way with his writing and commentary, a flaw that got him into trouble with many people including his commentary about Washington's leadership.
Rush had no compunction about criticizing his mentors particularly Dr. William Shippen leadership as Chief Physician and Inspector-General during the revolution.  Historians have pointed out the lack of food, clothing, and pay that colonial soldiers had to cope with.  Fried takes it further by exploring the weaknesses of medical care for soldiers.  Rush would finally resign from Washington's army in 1778, but many of his ideas about hospital care were implemented.  Later Rush would testify at Shippen's court-martial against Washington's advice, but he would be acquitted by one vote.
Fried does not overlook Rush's private life.  He would not marry until the age of thirty because of the advice of his mother.  He would marry Julia Stockton who was sixteen, but they had a long life together and were deeply in love.  The marriage would produce thirteen pregnancies, but unfortunately only six children would live to adulthood.  He was a good father and provider, but as with most men during the period he was away from home at least half the time until the 1781-1786 period were, he devoted himself to his family and medical practice.
Fried describes Rush's political role in detail particularly after the American Revolution.  He had been a delegate to the Second Continental Congress and later would be a delegate to the Pennsylvania Constitutional Convention which would ratify the Constitution in 1787. Rush also became involved in the issue of slavery.  He would become an abolitionist; despite the fact he did own one slave who he would free in 1793 and he argued profusely concerning the inhumanity of the "peculiar institution."  Another of his pet peeves was the lack of a comprehensive educational system in Pennsylvania and after the new nation was ratified.  He worked assiduously to include women, blacks and immigrants in his program and helped create what would become Dickinson College and Franklin and Marshall later on in addition to improving medical curricula at the University of Pennsylvania Medical School.
But what Rush is most noted for was his attempts at improving care for his patients.  He would serve in numerous capacities during his medical career and once gain rubbed many the wrong way.  His work with the mentally ill is key as he found their treatment abhorrent and studied numerous cases to determine a better way of treatment.  He published a number of pamphlets outlining his ideas that included how best to raise the level of mental health care and arguing that mental illness was a disease to be treated and that patient care was important and they should not be locked away in basements chained to the wall.  He would be involved in creating the University of Pennsylvania Hospital and helped create the first American Medical society and would soon oversee the care of the mentally ill.  Perhaps Fried's most incisive chapter deals with Rush's handling of the 1793 yellow fever outbreak in Philadelphia which killed with "biblical proportions."  Employing Rush's letters to his wife Julia the reader is exposed to the depth of the tragedy that unfolded.  Rush favored a more extreme treatment of victims which provoked a great deal of controversy with his colleagues.  It is interesting how a politically partisan approach to treatment took place.  Doctors who had Federalist leanings tended to oppose Rush's methods, while Democratic-Republicans tended to support Rush (sound familiar!).  Fried delves into the effect of the disease on Rush's family, friends, and cohorts and the reader is provided insights into the approach taken toward an epidemic in the early 1790s.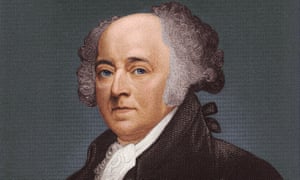 (President John Adams)
Fried spends a great deal of time examining Rush's later years which were dominated by his correspondence with John Adams who he was able to convince to reconcile with Thomas Jefferson.  Further his writing remained prolific particularly in relation to his work with the mentally ill working to improve their treatment and living conditions and continuing his lectures at the University of Pennsylvania Medical School.  Rush was always looking to improve the quality of life of his patients and with the deterioration of his son John's mental health he redoubled his efforts in the areas of alcoholism and mental stability.
Fried has written a comprehensive and fascinating biography raising the historical profile of Benjamin Rush for a twenty first century audience.  Rush was a flawed character whose comments and writings often got him in trouble, but as Fried points out repeatedly his motives were usually pure, and his goal was to raise the level of many aspects of society.  Fried has created the most comprehensive work to date on Rush, but also has uncovered a treasure trove of documentary sources that can be mined by future historians.