From the outset, Larry Tye in his new biography, DEMAGOGUE: THE LIFE AND LONG SHADOW OF SENATOR JOSEPH McCARTHY states that his book is about America's love affairs with bullies, and certainly Joseph McCarthy fits that category.  At a time where the concept of a "political bully" seems to be on every pundit' lips in covering Donald Trump it is useful to explore the life and tactics employed by the epitome of that description.  Confronted by Trump's daily "bullying tactics," many of which passed on to the president from McCarthy through Roy Cohn, political commentators have been exploring how the American people elected Trump and how least 30-40% of electorate still supports him no matter what he does or says.  People wonder how we arrived at our current state of partisanship, but if one digs into American political history, the McCarthy era seems to be an excellent place to start as the likes of Roy Cohn and others seem to dominate the political landscape.  If one follows the progression from Huey Long, McCarthy, George Wallace, Newt Gingrich on to Trump and examine their characteristics today's political landscape becomes into sharper focus.
What separates Tye's biography from those that came before, including David Oshinsky's superb A CONSPIRACY SO IMMENSE: THE WORLD OF JOSEPH McCARTHY and Thomas C. Reeves' THE LIFE AND TIMES OF JOSEPH McCARTHY was his access to his subjects unscripted writings and correspondence, military records, financial files, and box after box of professional and personal documents that Marquette University made available for the first time after almost sixty years.  As he has done in previous books like SATCHEL: THE LIFE AND TIMES OF AN AMERICAN LEGEND, and BOBBY KENNEDY: THE MAKING OF A LIBERAL ICON, Tye examines all aspects of his subject and delivers an unquestionable command of primary and secondary materials. To his credit Tye makes a valiant attempt at providing a balanced approach to McCarthy's life and politics.  No matter how hard he tried Tye has set himself a difficult task when like others he uncovers all the lies and bombast, but also his subject's personal charm.  He concludes that McCarthy was "more insecure than we imagined, more undone by his boozing, more embracing of his friends and vengeful towards foes and more sinister."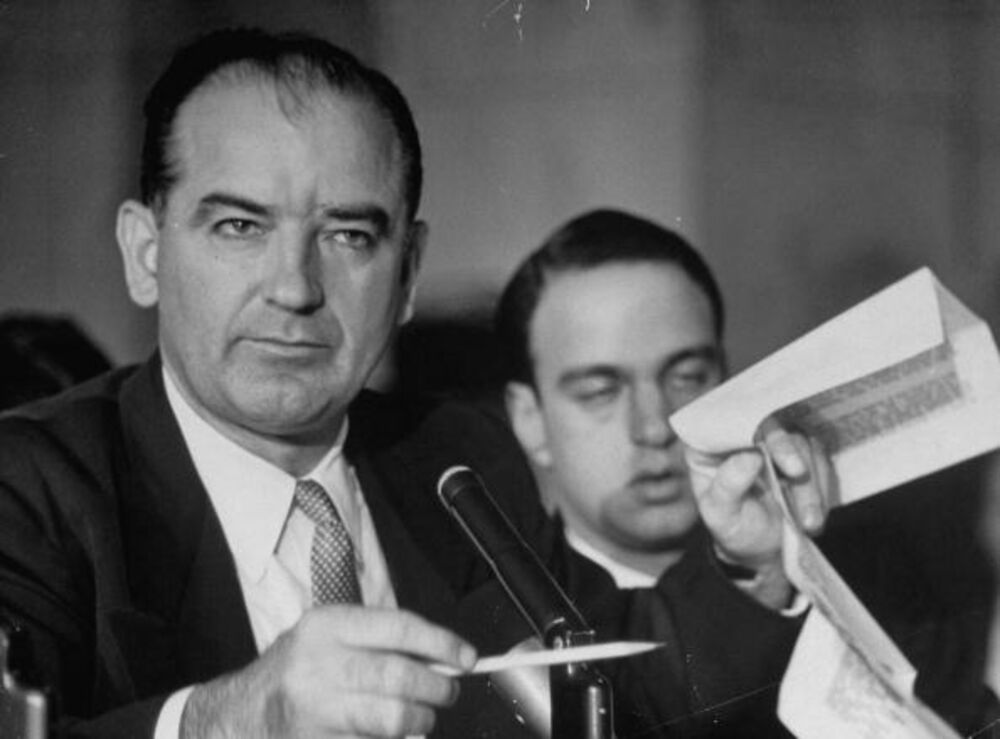 (Near the end: Senator Joseph McCarthy with Roy Cohn in 1954.)
There are numerous examples in the book where Tye presents a McCarthy action and tries to give him the benefit of the doubt that previous biographers did not.  For example, in addressing the facts and myths that followed McCarthy his military record stands out when one tries to be objective.  "Tail Gunner Joe," McCarthy's chosen nickname actually volunteered for combat operations in the Pacific Theater during World War II, when he could have remained a "desk jockey" as an intelligence officer.  McCarthy would serve for a year before he requested a discharge and achieved a number of medals as newly released military record reflect, but despite his bravery it did not stop him from repeatedly embellishing and lying about his service record.  In addition, he engaged in political activity while in the Marines, trying to keep a political seat warm when he returned to Wisconsin which was "verboten" in the military.  Another example deals with the Malmedy Massacre at the outset of the Battle of the Bulge as the German SS murdered over 350 American POWs and 100 Belgian civilians.  As a new senator McCarthy needed an issue to enhance his political credentials so he defended the Germans in the Senate Sub-Committee, which he was only an observer arguing that they were only following orders and were coerced and beaten by American prosecutors, in addition to opposing "retributive justice."  McCarthy's real motivation was the preponderance of German voters in Wisconsin and some would argue that there was a strong element of anti-Semitism on his part as part of his belief system.
Tye correctly points out that McCarthy's antics during the Malmedy hearings was "just a warm-up act."  As McCarthy's behavior surrounding the massacre muddied the historical record as it provided a glimpse into his senatorial future as he would employ a scorched earth strategy on any issue, he became involved in.  He fell for conspiracies and always elevated charges that he was spoon fed.  He would enhance his skills in dealing with the press, providing them with phrasing that they sought, and manipulate them in order to disseminate his views to his constituents.  The bombast, bullying, and lies which would later become his trademark were all present during the Malmedy investigation.
One of Tye's best chapters, entitled "An Ism is Born," follows the pattern that McCarthy exhibited as a circuit judge, his military career, and his Senate campaign in 1946.  Tye provides exceptional detail and command of all aspects of McCarthy's motivations and the creation of his February 1950 speech in Wheeling, W. Va. When he announced that there were 205 communists serving in the State Department.  Tye follows his disingenuous approach using innuendo as his primary tactic despite the advice of Congressman Richard M. Nixon to cease and desist this approach.  The Lincoln Day Dinner, the occasion for the speech was a natural extension of McCarthy's playbook that he used up until that time and would now enhance as he discovered the "Communism" issue which would dominate the remainder of his political career.
Tye does a nice job providing examples of demagogues in American history.  He highlights men like Ben Tillman, Father Coughlin, Huey Long whose footsteps McCarthy easily fit into.  Tye also traces anti-communism in American history beginning with Woodrow Wilson's administration,  the Palmer Raids, all part the Red Scare following World War I.  While tracing this theme Tye includes the Truman administration which instituted loyalty oaths and a crackdown on suspected communists.  With the House Un-American Activities Committee chaired by Martin Dies after World War II, the climate was set for the likes of McCarthy to latch on to this issue to base a reputation.  Congress would underestimate McCarthy and failed to measure the nation's temperature.  It was not only kooks who succumbed to communist conspiracies, but patriotic organizations.  No matter how few facts McCarthy presented, how many lies he told, and how many old accusations he recycled, Congress did not learn the futility of taking on a man of "wit, whimsy, and mendacity" who when forced into a corner would transform himself into a pit bull or lamb, depending what the situation called for.
Tye carefully examines McCarthy's approach to investigations.  Once elected in 1946 he usurps publicity and actions from legitimate Senate committees with false accusations against "supposed communists."  It is in 1952 once Republicans gain a Senate majority and McCarthy gains the Chair of the Government Operations Committee and the Permanent Sub-Committee on Investigations that he is unleashed.  He could now hold his own hearings, summon witnesses, issue subpoenas, publish findings, and bully anyone who tried to thwart him.  Tye describes how McCarthy would employ closed committee sessions in order to coerce witnesses with his tactics.  He would bully anyone who invoked their Fifth Amendment rights marking people as guilty even if something had occurred earlier in life, or a friend might have voice communist sympathies, etc.  In his committee innocence had to be proven.  His smears were designed to convict anyone who came before the committee and have them implicate others, much like a 1930s Stalinist Show Trials.  It is interesting that it took until 2003 to unseal the records of McCarthy's executive sessions.
McCarthy seemed to go after just about anyone.  The Voice of America designed to confront Soviet propaganda in Eastern Europe was a major target; as was the Government Printing Office; overseas libraries and information centers; the poet Langston Hughes; and McCarthy even accused the State Department of book burnings.  McCarthy could not have conducted these hearings and investigations without his pit bull, Roy Cohn.  Tye delves into the role of Cohn who becomes McCarthy's alter ego.  He joined McCarthy's committee as Chief Counsel with little legal experience.  He used hearings as if they were a grand jury and presumed anyone who testified would crack under the right amount of pressure.  As Tye points out, "to Cohn, the ideal witness to drag from a private to a public grilling was one who'd grovel, stonewall, or otherwise ensure front-page headlines."  Cohn later would become Donald Trump's mentor and there is a remarkable similarity in their tactical approach to any given situation.
McCarthy and Cohn's tactics fostered a high price.  In a chapter entitled "The Body Count," Tye delineates a number of deaths related to being persecuted by McCarthy and company.  The suicides of Raymond Kaplin, an engineer at the Voice of America, former Wisconsin Senator Robert La Follette, Jr, and former Wyoming Senator Lester Hunt, Jr.; and Don Hollenbeck, a CBS reporter.  Is it fair to lay these deaths at the feet of McCarthy, one cannot really say, but what one can say is that he created the climate that pushed many people over the edge, and the number of lives destroyed and/or were impacted is incalculable.  The lives and careers of people like Reed Harris, professional diplomats known as the "China Hands" had their careers destroyed, as were many who were blacklisted in academia and the entertainment business.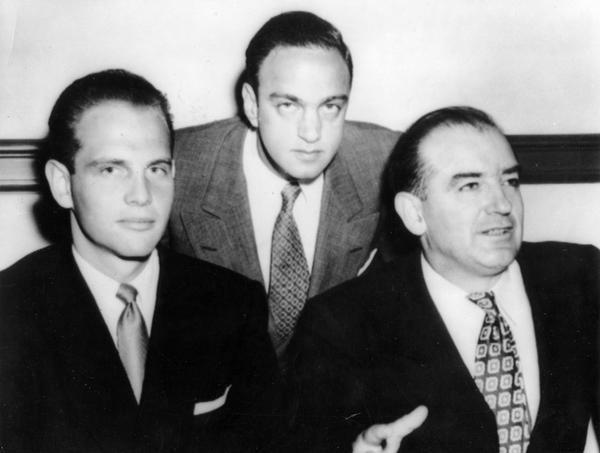 (G. David Shine, Roy Cohn, Joseph McCarthy)
Perhaps the most famous or for that matter infamous case was McCarthy's actions against the US Army.  Known as the Army-McCarthy Hearings Tye recounts how even President Eisenhower, who had tolerated McCarthy for three years had enough.  Tye delves into how  Eisenhower would rage against McCarthy in private but enabled him in public.  Eisenhower had a number of opportunities to deal with McCarthy but from 1952-1954 he did little to speak out or take concrete action.  McCarthy could not have been as successful as he was without enablers like Eisenhower; Texas millionaires like Clint Murchison, H. L. Hunt, and Roy Cullen; Scott McLeod, the administrator of the State Department's Bureau of Inspection who fed McCarthy material; FBI head, J. Edgar Hoover who did the same; politicians like John F. Kennedy, Robert Taft, Jr. and Lyndon Johnson all went along with McCarthy; the Catholic Church; and finally the American people – all facilitated McCarthy's reign of terror. Tye's recounting of the Army-McCarthy hearings is riveting and highlights the inequities of McCarthy's system and how these inequities finally brought him down.
A number of characters stand out in the narrative.  Tye engages each in his analytical and personal style particularly Edward R. Murrow who stood up to McCarthy publicly on his television program.  Tye explores David Shine, ranging from his admiration of McCarthy and Roy Cohn to his own privileged view of himself and his responsibilities.  Jean McCarthy, the senator's wife's role as confidant and partner in exploiting communism is carefully evaluated.  Anita Lee Moss, a victim of McCarthy and her courageous stand against his committee is told in detail.  These are but a few that Tye incorporates into his narrative, they along with countless others were the victims of a paranoid and insecure man.
Tye has written the definitive account of Joseph McCarthy's personal and public life.  Tye had documents availed to him that other authors did not making his account complete and enhanced by the author's careful exploration of the important issues and personalities of the period.  Tye's biography drips with comparisons of President Trump and hopefully the American people will digest their similarities and take the appropriate action on election day.