After reading Michael Russell's first two renditions of his Stefan Gillespie series I must say I was hooked.  The third installment is entitled THE CITY IN DARKNESS and has reaffirmed my view that Russell has the unique ability to combine components of a thriller and spy novel in the context of historical fiction.  Russell easily captures the reader's attention and thus far all of his books have been extremely satisfying.  The novel begins in 1932 as Stefan, his wife Maeve, and their three year old son, Tom are camping.  Maeve decides to take a swim and that is the last Stefan will ever see of her.  A childhood friend of Maeve sees her swimming in the lake and drowns her.  This scene fills in the gap from the first two novels as Stefan thought Maeve's death was an accident, but Russell develops a plot line where Stefan comes across evidence that his wife's death may have been murder.
The action immediately shifts to the Spanish Civil War circa 1937 as Francisco Franco and his forces are approaching Madrid in a final effort to destroy the Republican government. Brigadier Frank Ryan, commander of the 15th International Brigade made up of 400 Englishmen and Irishmen are set to blunt Franco's advance. As his wont, Russell creates a multi-layered disparate set of sub plots that can never seem to have any commonality. An IRA raid on the Magazine Fort in the Phoenix Park in 1939; the death of Stefan's wife; events in the Spanish Civil War; the possibility that Stefan's boss, Detective Superintendent Terry Gregory of the Special Branch might be in bed with the IRA; the actions of German Intelligence in trying to use Ireland against England; and the pending release of Frank Ryan from one of Franco's prisons all are developed fully, but one wonders how they can all come together. A hint, as usual they all do.
(Adolf Hitler and General Francisco Franco)
Russell is extremely interested in atmospherics and everywhere that Stefan travels is fully explored.  The beauty of the Portuguese and Spanish countryside is on full display as are the streets of Lisbon, Madrid, Burgos, and Salamanca.  The comparison of the brightness of Christmas lights in Ireland in 1939 is juxtaposed to the darkness befalling Europe.  The damage caused by the civil war is evident when Stefan arrives in Madrid.  These and other descriptions provide a unique background for the novel.
THE CITY IN DARKNESS comes across as more of a spy novel than the first two installments in the series. Ireland's G2, the German Abwehr, and British MI5 all play an important role as Stefan's assignments keep shifting as at first he was in charge of investigating the number of Irish men who left to fight for England against Germany, but after the murder of a post man he finds himself in a complex investigation which accidentally provides information for what really happened to his wife seven years earlier.
Apart from Frank Ryan who had ties to the IRA and fought against Franco's army, a number of new characters are created that carry the novel.  .  Marie Duarte, Ryan's partner.  Billy Byrnes, the post man who disappears.  Mikey Hagan, at fifteen fought in the Spanish Civil War whose life is saved by Ryan.  Jimmy Collins, the man who knows the truth concerning the murder of three women.  Simon Chillingham, a British diplomat turned spy.  Leo Kerney the Irish ambassador to Spain.  Florence Surtees, an artist who turns out to be someone completely different.  A number of German intelligence agents and a host of others.  Characters from the previous novels who reappear include Stefan's parents and son, Katie O'Donnell, Stefan possible partner, Colonel Archer de Paor, head of Irish G2, Terry Gregory of Special Branch, and Stefan's Garda partner, Dessie MacMahon.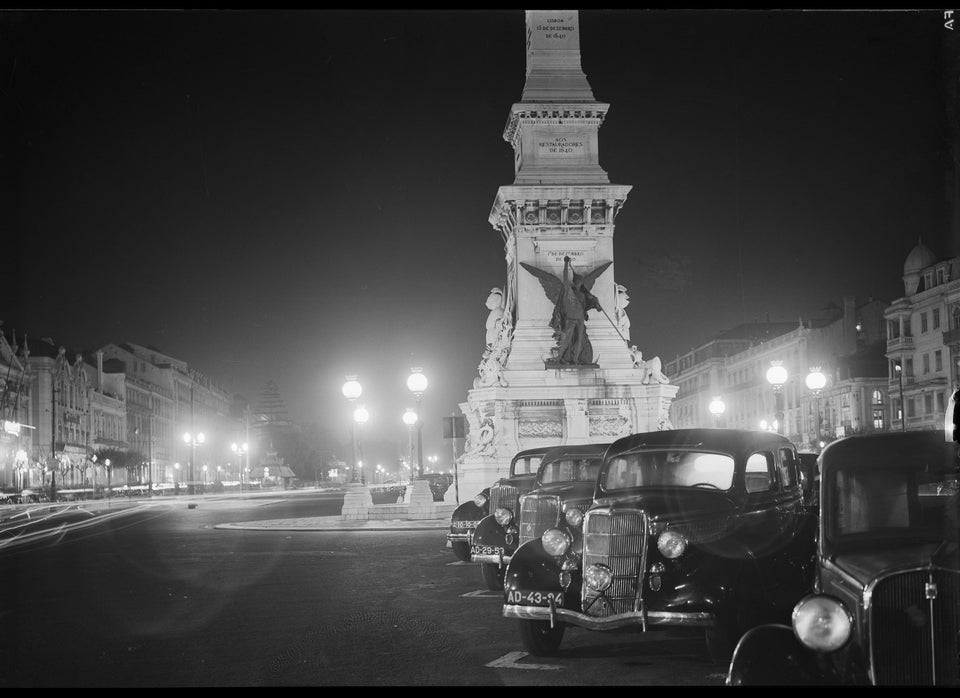 (Lisbon was a spy center during WWII)
At times Stefan feels like a pawn in a game of chess between de Paor and Gregory.  As the novel evolves Stefan breaks away from his assigned tasks and strikes out on his own to accompany Ryan out of Spain once he is released, but more importantly to learn who was responsible for killing three women that include his wife Maeve.  The cruelty and death fostered by the Spanish Civil War is an important background to events as is the possible role of Ireland as a German ally against England as World War II has just begun.  Russell's grasp of history is clear as he discusses the civil war and the role of Franco, as is his knowledge of the IRA and the politics that surround it.
Stefan is at a crossroads in his life as until he knew what happened to Maeve he could not move on. He blames himself for accepting her death as an accident and he realized if he were to achieve closure, he would have to do it himself before he could develop a meaningful relationship with Kate. The number of characters and the complexity of the story at times is hard to follow, but once you figure out where Russell is going with the plot it is engrossing and you wonder how it concludes. Interestingly, the missing post man aspect of the story is drawn from the still unsolved true-life disappearance of postman Larry Griffin in the village of Stradbally on Christmas Day, 1929.
This is an ambitious novel that blends police procedures, a spy novel, and a historical mystery that is comparable to the writing of Alan Furst and John Lawton.  Obviously, I think a great deal of Russell's approach to historical fiction as a thriller and I look forward to reading the next book in the series, A CITY OF LIES where Stefan finds himself on a dangerous mission in Berlin.