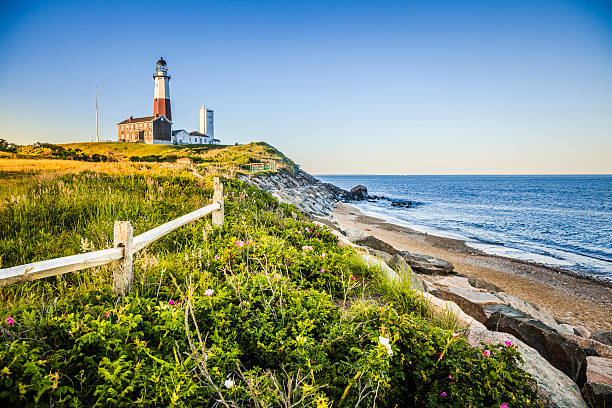 After reading Bradford Morrow's PRAGUE SONATA I knew that I had to move on to another of his novels.  The choice I made, THE FORGERS, is an excellent and absorbing story that delves into the corrupt and invidious nature of the rare book collector's world in addition to a murder mystery that is dominated by love and obsessions.  The novel begins in the upscale community of Montauk, NY, a town located on the eastern most tip of Long Island where the postman on a routine delivery enters a beachfront cottage and discovers the body of a local resident with its hands cut off.  The scene is littered with manuscripts by political and literary figures from an earlier era with other rare books splayed on the floor.  Book inscriptions were torn from works on Lincoln, Churchill, Twain, Dickens, and Arthur Conan Doyle.  Many of the books were torn to shreds and the victim, Adam Diehl, a book collector seems the subject of a ruthless and senseless murder.
The narrator of the novel is named Will, though for some reason Morrow does not divulge his name for the first half of the book. The murder seems rather odd as many valuable books were not taken or damaged. Will is dating Diehl's sister, Meghan and never really got along with her brother. Meghan operates a bookstore in the East Village and Will and Adam had been book forgers which is the only thing they had in common. Morrow delves into the emotional attachment that rare book collectors share as Will points out the eroticism, emotion, and true happiness that forging a manuscript or inscription gave him.
Will is a complex character whose forging career ended abruptly when an unknown source turned him into the police.  He was convicted and given probation ordering restitution to his victims and he served his time and thought it was all behind him.  Trying to live on the straight and narrow was difficult because for Will, forging was an addiction that he could not share with Meghan who he deeply loved.  The murder itself will soon become a cold case though Will had come across an invoice from a Henry Slader when they were cleaning the cottage after the police had wrapped up the case.  Slater seemed to have purchased some of Adam's books and forgeries and was receiving monthly installments from Adam.  Will suspected Slader but had no proof.
Will shared the forger's life with Adam but also a love of the works of Sir Arthur Conan Doyle the creator of Sherlock Holmes in addition to any letters or manuscripts that dealt with the author. Will's obsession with Holmes began in childhood and he had purchased a number of Holmes materials from a dealer in Providence, RI. The materials were a fraud, but Will admired the forgery as the finest he had ever seen reflecting his love of his craft and his admiration for others who pursued the same avocation as he did.
Will had begun to receive threatening letters in a forged Henry James script at the time he started dating Meghan. He assumed they were from Adam, but after his murder the letters continued. Will was haunted by the letters and was afraid that their author would turn him into the police as Adam's murderer. At the same time Will was convinced that the author of the letters was the true murderer.
After marrying, Meghan and Will decide to sell off all their possessions and move to Ireland.  Will took some of the proceeds from selling his valuable collections to pay Slader off, hoping the letters would stop and he would be able to begin a new life with his bride in Ireland.  Will's wish was not to be granted as new letters arrived as they were moving, and he was convinced that he was being stalked by Slader after their relocation.
Morrow is a superb novelist, a teacher at Bard College, and the editor of the distinguished literary magazine, Conjunctions. He himself is a serious book collector with a particular interest in books inscribed by their authors to notable friends, or volumes that once belonged to other famous people. As the novel unfolds it is obvious that Morrow has a particular love of rare books and when he has Will add inscriptions that are perfect forgeries to the front-end papers. Will is extremely talented and states that "when I am finished copying a warm personal epistle to one of the author's friends, for instance, a part of my soul merged with Doyle's." Will prided himself on fooling the experts.
Morrow's writing has almost a lyrical quality to it be it a mundane conversation or references to poets or masters of fiction. As Morrow proceeds, he periodically turns to the past as Will acknowledges his artistic mother who taught him his calligraphic skills, and his wealthy father who taught him about collecting rare books and the pleasure that it brought him. When Morrow returns to the present, Meghan and Will are in Ireland trying to escape the past, but the past seems to rise up as they cannot escape Adam's death and the threats against Will.
This is an audacious novel with intricate details ranging from the Irish countryside, the shape of letters and the type of ink used to scribe, to unpacking a complex story that may move slowly at times, but the language is precise and at times beautiful.  Obviously, I greatly enjoyed the book and if you do, we are in luck because after seven years Morrow has just published the sequel, THE FORGER'S DAUGHTER.