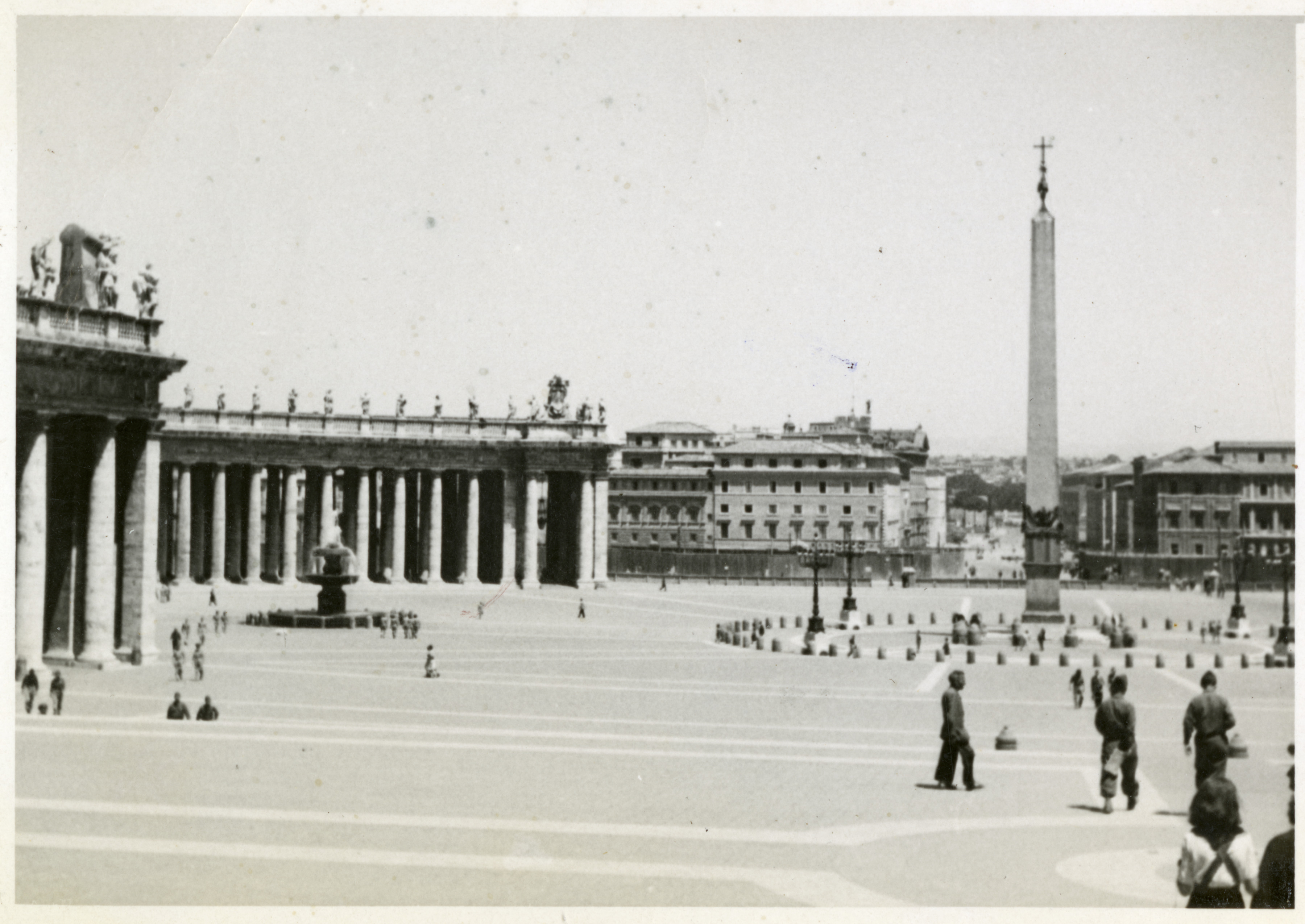 (St. Peter's Square, circa 1944)
The role of the Papacy and the Catholic church in general has been placed under an unrelenting historical microscope since the 1930s. Historians such as John Cornwell, David I. Kertzer, Michael Phayer, Susan Zuccotti, and others have analyzed the role of Pope Pius II and Vatican officials to be in many cases wanting when it came to their actions, or lack of thereof when it came to Benito Mussolini and Adolf Hitler, in addition to the absence of a strong response to the Holocaust.* Pius who has been labeled "Hitler's Pope" by many historians when discussing his refusal to speak out against the Nazi genocide whether fairly or unfairly, but his "moral silence" throughout the war stands out. This is not to say that most or even a majority of church officials felt comfortable with Vatican policy as there were numerous acts of bravery by Catholic officials, priests, and their followers to hide allied POWs and Jews and smuggle them out of Europe to safety.
One of these individuals was Monsignor Hugh O'Flaherty, an Irish priest who together with likeminded compatriots risked their lives to save as many Jews and POWs as possible right under the noses of the Nazi executioners. In MY FATHER'S HOUSE, author, Joseph O'Connor has written a marvelous work of historical fiction detailing events from the Fall of 1943 when Germany took control of Rome and Gestapo boss, Obersturmbannfuhrer Paul Hauptmann ruled the city with maniacal efficiency. O'Conner's work is the first volume in a trilogy delineating "the Rome Escape Line."
(Monsignor Hugh O'Flaherty)
O'Flaherty was an Irish Catholic priest and senior official of the Roman Curia and was responsible for saving 6500 allied soldiers and Jews. He had the ability to evade traps set by the Gestapo and Nazi SD earning the nickname, "The Scarlet Pimpernel of the Vatican." O'Connor's portrayal is one of suspense and intrigue creating a gripping World War II drama featuring the unlikeliest of heroes.**
What separates O'Connor's approach to historical fiction is his ability to turn facts into believable fiction. As Sara Moss points out in her review published in The Guardian; "O'Connor is clear that his characters are "not to be relied upon by biographers or researchers" and that sequences "presenting themselves as authentic documents are works of fiction". The writer's challenge is to balance the messy improbability of what actually happened with the structural requirements of the novel. O'Connor achieves this balance partly through characterization and voices strong enough that we eagerly follow them through uncertainty, mundane and disappointment as well as high-stakes jeopardy. The novel is built out of the present-tense close third-person narrative of the priest, Hugh O'Flaherty, the technique historical fiction owes to Hilary Mantel, interspersed with fictional interviews conducted for a radio program in 1963 with the seven people running the escape line under Hugh's direction. All have distinctive and often very funny voices: they are Irish, English, Italian, aristocrats and shopkeepers."***
The novel begins on the night of December 19, 1943, when Delia Kiernan, the wife of an Irish diplomat is driving a black Daimler embassy car through the streets of Rome with a groaning passenger in the back seat. She will soon be joined by a black clad man in the front seat. Once they reach a hospital for the injured man, Father O'Flaherty brow beats a Nazi guard in gaining treatment for Major Sam Derry, an escaped British prisoner of the Royal Regiment of Artillery.
O'Conner does a wonderful job employing dialogue and character monologues to convey to the reader the Irish mindset in Rome during the latter stages of the war. His descriptions of O'Flaherty are priceless. The Monsignor sets up a choir as a front for his clandestine operations. It helps that Kiernan was a professional singer before the war. The choir itself takes on many characters each with their own quirks. There is Kiernan, Sir Darcy Osborne, the flamboyant British Ambassador to the Vatican, John May an indispensable fixer, Contessa Giovanni Landini, Marianna DeVries, a freelance journalist based in Rome, and others. All contribute to O'Flaherty's goals but are used by the author as a tool of providing background for each character and past and future events through interviews of each in chapter form taken in 1963.
(Herbert Kappler, Chief of Security Police and Security Services for the SS and all police units deployed in Rome during the occupation)
In this vein O'Connor employs clever strategies to lay the background foundation for his story line, particularly his use of O'Flaherty's "Last Will and Testament" should he ever be seized by the Gestapo as a means of conveying the history of Irish subjugation by the British, and in turn Irish hatred and distrust of England and her armies. The document provides insights into who the Monsignor really was, a thoughtful and courageous individual whose voice is used to describe the nature of Nazi rule and the horrors they engaged in.
Another approach that is quite effective is integrating interviews of important characters years later alluded to earlier. A few stand out. Those include interviews with Enzo Angelucci, an important member of the choir. Contessa Giovanna Landini, a widower having emotional difficulties meets O'Flaherty by chance and describes how this new friendship provided purpose to her life and the ability to move on. The British Ambassador hiding in the Vatican, Sir D'Arcy Osborne's Christmas eve 1943 report to The War Office, Whitehall, London and his assistant and fixer, John May from London's East End who provides the flavor of the underground that exists in Rome. The importance of the later interviews is that they provide varying views of the Monsignor; his character, foibles, belief system, and other aspects of his personality that made him so special.
O'Connor uses Paul Hauptmann, the Nazi Commander of Rome as a foil against O'Flaherty. Entering the Monsignor's confessional, he accuses him of "false virtue," arguing his actions have made the situation worse for prisoners. As the novel progresses it seems clear that O'Flaherty is on thin ice with Hauptmann who blames him for running an escape line for POWs out of Rome and that at any moment the priest will be caught and executed. Hauptmann is modeled on his historical counterpart, Herbert Kappler, Chief of the Security Police and Security Service for all SS and Order Police units deployed in Rome.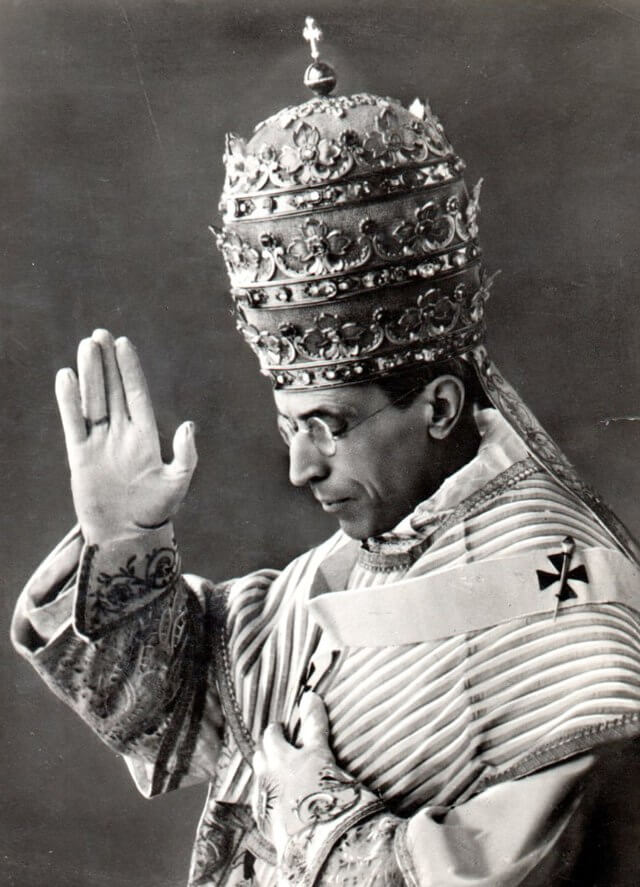 (Pope Pius II)
O'Conner's dialogue reflects O'Flaherty's tenacious nature whether in debate, securing funds, new locations for prisoners and what he perceives as his life's mission once he visits a POW camp. O'Flaherty is not afraid to stand up to the lowliest Nazi, to Hauptmann, or even arguments with Pius XII who opposes his actions. Perhaps the best description of the Monsignor was "Hughdini," coined by John May alluding to the amazing things that the padre has accomplished in saving so many and standing up to the Nazi beasts. The key event that everyone in the choir is building up to is the Rendimento (in English performance), in this case the movement of POWs from one hiding place to a safer one Christmas eve, 1943 as Hauptmann and his thugs are closing in.
O'Connor's priest steals many scenes by exhibiting the courage of his convictions and under fire. The result is a gripping novel with the unlikeliest of heroes. O'Flaherty's "choir" is a ragtag group dedicated to spiriting those threatened by the Nazis to safety. Their code revolves around "the Library," of which they are known. Individual escapees are books, and their hiding places, shelves. The cat and mouse game O'Connor creates with Hauptmann is well developed, and his frantic mission through the streets of Rome is vividly managed. It is hard not to be drawn into the story, but more so the courage and commitment of the Monsignor whose life work is to save others.
*For a further discussion of this topic see Tim Parks, "The Pope and the Holocaust," New York Review of Books, October 20, 2022; and a rejoinder by Michael Hesemann, "The Silence of Pius XII: An Exchange," New York Review of Books, November 24, 2022.
**See the film, "The Scarlet and the Black" starring Gregory Peck and Christian Plummer for an interesting portrayal of Monsignor O'Flaherty's work during this period. In addition you might consult Stephen Walker's Hide & Seek: The Irish Priest In The Vatican Who Defied The Nazi Command.
*** Sarah Moss, "My Father's House" by Joseph O'Connor review – the priest who defied Nazis," The Guardian, February 2, 2023.