(After)
(Before)
In the current political climate with congressional hearings, a special prosecutor, and a chief executive who demands fealty as if he were a godfather it was good to read a political manifesto in the form of biography that drips with sarcasm and humor.  When one thinks of Al Franken, Saturday Night Live (SNL) comes to mind, and the "serious" laughter his writings, i.e., RUSH LIMBAUGH IS A BIG FAT IDIOT, and appearances produced.  His new autobiography is in the same vein as he uses his life story as a clarion call for a progressive agenda and a fight against alternative news and/or reality and the lies that are perpetrated regularly by certain politicians and supposed news outlets.
AL FRANKEN: GIANT OF THE SENATE describes the evolution of a belief system that began at an early age, particularly as a young teen reacting to Lyndon Johnson's work to get the 1964 Civil Rights Act signed into law.  From that point on we witness Franken's intellectual growth using his comedic sense through high school, college, a career on SNL, and a second career in the United States Senate.  As Franken matures emotionally and politically his commitment to a progressive agenda for the American people (as well as Minnesota!) emerges.  But make no mistake for Franken to be successful he had to suppress his public humor to avoid political pitfalls
(Senator Franken on a USO tour in Afghanistan)
The key event in his career was the death of Minnesota Senator Paul Wellstone; his mentor, teacher, and intellectual role model.  For Wellstone "politics was about improving people's lives."  Franken presents a wonderful chapter encompassing Wellstone's life's work and positive goals for the American people.  Franken explains the type of person he was and how he was influenced by his progressive agenda.  Once Wellstone and his family are killed in a plane crash he was replaced in the Senate by Republican Norm Coleman who stated "I am a 99% improvement over Paul Wellstone."  For Al Franken it was "game on."  Franken believed in Wellstone's core, that "we all do better, when we all do better," a mantra that Franken has worked for since his time in the Senate.
Franken explores in detail his campaign against Norm Coleman.  Faced with Republican obfuscation, distortion, and outright lies Franken was welcomed to the wonderful world of what he calls the "Dehumorizer," or how his opponent would do or say anything about his opponent's past and present be it fact or fiction, in the 2008 campaign, mostly fiction.  Franken would defeat Coleman by 312 votes, but it took over eight months to finally join his Senate colleagues as Coleman's team dragged the results through the courts and in the end never really conceded.  Fast forward, eight years later Franken was elected by a 10% margin.  It is interesting how the Obama people did little to assist Franken, no matter what he did even Democrats could not wrap their heads around a former SNL comic becoming a serious politician.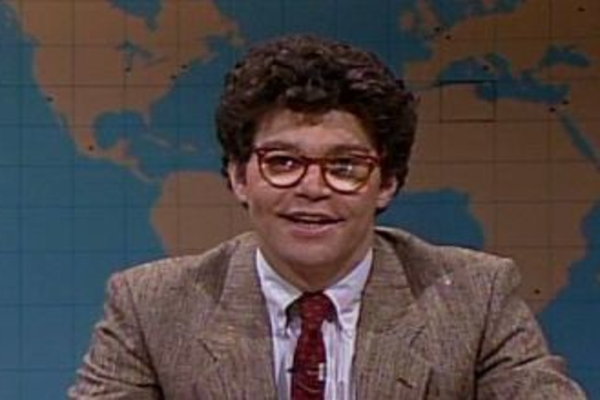 (Franken on SNL)
The most interesting aspects of Franken's story rests on the legislative process which is bound in hyprocracy by both major parties, though perhaps a bit more by Republicans.  He cites a number of examples dealing with the 2009 Stimulus package which finally passed despite Republican opposition which led to a slower recovery than was necessary.  This allowed Kentucky Senator Mitch McConnell to blame the slow recovery on President Obama.  This is the same Senator who stated once Obama was elected in 2009 that it was his primary purpose to make sure that the new president would not achieve any successes.  It is also fascinating that certain congresspersons who voted against the stimulus took credit for it when it created benefits for their own districts.
Franken takes the reader behind the scenes as the Senate votes on legislation.  In particular a "disclosure bill" designed to offset the Supreme Court decision in Citizens United.  The cavalier attitude of a number of Republicans is offered in their own words, of course funded by the Koch Brothers and their "Federalist agenda."  Franken goes on to eviscerate Texas Senator Ted Cruz in a chapter entitled "Sophistry."  Franken is proud of the fact that he hates a colleague who in two short months managed to turn almost his entire party against him.  As is Franken's methodology throughout the book his comments are sardonic, humorous, and sarcastic, but below the surface the Senator from Minnesota is seething.
A major theme of the book is a clarion call for Democrats to turn out and remove Republicans from power.  If it is not done soon, Franken argues President Trump will continue to dismantle the achievements that Obama was able to attain.  Franken tries to be upbeat throughout as he rests on his comedic talent.  But, after watching the Senate Intelligence Hearings and Trump's response congressional hearings televised on what seems to be a daily basis, a special prosecutor, and a chief executive who demands fealty as if he was "the godfather" it was good to read an uplifting political manifesto in the form of a biography that the past few days we all must be careful because what we are witnessing cannot be good for our country, which seems to be what motivates Franken each day-what is good for our country.