Recently Ron Chernow was asked on the CBS morning news program if his new biography, GRANT could become a Broadway musical as his previous book HAMILTON had.  His response was clearly no, but he left open the possibility of a movie.  Whatever the case, Chernow has written the most comprehensive biography of the man credited with changing the course of, and winning the Civil War, then went on to support Lincoln's reconstruction program, and assumed the presidency.  The book is quite long, to the point that Chernow dedicated the book to his readers, as he stated in a New York Times interview he himself would have difficulty dealing with the length of his own books.  As far as a film is concerned it is easy to contemplate such a complex life story that experienced numerous successes and failures.  Before the Civil War his private life was riddled with failed businesses and depression.  He had to deal with a father-in-law who thought very little of him, and a father who was rather intrusive.  Troubled by alcoholism he would lead the North to victory over the Confederacy, was a proponent of civil rights for freed slaves, and guided the United States through the perilous years following the Civil War.
Every high school student is taught that there was a great deal of corruption linked to the Grant administration, but in truth noting ever involved him on a personal level.  The historiography dealing with Grant's life and career beginning with William A. Dunning at the turn of the twentieth century has been rather negative, but Chernow's effort has continued the new strain of thought reflected in recent biographies by Ronald C. White and Jean Edward Smith who argue that Grant was a great military leader and a better president than he has been given credit for.
Chernow's portrait of GRANT is all consuming beginning with a boyhood that witnesses a grandstanding father and a stubbornly private son.  Along with his over-bearing father, Grant had to cope with a painfully retiring mother resulting in a young man who kept a world of buried feelings locked inside, a trait he would carry his entire life.  Chernow follows his subject through his formative years and West Point until his marriage to Julia Dent, a southern woman who lived on a plantation.  Since the Grants were rabid abolitionists it created tremendous pressure on the young couple, particularly Ulysses who could never measure up in terms of wealth to his father-in-law.
Chernow is a wonderful writer of narrative history, but he also centers on the motivations and consequences of people's actions.  Employing his analytical skills to Grant's intellectual development in dealing with American expansion during and following the Mexican War, and the problem of Texas we witness a man who realizes early on that the war incited by President James K. Polk could only exacerbate domestic tension by adding territories that the south would try and turn into slave states.  Grant's pre-presidential views are in a constant state of evolution; whether dealing with military strategy during the Civil War, his dealings with Union generals such as George McClellan, William T. Sherman, Philip Sheridan, and Henry Halleck; how to deal with the problem of "contraband" slaves and whether they should be employed by Union armies against the south; what approach to take against Robert E. Lee; and his developing relationship with Abraham Lincoln.
Chernow's Grant has a facile mind who was able to control his emotions and weigh his decisions.  Grant realized that his reputation was one that stressed his problem with alcohol and the fact that casualties under his command were very high.  Chernow spends a great deal of time dealing with the alcohol issue and concludes that Grant was the type of drunk who could control when to start and stop drinking.  The evidence presented reflects the belief that Grant never drank during periods involving the preparation of and actual combat.  The stress of battle needed an outlet, and when Julia was not around or his Chief of Staff John Rawlins was not present to manage him, Grant did resort to alcohol.  As far as casualties were concerned, Grant unlike McClellan and George C. Meade did not pursue an offensive approach to war.   Once Grant experienced success in the western theater, particularly at Vicksburg, his relationship with Lincoln was solidified as the president finally found a general who wanted to destroy the Confederate army, and not just concentrate on acquiring territory.  Another major point that Chernow develops is that historians tend to concentrate on the Army of the Potomac and events in the east, with Grant's life story the west comes into focus particularly its strategic value during the Civil War.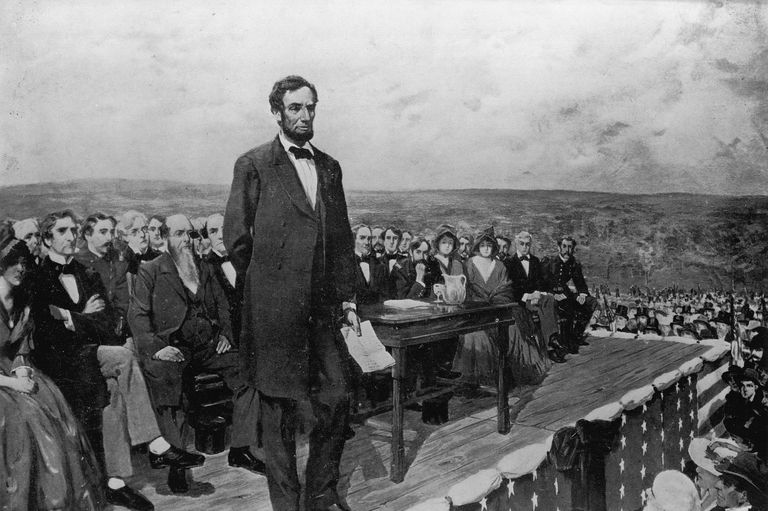 (Lincoln's Gettysburg Address)
Grant's relationship with Lincoln was the key to victory.  The strength of their bond can be seen with all the "presidential talk" surrounding Grant as the war wound down as he assured Lincoln he had no presidential aspirations.  In dealing with the social issues that emerged with the Emancipation Proclamation we witness the further evolution of Grant's thinking as he proposed what would come to be known as the Freedman's Bureau to take care of freed slaves.  Lincoln's assassination hit Grant very hard, as he lost his partner in trying to bring the south back into the union without the former Confederates loosing total face.  Once Lincoln was gone, Grant as General in Chief had to deal with Andrew Johnson, an avowed racist who went to war with radical Republicans in Congress.  By wars end the "erstwhile goods clerk" from Galena, Illinois was in command of over one million men which could compete with any army in the world.  For Grant that army would be reduced appreciatively, but was to be used to control southern rejectionists who committed numerous atrocities against freed blacks, and wanted to reinstitute the status quo ante bellum.
(General William T. Sherman)
Chernow provides a historically accurate portrayal of the Reconstruction period.  Beginning with the presidency of Andrew Johnson the author dwells on the former Tennessee governor's blatant racism and goal of restoring Confederate ideals as soon as possible.  Grant, then General in Chief and temporary Secretary of War with Johnson's suspension of Edwin M. Stanton challenged the new president on issues ranging from the Freedman's Bureau, constitutional amendments, racist inspired riots and murder in Memphis and New Orleans, and the impeachment process.  It is clear from Chernow's analysis that Grant became the foremost protector of persecuted blacks in the south as his disgust with Johnson continually increased.  With this process his world view moved closer to Radical Republicans.  Grant believed that Johnson "had subverted the will of Congress in a way that bordered on treason."(589)  Grant grew very uncomfortable as he found himself in the middle between Johnson and the Radical Republicans over the interpretation of the Tenure of Office Act.  For Grant military rule in the south should be terminated as soon as possible, but also believed that withdrawal should take place without sacrificing the welfare of blacks.
(General Philip Sheridan)
It came as no surprise that Grant was easily elected to the presidency, a job he never really sought, but once in office seemed to enjoy.  The problem was that Grant tended to view rich businessmen through rose colored glasses leading to weak and corrupt appointees.  Grant, who during the war had a knack for choosing superb talent proved to have lost that skill as president.  Men like Jay Gould and John Fiske tried to corner the gold market; Orville Babcock spied for whisky distillers within the administration along with General John McDonald, the Supervisor for Internal Revenue in Arkansas and Missouri; Secretary of War William M. Belknap made money selling trading posts that provided goods to Native-Americans; and of course the Credit Mobilier – all personified the looser morals of the Gilded Age which greatly detracted from his presidency.  Grant was a victim of the disease of patronage as he repeatedly handed out positions to family and friends.  Many of his problems resulted from the lack of a true civil service system.
In his defense, Chernow argues that Grant was the first president to oversee a continental economy which led to the rise of big business, particularly the expansion of railroads that required government assistance providing fresh opportunities for graft.  "With the federal government bound up in new moneymaking activities, there arose a gigantic grab for filthy lucre that affected statehouses as well and saturated the political system with corruption."(645)  Grant had to cope with a strong Congress whose powers had been amplified as the death of Lincoln and the actions of Johnson greatly reduced the power of the Executive branch.  Overall, Grant's problem was that after the Civil War the Republican Party evolved from a party of abolitionism to a more business oriented one.
(General John A. Rawlins)
Chernow stresses the role of John Rawlins in helping Grant become the hero of the Civil War, but with his death a vacuum was created that no one could fill.  Without Rawlins to help Grant control his drinking problems, act as a sounding board for decisions, and choosing the proper person for a position, it became easier for people to take advantage of Grant.  The result was once Rawlins died, Grant's presidency became a victim of "crafty, cynical politicians for whom the credulous Grant was no match."  Later in life Grant would admit his character flaws and blamed himself for choosing and working with individuals that helped contribute to the negative view of his presidency.
Despite the corruption that hovered around the Grant presidency there are areas to admire.  During his administration Grant faced a clandestine Civil War in the south.  Remnants of the Confederacy morphed into the Klu Klux Klan and other racist groups that reigned murder and violence against blacks or any whites who supported them.  Grant used the newly created Department of Justice and the military to prosecute offenders and safeguard possible victims.  Though he could not totally eradicate the violence and hatred by 1872 he had destroyed the Klan in the south.  However, by his second administration acts of violence against blacks in Louisiana, South Carolina, and Mississippi increased culminating in the Colfax massacre and others.  When Grant sought to use federal troops to protect black voting rights he ran into northern opposition that had grown tired of Reconstruction.
Another area that Grant should be commended for was the negotiations resulting in the Treaty of Washington that settled the "Alabama claims" issue with the British dating back to the Civil War.   As a result Anglo-American cooperation would replace years of controversy and ill-feelings.  Further, it allowed for the influx of British capital which greatly enhanced American industrial development.
(Grant working on his memoirs right before he died)
It is interesting to note the current manipulation of the "Civil War Monuments Issue" by politicians in light of Chernow's analysis.  The author explains Grant's resentments against those who argued that he was only successful because of superior resources and men as opposed to the strategy he employed in defeating Lee's army.  Further, it vexed him that after the Civil War "the North denigrated its generals while southern generals were idealized."  Grant remarked that Southern generals were [seen as] models of chivalry and valor—our generals were venal, incompetent and course…Everything our opponents did was perfect.  Lee was a demigod, Jackson was a demigod, while our generals were brutal butchers." (516)  Grant is probably turning over in his grave today as statues of the treasonous Lee are used as a vehicle to exploit the feelings of many individuals who still refuse to honor the 13th,14th,  and 15th  amendments to the Constitution.
Chernow's work is masterful, well written, and the epitome of how history should be presented.  Chernow does not miss a beat; from Grant's military career, family life, battle to overcome alcoholism, to the trust in mankind that led to so many financial losses.  If you have the time, GRANT is a major commitment, but if you choose to accept the challenge of engaging a book that weighs between two and three pounds you will not be disappointed.