(Edison's light bulb)
Recently, an old friend recommended the book EMPIRES OF LIGHT: EDISON, TESLA, WESTINGHOUSE, AND THE RACE FOR ELECTRICITY by Jill Jonnes.  When I looked it up I came across a wonderful historical novel that seemed to encompass the same material, THE LAST DAYS OF NIGHT by Graham Moore which took a somewhat different approach to the subject matter.  Today we live in a time when technological change is constantly fostering a transformation in our daily behavior and outlook. This change is unparalleled in our history and each day it seems as if another life altering innovation has taken pace.  Many of today's discoveries have had, in some way, their origin in the late 19th century, described by Mark Twain as the "Gilded Age."  It is that time period that is the stage for Graham Moore's latest novel.   The book, which in part reads as a work of non-fiction opens as a poor Western Union man is electrocuted as he works to repair wiring located in front of a building on Broadway in Manhattan on May 11, 1888.  One of the witnesses to this unfortunate death is Paul Cravat, a lawyer, and a central character in Moore's plot.  Later that day, Mr. Cravath was summoned to the offices of Thomas Edison, a man who for the previous six months was involved in litigation with Cravath's only client.
(George Westinghouse)
It seems that Mr. Cravath represented George Westinghouse, a rich engineer and manufacturing dynamo whose production facilities and laboratories were centered in Pittsburgh.  Westinghouse and Edison were involved in patent infringement lawsuits against each other, and Cravath a recent graduate of Columbia Law School and a new partner in the firm Carter, Hughes, and Cravath was dealing with a $1 billion suit Edison entered into against Westinghouse.  The issue came down to who had developed the better light bulb.  Westinghouse argued that he had not stolen anything from Edison's product and had created a better bulb based on his own research.  The problem for Edison was that his bulb was only effective for short distance since it was powered by a direct current or DC, while Westinghouse was working with another scientist to power his bulb by alternating power or AC which produced light over greater distances.  If Edison was successful in his numerous lawsuits, numbering at least 312, he would then hold a "monopoly on light, as he would be seen as the inventor of the incandescent bulb, which no one else could manufacture.
The story produces a number of historical characters that Moore develops.  Of course we meet the power hungry (no pun intended) Thomas Edison whose financial and political influence dwarfs that of George Westinghouse.  Other important personages include Nikola Tesla, an eccentric Serbian immigrant whose scientific discoveries include furthering the distance that an AC electrical system can deliver.  Tesla's lawyer, Lemuel Serrell who plays an important role as does Agnes Huntington, a Metropolitan Opera performer that Cravath finds alluring, J.P. Morgan, the richest man in America, Alexander Graham Bell, the inventor of the telephone, Cravath's father Erastus who was not impressed with his son's work and held to a strict moral code, Charles Batchelor, Edison's right hand man, and New York City Police Commissioner, Fitz Porter.  By exploring these diverse historical characters Moore takes the reader inside New York society, cut throat industrial competition, and the corruption associated with the politics of the period.
The monologues that Moore presents are very informative as he explains the scientific breakthroughs that Edison, Westinghouse, and Tesla produced.  As he does so the author seems to meditate on the values of the "Gilded Age."  The role of power, money, and domination are all evaluated as well as a somewhat higher moral stance that does not bow to the pressure of achieving success.  To his credit, the author provides a detailed note at the end of the book that explains what is factual in the novel – most of the story – and what is a product of the author's imagination.
(J.P. Morgan)
In part, the novel reads like a mystery as a number of actions that emerge border on the criminal.  It seems as if certain characters will stop at nothing to achieve their goals.  The legalities of patent law are explained in full and the core of the novel rests on the idea that "Westinghouse created objects. Tesla created ideas, while Edison, was busy creating an empire."  The result is that each approached "science, industry, and business" in incompatible ways. (105)  The book can also be seen as a morality parable, particularly when one reaches its conclusion.  A story that is the epitome of corporate intrigue, can also be seen as a battle against right and wrong.
Moore writes in a very engaging manner and blends facts with fiction in creating an excellent historical novel that students of the period and the general reader will find fascinating.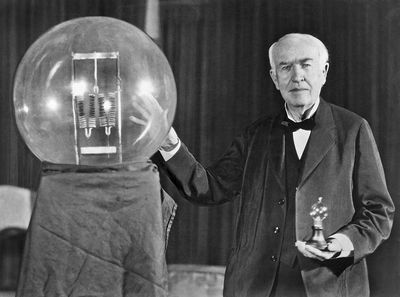 (Edison and his light bulb)