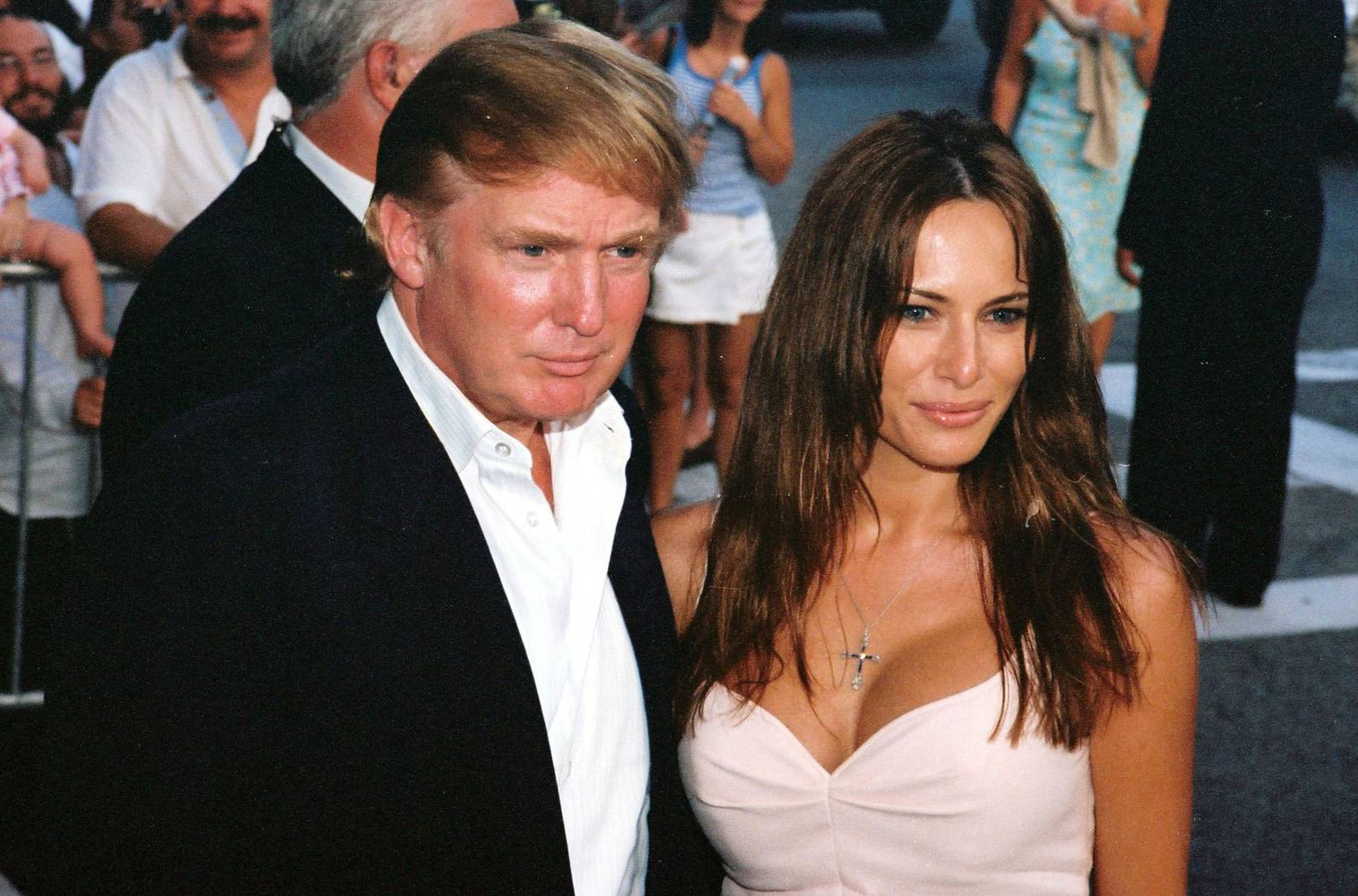 (A younger Trump and Melania)
Nina Burleigh states in the Acknowledgements of her new book, GOLDEN HANDCUFFS: THE SECRET HISTORY OF TRUMP'S WOMEN that the idea for her new book derived from a Newsweek cover entitled, "The Queens of Trumplandia" shortly after Trump's inauguration.  The book itself has several interesting tidbits about Trump's three wives, daughter, Ivanka, his grandmother and mother, but it does not rise to the level of a complete volume, when an in-depth magazine article would have been enough.
Burleigh draws several interesting conclusions as it pertains to each of the women and the first part of the book dealing with Trump's childhood and adolescent years provides a few important insights into the president, but again it could have been covered in a magazine article.  Perhaps one of the most insightful comments occurs early on as Burleigh quotes historian, Todd Gitlin who states, "Trump represents the other side of the '60s.  He's not operating in the spirit of Martin Luther King Jr., God knows – he's operating in the spirit of Hugh Hefner.  That's his 60s: the liberated guy fucking around at will, grabbing women.  He's living the Playboy philosophy as Heffner articulated it."  His approach to women is clear-cut, they must surrender their power in measures of dignity in order to enhance his.  As he once said, "It really doesn't matter what they write [about you] as long as you've got a young and beautiful piece of ass."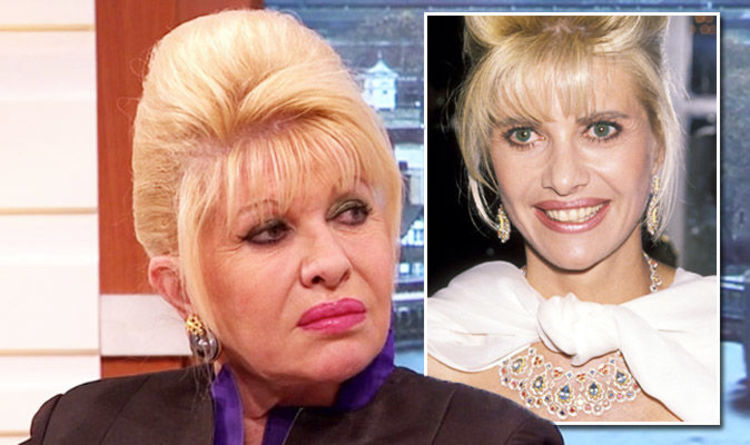 (Spouse #1, Ivana Trump)
For Trump, women had to conform to his brand.  Further, for each woman, everything was for sale, especially their "look."  By middle age Trump had become the arbiter of female beauty as he purchased several beauty pageants.  It is also interesting to note that all his women (if one excepts that southern Georgia was not conducive to overall American culture) were immigrants considering his own immigration policies as president.  In fact, Melania would not be allowed into the United States today if her husbands proposals had become law.
In imparting her narrative, Burleigh never misses an opportunity to relate something from Trump's earlier biography to that of current obstruction, corruption, or just plain nastiness on his part.  Despite the sarcasm that abounds Burleigh does have something meaningful to impart.  Trump's maternal grandmother Elizabeth Ann Christ who immigrated from a German village is given little credit for beginning the Trump family wealth accumulation.  Burleigh argues that the 49-year-old widow with three children was able to parlay her husbands bank account into a small, but successful real estate enterprise in Queens, NY.  Trump gives all the credit to his father, Fred who he claims was a real estate genius at 14, and grandma just wrote the checks.
(Spouse #2, Marla Maples)
The key figure in Trump's childhood was his father.  His mother Mary Anne MacLoad a Scottish immigrant accepted the patriarchal family where daddy was feared.  For Trump no woman could measure up to his mother which becomes a problem with women throughout his life.  The part of the book I was looking forward to the most was Trump's childhood as I will be teaching a Psychohistory course next month and I will be analyzing the "Donald,"  but after reading the book I feel somewhat disappointed.
Trump as a child was a hellion from the time, he was a toddler.  His primal scream may have occurred when he was two years old as his mother suffered a hemorrhage, hysterectomy, and peritonitis with the birth of her fifth and last child.  Trump's mother had cared for him very affectionately until that time and it was a blow to a boy who was in the midst of the "terrible twos."  Mary was exhausted during her recovery and never rebonded with Donald who "became an aggressive, impulsive, and sometimes downright sadistic little boy."  Trump would lash out at teachers, Doctors, schoolmates, etc. and grew proud of his own belligerency.  Today he would be diagnosed with ADHD highlighted by "inattentiveness, impulsivity and hypersensitivity" who refused to read which sounds like a daily occurrence at the White House!  One wonders if his son Barron has inherited some of his father's learning issues.  Trump, undiagnosed suffered from these learning disabilities which we are all paying for.
(Spouse #3, Melania Trump)
Donald's development was markedly affected by his father.  Fred Trump whose treatment of women fixed his son's attitudes towards females for life.  Burleigh argues that he was a philanderer who viewed women through two lenses – what they could do for him in private, and how they might be employed as props to advance his career and sell his properties.   Donald's adulthood suggests a boy forever marked by a rigid, demanding, pathologically fastidious, and possibly physically abusive father – sound familiar?  The book unearths stark details of the forces that shaped Mr. Trump's thinking about women — Mr. Trump's father, went as far as forbidding the word "pregnant" from being uttered in a household that would grow to five children and explains Donald's aversion to certain biological aspects of being a woman.
Perhaps his most interesting wife was Ivana who was a Czech immigrant who would become a mogul in her own right.  She became competition for the limelight that Trump could never share.  Burleigh points out that Trump loved to play Pygmalion which worked out well with Ivana for several years, but once she developed her own separate and successful brand she had to go.  In addition, as she grew older and had her facial and body alterations, she no longer fit Trump's image of what his spouse should be.  Burleigh as he does with all the wives ply's the myths and accepted facts pertaining to the marriages.  But what is clear that if Trump could not mold his women into what he needed, like Marla Maples, his second wife then they could no longer stay married.  As far as wife number three is concerned, Melania, is a stunning woman who could not measure up to the modeling world that was the source for Trump's women.  She evolved into the perfect spouse as she seems to be content as she does not give any indication that she wants to bask in the limelight as her predecessors.
(Fred Trump and Donald Trump)
Burleigh summarizes the relationship with all his wives very effectively, "Unlike Marla, who demanded Trump make an all-encompassing spiritual commitment to her, and a spiritual commitment to doing good works, and unlike Ivana, who morphed into a female version of Donald, Melania purred with contentment, was happy to stay indoors, and as she would say in many future interviews, she had no interest in changing Donald." As one of Melania's friends has stated "I think she needed a strong man, a father figure."
The section of the book that is most disconcerting apart from Trump's misogyny deals with first-daughter Ivanka.  Burleigh deals with the most important aspects of their relationship and perhaps the unconscious sexual dreams Trump has about his daughter.  What is clear is that she is a more refined version of her father with her own agenda.  Her disingenuous approach to issues and claims of being a supporter of liberal causes may ruffle her father's base, but it appears it is to be part of her own political agenda in the future.  Trump raised her to be a combination of his own brand of woman, the future head of the Trump Organization, and possibly a political force for the future.
In summation if you are to be a Trump woman, be it a wife, mother, or daughter you must conform to the look – stiletto heels, have the characteristics of a model wearing the right clothing and jewelry, and have the visage of how you view and carry yourself as always showcasing the brand.
To her credit, Burleigh has sifted through decades of publicly available materials — including Mr. Trump's own words in memoirs and interviews — to animate the central point of the book: that "Mr. Trump has long believed women, particularly if they are not able to be molded to his liking, are not to be trusted." (New York Times, October19, 2018)  If you are interested in detail about Trump's relationship with women this book may be for you.  However, it doesn't really say much that has not been said before, though Burleigh corroborates a great deal of what has been in print and interviews.  If you are interested in a more sophisticated approach to the material, and I might be a bit facetious when I say material, I would pursue some of the other "Trump" books.