(Neville Chamberlain after returning from the Munich Conference)
In 1961 the controversial British historian, A.J.P. Taylor published THE ORIGINS OF THE SECOND WORLD WAR arguing that the war was caused by the appeasement policies pursued by England and France toward Nazi Germany.  He further purported that Adolf Hitler was more of a traditional European statesman who easily could have been stopped in March 1936 at the Rhineland bridges had England and France had the will to do so.  This book created a firestorm in academic circles and over the years numerous historians have challenged Taylor's conclusions. Among the first was J.W. Wheeler-Bennett's MUNICH: PROLOGUE TO TRAGEDY followed later by Telford Taylor's MUNICH: THE PRICE OF PEACE, Lynne Olson's TROUBLESOME YOUNG MEN: THE REBELS WHO HELPED SAVE ENGLAND,  David Faber's MUNICH THE 1938 APPEASEMENT CRISIS, and last year a fictional account was written by Robert Harris.  These books among many others lay out the counter argument to Taylor that even though Anglo-Franco appeasement was responsible for the war, Hitler would have stopped at nothing to achieve at a minimum domination of Europe.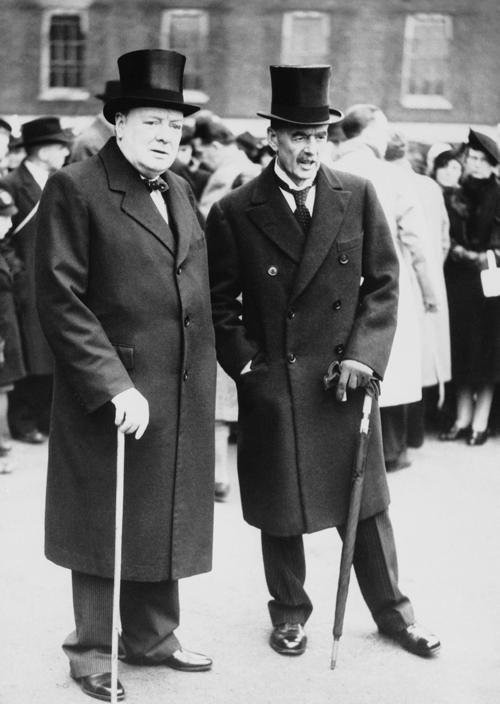 (Winston Churchill and Neville Chamberlain)
The latest entry into this debate is Tim Bouverie's APPEASEMENT: CHAMBERLAIN, HITLER, CHURCHILL, AND THE ROAD TO WAR.  Bouverie, a former British journalist offers a fresh approach in analyzing London's foreign policy throughout the 1930s leading to the Second World War.  The author excoriates British Prime Minister Neville Chamberlain and his apologists who argue that he had little choice because of England's lack of military preparation and fear of inflicting further damage to an already depressed economy.  Bouverie concludes that Chamberlain had decided even before he became Prime Minister that an accommodation with Hitler needed to be made in order to prevent revisiting the carnage of World War I.  With England's position growing untenable in the Pacific due Japanese expansionism a rapprochement with Germany was a necessity.  Chamberlain would proceed to try to make deals with Benito Mussolini to pressure the Fuhrer, but in reality as his own writings and correspondence reflect he was bent on giving in to Hitler as shown in his reaction to the Anschluss with Austria, the drum beat by Sudeten Germans in Czechoslovakia for autonomy, the dismemberment of the only democracy in central Europe at the Munich Conference and thereafter, and finally over Danzig.  It was clear that the policies of Chamberlain and Lord Halifax, who Bouverie calls the "evangelicals of appeasement" would give away almost anything to achieve an Anglo-German Pact.
Bouverie does an excellent job developing the pacifist movement in England and the attitude of British elites toward Germany.  To the author's credit he not only focuses on the major players in English politics during the period but others like Baron Lord Rothermere, his brother Lord Northcliffe, and Geoffrey Dawson who greatly impacted British public opinion through their newspaper empires.  In addition, Sir Robert Cecil, an ardent advocate of the League of Nations and the Peace Ballot in favor of collective security, Ernest Jenner, a banker, the historian Arnold Toynbee, former Labor leader George Lansbury, all whom received audiences with Hitler among others that the author discusses.  These individuals were able to mold public opinion and create further pressure on Prime Minister Stanley Baldwin who was replaced by  Chamberlain.
(Neville Chamberlain and Adolf Hitler at the Munich Conference)
Bouverie's narrative is grounded in social and political history and makes exhaustive use personal papers, documentary collections, and the press.  He explains that England's response to Hitler derives from a number of critical works such as John Maynard Keynes' THE ECONOMIC CONSEQUENCES OF THE PEACE written in 1919 which pointed out the deficiencies in the Versailles Treaty.  Many in power in England saw the rise of Hitler as a manifestation of legitimate German grievances concerning the treaty, thus ameliorating Hitler's "Diktat of Versailles" became a rallying cry for appeasers.  Those individuals include the British Ambassador to Germany, Neville Henderson; Foreign Secretary Lord Halifax, and Sir Horace Wilson, the government's Chief Industrial Advisor and Chamberlain's alter ego.   Bouverie presents an incisive narrative concerning the raucous debate in British politics centering around rearmament, especially since Hitler was rearming Germany right under the nose of France and England undoing that clause of the treaty.  England would face reality and in 1934 agreed to a naval treaty with Germany allowing the Nazis a navy 35% of that of Great Britain (though at the time the treaty was signed Germany had already passed that threshold).
The author takes the reader through each major crisis that predated World War II.  Beginning with attempts at an Anglo-German Treaty recognizing Germany's eastern borders and League membership; the German occupation of the Rhineland in March, 1936; the Anschluss with Austria in March, 1938; machinations against Czechoslovakia leading to the Munich Conference in September, 1938; the seizure of all of Czechoslovakia in March, 1939, the Nazi-Soviet Pact, and the final crisis in Danzig that resulted in the invasion of Poland and the "Phony War" that followed.  In each instance Bouverie provides insights into the thought patterns of English politicians and why they did little or nothing to stop Hitler.  The author also explores the opposition to the Baldwin and Chamberlain governments, in particular Winston Churchill who found the warnings he had offered about Hitler since 1933 coming home to roost.  But it is clear that the "evangelical appeasers" faced no serious opposition or obstacles in Parliament.
(London, 1940)
One of Bouverie's best chapters deals with "Hitler's Wonderland" reflecting British attitudes toward Germany in light of the Nuremburg Party rallies and the 1936 Olympics that took place in Berlin.  British elites like King Edward VIII, Charles Vane Tempest-Stewart, and the 7th Marquis of Londonderry all visited Germany a number of times and became the United Kingdom's leading Hitler apologists.
Bouverie provides fascinating portraits of the periods leading characters.  His most important was his analysis of Chamberlain describing his intellectual self-assurance, a trait that would not allow him to consider the opinions and findings of others.  His arrogance would alienate Laborite's as well as people in his own party.  This would prove a disaster as he tried to form governmental coalitions in 1939 and 1940.  In his defense Bouverie points out that Chamberlain had been a social reformer, but events did not allow him to pursue that interest.  As the former Chancellor of the Exchequer he realized England could not afford an arms race, so he tried to engage his countries enemies.  Chamberlain realized he could not rely on the United States, in large part because of his low opinion of Washington, believed that "careful diplomacy" would in the end be successful.  Bouverie is careful to point out that Chamberlain did not invent appeasement as British governments had been practicing it since the early 1920s, but it is Chamberlain who seems to have earned the mantle of the "great appeaser" because of Munich and beyond due to his innate stubbornness in dealing with those who disagreed with him.
(Winston Churchill and Edward Wood, Lord Halifax)
Bouverie's narrative allows the reader to eavesdrop on many interesting conversations and events.  Particularly fascinating was a lunch thrown by German Foreign Minister Joachim von Ribbentrop at the German Embassy on March 11, 1938 with British politicians in attendance at the same time that Hitler demanded the resignation of Austrian Chancellor Kurt von Schuschnigg or suffer an invasion.  Also interesting is the verbal give and take between Chamberlain's Foreign Secretary Lord Halifax, a pro-German appeaser and his predecessor Anthony Eden who resigned over English recognition of Mussolini's seizure of Abyssinia.  The give and take in the English cabinet after the Anschluss fearing Hitler's next move is important as the evidence that Bouverie presents makes it clear that no one in Chamberlain's government wanted to risk war over Czechoslovakia a country they believed had little to do with British national security. Lastly, Bouverie's discussion of conversations between Henderson and German Foreign Minister Joachim von Ribbentrop as negotiations proceeded in August 1939 is priceless.
When war finally came, Bouverie notes that following the conquest of Poland, England and France declared war on Germany, but this was a rare case when war was declared but it was not fought until Hitler's blitzkrieg entered France and the low countries in May 1940.   Finally, Tory anti-appeasement rebels will begin an all-out effort to get rid of Chamberlain in and Bouverie's coverage of probably the most important parliamentary debate in English history is exemplary as it finally brought Winston Churchill to power.
Bouverie's effort is very timely as Lynne Olson points out in her New York Times article, "Failure to Lead" (July 21, 2019).  Olson commends Bouverie for providing historical evidence as what will occur when a politician who has no knowledge of foreign policy, like Chamberlain imagines himself to be an expert and bypasses other branches of government to further his aims.  In addition, when one focuses only on negotiations with dictators and leaves their allies in the lurch……sound familiar?