(Samantha Power at the United Nations)
Toward the end of my teaching career I had the opportunity of meeting Samantha Power and she proved to be a warm individual with a sardonic sense of humor.  The occasion was a Model Congress trip to Washington with over thirty teenagers who were role playing our legislative branch of government with over 1000 other students from all over the United States.  During our Saturday afternoon break we walked over to the White House and met with Ambassador Power in her office where she proceeded to spend a few hours with us reviewing the national security process in the Obama administration and engaged my students with the myriad of foreign policy issues then facing the United States.  The afternoon session is something that my students have still not forgotten and neither have I as Power took the time to try and educate a group of teenagers and make them aware of the importance of protecting American national security and the importance of promoting human rights worldwide.  Up until that time my familiarity with Power was as an academic having used her Pulitzer Prize winning book "A PROBLEM FROM HELL": AMERICA IN THE AGE OF GENOCIDE as a class text, and CHASING THE FLAME: ONE MAN'S FIGHT TO SAVE THE WORLD, the poignant story of Sergio de Mello who worked for the United Nations to try and bring peace to Iraq, Bosnia, Cambodia among others before he was killed in Iraq.  Her latest effort is a personal memoir, THE EDUCATION OF AN IDEALIST where Power describes her life's journey from immigrating from Ireland as a child, war correspondent, to presidential Cabinet official in a deeply personal way, but also providing incisive analysis of the issues she has dealt with during her career.
Power was raised in a loving but dysfunctional family.  Her mother was a doctor and father a dentist.  She received support from both parents, but her father's alcoholism would ruin the marriage and form a cloud that hovered over Samantha's childhood.  Despite her father's addiction he was an attentive father who took her to Hartigan's Pub on a regular basis where he spent time with her, but mostly she read her books.   Once her mother had enough, she emigrated to the United States when Samantha was nine leaving her father behind.  The situation created deep emotional issues for Power throughout her remaining childhood and adulthood which she explores in a deeply personal and at times sad manner that would impact her relationships with men until she met Cass Sunstein.  Power uses her memoir as sort of a catharsis as she explores her unresolved issues with "abandoning her father" who would later die from his disease at a young age.  Power deeply ponders if she had remained or at least had a closer relationship with her father might he have survived.  The guilt involved plagued her for years.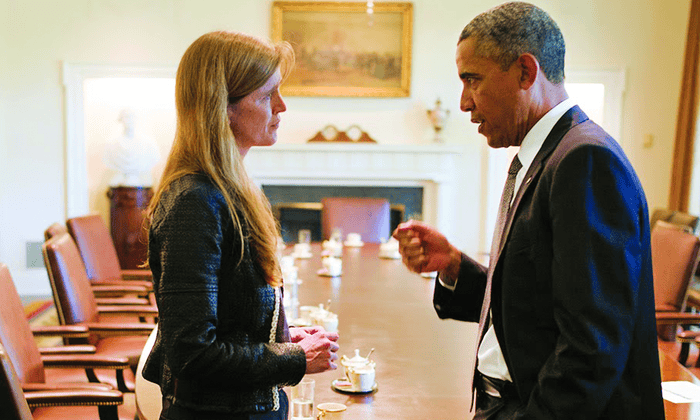 (Power with President Obama)
The memoir explores many personal issues that makes the telling of her life story more human than most.  She engages the reader through her relationship issues with men and how her courtship with Cass Sunstein evolved and what finally achieving a secure family meant to her.  Her discussion of her pregnancy and the birth of her son Declan is a mirror to the type of mother she will become.  Her vignettes about breast feeding in the "old boys network" of the State Department is priceless as is her discussion of the "support group" that was developed by woman who served on the National Security Council is entertaining, but projects the reality of women whose career paths took them into a male stronghold.
Power's future political views can be seen developing early on as she dealt with her school's racial integration in Dekalb County, Georgia while in Middle School.  Her education would bring her to Yale and travels to Eastern Europe where she saw the effects of the rise of liberal democracy in Czechoslovakia and Poland, but not in Yugoslavia.  She would intern at the National Security Archive, a liberal NGO involved with Freedom of Information requests.  With the guidance of Mort Abramowitz, a former Ambassador to Thailand and Turkey, as well as Assistant Secretary of State for Intelligence and Research and Fred Cluny, a human rights activist, Power became a journalist where she witnessed the horrors of the Bosnian Civil War in 1993.  She encountered the siege of Sarajevo, the massacre at Srebrenica from her base in Zagreb, Croatia which greatly impacted her views on human rights and what could be done to prevent this type of ethnic cleansing from breaking out elsewhere.
(Cass Sunstein and Samantha Power)
Her book "A PROBLEM FROM HELL: AMERICA AND THE AGE OF GENOCIDE altered her career trajectory and her life's path.  She raised questions about the nature of individual responsibility in the face of injustice, as she calls "upstanders v. bystanders."  Power interestingly points out that many critics have argued her monograph was a justification for the invasion of Iraq.  In reality she condemns the United States for doing nothing about the different genocides she has researched particularly when there were options that Washington could have chosen to lessen the impact of events that resulted in so many deaths.
(Power with her son Declan and daughter Rian)
Power describes in detail her relationship with Barack Obama for whom she became a foreign policy fellow on his Senate staff in 2005.  She explores Obama's rise to the presidency and her role as a staffer during the campaign and the pitfalls that resulted, i.e.; calling Hillary Clinton a "monster" which caused her temporary exile from the Obama team. During the Obama administration she would become the Human Rights expert on the National Security Council, worked closely with Ambassador Susan Rice at the United Nations, developed an office in charge of aiding Iraqi Refugees, and eventually replaced Rice at the United Nations.  In discussing all of her positions she delves into her frustrations of policies she was not able to impact, the National Security process within the Obama administration, and her successes and failures.
Important issues are dissected throughout parts of her book that deal with the Obama administration.  Power does a nice job providing the historical context of each crisis that the Obama administration was presented with.  Be it Libya, "genocide" controversy with Turkey,  Assad's use of Sarin gas during the Syrian Civil War, or Putin's invasion of eastern Ukraine and seizure of Crimea she is able to place contemporary crisis' within a larger historical narrative. The issue of Libya is front and center as Colonel Muammar Qaddafi is overthrown and the ensuing violence would result in the death of US Ambassador Christopher Hill at Benghazi which created a firestorm set by Republicans.  Power lays out Obama's thinking and belief that the US had led the movement that stopped the massacre of Libyan civilians and it was now Europe's turn to carry the load.  He did not want to commit US troops and Power concludes there was probably little Washington could have done to prevent events that transpired following Qaddafi's death. Of all the sections in the book it seems that the death at Benghazi are given short shrift.  I would have expected Power to offer further insights to what transpired and how the issue would dominate politics up until and throughout the 2016 presidential campaign.
(an image from the Syrian Civil War)
The Syrian Civil War probably did the most to damage the Obama administration's reputation in the world and at home.  First, when learning of Assad's use of chemical weapons Obama put forth his "Red Line" that if crossed would result in a military response by the United States.  Obama with reasons explained by Powers would backtrack and pursue Congressional approval for US air strikes which was not forthcoming.  In the end Vladimir Putin for his own reasons would agree to a UN Resolution to destroy a significant amount of Assad's stockpile of chemical weapons, but the damage was done, and Obama's foreign policy became a further target for Republicans.  Power supports Obama's rationale, but in retrospect she argues that the United States should have followed through and bombed Syrian targets designated by the Pentagon, and at least attempted to mobilize a group of countries to oversee a "no-fly zone."  This would have provided some security for Syrian civilians, but with the numerous factions, the role of Russia, and the vagaries of war anything that might have been tried would not have ended the civil war.
Among other frustrations that Power had to work through professionally was the issue of the Armenian genocide that dates back to World War I.  As I write Turkish planes and troops are killing hundreds of Syrian Kurds and fostering a migration of thousands.  This is a pattern in Turkish history, and when the issue of the April 24, 2009 anniversary of the 1915 genocide of Armenians arose Power worked to include the word "genocide" as part of the American government's characterization of the event.  Power describes how difficult it was to change American policy, from which she failed.  But at least there was a decision-making process, unlike the current administration when it decided to give Istanbul free rein to kill Armenians once again.
(Power condemning the Russian incursion into Eastern Ukraine at the UN Security Council)
Perhaps the most egregious issue that Power dealt with was Ukraine.  In 2014 Putin's Russia invaded Eastern Ukraine and seized the Crimea.  Power reviews the machinations behind the scenes at the United Nations and inside Obama's National Security apparatus nicely but what is most fascinating is how she evokes some sympathy for Vitaly Churkin, the Russian Ambassador to the United Nations.  She explores how the ambassador tried to defend positions that he knew were totally indefensible.  At times she would surreptitiously meet with Churkin and try to reach an accommodation dealing with eastern Ukraine.  Churkin's usual defense was that Putin was monitoring negotiations and his view was clear; if the western countries embraced a particular cause, then as if by reflex Moscow would pursue the opposite position. An excellent example came with the 20th anniversary of the Srebrenican genocide which Putin refused to label "genocide" in the Security Council.  Power would gain a measure of revenge when she worked to block Russia from occupying a seat on the Human Rights Council by one vote!
Overall, Power has delivered an exceptional memoir that reflects her humanity and honesty.  She puts forth her feelings for the reader to engage and comes across as a warm-hearted person who has overcome emotional baggage that she carried around for years.  This book is not your typical memoir and I commend it for its depth of analysis, insights into the human condition, and exploration of how difficult it is for America to lead in a world dealing with problems that Trumpist isolationism exacerbates resulting in a vacuum that Iran, Russia, and China are already beginning to fill.  Power's work at the United Nations should be a model for an American Ambassador to the United Nations, for evidence review her work in dealing with the Ebola crisis in Africa.  It is not about being liberal or conservative it is about what is best for the United States and humanity in general, not a platform for racism and demeaning allies.
Thomas Friedman sums it up best in describing Power's book,
It's an unusual combination of autobiography, diplomatic history, moral argument and manual on how to breast-feed a child with one hand while talking to Secretary of State John Kerry on a cellphone with the other. The interweaving of Power's personal story, family story, diplomatic history and moral arguments is executed seamlessly — and with unblinking honesty.
and,
When it comes to striking that right balance between idealism and realism, this book is basically a dialogue between the young, uncompromising, super idealistic Power — who cold-calls senior American officials at night at home to berate them for not doing more to stop the killing in Bosnia — and the more sober policymaker Power, who struggles to balance her idealism with realism, and who frets that she's become one of those officials she despised.*
Thomas Friedman, "What Samantha Power Learned on the Job," New York Times, September 10, 2019.