(Queen Elizabeth I of England)
Every few months after reading a series of authors I always seem to come back to Steve Berry.  He is a superb purveyor of historical fiction that seems about 90% fact and 10% artistic license.  Picking up another Berry volume is like satisfying a fix for someone seeking a history lesson wrapped inside a taut mystery that involves complex, yet fascinating characters.  In my latest adventure, THE KING'S DECEPTION, Berry as usual does not disappoint as he transports the reader back to Tudor England with Henry VIII near death imparting an important secret to his sixth wife, Katherine Parr.  The thought that immediately comes to mind is what could this possibly have to do with Cotton Malone, a former Justice Department agent for the Magellan Billet, his son Gary, and a boy named Ian Dunne who as a favor to his former boss Stephanie Nelle has agreed to transport to London and turn him over to the Metropolitan Police.  The problem for Malone begins as soon as he lands in London both boys are kidnapped.
As with all of his books within the first hundred pages Berry has developed a number of conflicting plot lines that are very disparate, and one wonders how they can all come together.  As is his forte, Berry has created a series of tracks for the novel to rest.  First, is personal as Malone's ex-wife Pam has recently told him that his son Gary is not his biological child.  Second,  Daedalus, a secret organization whose duty is "Domine, salvam fac Regnam," which translated means, "Oh Lord, keep the queen safe." What queen they serve is part of the mystery.  Third, a rogue CIA agent named Blake Antrim who has a professional and personal agenda that will shock Malone, the CIA and others.  Third, the upcoming release by Scotland Yard of Abdelbaset al-Megrahi, a former Libyan intelligence officer convicted in 1988 of 270 counts of murder for bombing Pan Am Flight 103 over Lockerbie, Scotland.  Fourth, what game is MI6, under the leadership of Sir Thomas Matthews playing.  Lastly, the roles of secondary characters like Kathleen Richards, an agent for London's Serious Organized Crime Agency (England's version of the FBI), Miss Mary, the owner of "Any Old Bookstore" in Piccadilly Square and her twin sister Tanya, and Farrow Curry, a CIA contract analyst who was murdered when he was close to breaking Robert Cecil, Elizabeth I and James I Chief Minister's code hidden in his journal.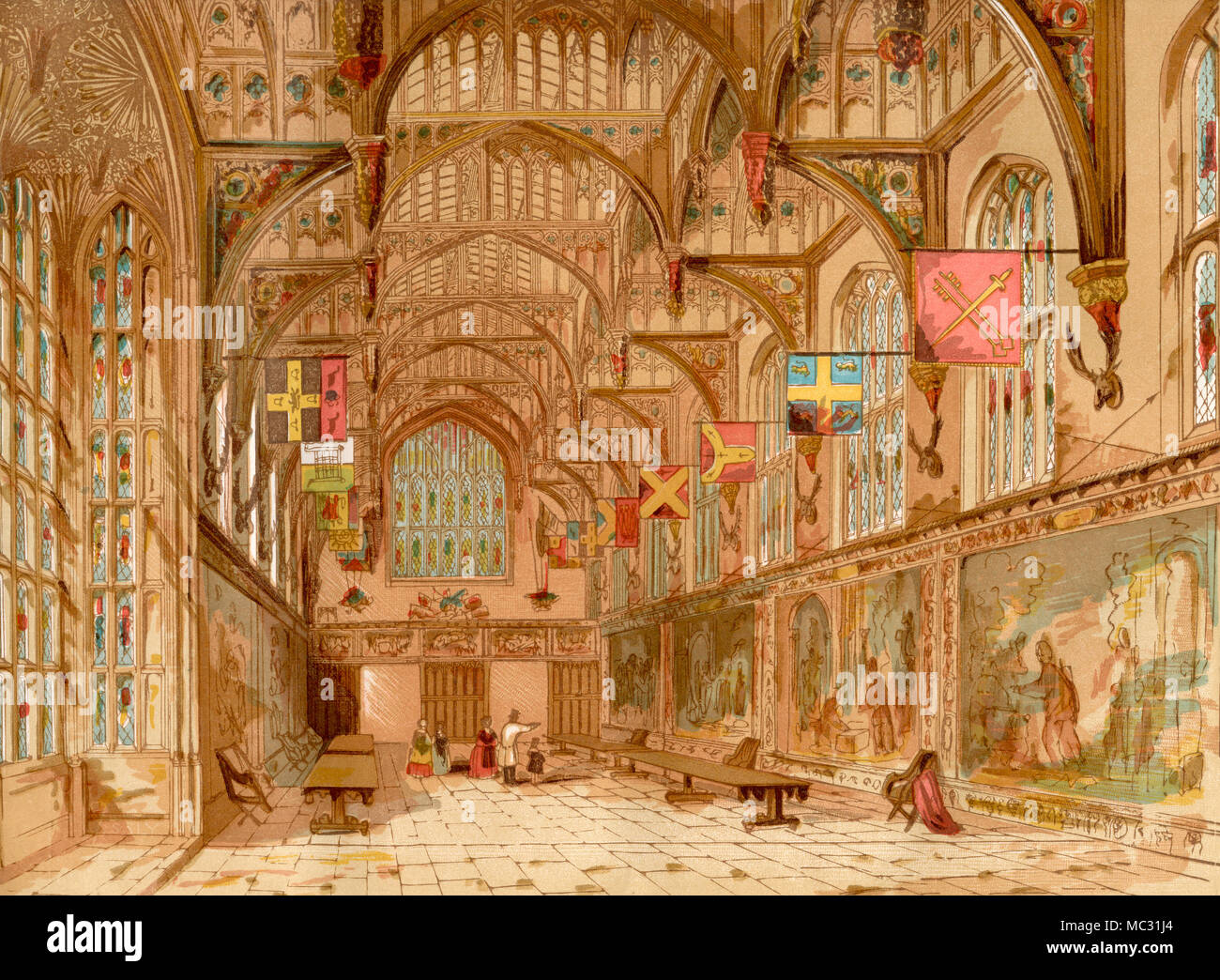 (The Great Hall, Hampton Court Palace, England)
The United States was incensed that London refused to pressure Scotland to block the release of al-Megrahi and the CIA was trying to block the British from doing so.  The King's Deception was the CIA plan to prevent his release.  As he brings all of these strands together, Berry integrates a great deal of historical information.  Berry returns us to the machinations of the Tudor Dynasty dating back to Henry VII carrying us forward through the House of Hanover and beyond.  As Berry builds the tension Malone faces a number of crises, one of which is very personal.  For the first time Malone must deal with his family and shows himself to be a caring father, a side we have not seen before.  As is the case in all of Berry's books, Malone is always racing against the clock as the suspense surrounding events unfolds.  Further, only Steve Berry could create the tangled web that questions the legitimacy of Elizabeth I's reign and its impact on English history.
(Sir Robert Cecil, Elizabeth I and James I's Chief Minister and Secretary of State)
Malone will uncover a series of documents relating to the Tudor Dynasty that could rock England.  After completing Berry's eighth iteration of Cotton Malone I agree with Eileen Brady's comments in Mystery Scene, "the documents also hint of a vast treasure hidden hundreds of years ago by the last of the Tudors. As they travel from London to Windsor Castle to the university town of Oxford, Berry gives the reader picture-perfect descriptions of the famous sights and infamous back alleys of England. The theme of birth, deception, and family binds all the divergent stories together to finish in an explosive ending."  Each of Berry's novels is crafted to be enjoyed on its own. If you haven't read any of them yet, "this would be a delicious book to start with."