(The bombing of London during the WWII "Blitz")
Living at a time when leadership seems to be severely lacking with a president who enacts his personal agenda seemingly on a daily basis when people are dying is eye opening and ultimately a tragedy.  In times like this it is important to examine historical leadership that is grounded in fact and strength of personality.  Leadership during times of crisis is of the utmost importance be it a pandemic, wartime, economic or weather-related catastrophes.  The public needs to rely on someone to step up and provide honest and factual information with direction to mitigate people's anxiety and provide hope for the future.  Examining the aerial atrocities committed by the Germans during World War II over London, Coventry and other English cities in late 1940 and early 1941 is a case in point.  Winston Churchill the newly appointed Prime Minister would rise to the occasion through his wisdom, wit, and force of personality and provide the British people a degree of solace.  Erik Larson's latest book, THE SPLENDID AND THE VILE: A SAGA OF CHURCHILL, FAMILY, AND DEFIANCE DURING THE BLITZ successfully captures Churchill's role and the courage of the British people in that moment and builds upon his series of historical narratives that ranges from hurricanes, murder in Edwardian London, a serial killer in Chicago's World Columbian Exposition in 1893, the sinking of the Lusitania, to the rise of the Nazis.
In his current work Larson explores "the year in which Churchill became Churchill, the cigar smoking bulldog we all think we know…and showed the world what courage and leadership looked like."  Larson has produced a workmanlike synthesis of events, policies, and personalities of the time period though he does not add a great deal that is new for historians.  What Larson does accomplish is a synthesis of information and sources focusing on many individuals that seem to fall through the cracks in other historical monographs.
(Sir Winston Churchill)
Larson's grasp of the most salient historical points is evident for all to see.  Churchill's obsession with Franklin D. Roosevelt's thoughts serves as a background to most of Churchill's actions.  Churchill is fully aware that England cannot defeat the Nazis without American equipment and financing and finally their entrance into the war.  Larson describes the political and personal machinations of FDR and Churchill in traditional fashion as he labors through the Destroyer-Base Deal and Lend-Lease as the United States slowly become more and more of a belligerent.  Larson's description of the visit of Harry Hopkins, perhaps FDR's closest ally and friend to England for four weeks in January, 1941 is a case in point as Churchill rolled out the red carpet to flatter and convince Hopkins to support American aid to England and encourage the eventual entrance of the United States into the war.Everyday English citizens are presented through their daily lives and travails as they confronted by the German "Blitz."  In addition, Larson takes figures like "Jock" Colville, Churchill's reluctant private secretary and drills down exploring aspects of their lives in detail.  In Colville's case the unrequited love he pursues in the name of Gay Margesson, a student at Oxford, supplemented by his important role by Churchill's side.  Others explored include Pamela Churchill who had the unfortunate task of being married to Churchill's son Randolph, an alcoholic, gambler, and philanderer.  Mary Churchill, the prime Minister's eighteen-year-old daughter provides an interesting perspective of an upper-class youth through her diary entries.  More importantly Larson pursues the role of Max Aiken, better known as Lord Beaverbrook, a newspaper magnate who performs miraculous work increasing British airplane production at the newly created Ministry of Aircraft Production as well as serving as Churchill's closest friend and alter ego.  Frederick "Prof" Lindemann , an Oxford Physicist assesses the world with "scientific objectivity" who Churchill brought into government to deal with German technology and efforts to counter the damage it caused.  The marriage of Sir Harold Nicholson, Parliamentary Secretary for the Minister for Information and his marriage to the writer Vita Sackville-West receives a great deal of attention.  Churchill's bodyguard Detective Inspector Walter Henry Thompson provides numerous nuggets of information.  Mass-Observation diarist Olivia Cockett chronicles many of the horrors resulting from the German onslaught.   There are of course portraits of the military types like Major-General Hastings "Pug" Ismay, the Military Chief of Staff and political figures such as Lord Halifax, the Foreign Secretary, who is then shuffled off to Washington as ambassador to remove a political threat to the Prime Minister's leadership.  Characters abound and Larson has the knack of providing just the right amount of detail to make them interesting in of themselves for the reader.
If Churchill was obsessed with FDR, Adolf Hitler was obsessed with Churchill.  In Larson's accurate rendition of the Hitler-Churchill enmity, the Fuhrer did not want to go to war with England at first.  He wanted to negotiate a deal that would be somewhat satisfactory to Churchill to end England's adversarial role toward Germany so he could concentrate on lebensraum, living space is the east against Russia.  When Churchill refused to comply, Hitler unleashed the German Luftwaffe led by Hermann Goring against England to knock them out of the war.  At times a cartoonish, despicable, and insidious figure, Goring did all he could to raze English cities like Coventry to create the terror that would force the English people to remove Churchill and replace him with a more pliable figure.  Hitler and Goring could never quite comprehend why Churchill refused to give up based on the physical and psychological damage they inflicted on the English people.  Larson provides a fascinating aside to Goring's terror bombing of civilians in his ravenous pursuit of cultural artifacts anywhere he could steal them.  With Churchill's obstinacy remaining constant, Rudolf Hess, Hitler's Deputy Fuhrer hatches a plan to achieve peace with England. Larson does his best to break down the myths of Hess' attempted flight to Scotland to try and negotiate England's exit from the war delving into the latest material available.
Larson is successful in explaining Churchill's historical significance as he describes his speeches and physical appearance throughout London and other areas refusing to kowtow to Nazi bullying and bombing.  He demonstrated "a striking trait: his knack for making people feel loftier, stronger, and above all, more courageous.…he gave forth a confidence and invincible will that called out everything that was brave and strong,"  as his voice became a reassuring wellspring of hope and resolve.  Churchill was an expert at mass psychology, and he knew just how to hearten his downtrodden people and lead them to ultimate victory, even as so many people lived in shelters that were crumbling or pursuing an existence in the London Underground.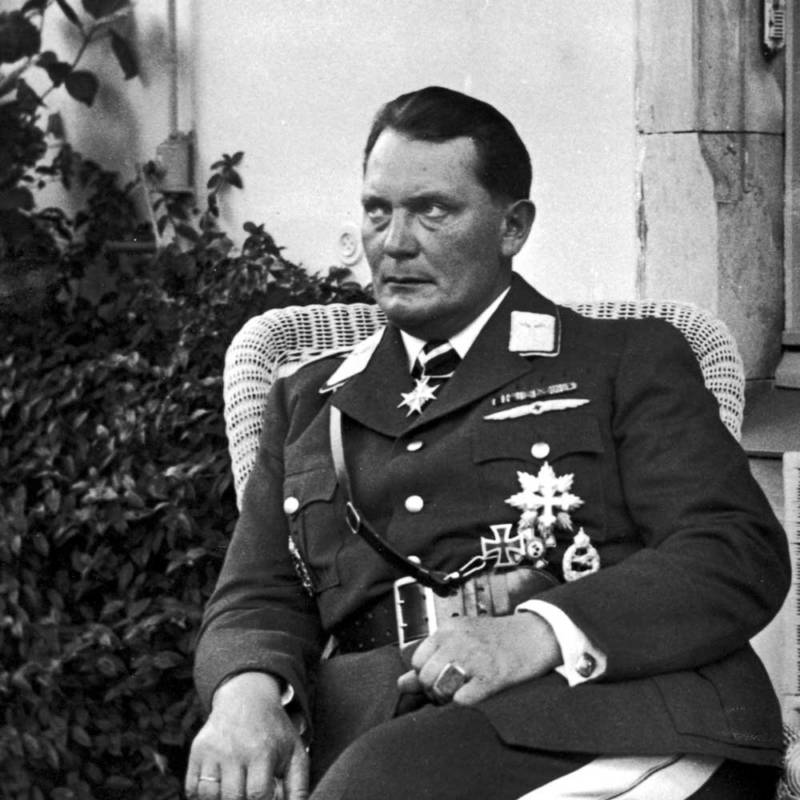 (Hermann Goring, Head of the Luftwaffe)
Larson is successful in reaching his stated goal of "hunting for stories that often get left out of the massive biographies of Churchill, either because there's no time to tell them or because they seem too frivolous."  Larson writes with verve and the character formation of a novelist.  He seems to leave no rock unturned in seeking out the intimate lives of his characters so they can provide a feel for what England is experiencing between May 1940 and 1941.  He find's vignettes that are a treasure.  For example, Churchill constantly critiques the writing of his Cabinet and military figures correcting grammar and demanding brevity.  Deeply personal aspects garner Larson's attention exemplified by his comments on Churchill and Clementine's life in the bedroom, which was separate and as far as intimate relations, it took place only upon an invitation from Clementine!
As with any historical monograph there are always suggestions for improvement.  According to Gerard DeGroot in his February 28, 2020 review in the Washington Post in Larson's case it may be fair to argue that Churchill is given too much credit for saving England when English factories and workers produced the Spitfires and Hurricanes that consistently outperformed their German counterparts.  Further British workers, male and female were much better mobilized than in Germany.  In addition, the idea that England acted alone is an overstatement when the Scots, Welsh and Northern Irish contributed greatly as did members of the vast empire including Canadians, Australians, Indians and South Africans who all did their part.  One also cannot forget the 145 Polish pilots who fought in the Battle of Britain, in addition to the 88 Czech, and 30 pilots  from Belgium.  One must also not forget that other parts of the United Kingdom were also bombed – cities like Glasgow, Cardiff, Belfast were also severely damaged.   Churchill needs to share the limelight a bit more than Larson offers.
Though Larson has not written the definitive account of Churchill's first year as Prime Minister he has written an evocative description of what life was like for the English people during the period.  One cannot go wrong hunkering down with Larson's narrative particularly at a time of extreme crisis and discomfort.  I was scheduled to hear Larson at the Music Hall in Portsmouth, New Hampshire at the end of March, however due to the pandemic it was cancelled.  I fervently hope it can be rescheduled.
(London during the WWII "Blitz")