For the last few nights, my wife and I have binged Netflix's Medici series.*  It brought me back to Garrett Mattingly's classic, RENAISSANCE DIPLOMACY which argued that the relationship and machinations between Italian city-states was a microcosm of the 20th century in terms of actions resulting in numerous wars and plots.  It piqued my interest in one of the most important figures of the Renaissance, Lorenzo de' Medici the subject of Miles J. Unger's superb biography,  MAGNIFICO: THE BRILLIANT LIFE AND VIOLENT TIMES OF LORENZO DE' MEDICI which argues that the Florentine leader was able to navigate the Italian city-states and Papal states surviving Papal, domestic Florentine, and other external plots by a Pope, a king, and a duke by employing his charm and diplomatic skill augmented by the occasional use of violence to preside over Florence, a city-state that supported and exhibited artistic brilliance in addition to the squalor of the city's poor.
Unger describes a city of contrasts pitting artistic beauty and poverty.  The author is correct to apply this dichotomy to the life, character and policies implemented by Lorenzo.  In Unger's sweeping account supported by assiduous research enhanced by numerous notes that add detail to the narrative we witness a figure who strides alongside the most important historical figures of the period throughout Europe.  According to Unger the success of the Medici family rested in large part on the way "each member of the family worked for a common goal, demonstrating a unity of purpose not always present among ruling dynasties, where jealousy and competition are more important than fraternal affection."
(Clarice, wife of Lorenzo de' Medici)
Unger takes the reader to the court of Cosimo de 'Medici, the family patriarch who built the bank and trade that the family fortune and influence rested upon.  He follows with a description of his weak son, Piero, who trained Lorenzo for leadership almost from birth.  Lorenzo and his predecessors ruled a city-state that was not the most powerful on the Italian peninsula, but it abounded in artists and craftsmen coveted by foreign courts.  By exporting Florentine culture Lorenzo tried to achieve through "the dazzle of art what they could not hope to win through the strength of arms.  Throughout his reign his support of the work of Botticelli, Leonardo, and Michelangelo abound.  In addition, the intellectual pursuits of men like Pico Della Mirandola.
Unger's commitment to detail and the ambiance of Florence and the Papal court is an important component of the narrative.  Whether he is describing the celebration of the beginning of Lorenzo's reign, marriage negotiations, the dynastic rivalries that resulted in the Pazzi conspiracy, the hatred between dynastic families, wars with Pope Sixtus IV, and the rise of Savonarola among many topics Unger has the ability to explain the complex and maintain the hold of the reader.  Unger delves into the byzantine nature of Italian alliances and politics carefully.  He correctly points out how Lorenzo could foster an alliance between Milan under the Sforza's, Naples, and Florence to offset the disingenuous behavior of the Pope in order to secure Florentine banking and trade interests.  Important personalities abound be it external enemies like Pope Sixtus IV, his nephew Girolamo Riorio, and Archbishop Francesco Salviati, and others including Girolamo Savonarola and Niccolò Machiavelli.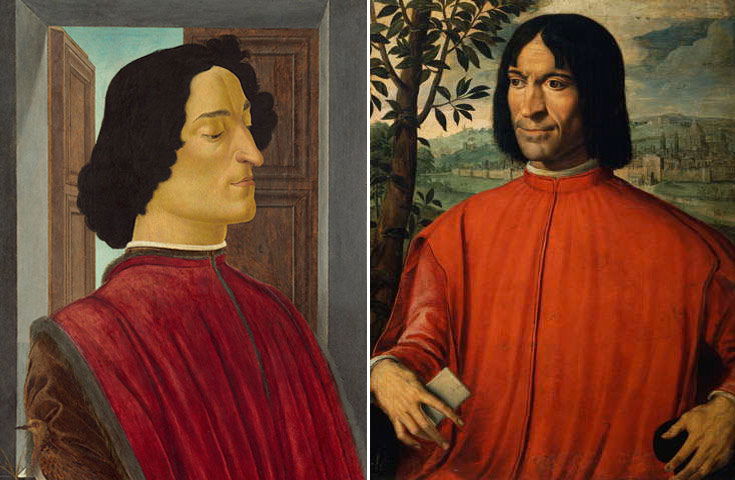 (The de' Medici brothers Guliano and Lorenzo)
Sixtus' family came from poverty and he saw the papacy as a vehicle to create wealth and prestige for the Riarios and della Rovere, as it seems that the Medici were always an impediment to his goals.  The Pazzi family also produced a number of important individuals that Lorenzo had to manipulate to survive.  The hatred of Jacabo de' Pazzi and his nephew Francesco de' Pazzi is well known for their involvement in the conspiracy that resulted in the death of Lorenzo's younger brother and confidante Giuliano and Unger unwraps the plot and its participants and the end result of destroying the Pazzi family and its wealth.
Unger possesses a strong command of the shifting alliances that led Lorenzo to thwart Sixtus IV's plans.  A key chapter deals with Girolamo Riario's attempt to manipulate the King of Naples to destroy the de 'Medici which saw Lorenzo outsmarting him in saving Florence.  This supports Unger's major theme that Lorenzo was confronted by one crisis after another.  Apart from external crisis he had to cope with internal opposition within the Florentine ruling council, the Signoria which the de' Medici tended to dominate.  Revolts, conspiracies, and other actions seem to be a daily occurrence that Lorenzo had to overcome.  Despite all that Lorenzo had to confront he effectively weaved a web that he employed to balance his own sense of duty and pleasure.  For Lorenzo, his personal need for intellectual enlightenment, reflected by men at court, art and literature, and his duty to Florence were in conflict throughout the narrative.  The way Lorenzo navigated these pressures reflects his talent and his genius.
Unger does not neglect Lorenzo's personal life.  The important role played by his mother Lucrezia, his wife Clarice, his children, cousins, and advisors is on full display.  The use of family members for diplomatic gain is a tool examined carefully.   Lorenzo was a patron of the arts and a creative figure in his own right.  He was able to help foster a flowering of art, architecture, literature, and intellectual life that is considered unparalleled in history.
The book is not an exercise in hagiography as Unger examines Medici finances and corruption in detail producing the money manipulation that Lorenzo engaged in to support his obsession with art and architecture, pay off his internal and external enemies, and construct alliances among his many triumphs.  To his credit Lorenzo did siphon off funds to assist the poor, but one cannot overestimate his manipulation of Florentine wealth as very questionable.  It is important to keep in mind the age in which Lorenzo lived before judging him too harshly.  It was a period of tyranny dominated by despots in which one could argue that he stood above all including men like Paul II, Sixtus IV, and Innocent VII.
The key to Unger's success is research that includes government records, historical accounts, diaries, and Lorenzo's own memoirs, letters, and poems.  The end result is scholarship, analysis, and an amazing eye for detail which will be difficult for Lorenzo's next biographer to surpass.  One must be cognizant of the fact that it took only two years following Lorenzo's death for the system he developed too unravel as his son Piero, ill-trained, and ill-tempered, was unable to stop its disintegration.  It was not surprising because only one man, his father had the depth of personality and skills to maintain it.
*Let us just say that the Netflix series stretches the bounds of historical accuracy!