December 7 , 1941, Japanese attack on Pearl Harbor)
This week Americans commemorate the 75th anniversary of the December 7, 1941 bombing of Pearl Harbor and the United States' official entrance into World War II.  The date has fostered the appearance of a number of recent books dealing with the Japanese attack and its repercussions.  Among these monographs are JAPAN 1941: COUNTDOWN TO INFAMY by Eri Hotta, PEARL HARBOR: FROM INFAMY TO GREATNESS, by Craig Nelson, COUNTDOWN TO PEARL HARBOR: THE TWELVE DAYS TO THE ATTACK by Steve Twomey, SEVEN DAYS OF INFAMY: PEARL HARBOR ACROSS THE WORLD by Nicholas Best that concentrate on the overall attack, what lay behind it, its repercussions, and A MATTER OF HONOR: BETRAYAL, BLAME AND A FAMILY'S QUEST FOR JUSTICE by Anthony Summers and Robby Swan which focuses in on the role of Admiral Husband Kimmel who was relieved of his command and accused of dereliction of duty due to the success of the Japanese attack.  The focus of this review is the narrative exploration and defense of Admiral Kimmel who Washington officials made one of the major scapegoats for the losses at Pearl Harbor, and his fight, during his lifetime to clear his name, and the continued battle with the Washington bureaucracy by his sons to absolve their father and restore his reputation.  The book is presented in two parts.  The first section, about two thirds of the book explores events, decisions, intelligence, and personalities leading up to the attack.  The last third deals with the charges against Kimmel, his defense, and the families attempt to restore his reputation and absolve him of total responsibility for the failures that led to December 7th.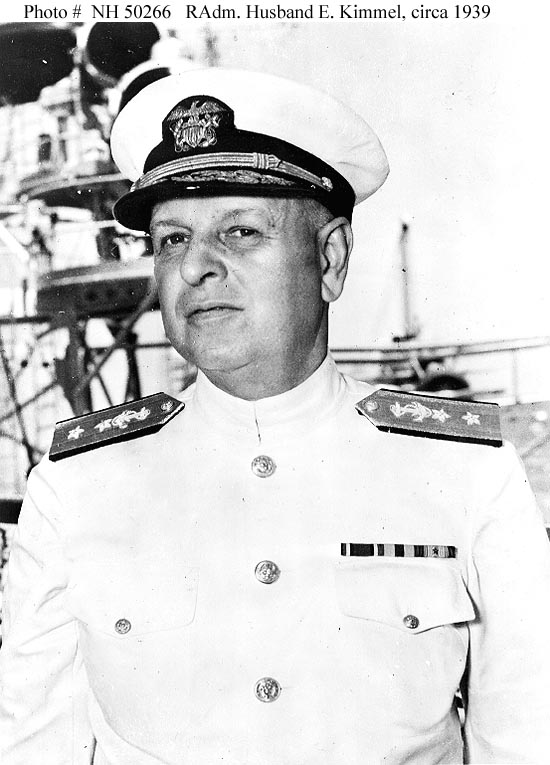 After putting to bed some of the conspiracy theories pertaining to the reasons behind the Japanese success at Pearl Harbor the authors move on to deal with the issue of culpability that stands on firmer ground.  In terms of whether the accusations leveled at Kimmel hold water Summers and Swan point to the change in US strategy for the Pacific in January, 1941.  Under Admiral Harold R. Stark's direction "Plan Dog" was implemented to restrain Japan by using the fleet operating out of Pearl Harbor as a bulwark against Japanese aggression.  Stark was very concerned that a sudden attack in Hawaiian waters would be very problematical and he asked the War Department to provide additional equipment and protective measures, i.e., increased air-born patrols, augment anti-aircraft patrols, newer and more efficient aircraft, increase the lack of aircraft detection devices among a number of requests.  It was clear that the naval command at Pearl Harbor felt its defenses were inadequate.  In February, 1941, Kimmel who was made Commander and Chief of the Pacific Fleet also made requests to Army Chief of Staff General George C. Marshall who was not forthcoming with materials and planes as he remarked that the country was "tragically lacking in material…we cannot perform a miracle."  Letters to Secretary of War Henry L. Stimson and Navy Secretary Henry Knox reflected the position that the army would be unable to assist at Pearl Harbor and that materials were not available.  This at a time, based on earlier exercises going back to 1928, as well as a number of other warnings from well-placed individuals who claimed to know Japan's plans, it seems obvious that the US military was fully aware of the Japanese threat, including an accurate prediction by Knox as to what could occur in the future.
(Secretary of War Henry L. Stimson)
Summers and Swan discuss many facets of the attack on Pearl Harbor.  They have mined the communications between London and Washington, including the political and intelligence sharing components.  They explore the important meetings in Washington involving the president, his cabinet and military officials as they evaluated intelligence information, negotiations with the Japanese, and military readiness and strategy should Tokyo strike.  The coverage of a number of interesting components of intelligence operations, human and non-human are excellent, in addition to the dissemination of information learned.  Portraits of the key characters and decision makers are integrated into the narrative, i.e., President Franklin D. Roosevelt, Secretary of the Navy Henry Knox, Secretary of State Cordell Hull, Chief of Staff George C. Marshall, Secretary of War Henry L. Stimson, Chief of Naval Operations Harold R. Stark, US Military Commander responsible for Hawaii Walter C. Short, FBI Head, J. Edgar Hoover, Japanese Ambassador to the United States Kichisaburo Nomura, and the Japanese Admiral in command of the attack on Pearl Harbor Isoroku Yamamoto, among many more.
(Chief of Naval Operations Admiral Harold R. Stark)
There were many interesting aspects to Summers and Swan's description leading up to December 7th.  Their discussion of spies such as Ulrich von der Osten, a German spy stationed in Shanghai who ran a leather goods salesman, Kurt Ludwig in gathering intelligence for Japan is fascinating.  The role of British double agent, Dusko Popov and Hoover and other officials refusal to take his warnings seriously sheds light on the dysfunctional relationship between US and British spymasters before the attack on Pearl Harbor.  The authors zero in on the negotiations between the US and Japan the last week of November, 1941, including MAGIC and PURPLE intercepts since the US had broken Japanese codes. Other intercepts include the November 27th warning to US bases overseas and the intelligence assessments as of November 30, all pointing to a number of conclusions.  First, the Japanese were acting out a charade in conducting negotiations, Kimmel was not party to intelligence and the analysis of the ongoing talks that had reached a standstill, and Hawaii/Pearl Harbor was left out of any warnings and intelligence pertaining to a Japanese attack.  It was pretty clear that officials were much more concerned with the Philippines than Pearl Harbor.
The first damning action taken was the creation of the Roberts Commission a week after the attack.  The commission headed by Supreme Court Justice Owen Roberts provided its report on January 24, 1942 and concluded that Marshall and Stark had sent appropriate warnings to Hawaii.  Further, it vindicated senior members of the government including naval and army commanders.  It argued that Kimmel and Short did not respond appropriately and charged them with "dereliction of duty," a failure to "properly evaluate the seriousness of the situation," and errors in judgement."  Interestingly, Kimmel was never asked if he received MAGIC intercepts, and the senior officials who said he received them were not under oath at the time.  The result Kimmel was relieved of command on December 16, 1941, was coerced into retiring, and was the subject of hate mail, death threats, denunciations in Congress, and was told that a court martial could take place in the future.  This for a man who gave over forty years to his country.  First he was not allowed to have a lawyer present with him before the commission, and secondly, he was not allowed to question his accusers.  According to commission member William Standley, a retired admiral the result was a self-fulfilling prophecy as the investigation "precluded any investigations into the activities of high civilians in Washington….Army and naval officers and high civilian officials equally more culpable."  In addition, he points out based on the information available to them Marshall and Stark did not serve with distinction to say the least.  The only way to exonerate Kimmel was to make parts of MAGIC intercepts public, but that would be a threat to American national security.  Finally, a congressional investigation did take place in late 1945 after FDR's death and it concluded that MAGIC intercepts should have been sent to Kimmel.  He may have been guilty of "errors in judgement," but not "dereliction of duty."  This was not enough and Kimmel would spend the rest of his life trying to restore his honor.
(Chief of Staff, General George C. Marshall)
Following his death, Kimmel's sons, grandchildren, and other family members worked to restore his correct place in history by trying to get the the Defense Department, Congress and the President to restore his naval rank as it existed before December 7, 1941.  The authors examine this effort and its results, a quest that continues to this day.  A MATTER OF HONOR is a fascinating look at the inner workings of our defense, diplomatic, and intelligence policies leading up to the war and its effect on one person who is aptly described as "an American Dreyfuss" because of what he went through.  Summers and Swan have written a cogent narrative and their conclusions dealing with FDR, Marshall, Stark and other government officials are dead on.
(December 7, 1941, Japanese attack on Pearl Harbor)