(Vladimir Putin and Donald Trump)
Each day it seems there is a new revelation related to Russian actions during the 2016 presidential election.  Today for example, the New York Times reported that Special Prosecutor Robert Mueller has subpoenaed records of the Trump Organization to examine its relationship with Russia.  As the information keeps flowing in newspapers and cable TV, and having read COLLUSION: SECRET MEETINGS, DIRTY MONEY, AND HOW RUSSIA HELPED DONALD TRUMP WIN by Luke Harding, and FIRE AND FURY by Michael Wolff my head is spinning.  How does one connect all the dots to see if there was collusion between the Trump campaign and Russia, and whether Trump is guilty of obstruction of justice?  David Corn and Michael Isikoff may have gone a long way in doing so in their just released book, RUSSIAN ROULETTE: THE INSIDE STORY OF PUTIN'S WAR ON AMERICA AND THE ELECTION OF DONALD TRUMP.  Both authors are investigative journalists and this is there second joint effort, the first being there well received, HUBRIS: THE INSIDE STORY OF SPIN, SCANDAL, and AND THE SELLING OF THE IRAQ WAR.
The arguments presented by Corn and Isikoff mirror those of others that have investigated Trump's relationship with the Russians, simply put, "follow the money."  According to the authors Trump has been obsessed with building a Trump Tower in Moscow for decades.  It seems it is the missing piece to his real estate empire and a segment of his ego, as he wanted to be known as a "global oligarch."  Most recently the obsession manifested itself in 2013 at the Miss Universe Pageant that took place in Moscow.  For Trump to achieve his tower in Moscow he needed affirmation from Russian President Vladimir Putin.  During the beauty contest it seemed that Trump was on pins and needles as to whether the Russian leader would make an appearance.  The authors point to a number of Russian oligarchs and close Putin companions in showing who Trump tried partner with to build the tower, and others he had been involved with in the past.  A number of oligarchs emerge, one of which was Aras Agalarov, known as "Putin's builder" who was Trump's partner in the Miss Universe Pageant; in fact a letter of intent was signed between Agalarov and Trump to finance the tower but eventually fell through.
(Flelix Sater and Donald Trump)
Another interesting character is Felix Sater, a Russian born, and one time felon with links to the Mafia and Russian organized crime who in the 2000s was a New York real estate developer who partnered with Trump with the Trump SoHo Hotel in lower Manhattan.  Further in 2010 he became a Trump advisor for a short period of time though during the presidential election campaign Trump denied knowing him or even what he looked like.  In effect, Sater was a go between Trump and the oligarchs.  By October, 2015 Trump signed a letter of Intent with I.C. Expert Investment to move forward with the Trump Tower venture.  Discussions about financing linked I.C. Expert Investment Company with Russian banks under US economic sanctions, including Sberbank, which cosponsored the 2013 beauty pageant in Moscow.  According to Sater another source for investment was VTB Bank, an institution partly owned by the Kremlin and also under US sanctions.  The result was that the Trump Organization was putting together a deal that could well depend on Russian financing from blacklisted banks linked to Putin's regime.  In fact, Sater emailed Michael Cohen, Trump's lawyer and "pit bull," "I will get Putin on this program and will get Donald elected….Buddy our boy can become president of the USA and we can engineer it.  I will get all of Putin's team to buy in on this. I will manage the process." (81)  At the same time Trump was cozying up to Putin on MSNBC's Morning Joe declaring Putin as a more effective leader than Obama, who had accomplished much more than the American president.  In 2008, Donald Trump, Jr. remarked; "Russians make up a pretty disproportionate cross-section of a lot of our assets….certainly with our project in SoHo and anywhere in New York…We see a lot of money pouring in from Russia."  In 2014, Eric Trump, Trump's second oldest son said, "his father's business did not rely on US banks for financing golf resort projects….We have all the funding we need out of Russia." (89)  Corn and Isikoff effectively delve into Trump's Russian connections dating back years, and the only conclusion that can be drawn is that he was financially involved with Russian oligarchs and other unseeingly characters to the point that he still needed their assets to finance his projects.  The problem was that he needed Putin's approval.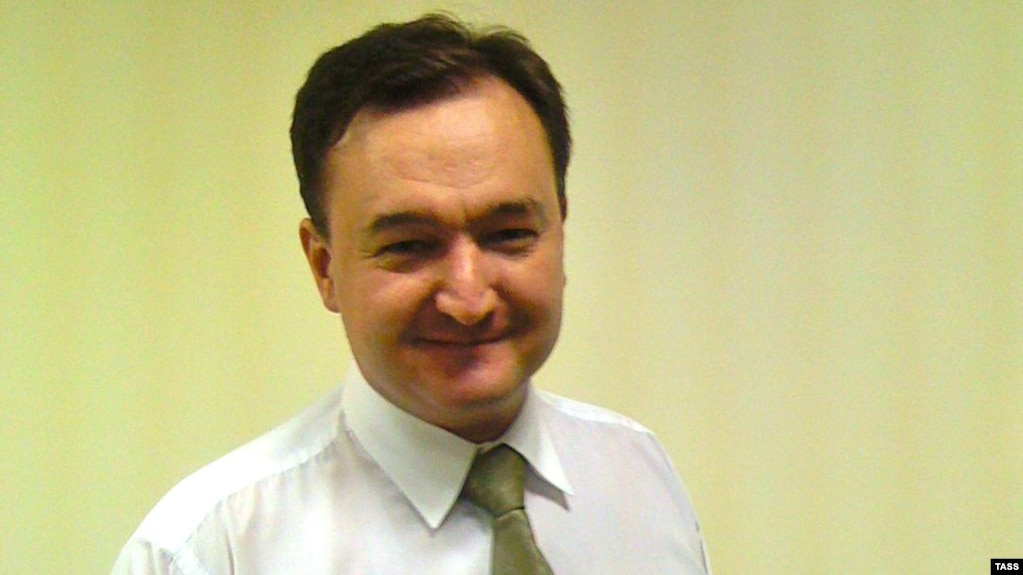 (Sergei Magnitsky)
Corn and Isikoff lay out Putin's worldview, in particular his attitude toward President Obama and Secretary of State Hillary Clinton.  The authors weave a fascinating portrait that links a number of important characters.  For example, when the Obama administration tried for a "reset" in Russian relations, Foreign Minister Lavrov requested that the US provide a visa for Oleg Deripaska, a Russian billionaire close to Putin, and a business partner of Paul Manafort, who had been engaged in all kinds of duplicitous economic and political shenanigans in the Ukraine that resulted millions for his businesses.  Putin himself was a Russian nationalist who wanted to restore Russia to its rightful place in the world.  He strongly resented US "unipolar power" particularly as practiced by overthrowing autocracy in Iraq and Libya.  Domestically, Putin felt that President Medvedev was too soft in dealing with Obama and announced in 2010 that he would run for President.  Russia headed for a political crisis in 2011 and Putin blamed Clinton for the pro-democracy demonstrations against his election, along with domestic criticism.  Putin's resentment of Clinton would smolder for years, particularly as the State Department complained about the assassinations of Putin critics like Sergei Magnitsky which led to the Magnitsky Act in Congress geared against those who were responsible for his death.  Putin would accuse the US of destabilizing the Ukraine and would seize the Crimea forcing Obama into further economic sanctions.  By 2014, Putin would send troops into Ukraine.
Corn and Isikoff spend a great deal of time explaining how the American election was compromised by Russian interference in 2016.  They take a step by step approach which reads like a legal brief.  In 2013, General Valery Gerasimov, Chief of the General Staff of Russian Armed Forces wrote an article that argued that information warfare could be used to weaponize political divisions within another nation.  Instead of conventional warfare of the past, hackers and skilled propagandists trained to exploit existing rifts within the ranks of the adversary would be employed.   A US informant explained that these networks were extremely extensive "in Europe-Germany, Italy, France and the UK-and in the US….Russia has penetrated media organizations, lobbying firms, political parties, governments, and militaries in all these places." (52)  The Obama administration decided not to do anything about it as it needed Putin's support over the Iranian nuclear situation and events in Syria.
(Julian Assange)
Corn and Isikoff's information dealing with Russian Troll Farms is very concerning.  Company's like the Russian Internet Research Agency employed hundreds of people who troll Facebook, Twitter, and Instagram stealing identities, creating false individuals and news praising Putin, denouncing Obama, and attacking the European Union.  Payments to these trolls was made by Yevgeny Prigozhin, a restaurateur oligarch known as Putin's chef.  By 2015 there were repeated attacks against the Democratic National Committee (DNC), the State Department, and the White House.  Again, Obama believing he needed Putin on Iran and Syria, did nothing.  Interestingly, a Russian hacker named "Cozybear" had been inside the DNC network since July, 2015 and among the information stolen was their entire opposition research file on Donald Trump.  Cybersecurity experts surmised that APT 28, a Russian hacker tied to the GRU, Russian military intelligence had launched 19,000 separate attacks against the US between March 2015 and May 2016.
The FBI and US intelligence aware of these breaches kept warning the DNC and Clinton's campaign as to the Russian penetration of their systems.  At first they could not find the breach, but finally when it was located they had difficulty closing it.  Their cyber assault would snare the top official in the Clinton campaign, John Podesta, and no one in the campaign had a clue.  Corn and Isikoff do an admirable job providing the links in the chain dealing with the hacking of the DNC and Clinton campaign, as well as their links to Russian intelligence.  They point to WikiLeaks and the attitude of Julian Assange toward Hillary Clinton and the US in general, and the numerous contacts between the Trump people and Russian intelligence.  The preliminaries to the June 9, 2016 meeting between Trump, yr. Manafort, Kushner, Goldstone and the Russian lawyer, Natalia Veselnitskaya, her translator, a Agalarov executive implicated in Russian money laundering, and Rinat Akmetshin, a former Russian intelligence officer and lobbyist in Washington is carefully explored with the now infamous comment by Trump. Jr. before the meeting in response to possible information on Clinton, "If it's what you say, I love it."
It is clear that George Papadopoulos, a Trump foreign policy advisor, who produced the comment by Steve Bannon, "how the fuck did he get on the list" of possible advisors, was fully engaged in trying to bring about a Trump-Putin meeting.  Papadopoulos' "big mouth" in a bar as he bragged about his work to an Australian diplomat led eventually to his indictment by Robert Mueller.  Further, the buffoonish Carter Page went to Moscow to express his pro-Putin views with the permission of Trump campaign manager Cory Lewandowski – seen by Moscow as a signal from the Trump campaign.  It is clear that what motivated Putin in this game of political intelligence, and hacking, was to end the American sanctions imposed by the Obama administration.  For the Russian president it was simple, elect Trump who had hinted strongly he would be favorable, and as a secondary benefit gain his revenge against Hillary Clinton.  The question is why was Trump so favorable?  What did Putin have on Trump, and/or what promises were made if an acceptable outcome was reached?
(Christopher Steele)
The answer to these questions becomes clearer when the authors discuss the Russian concept of kompromat, a strategy to obtain compromising material on people they want to manipulate employing blackmail and threats to achieve their goals.  A Russian tactic that dates back to the Cold War it is a major theme put forth by Corn and Isikoff who argue it probably applies to Trump dating back at least to 2013 and the Miss Universe Contest which is laid out in Christopher Steele's "dossier,"  which contained the salacious information pertaining to Trump's possible sexual escapades.  The authors explain how it was employed and it goes a long way to explain why Trump is so obsessed with the Mueller investigation as one can only wonder what Putin has on Trump.
Corn and Isikoff review details of the actual presidential campaign following their respective party conventions.  All the information that the public was bombarded with for months is present including the role of social media, particularly important today with the digital relationship between Facebook and Cambridge Analytica making news headlines and its relationship to the Trump campaign.  The authors analyze events to determine their impact on the election.  From Wikipedia's 64,000 email dump, including John Podesta designed to protect Trump and hurt Clinton, i.e., the email release following the Access Hollywood tape etc.  The presidential debates are covered as was the ongoing indecision on the part of the Obama administration to educate the public that they had proof of Russian interference in the election and that an FBI investigation of Russian influence during the campaign was ongoing.  After a careful examination of the campaign the authors conclude that Julian Assange and Wikileaks were acting in concert with the Russians.  There were too many coincidents ranging from Roger Stone's public comments to actual events to conclude otherwise.
The evidence produced by a wonder of investigative reporting makes RUSSIAN ROULETTE the most important book to emerge from the morass of the 2016 election to date.  If you are confused with the daily bombardment of information, Corn and Isikoff have done a service in putting it all together in a succinct and easy to read format.  What is scary is that I assume Mueller knows exactly what's in this book, the characters, the disingenuous deals and behavior, the lies, and the mistakes, by those who should have known better.  It is no wonder that Trump engaged in the "Friday night massacre" a few days ago.