(London, 1963…Rolling Stones)
The 1960s witnesses a social and sexual revolution throughout the western world.  England was no exception with the Profumo-Keeler Affair that eventually brought down Harold MacMillan's Conservative Party and led to the Labour government's rise to power in 1964.  The sexual revolution and the remnants of the Cuban Missile Crisis form the background of John Lawton's novel A LITTLE WHITE DEATH.  The story is the third iteration of his Inspector Troy series set in New York, Moscow, but mostly London.  At the outset the reader is drawn to a Manhattan street where Clarissa, a pseudonym for Tosca, or whatever name she chose at the time, who was also the recent spouse of Inspector Frederick Troy of Scotland Yard.  Tosca meets Dr. Patrick Fitzgerald, and after a conversation about medical treatment for the American president she asks him to convey a letter to her husband who she has not seen for three years.
Inspector Troy has suffered through a rough patch in the novel.  He is exposed to sexual mores that he has never experienced before.  He must deal with his close friend and possible member of the Cambridge Five spy ring, Charles Leigh-Hunt, the suicide of his physician and the niece of his former boss and mentor, Stanley Onions, and cope with a medical leave that was caused by a bout with tuberculosis.
(October 3, 1963, the Beatles in London)
immediately reintroduces Rod Troy, Frederick's brother, and spokesman for the opposition Labour Party, as they continue to muse over the life of their father who had been a revolutionary in early twentieth century Russia but came to America in 1910 and left them a fortune upon his death.  They always wondered if he was a spy or a legitimate businessman.  Each would receive a telegram, Rod would be summoned to London as Hugh Gaitskell, ticketed to be the next Prime Minister is near death.  Troy receives a missive from Leigh-Hunt who he had not heard from since 1956 to meet him in Beirut.
Lawton offers a realistic portrayal of Beirut in a very pleasant manner.  He describes its history, political factions, and the tenuous nature of its government.  The author continues his habit of presenting literary references as he has in other novels with the mention of Hemingway, Graves, Greene, and especially Tolstoy who had a relationship with Troy's grandfather and father.  Troy will meet Said Hussein in Beirut who will bring Troy up to snuff about his former "colleague" and possible spy and provide the airline tickets to travel to Moscow.  Troy would become the first member of his family to return to Moscow in 58 years.  Troy soon learns that Leigh-Hunt has been contacted by Tim Woodbridge, MP, Minister of State, and second in command at the Foreign Office informing him that after seven years the body of a Special Branch officer, Troy had killed in 1957 had turned up.  The British government wants Leigh-Hunt to return to England for the first time since the murder.  At the same time these conversations were occurring, both gentlemen were being surveilled by the KGB, even as Troy visited Tolstoy's home.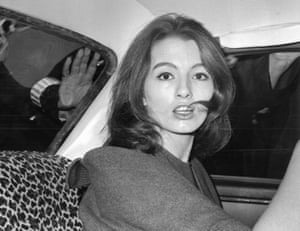 (Christine Keeler)
The second plot centers on a "sexual procurement trial" in London involving Troy's doctor, Patrick Fitzgerald and MP Time Wooldridge.  It seems that Fitzpatrick known as "Fitz" had a "den of iniquity" at his Uphill Manor in Sussex where woman below and above the legal age of sixteen engaged in orgies and other types of amusements with Fitz's friends.  Even Troy visited at one time, which would come back to haunt him later on.  Lawton expounds on the wonders of the English social revolution through the dialogue between Troy and Leigh-Hunt.  It seems that they believed that World War II had bound society together with shared values, but by 1963 those values were fast changing.  The author focuses on the drugs and sex that are beginning to permeate English society as is reflected at Fitz's Uphill Manor.  Woodbridge was not the only important figure to visit Uphill.  It seemed that Anton Tereshkov, who Troy remembered as Khrushchev's "man" during his 1956 visit to London, was a constant visitor and with Troy's visit to Moscow, the Scotland Yard inspector grew concerned.
Lawton introduces several interesting characters both real and fictitious.  The writer, Rebecca West appears and engages Troy in a wonderful conversation, as does Sir Harold Wilson and several historical figures.  As to the fictitious ones, Alex Troy, Frederick Troy's nephew, a reporter for the family owned Sunday Post, the Fifitch sisters, Caro and Tara, residents of Uphill Manor, and keys to the prosecution court case; Clover Browne, a.k.a. Jackie, Stan Onions daughter; Moira Twelvetress, a prostitute who engages the prosecuting attorney at trial in a wonderful argument concerning the correct definition of prostitution, and a number of others.
(John Profumo, Conservative politician and British War Minister)
Troy soon learns that he is being placed on medical leave by his doctor and is placed in a TB sanitorium.  Troy's disease allows Lawton to contemplate the English health system and its relation to politics.  It would have been heresy for the brother of the number two man in the Foreign Office to be treated in a private facility, hence Troy was committed to a state institution.  Inside, Troy describes medical care and how it reflects the British social class system.
As British tabloids zone in on events at Uphill and the salacious trial of Woodbridge and Fitzgerald, Troy develops a moral conundrum as he had witnessed the mores on display at Uphill, and he wondered if he was out of place, or whether he really wanted to participate.  Lawton presents a trial transcript which is funny, demeaning, and sad all at the same time as the different characters are called to testify.  The prosecution must prove that the women at Uphill were prostitutes and paying off Fitz which leads to a fascinating array of examination and cross examination at the trial.  This along with the incompetence of Inspector Percy Flood of the Scotland Yard Vice Squad makes for an interesting investigation.  Lawton's dialogue makes one wonder if the trial represented "the new England" putting the old on trial since it appeared a social revolution was in the making, or perhaps "old England" was putting the new on trial.
One of the women involved cannot be located and it is feared she was underage when she lived at Uphill.  As the trial ends it appears that a double suicide has taken place.  On the same day, Fitz, and the women who could not be located by the police commit what appears to be suicide.  For Troy, who convinced his life long friend and medical examiner, Dr. Ladislaw Gronkiewicz to declare him fit to return to work after four months in order for the cases be  to explored further.  Troy was not convinced that the deaths were suicides and he feared his Scotland Yard replacement would not investigate the cases, particularly when one of the victims was Stanley Onions' granddaughter.  This launches Troy on dangerous journey to locate the killer or killers.  Where the culprits from inside Scotland Yard, MI5, or politicians who held grudges.  To learn who was responsible Troy relies on his masterful use of deductive logic and his refusal to trust those that others might think highly of.  At times difficult to follow the logic that Troy employs but by the end of the book the reader and Troy will be on the same page.
The question in my mind as I read on was how did Leigh-Hunt's situation, the murder/suicides, and other aspects of the plot fit together.  Rest assured that they all do in true "Lawton" style.  The book itself is advertised as a spy and murder thriller, but in this case, though true, it is also a social commentary on early 1960s England and is enlightening for those who have forgotten what that period in English history was like.  For Troy, once the murders were solved, with British politics in an uproar, he had to deal with several suppressed emotions and move on with his life, a decision whose light of day must wait as Lawton's next book, RIPTIDE (also known as BLUFFING MR. CHURCHILL) is a prequel to the Inspector Troy series.
 (London, circa 1963)