(Shirer reports from Nazi Germany)
Today we are exposed to the repetitive 24 hour news cycle on cable television.  It seems that each hour the same information is reprogrammed creating a staleness for the viewer.  Further exacerbating this reporting is the concept of "fake news" and the new reality that it has created in lieu of real journalism.  This being the case it would be useful to think back seventy to eighty years to the type of reportage that existed in the 1930s and 40s.  Instead of dealing with talking heads sitting around a table supposedly providing analysis and context, the public would gather around the family radio listening to reporters from the capitols of Europe and the battlefields of World War II.  At that time a group of reporters worked for CBS news and were known as the "Murrow's Boys," men hired by Edward R. Murrow reporting war related events on site.  One of those reporters, William L. Shirer, along with Murrow created the prototype of broadcast news that dominated the airwaves before cable television.  It is through his biography of Shirer, A COMPLEX FATE: WILLIAM L. SHIRER AND THE AMERICAN CENTURY that Ken Cuthbertson traces the development of broadcast journalism through most of the twentieth century.  Cuthbertson, also the author of the remarkable book, THE HALIFAX EXPLOSION: CANADA'S WORST EXPLOSION has written a remarkable study that encompasses Shirer's life by integrating the main events of the pre- and post-World War II period and the dominant currents of print and non-print journalism at that time.
(Edward R. Murrow and Shirer)
Shirer originally made a name for himself reporting from Vienna and Berlin throughout the 1930s and through his publication of his BERLIN DIARY in 1936, perhaps providing the most informative insights into Adolf Hitler and the Nazi movement up until that time.  He would return to the United States in 1940 as a broadcast journalist for CBS until 1947 as he was fired for his supposed liberal views.  Shirer would be blacklisted from radio and television until 1960 because of the paranoia of the time period, particularly on the part of media executives.  Shirer would climb out of the poverty that his banning had caused and restore his reputation with the publication of THE RISE AND FALL OF THE THIRD REICH, then a bestseller, and today remains one of the most important examples of narrative history ever written.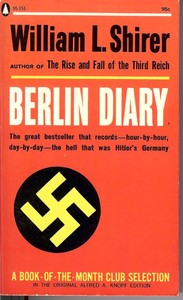 According to the author, Shirer was a very complex individual who lost his father and grandfather at a young age and went through life searching for a meaningful existence which always seemed to be beyond reach.  Shirer's complexity was in part due to his own self-perceived shortcomings as he often seemed to be at loss in trying to make sense of his own life.  Shirer would grow up in Cedar Rapids, Iowa and would possess a certain Midwest naiveté that would be dashed later covering unimaginable events in Europe.  Cuthbertson has written a detailed narrative that does a nice job placing Shirer's life story in the context of the events occurring around him.  Shirer is drawn to Europe and achieves his first break by hooking up with the conservative Chicago Tribune in 1925 and through his life we experience the "lost generation" that had migrated to Paris in the 1920s meeting Hemingway, Fitzgerald, along with the likes of James Thurber.  His first major story covered Lindbergh's crossing the Atlantic providing him with the opportunity for making a name for himself.
For much of Shirer's career he seems to have been in the shadow of Edwin R. Murrow who hired him in 1934 as CBS was expanding its overseas news outlets in response to events.  The two would become friends, only to suffer a disastrous falling out after World War II.  The biographer must always be careful to avoid placing their subject on a pedestal, but it seems that Cuthbertson is bent on rewriting history with Shirer emerging from Murrow's shadow.  In his approach Cuthbertson has an engaging writing style and seems to cover all aspects of their friendship, competition, and falling out, integrating the history of radio journalism and the role of CBS, and other participants in the story.  Analysis is clear and concise as it is with other aspects of the book and very thorough.  My only question is sourcing employed.  Cuthbertson relies too much on certain secondary sources, particularly THE MURROW BOYS by Stanley Cloud and Lynne Olson.  The author does a fine job culling Shirer's diaries and notes and should try and cite more primary materials as he makes his way through Shirer's life story.
Cuthbertson has not written a hagiography of his subject and his description of Shirer's private life and thoughts are dealt with in full.  His pride which knew no bounds, his inability to know went to "hold his cards" and fight another day, the inability after self-reflection to rectify errors that he admitted he had made, his tenaciousness, his obsessiveness, and his belief in himself to a fault are all on display.  Further, the author delves into Shirer's private life; his marriages, affairs, socializing, years of travel and the effect on his family, and living beyond his means after his income was drastically reduced to the point he could not repair the furnace in his Connecticut farmhouse are explored in full.
Cuthbertson does an excellent job providing a feel for each city in which Shirer lives, and reports.  Whether it is Paris in the 1920s, Vienna and Berlin in the 1930s, or London or New York, the reader will feel the vibe and seriousness of the events being covered.  Shirer's views, intellectual and emotional are clear be, it his distaste for England and France as they respond to the Anschluss with Austria, the Munich Crisis, or other events.  Perhaps one of the most interesting sections of the book describes the relationships that Shirer developed with historical figures, especially Mahatmas Gandhi.  In 1931 Shirer is dispatched to India by Colonel Robert McCormack, the owner of the Chicago Tribune and soon will meet and develop a friendship with Gandhi.  The Indian revolutionary would assume the role of teacher and spiritual counselor to Shirer as they read and studied the holy books of the world's great religions.  This relationship softened Shirer as he learned about Asian culture and the developing world, witnessing the effects of English colonization first hand.
(David Moyers interviewing Shirer in his later years)
The history of radio journalism permeates the narrative throughout, even as it is threatened by the new medium of television.  Numerous characters emerge, many of which were household names well into the twenty first century.  Shirer's interaction with the likes of William Paley, Eric Sevareid, Dorothy Thompson, John Gunther, Edward R. Murrow, Frank Stanton and others are fully explored.  For Cuthbertson, in covering the history of radio journalism, Shirer stands out as a dedicated, incisive newsman who strove to relay as much of the truth as he saw it, be it coverage of the Nuremburg Trials, travels to New Delhi and Kabul, or commentary comparing life in Europe and America.  To Cuthbertson's credit, he pulled no punches when he points out the errors in Shirer's opinions.
Shirer was a firm believer in the strength of America and its values.  He felt the United States was strong so engagement and dialogue with America's foes after World War II was preferable to confrontation when countering Soviet expansionism.  Shirer spoke against aid to Greece in 1947 and was critical of Chiang Kai-Shek, opinions that would eventually would bring about his termination at CBS.  Shirer's firing led to a crisis in his relationship with Murrow and Cuthbertson interestingly conjectures that Murrow's guilt in not supporting his friend finally pushed him to confront Senator Joseph McCarthy and help bring him down in 1954.
There is so much material and detail that in certain areas Cuthbertson could have been a little more concise, a little less repetitious, but overall his work is important because it is the only full length biography of one of the most significant journalists of the twentieth century.  Shirer, for all of his faults is a shining example of what freedom of the press means to a democracy, an example that the current occupant of the White House should consider as he rambles on with his seemingly daily diatribes about the press being the enemy of the American people.
(Shirer gaining approval for broadcast from Nazi censor)