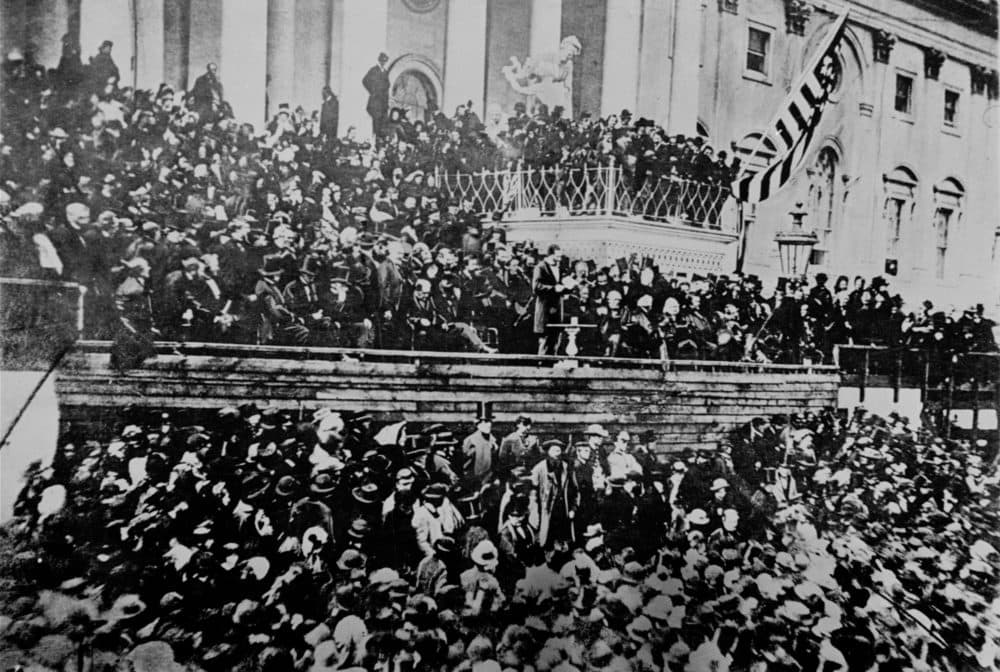 (Lincoln's Second Inauguration Address)
Recently I read Ted Widmer's new book LINCOLN ON THE VERGE: THIRTEEN DAYS TO WASHINGTON.  In Widmer's narrative he explores a number of Abraham Lincoln's most important speeches given during his odyssey across America to his first inauguration in 1861.  When I came across Edward Achorn's equally new book EVERY DROP OF BLOOD: THE MOMENTOUS SECOND INAUGURATION OF ABRAHAM LINCOLN I expected the author to focus more on Lincoln's iconic speech in March 1865.  Much to my disappointment the book focuses on events, personalities, and the politics surrounding Lincoln's effort in addition to a narrative that focuses in minute detail on the prevailing attitudes that existed in Washington for the twenty four hour period leading to the speech and the state of the city during that time as opposed to Lincoln's development of the speech.  I was also somewhat disappointed in that much of what Achorn has to say has been reviewed by countless historians offering little that is new apart from spending about fourteen pages on the speech itself.
From the outset Achorn sets the scene for the inauguration introducing a number of important historical characters and their past and future roles in American history.  Achorn's description of the new Vice President Andrew Johnson portends the future political warfare that would almost lead to his removal from office after Lincoln's assassination.  Another important personage we are introduced to is Samuel P. Chase, the then Secretary of the Treasury whose political ambitions were fueled by his daughter Kate Sprague who was married to a senator from Rhode Island.  Chase had never gotten over the fact that Lincoln achieved the presidency and he did not, an office he coveted.  Lincoln deftly handles Chase's machinations and nominates him as Chief Justice of the Supreme Court to remove him as a political threat.  Achorn dives into the many conspiracies and rumors designed to unsettle Lincoln and his advisors and its impact on the city from the start.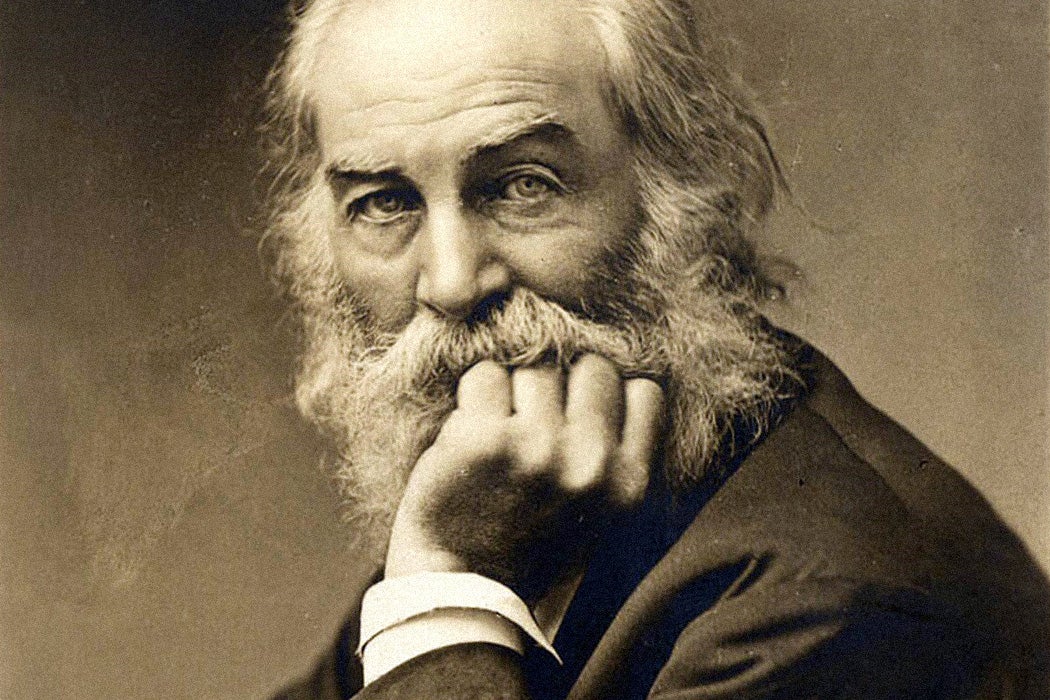 (Walt Whitman)
It seems Achorn leaves no aspect of this short period in our history unturned.  He describes the atmosphere in the streets, the mud that people had to deal with, and even a discourse on the proliferation of prostitution in the city describing "Hooker's Division" as the ladies of the night and soldiers who served in General Joseph Hooker's army.  The discussion of the role of Frederick Douglass is important as it reflects his disappointment in Lincoln who he refers to as the "white man's president.  John Wilkes Booth political views and attitude toward race are explored as is a plot to kidnap Lincoln.
Achorn possesses a fluid writing style and the ability to focus on the character traits of the figures he speaks about and is able to create a word picture in the reader's mind of those under discussion.  His description of the poet Walt Whitman who became a special New York Times correspondent for the inauguration is wonderful, as he is seen as a "the big hairy, rambunctious buffalo of a man" as a case in point as is Alexander Gardner, a photographer who eventually took over Matthew Brady's Washington office who "looked solid, boxy, unblinking as his machine."  Gardner had created a sensation with his pictures from the Antietam battlefield and took the last photo of Lincoln with his enigmatic smile for posterity.  Lastly, the description of Lincoln , so reported by a British journalist as a man with "long bony arms and legs, which somehow, seem to always be in the way" and "nose and ears which have been taken by mistake from a head of twice the size," is entertaining but also inciteful to how these figures were perceived by contemporaries.
Achorn provides a series of mini biographies embedded in the narrative.  Portraits of Frederick Douglass, Samuel P. Chase, Stephen Douglas, William Henry Seward, General William T. Sherman, and Mary Todd Lincoln are among a number of historical figures that are examined that provide insight into their politics and beliefs.  All are significant and pursue actions that are historically significant, though some more than others.
Perhaps Achorn's best chapter revolves around Lincoln's political style and his evolution as a wordsmith pointing out that his folksy way of communicating brought disdain from certain segments of society, newspaper reporters, and politicians.  Achorn is correct as he points out that over time Lincoln's speeches developed a plain-speaking succinct style people, including those just listed and literary types grew to appreciate as the president's words impacted the general public in such a positive fashion.
(Photo by Alexander Gardner)
Apart from these portraits Achorn allows the reader to gain a feel for what Washington, DC was like in March 1865.  At times, the narrative reads like a travelogue that can be somewhat overwhelming as the author seems to describe each social event, the amount of mud in the streets, the lack of city infrastructure, and the availability of housing.  Diverse groups of people who are attending are described in detail, in addition to the racial implications of the city's composition.
If you are looking for a good synopsis of events surrounding Lincoln's second inauguration and an analysis of the last days of the Civil War, Achorn's effort should prove satisfying despite the fact that Achorn seems to drag out his story of a twenty-four hour period over the entire book, often pursuing digressions and flashbacks.    Just be aware if you are looking for a book that is an intellectual analysis of the speech akin to Gary Wills' LINCOLN AT GETTYSBURG, you will be disappointed.
Transcript of President Abraham Lincoln's Second Inaugural Address (1865)
Fellow Countrymen
At this second appearing to take the oath of the presidential office, there is less occasion for an extended address than there was at the first. Then a statement, somewhat in detail, of a course to be pursued, seemed fitting and proper. Now, at the expiration of four years, during which public declarations have been constantly called forth on every point and phase of the great contest which still absorbs the attention, and engrosses the enerergies of the nation, little that is new could be presented. The progress of our arms, upon which all else chiefly depends, is as well known to the public as to myself; and it is, I trust, reasonably satisfactory and encouraging to all. With high hope for the future, no prediction in regard to it is ventured.
On the occasion corresponding to this four years ago, all thoughts were anxiously directed to an impending civil-war. All dreaded it — all sought to avert it. While the inaugeral address was being delivered from this place, devoted altogether to saving the Union without war, insurgent agents were in the city seeking to destroy it without war — seeking to dissole the Union, and divide effects, by negotiation. Both parties deprecated war; but one of them would make war rather than let the nation survive; and the other would accept war rather than let it perish. And the war came.
One eighth of the whole population were colored slaves, not distributed generally over the Union, but localized in the Southern half part of it. These slaves constituted a peculiar and powerful interest. All knew that this interest was, somehow, the cause of the war. To strengthen, perpetuate, and extend this interest was the object for which the insurgents would rend the Union, even by war; while the government claimed no right to do more than to restrict the territorial enlargement of it. Neither party expected for the war, the magnitude, or the duration, which it has already attained. Neither anticipated that the cause of the conflict might cease with, or even before, the conflict itself should cease. Each looked for an easier triumph, and a result less fundamental and astounding. Both read the same Bible, and pray to the same God; and each invokes His aid against the other. It may seem strange that any men should dare to ask a just God's assistance in wringing their bread from the sweat of other men's faces; but let us judge not that we be not judged. The prayers of both could not be answered; that of neither has been answered fully. The Almighty has His own purposes. "Woe unto the world because of offences! for it must needs be that offences come; but woe to that man by whom the offence cometh!" If we shall suppose that American Slavery is one of those offences which, in the providence of God, must needs come, but which, having continued through His appointed time, He now wills to remove, and that He gives to both North and South, this terrible war, as the woe due to those by whom the offence came, shall we discern therein any departure from those divine attributes which the believers in a Living God always ascribe to Him? Fondly do we hope — fervently do we pray — that this mighty scourge of war may speedily pass away. Yet, if God wills that it continue, until all the wealth piled by the bond-man's two hundred and fifty years of unrequited toil shall be sunk, and until every drop of blood drawn with the lash, shall be paid by another drawn with the sword, as was said f[our] three thousand years ago, so still it must be said "the judgments of the Lord, are true and righteous altogether"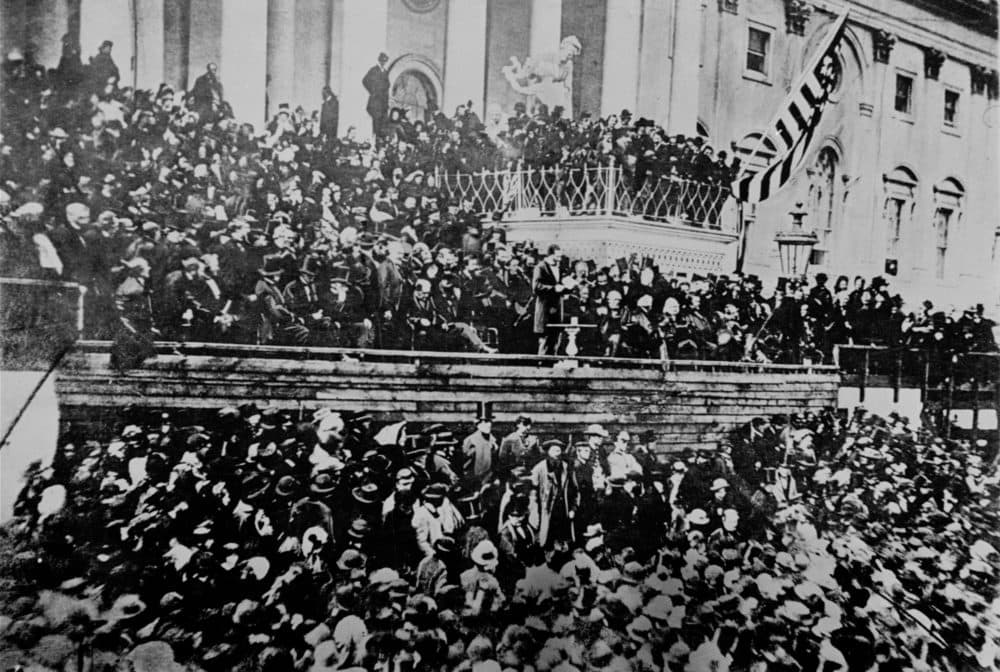 (Lincoln's Second Inauguration Address)