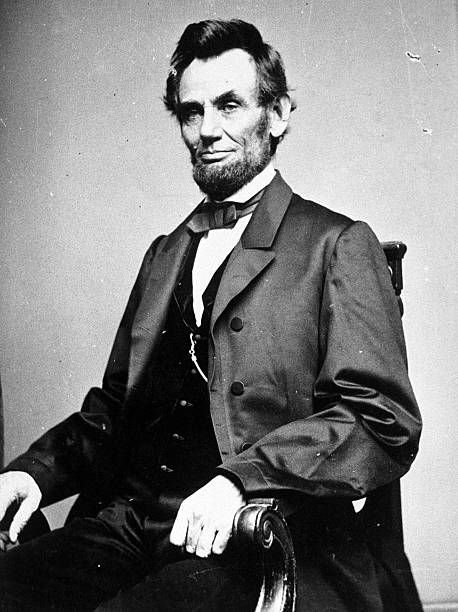 (Abraham Lincoln)
The French writer, Alexis de Tocqueville described America as enduring a "quadrennial crisis" every four years as it held its presidential elections.  The 1860 election was an exception because the artificial passions that were easily stoked reached unheard of levels.  de Tocqueville remarked that "a self-absorbed president, catering to the 'worst caprices' of his supporters, could easily distract their attention from plodding matters of governance, and whip their enthusiasm into a frenzy, especially if he divided his supporters and his critics into hostile camps."  He spoke of "feverish obsessions" and warned "the potential for lasting damage was always lurking." As the ominous warnings came to fruition in the Civil War in 1861, today we stand on another ominous precipice as the 2020 election approaches.  de Tocqueville's view of America is as plausible today as it was in the 19th century as even a pandemic and how to deal with it has strong partisan overtones and we find that people are storming the offices of governors with AR-15 weapons.  With the current state of our politics in the background it is useful to examine the pre-inaugural period that witnessed Abraham Lincoln's journey from Springfield, IL to Washington, D.C. after the election of 1860 wonderfully presented in Ted Widmer's new book, LINCOLN ON THE VERGE: THIRTEEN DAYS TO WASHINGTON.
Lincoln's Whistle-Stop Trip to Washington
On the way to his inauguration, President-elect Lincoln met many of his supporters and narrowly avoided an assassination attempt
One might ask why do we need another book about Abraham Lincoln, but to Widmer's credit he has unearthed a great deal in his research and by focusing on Lincoln's thirteen day odyssey he does so in a manner that other authors should envy as his narrative is like a flower that has  buds leading to numerous diversions for Widmer to relate to other aspects of American history.  In a recent CBS television interview Widmer as he does in his book argued that Lincoln's election was the key to reaffirm the democratic process in America and its continuation as the core of our government.  Widmer argues further that the United States was the democratic model for the world and if it did not preserve its democratic principles the rest of the world would not have developed as it did, particularly in the 20th century and who knows how events would have transpired.  Widmer develops other important themes that in a general way are very pertinent.  The south had enjoyed an idyllic existence with a free labor system as the basis of its plantation economy or "cotton kingdom."  It did not develop the industrial infrastructure as the north and would soon feel threatened not only by its fear of the emancipation of slaves, but by the growth of the west as evidenced by the new census, which if admitted to the union as free states would result in the loss of its control of Congress.  The north's industrial development particularly the expansion of the railroads was the main threat.  The railroads provided the transportation network that was making the steamboat almost obsolete and provided the vehicle for the demographic explosion west of the Mississippi to the west coast.
Widmer makes a number of salient points that reflect southern anxiety.  For the first sixty-one years of the Republic slaveholders held the presidency.  For forty-one of those years a slaveholder was Speaker of the House.  For fifty-two years the Chairman of the House Ways and Means Committee was a slaveholder.  Eighteen out of thirty-one members of the Supreme Court were southerners, despite the fact that 80% of cases that reached the court originated in the north.  Lastly, most military officers and Attorney-Generals hailed from the south – no wonder the economic, political, and social changes that were evolving in the 1850s produced so much anxiety below the Mason-Dixon line.
(Dorothea Dix)
Widmer writes with exceptional verve and excitement as he describes Lincoln's journey to assume the presidency.  A journey that had been preceded by Lincoln's strategy of silence during the campaign which now would be drastically altered.  Widmer has the ability to focus on his main task, how Lincoln avoided violence and a possible assassination as he passed through eight states.  But, at the same time he fills in the background history of a particular whistle stop and its relationship to Lincoln's life and career.  A case in point is Lincoln's arrival in Cincinnati, known as the "Queen City," as well as "Porkopolis" because of its pork industry (which would give rise to Proctor and Gamble in the 1840s!) which Widmer argues was a key to Lincoln assuming the presidency and the North's ultimate victory in the Civil War. Sitting across on the other side of the Ohio River sat Kentucky with its myriad of political interests making Cincinnati influential in formulating the attitudes of many Kentuckians.  Being a border state Lincoln feared that if Kentucky seceded, they would soon be followed by Maryland and Missouri which immediately would have threated the capitol and Lincoln's assumption of the presidency.
Even before Lincoln left Springfield to travel to Washington rumors and conspiracy theories abounded.  Lincoln received numerous threats on his life as he was seen by the south as the embodiment of evil and the ultimate threat to their way of life.  As Lincoln traveled toward Washington his friends and cohorts wondered how they could protect him.  Thanks to the early warnings of Dorothea Dix who had traveled through the south during the secessionist craze learning of a number of conspiracy theories concerning a possible southern seizure of Washington and the depth of hatred for Lincoln in Maryland.   She informed Samuel Felton, the President of the Philadelphia, Wilmington, and Baltimore Railroad of the possible coup who then contacted General Winfield Scott, and Alan Pinkerton who would deploy eight detectives, among of which was Kate Warne.  Warne brilliantly acted the part of a recently arrived Alabaman, which produced a large amount of gossip from southern women, she would also frequent southern saloons trawling for information.  This led to a treasure trove of information for Pinkerton's spies and created an undercurrent of gloom as Lincoln's odyssey made its way toward the nation's capital amidst possible assassination plots to take place when Lincoln passed through Baltimore.
Widmer does a wonderful job linking Lincoln's journey to future historical figures.  For example, the sixteen-year-old Thomas A. Edison, the sixteen-year-old  Benjamin Harrison,  William Howard Taft, Rutherford B. Hayes, James Garfield, all future presidents in addition to John D. Rockefeller all who witnessed Lincoln's odyssey.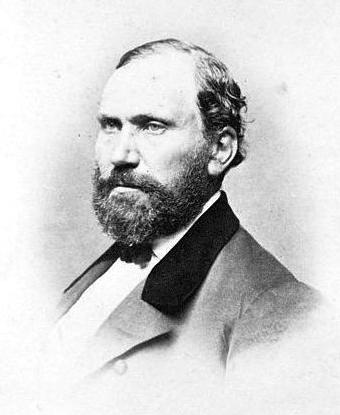 (Alan Pinkerton)
The journey was dominated by political calculations as at each whistle stop Lincoln would make a speech designed for the audience that came to see him by the thousands. Lincoln went further than any president had gone before in addressing the American people.  It appeared as if he was having direct conversations with voters and with newspaper and the telegraph, he was able to reach people across America and make a Lincoln presidency more real.  Despite Lincoln's exhaustion he eventually came to relish the relationship he was establishing with his constituents.  Lincoln would experience many ups and down during his journey which at times was compounded by his bouts with depression highlighted by the fact he was almost certain that he left Springfield he would never return alive.
As Lincoln traveled from city, hamlet, and village he had to navigate the political minefields of each location.  None was more problematical than Albany and New York, NY which had been under democratic control for decades under the stewardship of Tammany Hall and Boss Tweed.  Lincoln's coat takes elected a Republican governor which would only exacerbate the problem as  Fernando Wood, the unstable mayor of New York City leaned toward the south and argued for an autonomous zone for his city.  Widmer also does a fine job comparing another political minefield as he follows the odyssey of Jefferson Davis, the newly elected president of the Confederacy.  Widmer follows Davis' sojourn from his plantation in Mississippi to the new capitol in Montgomery, AL comparing his executive actions and powers with those lacking in Lincoln who had a  ways to go in getting his administration up and running as he tried to survive and reach Washington.
Widmer deftly measures Lincoln up against other historical figures throughout the narrative.  His favorite is George Washington who had his own partisan and foreign policy travails who Lincoln studied particularly his "Farwell Address" and how he dealt with enemies within his own administration.  It seems that Widmer is able to choose a historical personage from each city that Lincoln visited and compare the future president with that individual on a personal level and the historical context of each.
(Kate Warne)
Lincoln gave numerous speeches throughout his travels which were roundly critiqued at the time.  Widmer does the same but singles out his addresses in Philadelphia as perhaps his most important.  When Lincoln arrived in Philadelphia, he immediately grasped its iconic importance in American history as is evidenced by his references to the Declaration of Independence's "all men are created equal" supposition and the work of the founders in the city.  For Lincoln, the city and its shrines were sacred, a message he put forth during each speech.  Lincoln focused on a "sincere heart" and the holiness and sacred walls of Independence Hall.  It was if he were experiencing his own "Great Awakening."  His speeches raised the level of his bond with the union he vowed to protect as he restored the radical promise inherent in the Declaration of Independence.    As Widmer continuously reminds us, throughout his visit to "the city of brotherly love" he received numerous messages of hatred concerning plots that were unfolding in Baltimore which clouded the president-elect's visit.
Widmer ends his superb narrative after tracing his deception that frustrated the potential assassins surrounding Baltimore by reversing Lincoln's odyssey, this time departing Washington for Springfield in late April and early May 1865.  Widmer has written an excellent account superseding most if not all books on the topic, but also, he has completed a narrative that should join other classics written about the fallen president.
(Trump at Lincoln Memorial, May 3, 2020)