Donald Trump has made an inordinate number of mistakes since assuming the presidency, however one of his most egregious was agreeing to an eighteen hour over nine session interview with author Bob Woodward.  The Washington Post investigative reporter had previously written a chronicle of Trump's first two years in office entitled, FEAR which was not very flattering toward the president.  Trump, a firm believer in his own powers of persuasion was out of his league assuming if he developed a personal relationship with Woodward that his new book would praise the president and be an asset in the current presidential campaign.  The result has been Woodward's latest work, RAGE which was once again even less flattering toward Mr. Trump.
Woodward's effort is somewhat ironic in that his reporting during the Watergate crisis of the early 1970s helped remove Richard M. Nixon from office. Now, almost fifty years later Woodward has written a book supported by audiotapes of his interviews with the president that provides evidence for the numerous falsehoods that president has engaged in since the book's release. As a historian I find it more than a coincidence that a reporter as thorough as Woodward is involved in another pursuit of a lawless president involving tape recordings.
(Dr. Anthony Fauci)
The book itself presents countless examples of Trump's lies to the American people over a number of important issues that include his downplaying the coronavirus, his relationship with and the actions of North Korean leader Kim Jun-Un, his approach to racism and white nationalism, and of course his impeachment.  Trump comes across as a liar, a petty vengeful individual, a self-absorbed person who appears devoid of human decency who exhibits little or no empathy in his approach to a pandemic, hurricanes, and the wildfires out west.
From the outset, Woodward pulls no punches in recounting Trump's attitude toward Covet-19.  Trump freely admits, though he has since denied that he downplayed the effects of the virus and its possible impact on the American people.  As early as January 28, 2020, Trump was warned by Robert O'Brien, the National Security advisor that "this is going to be the roughest thing you face."  Matt Pottinger, the Deputy NSC advisor reaffirmed what O'Brien had stated and argued that after speaking with his Chinese sources concluded "don't think SARS 2003, think influenza pandemic 1918."  On February 7th, Trump told Woodward that "I think that [it] goes away in two months with heat…you know as it gets hotter that tends to kill the virus.  You know, you hope."  Trump described the virus as "deadly" and "it goes through the air."  At the same time as he expressed these fears in private Trump publicly reassured the American people that there was nothing to worry about and he had everything under control.  There is no reason to discuss the impact of Trump's attitude and actions.  But it cannot be denied that while over 200,000 people have died, Trump has not carried out his constitutional duties to protect and defend the American people.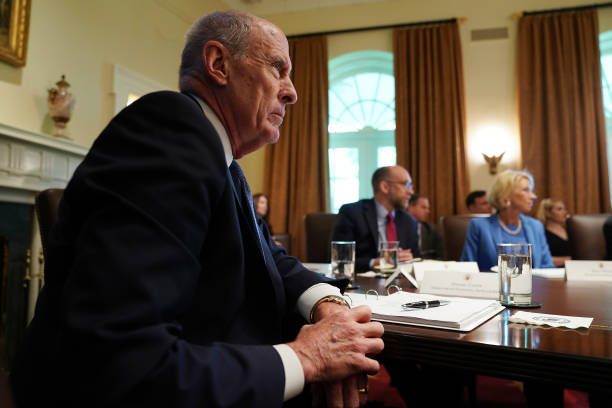 (Former Director of National Intelligence Dan Coats)
The book presents a plethora of examples of Trump's malfeasance in office.  Each example is supported by excellent sourcing, a Woodward trademark, and we have audio tapes to support what the narrative purports.  One must keep in mind that Woodward has been chronicling presidential administrations for close to fifty years, that's over twenty-percent of all presidents have been subject to Woodward's incisive pen.  In all that time there has been little if any hint of emotion on his part in dealing with his subject matter.  However, in the current instance that emotional current  is present.  Trump realized that the first draft of history of any administration during the last five decades has been written by Woodward, and Trump wanted to influence it.  But, Woodward, aware of Trump's obsession with the book still is the truth teller and if one turns to the last few pages of the narrative his personal reaction is based on Trump's constant denials and absence of responsibility as he has lied to the American people.  Woodward concludes that Trump was the wrong man for the job of president because of the overwhelming evidence that the president has no sense of reason, order, guidance and morality and his administration suffers from "an organizational sickness," and Trump, a personal sickness forcing Woodward to reach no other conclusion.
In reaching this judgement Woodward has examined the most important aspects of the Trump administration. His personal relationships with James Mattis, John Kelly, Dan Coates, Rex Tillerson, and numerous others are all explored and it is interesting as information about them has reached the public with the publication of RAGE none of these individuals has come forth to dispute what Woodward has written. Areas of concern include the relationship with Kim Jun-Un where the North Korean leader, after a legitimate war scare as related by Mattis, meets with Trump and achieves everything that he sought, particularly recognition by the United States, with Washington receiving little or nothing in return. The situation in Syria is documented as Trump, as a favor to another of his authoritarian "buddies" convinced Trump to withdraw and or reposition US troops in Syria in order for the Turkish military to go after the Kurds, our ally for over a decade and our main partner against ISIS. Trump's attitude toward NATO and allies in general is depicted and an obvious cause for concern as Trump's transactional nature is such that he does not accept the American need for allies with the attitude that there is little they can do for America and that they do not carry their own military and financial weight. Mattis wondered what made Trump think anyone could make it alone in the world. A country always needs allies just examine history, but since Trump does not read and has no sense or knowledge of history this intellectual exercise is superfluous.
(Former Defense Secretary James Mattis)
What separates Woodward's work from others is the detail that he presents after assiduous research.  A prime example are the letters between Trump and Kim Jun-Un seemingly declaring an uncomfortable "bromance."  These letters present insights into the minds of both men and go a long way in explaining why to this day nothing of major importance has been accomplished.  The conversations between President Xi and Trump are eye opening as more and more it is clear the Chinese stonewalled, but in an earlier conversation Trump asked Xi to help him get reelected.  The commentary of Coates and Mattis is important since neither has gone public with their evaluations and experiences with Trump, but for the first time we see their angst over this presidency, the damage he has caused, and their fears for the future.
Woodward's discussion of the Mueller Report and impeachment is fair and well thought out. His conclusions are interesting in that he argues that it was more Ron Rosenstein's investigation and report rather than Mueller. The fact that there was no "John Dean type" with a smoking gun like Watergate was a major reason that Trump seems to have gotten away with colluding with Russia, though the Mueller Report did not exonerate him despite what Attorney General Bill Barr stated in his four page summary of the report. Mueller was limited in what appeared to be an expansive investigation. Mueller himself, as well as his staff of lawyers and investigators could not stray too far for fear of being fired, which Rosenstein made clear. In the end Trump weathered the greatest threat to his presidency to that point which certainly emboldened him. It is no accident that Trump's machinations with Ukraine to smear Joe Biden through his son Hunter began almost simultaneously to the end of the Mueller investigation.
Trump's disparagement of the intelligence community is on full display and the true nature of Vice President Pence is apparent as he throws his former close friend Dan Coates under the bus with his "fawning" over the president. Be it Putin, Xi, Erdogan, Covid-19, the threat of White supremacists, Trump, when he actually reads his daily briefing always finds fault with the CIA, FBI, and a myriad of other intelligence agencies. It caused Coates to state, "to him a lie is not a lie. Its just what he thinks. He doesn't know the difference between truth and a lie." Intelligence had to conform to Trump's prejudices and beliefs, if not they were rejected outright.
At times it seems as if Woodward is banging his head against the wall as he tries to reason with Trump, i.e., his questioning of Trump over the Ukrainian matter that led to his impeachment.  For Trump, his "perfect phone call and transcript" were enough and he did not grasp the concept that a president cannot shake down a foreign leader to acquire dirt on a political opponent.  Other conversations would repeatedly produce a Trumpian riff dealing with past disparagement and feelings and get nowhere.  But I admire Woodward for trying.
Woodward relies heavily on interviews with a number of important former administration officials which he refuses to name, but their identity comes out in the narrative. Their frustration and fear of Trump is warranted based on their experiences. Nothing was more dangerous than the reaction to Covid-19 and the policies or lack thereof of the administration. Woodward covers the full expanse of Trump's tenure in office, but it is his response and lies to the American people are the most important aspect of the book. A great deal of what Woodward covers has been mined by others, but in the realm of Covid-19 it reflects how dangerous Trump is for the health of American people, as even Trump realized as early as February 7, 2020 in reference to Covid-19 when he said, "there's dynamite behind every door," at the same time he was playing down the coming pandemic and lying to the American people by arguing "the virus would go away on its own" at a time when there was only twelve cases. But as we know the virus proliferated and Trump obfuscated as he remarked that he "always played down…I still like playing it down because I don't want to create panic." In the end he said, "I don't take any responsibility at all."
Woodward treats the reader to important comments and conversations dealing with Anthony Fauci, the director of the National Institute of Allergy and Infectious Diseases. Up until April 17, 2020, Trump had at least implemented travel bans against China and Europe, shut the country down for fifteen days but amidst a thirty day extension of the shut down on April 17, the president tweeted about liberating Virginia, Minnesota, and Michigan violating his own stated policy. Trump's mantra was to open up the country willing to accept the tidal wave of death that would result and decided to muzzle of Fauci. A frustrated and concerned Fauci remarked that Trump "was on a separate channel," his leadership was "rudderless" and his "attention span is like minus-number as "his stated purpose is to get reelected." No matter what question Woodward would ask the result would be a defensive Trump saying "the virus had nothing to do with me. It's not my fault. It's—China let the damn virus out." When Woodward pointed out he was in charge of the national interest, Trump would ignore the question or change the subject.
Rosa Brooks in her September 10, 2020 review of the book in the Washington Post asks what new insights does Bob Woodward's latest book, RAGE offer?  "We learn that President Trump is not the sharpest tool in the shed; members of his Cabinet consider him a narcissistic fool, devoid of empathy and incapable of distinguishing between truth and falsehood. Trump blithely minimizes the lethality of coronavirus because he doesn't want to look bad. He takes no responsibility for anything, boasts repeatedly about his wealth and genius, and shows nothing but contempt for those who happen to get in his way."  The end results this morning the 200,000th American death was announced. What wonders what might have been different if Trump would have performed his constitutional duties.
(President Trump and Vice President Pence)