Never in the history of American politics has a national news organization been an extension of a political party or president. This may seem to be a harsh observation but when one examines President Donald Trump's twitter feed, public statements, or speeches it appears at times to reflect what is presented on Fox News. If one were to listen to the commentary of Sean Hannity, Tucker Carlson, Laura Ingraham, Lou Dobbs, or the hosts of Fox and Friends among many others one can only imagine if the president is parroting them, or they are parroting him. Amidst a pandemic that has killed over 206,000 Americans President Trump spends a good part of his day watching Fox News. Since we live in such precarious times it would be interesting to know how this situation evolved, whether it is in fact true, and what are the implications for American democracy. Thankfully, CNN's Reliable Sources anchor, Brian Stelter's new book, HOAX: DONALD TRUMP, FOX NEWS, AND THE DANGEROUS DISTORTION OF TRUTH has taken on this task.
The title of Stelter's book, HOAX is very apropos. It's Donald Trump's new favorite word. He fears Covid-19 makes him look weak, something his ego cannot accept. Instead of fulfilling his constitutional duty to protect the American people he categorizes the pandemic as a hoax, with Sean Hannity as his chief enabler, some referring to him as Trump's "shadow chief of staff." Stelter aptly describes how is early 2020, Trump and Hannity engaged in their usual feedback loop which had life and death consequences as they downplayed the coronavirus to the detriment of the American public. Hannity "fed misinformation to Trump and Trump fed misinformation right back to Hannity." The two men brought out the worst in each other as it appeared that Trump programmed Hannity's show with his constant call-ins during prime time and it often appeared that Hannity produced Trump's presidency. Hannity would become apart from granting sycophantic interviews and concocted conspiracies but a daily sounding board for the president.
The concept of a feedback loop is one of Stelter's primary themes as he displays examples of it throughout the book that reinforce his arguments. Whether dealing with Fox and Friends' hosts, Tucker Carlson, Sean Hannity, and Laura Ingraham the loop seems fully functional. A few examples. When Congressman Elijah Cummings' House committee was investigating how the Trump administration was treating migrants, all of a sudden Fox programming was reinforcing and supporting Trumps' tweets – "The Battle for Baltimore," as Trump referred to Cummings' district as "a disgusting rat infested mess that no human being would want to live there." Fox opinion hosts employed constant repetition as they did with trying to clean up Trump's mess after his courting of white supremacists during and after the Charlottesville debacle, or how Fox went after Alexandria Ocasio-Cortez after she was elected to Congress in 2018, or the caravans that were invading America through Mexico before the 2018 Congressional elections, or Trump's defense during the impeachment process or the Mueller investigation; or Trump's belief that the crowd at his inauguration was much larger than Obama's; or how a debunked conspiracy theory that a Democratic National Committee staffer was murdered for leaking campaign emails; or the false claim that Ukraine, not Russia, was interfering in the 2016 election; and of course the current coronavirus highlighted by hydroxychloroquine– the list goes on and on.
Fox's approach raises the question are they really a news station or just entertainment and "brain washing" for the extreme right in America. Rupert Murdoch has created an exceptionally profitable business model that thrives on deceit, lies, personal attacks, while reinforcing an alternative reality as opposed to fact and truth. Stelter describes numerous personality issues at Fox, but more importantly he presents the schism that exist(ed) as the more traditional news types like Brett Baier, Chris Wallace and Shep Smith had to deal with the outrageous commentary of the Fox and Friends hosts, Steve Doocy, Brian Kilmeade and Ainsley Earhardt; Tucker Carlson, Sean Hannity, and Laura Ingraham. Finally, in October 2019, Smith had enough and resigned because of disagreements with Carlson over Fox coverage of the impeachment process. The reality for Trump is that unlike President Bill Clinton who created a "war room" to deal with impeachment, Trump did not have to as Fox became his "war room."
Stelter reviews the history of the Fox news channel delving into turning points in their approach to news. In 1996 Rupert Murdoch provided Roger Ailes with a "boat load of cash" to develop a strong news channel to attract conservatives, sort of a "Limbaugh" approach for cable television is one example. The election of Barack Obama became the radicalizing force is next, and finally in 2011, Ailes gave Trump a weekly phone-in slot on Fox and Friends. Hannity would become a nightly attack ad for people who distrusted the nightly news. Guests on Hannity and other programs went outside the accepted norms of journalism. In fact, Fox and Friends with their constant call-ins from Trump may be more important to Trump's presidential launch than "The Apprentice." If one examines the "incestuous" relationship between Trump and Fox hosts one can see that once in office that Trump's daily briefings seemed prepared by Fox as their commentary usually wound up in Trump's tweets and then he would act upon them.
Stelter explores numerous dramas that have taken place internally at Fox. The Meghan Kelly/Trump feud; the sexual harassment lawsuits against Roger Ailes and Bill O'Reilly; the machinations between Hannity and O'Reilly; the problem that Tucker Carlson presented as he was losing ad revenue; attempts to keep Shep Smith which failed; the reasons why so many journalists remained at Fox and only a few walked out; issues within the Murdoch family as the two sons had diametrically different visions for the channel. In terms of drama Carlson and Ingraham pursued it each evening with their message of cultural displacement of whites by immigrants and the loss of status of white Christian America. Fox and Friends would supplant Trump's morning intelligence briefing and it became the A.M. edition of Hannity. But as disgraceful as it appeared it made sense as most Fox hosts were geared to an audience of one – Donald Trump.
If there are criticisms that need to be made regarding Stelter's work is at times he becomes too emotional and his language regresses to match the Fox hosts he decries. Further, he should have tried to approach Fox viewers and see what is so attractive to them about the information that they are being exposed to. It is obvious that Fox is enticing to millions, but why? Do viewers understand that they are being manipulated or in their heart of hearts believe and accept all the misinformation they digest? Stelter glosses over answers to these questions. Perhaps he could have examined this phenomena a bit more.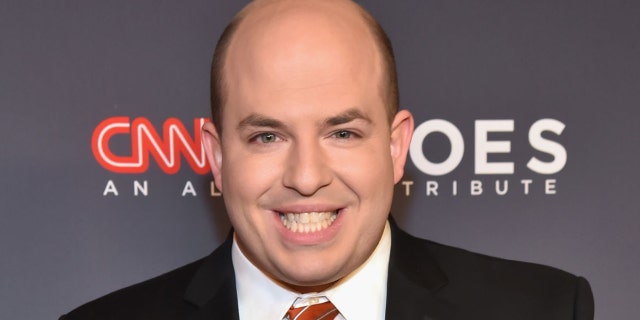 (CNN's Brian Stelter)
After reading HOAX I emerged with a massive headache – a malady brought upon by Stelter's description of the manipulation of fact and news by a media giant to the detriment of our democracy. For Fox ratings and profits were the mantra and they would say and do anything that would reinforce that goal. As the Trump presidency evolved Fox became more and more state run television, something that has never happened since television became a mainstay in American households. Now that I have completed the book, I know what it is like to spend time in the Fox pro-Trump universe of misinformation. As the election approaches, I would recommend that most Americans should read Stelter's work and apply what they learn to their choice of candidate.