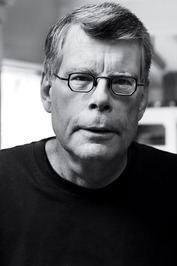 Let me begin by admitting I am not a Stephen King fan.  This is not a criticism, but I am not into horror stories or other genres Mr. King has employed in his novels.  The one notable exception thus far is 11/22/63, a story line that deals with the "what ifs" as they pertain to the Kennedy assassination.  As a retired historian it captured my interest from the outset.  The same can be said for King's latest novel, BILLY SUMMERS which also grabbed me from the first page, perhaps because of the references to the French novelist, Emile Zola, and Archie comic books, both favorites of mine.
In his latest book, King's protagonist is an assassin who morphs into a writer. The one scary aspect of the story is that Billy Summers is haunted by books, not anything related to the supernatural. I especially enjoyed the references to numerous authors, many of which are my favorites, including Tim O'Brien, Cormac McCarthy, Robert Stone, Charles Dickens, and the previously mentioned Emile Zola.
Summers is lured out of retirement as an assassin for one last job for the mob. Interestingly, the mob boss who hired him wants him to pose as a writer. In his noir tale, King has created a dual plot. First is Summers planning and conducting the assassination of a Joel Allen who is about to go to trial. However, since Allen knows too much he must be eliminated. Once the assassination is completed he escapes from the scene which will prove to be quite interesting once Summers meets up with a gang rape victim, Alice Maxwell. Second, during his down time, Summers writes his biography which carries him to the depths of his emotions from witnessing the murder of his sister, killing his stepfather for the murder, his training as a Marine sniper, and his experiences in Fallujah, Iraq.
King has created a character with a convoluted sense of justice.  Summers believes in honesty and that people should not take things that do not belong to them.  He firmly believes that people who commit egregious acts like the rape of Alice or not paying what they have agreed to, then trying to kill him, must pay, but in a different manner.  Further, King creates a dichotomy in Summers' mind as he sees himself as having a dumb self-juxtaposed to the bright person he really is. 
Summers wonders if he can really write a fictionalized dumb self-version of his own life. As he attempts to write he opens the door to the pain of his past. In a sense Summers is authoring a novel within King's overall story line. It is fascinating how King approaches this literary strategy. Summers is a victim of an Eriksonian identity crisis. He is a gun for hire named Billy Summers. To the inhabitants of where he lives he is the wannabe writer, David Lockridge. Lastly, living on Pearson Street, he is an overweight computer geek named Dalton Smith. In addition to suffering from an identity crisis, Summers must confront his PTSD because of his experiences in Iraq. Alice Maxwell also suffers from PTSD because of her gang rape experience, and it is interesting how King develops their relationship which dominates the second half of the novel.
King continues to be the master of sarcasm with a dry sense of humor. He integrates his own brand of current social commentary throughout the dialogue using Summers as a vehicle to remarks about our current state of politics and society, the coming pandemic, life in the suburbs, a FOX type network conglomerate, and of course Donald Trump.
For a trained assassin Summers is a character who it is easy to like. He exhibits a great deal of compassion and empathy, particularly toward Alice and other families he comes in contact with who will be shocked when they learn what he really is. King purposefully has created a warm human being on the one hand, a stone cold killer on the other.
As King develops Summers' character the novel exhibits numerous twists and turns making it difficult to put the book down until you finish its 514 pages.  Once Alice Maxwell is introduced the tenor of the story is changed and King mesmerizes the reader as he pushes on as his characters drive across America to the inevitable climax which we witness as the lonely figure makes what could be his last stand.
(Novelist Stephen King says writing is like leaving the ordinary world for a world of his own making: "It's a wonderful, exhilarating experience.")