"Walk With Eloise Freiberger" our wonderful granddaughter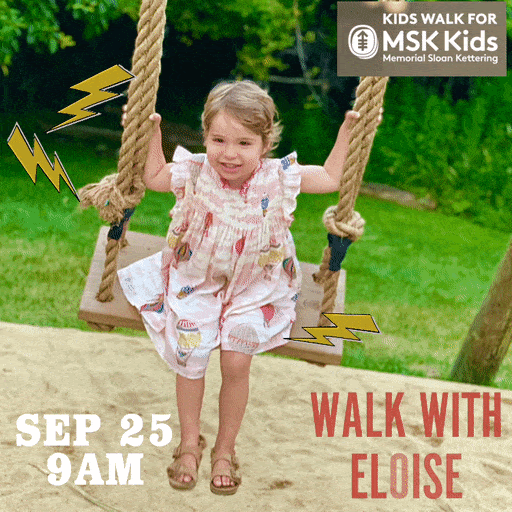 This letter may not seem appropriate for a website that focuses on books, but the cause is so very important I thought I would post it. If you are not interested please disregard since I do not personally know most of you. Thank you for your consideration.

Dear Family and Friends,
As many of you know, our wonderful granddaughter, Eloise, now three years old, was diagnosed with cancer two months before she turned two years of age.  Her type of cancer is known as a Wilm's tumor, a juvenile type of kidney cancer.  She was admitted to Mt. Sinai Hospital in New York for three weeks and then another three weeks at Memorial Sloan Kettering Hospital where she underwent six radiation treatments and another six months of chemotherapy.
Eloise did not deserve cancer. Why her?  Our families think about this often, but why anyone?  No one deserves cancer.  Yet so many of us have been impacted ourselves by family members and friends who have battled the disease.  Unfortunately, one of Eloise's "MSK Big Sisters" has just been readmitted to MSK to undergo further chemo and cell transplants as her cancer has returned.
So friends and family, help us give hope and better options to the kids and families that will be affected by pediatric cancer.
Pediatric cancer research is wildly underfunded, receiving just 4-5% of the National Cancer Institute's budget. Most progress has been made through private funding of research such as the Kids Walk. We were surprised to learn that many of Eloise's medications were developed in the 1970s and her treatment protocol in the 1980s. While we are eternally grateful for the unparalleled care Eloise received at MSK Kids, we want better options for young people everywhere. Every dollar raised through Kids Walk for MSK Kids goes directly to research.
In that spirit Ronni and I would like to support our children, Josh and Caryn and help raise money for MSK through the "Walk With Eloise" on September 25th where we will walk one mile along the Brooklyn waterfront in honor of the sacrifices made, by children and families before us, so that Eloise's treatment would be possible.
If you are interested in contributing to this vital cause please click on http://mskcc.convio.net/goto/walkwitheloise to make a gift toward eradicating pediatric cancer.

Thank you for your consideration,
Ronni and Steve