(Alexander Hamilton)
The popularity of the Broadway musical "Hamilton," has rekindled interest in Ron Chernow's 2004 biography of our nation's first Secretary of the Treasury.  I read the original when it was published and I found it to be an amazingly comprehensive study which included incisive analysis and a fairly objective approach to its subject.  Since I will be teaching a course entitled, "Hamilton: The Musical, Historically Accurate or Not" I decided to revisit Chernow's work.   My opinion has not changed and I still find it to be the best study of Hamilton's private and public life that includes the major events and issues that he experienced, discussions of his economic proposals and plans, evaluations of those who opposed him, and placing Hamilton in the proper historical context as the Founding Father most responsible for America's economic development.  Since the publication of ALEXANDER HAMILTON, Chernow has written an excellent study of George Washington and should be considered one of America's foremost biographers.
Reading a biography of Hamilton is like reviewing the history of the republic from its inception through the duel with Aaron Burr, as Hamilton seems to be involved in every major event or issue from the revolution until his death.  What becomes clear is that without Hamilton's ideas the United States government would be unrecognizable today, as we are the heirs of his vision of America.    Chernow's Hamilton is a man obsessed with his background dating back to questions surrounding his birth in the West Indies, his social standing, and matters of honor.  All three would influence his decision-making and causes he would engage in.  In covering Hamilton's upbringing, self-education, and employment as a clerk at a mercantile house when he was in his teens Chernow does an excellent job showing how these experiences would create the basis for the policies he implemented when he was in a position to do so later in life. The turning point in Hamilton's life seems to take place on July 6, 1774 as he spoke to a crowd near King's College where he was enrolled.  Hamilton favored a boycott of English goods, raged against unfair taxation, deplored the closing of Boston Harbor, and called for colonial unity.  In answering Samuel Seabury's Tory viewpoints Hamilton's writings made him an anti-Tory hero.
(Elizabeth [Eliza] Hamilton)
Chernow effectively delves into Hamilton's philosophical development during the lead up to the American Revolution and during its evolution.  Hamilton always seemed to worry about the long term effect of constant disorder, particularly among the uneducated masses.  He feared that increased freedom would lead to increased disorder, and thereby a lack of freedom.  This became Hamilton's lifelong dilemma; how to straddle and resolve this contradiction – balancing liberty and order.  Hamilton's inner intellectual struggle is nicely played out throughout the biography as Chernow integrates Hamilton's writings through his published essays in newspapers, public speeches, and position papers prepared for Congress and George Washington.  Hamilton's internal debate is enhanced through Chernow's portrayal of Washington.  According to Chernow both agreed on the main issues and the author's examination of how and why two founding fathers from disparate backgrounds got along so well.  Their relationship forms a major core of the narrative and we can see their mutual dependency. Washington needed Hamilton's intellect and his total commitment to his beliefs, and Hamilton needed Washington's personal and political support in dealing with the many enemies he would make, a number of which was due to his irascible personality and approach to getting things done.  Hamilton became Washington's "pen," as well as his alter ego.
(George Washington)
All of the major figures of the American Revolution and the early republic are on full display as is Hamilton's personal life.  John Adams, Aaron Burr, James Madison, Lafayette, John Laurence, and of course Thomas Jefferson all make their appearance with their own personal agendas.  Also developed is Hamilton's personal life particularly his relationship with Elizabeth (Eliza) Schuyler, his wife and her sister Angelica who would marry John Church, an English businessman.  Some authors present Hamilton as a philanderer after his marriage to Eliza, and Chernow does not downplay this character fault, however, after his disastrous affair with Maria Reynolds between  1791 and 1792, and dealing with the blackmail of her husband James, it seems Hamilton had learned his lesson and from that point on he was a devoted father and husband.  The affair would be a cloud hanging over his head for the remainder of his life, particularly when his reputation was so important to him. Chernow conjectures that evidence of the affair once in the hands of his political enemies, may have cost him the presidency.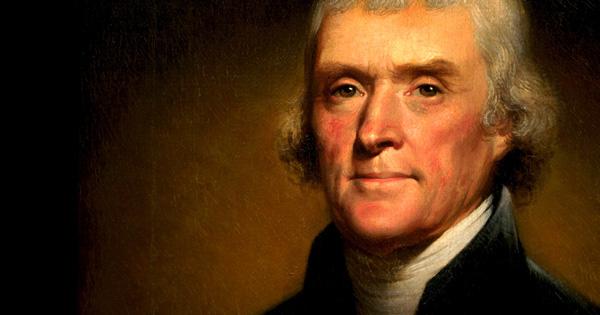 (Thomas Jefferson)
Chernow is very incisive in his analysis of the politics of the period and the parochial interests of certain individuals.  For example, dealing with slavery which Hamilton ardently opposed due to witnessing the venal effects of the slave trade growing up in the West Indies.   Chernow condemns "the hypocritical critiques of his [Hamilton's] allegedly aristocratic economic system [which] emanated from the most aristocratic southern slaveholders, who deflected attention from their own nefarious deeds by posing as populist champions and assailing the northern financial and mercantile interests aligned with Hamilton." (211)  Hamilton's role at the constitutional convention and preparation of the final document is fully discussed as is Hamilton's commitment to do everything in his power to successfully implement the document when he was in public and private life.  Granted, Hamilton was able to expand the constitution when needed, by developing the concept of "implied powers," but his loyalty to the constitution and his arguments in favor, particularly, the FEDERALIST PAPERS never wavered.
(James Madison)
Chernow asks a very important question in that why did this period spawn such extraordinary men, especially when we compare them to the new administration in Washington.  The behind the scenes machinations at the Constitutional Convention, its ratification, Washington's cabinet debates, and the political wrangling over Hamilton's program for the assumption of debt, the national bank and other components of his plans for the young republic all receive extensive coverage.  Perhaps the most fascinating aspect of the book is Chernow's discussion of the development of the Federalist and Republican parties synonymous with Hamilton and Thomas Jefferson.  Chernow explores their writings, personal conversations, and the vitriol that existed between the two men.  Chernow's portrayal of Jefferson is not a positive one seeing the author of the Declaration of Indolence and Secretary of State as a hypocrite in dealing with the problems of the young republic.  Chernow's portrayal of the man who avoided the American Revolution with his posting to France, was rather cavalier when it came to shedding the blood of others, in addition to his sanctimonious views when it came to government and Hamilton's economic program,  is not very flattering.  Chernow dives deep into the essays and communication between the two men, also bringing in Hamilton's ally at the Constitutional Convention and co-author of the FEDERALIST PAPERS, James Madison into his discussion, concluding that fourth president and member of the "Virginia Dynasty" was a back stabber, and though brilliant in his own right, was a lackey of Jefferson.  Jefferson resented Hamilton's encroachment into his sphere as the Secretary of the Treasury as he developed the Customs Service and the Coast Guard to protect American trade.  However, the issue that riled Jefferson the most was Hamilton's opposition to honoring the 1778 alliance with France during its war with England, Spain, and Holland.  For Jefferson, Hamilton was a monarchist married to the English crown and economic system with pretentions of sitting on an American throne.
(Angelica Schuyler Church)
In evaluating Hamilton, Chernow is spot on pointing out that many of Hamilton's actions and behaviors demonstrated that beneath his invincible façade throughout his career he was still the hypersensitive boy from the West Indies.  His combativeness came from an obsession with matters of honor – a man of deep and, at times, ungovernable emotions; i.e.; involvement and threats dealing with duels, insulting remarks and commentary, and vindictive essays.
The role of Angelica Church, Hamilton's sister-in-law is useful in discussing how politics and personal issues played out.  The questions of Hamilton's relationship with her, and a possible affair is presented, as is her love for her brother-in-law.  Church who lived in England with her husband becomes a source of intelligence for Hamilton as men seemed enchanted with her, even Jefferson, who invited her to Monticello, seemed to fall for her.  The Jefferson that Chernow discusses is a lot different that of Dumas Malone or Jon Meacham.  He lives on credit and spends a great deal of money on his interests, whether wine, books, French furniture and as a result would leave his heirs to pay off his substantial debt.  Jefferson liked to present himself as above the fray, but he was down in the "mud" in dealing with the Constitution, the Genet Affair, the Jay Treaty and any other issue that could injure Hamilton.  What bothered Jefferson and Madison the most was that Hamilton's economic program was setting precedents that would be difficult to undo in the future.  Hamilton acted speedily dealing with the debt from the revolution and making the United States a manufacturing power with a National Bank and other programs. What frightened them was that they saw a future that threatened their southern way of life.  To Chernow's credit he does present Hamilton programs and rationale in detail, but he also develops the opposition's point of view.  Today we think we are in the midst of one of the nastiest and bipartisan periods in American history, but it pales in comparison to what Hamilton had to deal with.
Whatever flaws one can detect in Hamilton's private life and pursuit of power one must recognize his accomplishments.  When he left government service he could point to suppression of the Whiskey Rebellion, a flourishing financial base for the country and the economy in general, and had survived numerous investigations into his motives as Treasury Secretary and his private life.  "He prevailed in almost every major program he had sponsored – whether the bank, assumption, funding the public debt, the tax system, the Customs Service, or the Coast Guard – despite years of complaints and smears….Bankrupt when Hamilton took office, the United States now enjoyed a credit rating equal to that of any European nation.  He laid the groundwork for both liberal democracy and capitalism and helped to transform the role of president from a passive administrator to active policy maker….He demonstrated the use of government and helped weld the states irreversibly into one nation." (481)
Once out of power it seemed as if Hamilton was a "shadow" member of Washington's administration, but once Adams became president the animus between the two emerges, in part because of Hamilton's behavior behind the scenes during the 1796 election, the result of which was that his influence waned as he was shut out of decision making.  Adams' hated Hamilton and some of his comments seem delusional.  In fact, much of his critique of Hamilton was so full of vindictiveness it could have emanated from the mouth or pen of Jefferson.  Hamilton made two major errors after he left Washington's cabinet.  The first, publishing "The Reynolds Pamphlet" designed to clear his name and reputation.  But, in reality it just dragged his family through the mud once more and provided fodder for the Republican press.  His second error was his "intemperate indictment" of John Adams.  This reflected his "genius for the self-inflicted wound and was capable of marching blindly off a cliff—traits most pronounced in the late 1790s." (619)  The end for Hamilton would come when he supported Jefferson for the presidency and worked behind the scenes to deny Burr, a man he totally distrusted the any higher office in the election of 1800.  Later, he would work behind the scenes to deny Burr the governorship of New York which would lead to a number of poor decisions of Hamilton's part resulting in his death in a duel on July 11, 1804.  In this particular instance the strength of Chernow's work can be seen as he places the events, communications and previous historiography under a microscope to set the scene for the reader to digest all aspects of what took place.
(Aaron Burr)
Burr ended the life of one of the most important individuals in American history and Chernow must be commended for his story telling ability, analysis based on comprehensive research in preparing his award winning biography.  Overall, Chernow sets the record straight on many controversial occurrences and has provided an alternative view of Hamilton that adds to the debate concerning the founding fathers.  But once you have read Chernow's biography one cannot disagree with David Brook's comment in his 2004 New York Times book review; "so there is no Hamilton monument in Washington, but at least we have Ron Chernow's moving and masterly 'Alexander Hamilton,' which is by far the best biography ever written about one man." ("Creating Capitalism" NYT, April 25, 2004)