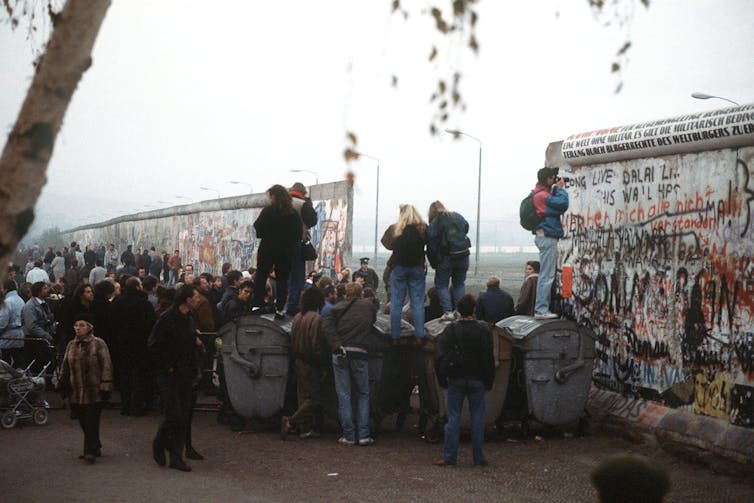 (The Fall of the Berlin Wall, November, 1989)
Growing up in the 1950s and 60s I enjoyed a sense of security knowing where to focus my fears and angst.  The Soviet Union was the enemy and policymakers developed the strategy of Mutual Assured Destruction (MAD) that carried us through threats like the Cuban Missile Crisis.  Fast forward to 1989 when the Berlin Wall fell and 1991 when the Soviet Union disintegrated, and my security blanket was gone – the Cold War was over.  In what President George H.W. Bush referred to as the unipower world, Americans now have to decide who the enemy was, since it was hard to imagine a world without one.
Andrew Bacevitch in his latest book, THE AGE OF ILLUSIONS: HOW AMERICA SQUANDERED ITS COLD WAR VICTORY examines the post-Cold War period as American policymakers struggled with which direction US foreign policy should go.  Bacevitch a retired army officer and graduate of West Point, in addition to being a professor emeritus from Boston University concludes that the path chosen carried a certain amount of hubris that led to numerous errors squandering our supposed victory that began when Boris Yeltsin faced down a coup attempt by elements in the Kremlin that could not accept defeat.
According to Bacevitch the United States chose the path of globalization or unrestricted corporate capitalism designed to create maximum wealth.  Second, it fostered global leadership, or hegemony and empire.  Third, we called for freedom, emphasizing autonomy.  Lastly, presidential supremacy as the prerogatives of the legislative branch declined.  In making his case, Bacevitch provides historical context for each and integrates a comparison of his own career with that of Donald Trump.  In so doing Bacevitch seeks to explain how someone like Trump could be elected president and he will argue it could have been predicted based on events that took place in 1992 and after. For Bacevitch the villains who are responsible for basically continuing America's path after the Cold War are the elites who pushed  a consensus that raised expectations, and when they went unfulfilled, outraged voters turned to Donald Trump.
The election of 1992 is a watershed in American history as President George H.W. Bush despite overseeing the end of the Cold War, prevailing against Iraq in the Persian Gulf War, gaining an 89% approval rating, and promised a "New World Order," lost his reelection bid to Bill Clinton.  The election produced three insurgencies that directly relate to the election of 2016.  Former Nixon speech writer and newspaper columnist Patrick Buchanan, and millionaire H. Ross Perot were both verbal "bomb throwers" who represented an "America First" approach to foreign policy and a populist economic message.  Buchanan gave Bush a scare in the New Hampshire primary and Perot garnered 19% of the vote in the election.  The third member of this insurgency was actually Hillary Clinton who worked to do away with white male domination in society as she put it, a vote for Bill Clinton was "two for the price of one."  Her battles in the White House reflect how Republicans, and right-wing political elements feared her.
Bacevitch's analysis throughout the narrative is based sound logic and a very perceptive view of American society and the conduct of foreign policy.  He takes the reader through the historically impactful ideas of Alfred Mahan, Frederick Jackson Turner, and Rudyard Kipling who explained the need for American expansion and nationalism.  In his discussion of "thinkers," he points to Francis Fukuyama who created a secular ideology to justify American hubris in the 1990s and after.  Bacevitch also delves into the 1940-1992 period offering analogies that make a great deal of sense as he explains how the US emerged from WWII as the dominant power in the world, but shortly thereafter the Soviet Union became an ideological and military threat.
THE FREE TRADE ACCORD; Nafta: Something to Offend Everyone
As one becomes immersed in Bacevitch's narrative you begin to question the path the United States chose.  The expectations of the American economy after the Cold War was extremely bullish.  Globalization was seen as the key element to achieving economic domination and the spread of American values.  Global leadership was seen as policing this new American economic empire and a vastly increased military budget would fund the military who would police the world and enforce American hegemony.  As Colin Powell has written, "Our arms should be second to none."  As the US led the way in techno-warfare a large conventional force was no longer needed.  Bacevitch discusses the Revolution in Military Affairs (RMA).  "It purported to describe the culmination of a long evolutionary march to perfection.  Globalization promised to reduce uncertainties that had plagued operation of the market.  In a similar manner, the RMA was expected to reduce—and perhaps even eliminate—uncertainties that had long plagued the conduct of war and had made it such a risky proposition.  The nation that seized the opportunities it presented would enjoy decisive advantages over any and all adversaries."  The problem with techno-militarism is that "smart bombs," drones and other "toys" are not as precise and predictable as policy makers are convinced of.  Washington also engaged in a "kulturkampf" as it tried to spread its values creating a backlash seemingly everywhere it went.
This approach led the United States to the disastrous invasion of Iraq in 2003, the support of numerous repressive dictatorships, a war in Afghanistan that continues today, and other policies that today is making the United States a pariah among its allies and a joke in relation to Putin's Russia and Xi's China.  Bacevitch sums up the post-Cold War period very nicely, "the spirit of the post-Cold War era prioritized self-actualization and self-indulgence over self-sacrifice."
Bacevitch saves his most trenchant remarks as he places the last three presidents under a microscope and renders the following judgements that make a great deal of sense.  By the time Bill Clinton left the White House white males still ruled Washington, Wall Street and Hollywood still saw further power to be garnered and making money was king.  Gays could neither marry nor serve in the military.  Checks on corporate capitalism all but disappeared. Americans learned to take war in stride observing from a comfortable distance with the volunteer army that targeted a miniscule part of the population.
Under George Bush, the central theme of his administration was war, a complement to globalization and another means of bringing the world in line with American goals.  Clinton may have dabbled in war, but Bush went at it whole "hog."  The Bush Doctrine argued after 9/11 that American prerogatives where beyond reproach.  American values were universal, and compliance was almost compulsory as resistance was futile.  When the US went to war, they did it with a sense of righteousness that was hard to fathom.  We saw ourselves as the global peacemaker, but in reality, we categorized them, i.e.; "axis of evil" rather than engage them.  Finally, Bush saw himself as a unitary executive and the world order that the Washington constructed was preordained.
Barrack Obama did not fair much better in Bacevitch's estimation as he paved the way for a powerful backlash resulting in the election of Trump.  He saved globalized neo-liberalism with his $787,000,000 bailout.  His administration never reassessed globalization as a policy that caused the "great recession."  After Bush's failures, Obama gave using the military a new lease on life.  Obama vowed to win the war in Afghanistan and even promoted an Iraqi type of "surge" that was unsuccessful.  Hostilities continued in Iraq, civil war decimated Syria and part of Obama's legacy was the continuation of wars.  Under Obama, the concept of "forever wars" took hold.  "Hope and change," became "more of the same."  He did become a cultural warrior celebrating diversity, empowering women, and exploring the variable nature of identity, but over all his administration was a missed opportunity.
One may disagree with Bacevitch's assessment of the last few decades, but one must really think hard about the following.  The wars that continue are working class wars with a volunteer army that the elites have little to do with.  Globalization accelerated the de-industrialization of America as we exported more jobs than we created.  The disparity in wealth and income is abhorrent as 43 million people are below the poverty level, credit card debt is $8377 per household, and most retirees have just $5000 in savings.  After the Trump tax cut of 2018, the 1% keeps more and more of its wealth.  In this situation it is understandable that economic populism has run rampant.
Bacevitch has written a very thought-provoking book that demands that we reexamine our pre-2016 policies to understand what has been transpiring in American foreign policy since Trump assumed the presidency.  If the book has a weakness it is that Bacevitch's criticisms are seemingly correct, but he never offers an alternative to what he criticizes.
(The inauguration of Barrack Obama as President)
Though the book appears to be a work that focuses on American foreign policy, it also shines a light on American social and cultural history.  A chapter entitled, "Al, Fred, and Homer's America – and Mine!" provides insights into American society in the late 1940s and 50s through movies and social class issues.  There are constant references to literary works, the dismantling of our industrial base and how unwinnable wars tore apart our social fabric that bound all elements of society together.  The references to cultural tools is used as a vehicle to explain in part the partisan divide that developed in our country and in the end all of these references be it to John Updike's character, Harry Angstrom or others rests on the author's belief that the United States had an opportunity to alter its path.  However we chose not to and let the mistakes of the last 40 years continue to the point that even Trump with all his criticism and bombast about allies and wars has committed even more troops to the Middle East, and funded the techno-military component of the Defense budget to the maximum.  Bacevitch is a harsh critic and does not hold back, but it would be nice to know exactly what policy changes he would make.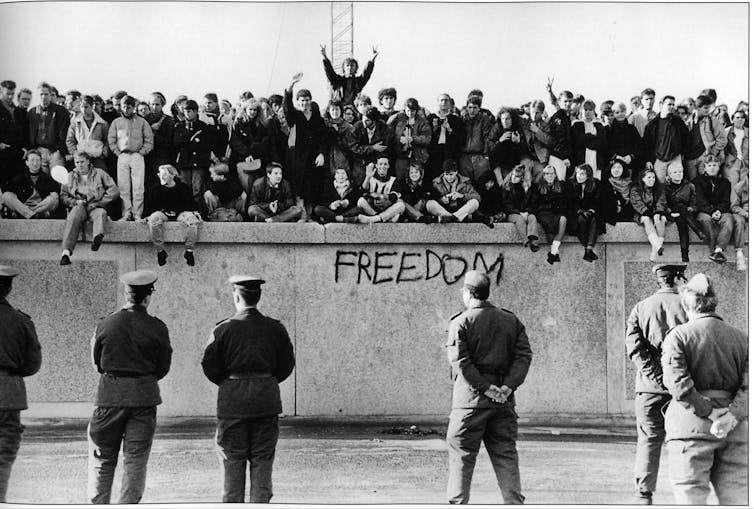 (The Fall of the Berlin Wall, November, 1989)