(Bagram US Air Force Base, Afghanistan)
In 2004 Steve Coll earned his second Pulitzer Prize for GHOST WARS: THE SECRET HISTORY OF THE CIA, AFGHANISTAN AND BIN LADEN, FROM THE SOVIET INVASION TO SEPTEMBER 10, 2001.  The book provided a reliable analytical approach as it explained what led to al-Qaeda's rise amidst Afghanistan's civil war which culminated with the attack on September 11th.  Coll's new book DIRECTORATE S: THE CIA AND AMERICA'S SECRET WARS IN AFGHANISTAN AND PAKISTAN, 2001-2016 picks up where GHOST WARS leaves off and attempts to deal with a number of important questions pertaining to a war that caused the death of over 2400 soldiers and contractors with more than 20,000 wounded, many of which suffered life altering injuries.
In his latest volume Coll effectively explains how the American invasion of Afghanistan in 2001 fostered a revival of al-Qaeda and the eventually the Taliban, allied terrorist networks, and branches of ISIS.  Further, he examines the connection between American, Afghan, and Pakistani policies, and the failure to eliminate jihadi terrorism.  Coll concentrates on the CIA, ISI, and Afghan intelligence services in developing his analysis and narrative.  Coll interviewed over 500 people for the book, made numerous trips to the region, and has excellent command of the research provided by scores of journalists and scholars who have also written on aspects of the Afghan War, the roles of Pakistan, and the United States government.
(Hamid Karzai, President, Afghanistan 2004-2014)
Coll's harshest criticism rests with the Pakistani government and its duplicitous intelligence service that was obsessed with India.  The ISI (Inter Service Intelligence) was responsible for the creation of the Taliban going back to the 1990s.  Coll explains the relationship between the Taliban and ISI, the different agendas of each, and the most important personalities involved, from Mullah Omar, the head of the Taliban, to Ashfaq Kayani, the head of the ISI, to Amrullah Saleh, the head of the Afghani N.D.S.  The ISI is broken down into different directorates and Coll concentrates on Directorate S which was the locus of Pakistan's covert operation to aid the Taliban in Afghanistan, aid Kashmiri guerillas against India, and other violent Islamist radicals.  For Pakistan, the Taliban was their ace in the whole because from President Parvez Musharraf on down they believed that the US did not have the staying power to remain in Afghanistan. They needed to have a major player in the Afghanistan game, particularly after 2006 when the Taliban's resurgence began and affect daily life in Kabul and other major Afghani cities.
Coll is also very critical of the United States.  These observations rest in a number of areas.  First, the refusal to commit the necessary ground forces to capture Osama Bin-Laden in December, 2001 when he was trapped in Tora Bora.  The CIA pleaded for 2-3,000 troops to help close off escape routes to Pakistan.  Defense Secretary Donald Rumsfeld would not be moved and with President George W. Bush's backing refused to "put boots on the ground."  Second, it seemed almost immediately the US turned its attention to Iraq and its commitment and aid to the Kabul government receded, and reaffirmed that it did not want to get involved in nation-building in Afghanistan.  With no concrete plan for Afghanistan once the Taliban was removed, only a weak, corrupt government under Hamid Karzai would evolve.  Third, American intelligence failed in its lack of comprehension of Pakistani fears and motivations.  The US used economic and military aid to Pakistan as a means of gaining cooperation, but never really held the Islamabad government with their feet to the fire.  There was always a rationalization to back off; fear of the Islamist generals in the ISI, and reasoning that if the Pakistani army went after Taliban and other Islamists in North Waziristan full force, it would backfire on the regime.  Fourth, the US was caught off guard with the rise of ISIS in Afghanistan.  Fifth, the strategy pursued and willingness to accept collateral damage could only alienate Afghani citizens, and the treatment of jihadi prisoners just exacerbated existing tensions.  Many authors have pointed out these mistakes, but Coll offers a strong synthesis and explanation of these and other policy decisions made by Washington that others do not.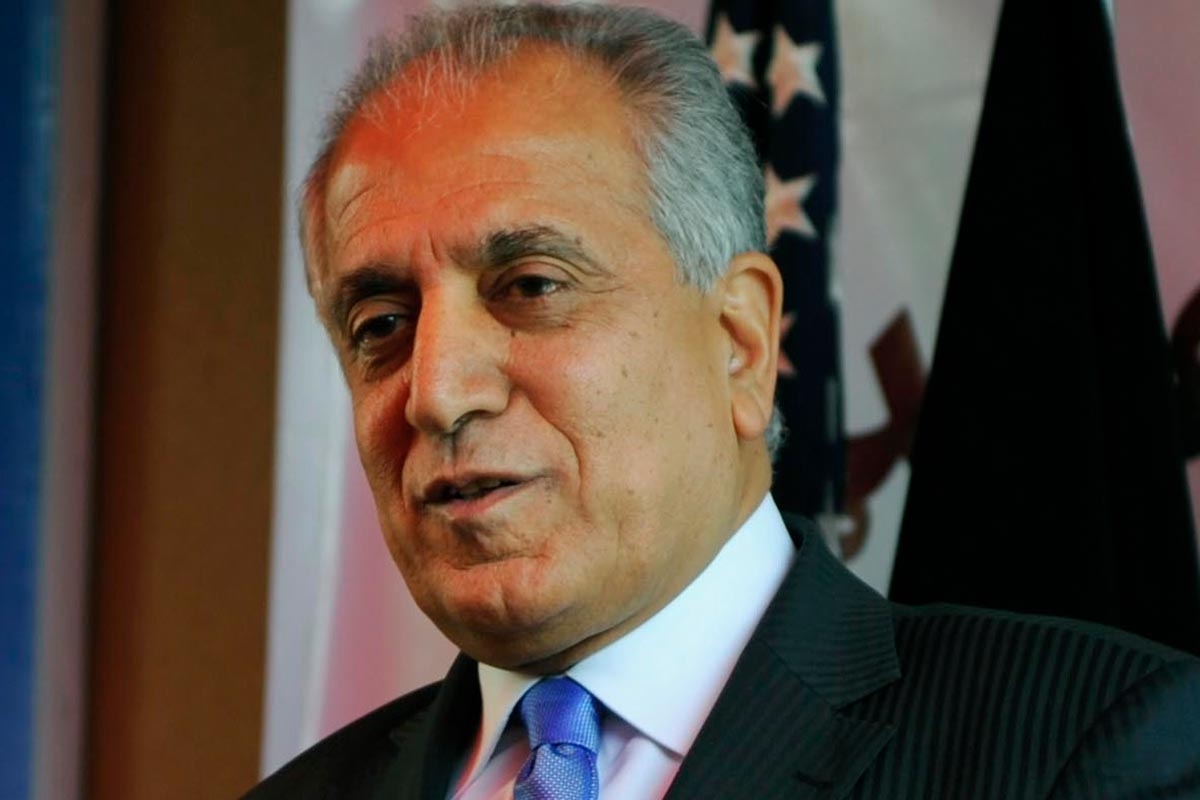 (Ambassador Zalmay Khalilzad of Iraq and envoy to President Karzai)
Coll's approach is comprehensive and he integrates all the major characters into his narrative.  He provides background for each individual and their historical context.  The major players include CIA operatives, Station Chiefs, and agents present throughout the book.  Further, we are introduced to the various Taliban leaders and tacticians, those of al-Qaeda, and ISIS.  The American military's planning, or lack of it, from General Tommy Franks to Donald Rumsfeld is presented.  The Pakistani leadership under Musharraf and a number of ISI generals are explored in detail and the reader is given an accurate picture of Pakistani goals, particularly those that did not line up with the United States.  Perhaps one of the most interesting characters introduced is Zalmay Khalilzad, who grew up in Afghanistan and knew Karzai from his early career.  He was multi-lingual and was able to work with the Afghani president.  He opposed American occupation plans for Iraq and his role was to "mentor" Karzai after he was elected in 2004.  Since the United States did not have an Afghan policy, Khalilzad had to make one up as he went along.  Bush would appoint Khalilzad as ambassador to Iraq in May, 2005, a time when the Taliban was reconstituting, a major error.
One of the major themes of the narrative was the lack of trust between Washington and Kabul.  The longer we remained the harder it became to bend the Afghans to our will.  As the United States went behind his back to cut deals to get things done, the more the somewhat paranoid Karzai would turn against us.  Karzai's regime was corrupt and elections were questionable, but he was the only game in town for a long period of time.  Another major theme was the relationship between Washington and the Pakistani Army, which dominated all policy decisions.  As Andrew Bacevitch has pointed out; "pacifying Afghanistan was always going to pose a challenge.  Absent full-throated Pakistani collaboration, it would become next to impossible."* The Pakistani military believed that Afghanistan was vital to its national security and would not do things that they felt would compromise that position, i.e.; close off its borders and not allow sanctuary to jihadists (when those jihadists could be used against India in Kashmir).  The US would provide aid and knew it was being had, but there was little they could do about it.
(President Parvez Musharraf, Pakistan)
Coll makes a very important observations in dealing with Pakistan throughout the period. It was very difficult to interpret their policy goals because they seemed to shift often as Directorate S engaged a number of militant groups "for different purposes at different times."  Decisions made to affect the tribal areas with radicals were made for defensive and tactical reasons to stop attacks on themselves or resupply areas.  Other times, the I.S.I. made deals for strategic reasons to influence Afghanistan or attack Indian targets.  This inability to understand what motivated Pakistan reflects Coll's attempt to explain and present an objective view in dealing with their actions that seemed to be opposed to American interests.
America's relationship with Pakistan went through a number of phases during this period.  Coll is correct as he describes each phase.  A case in point is 2008 as the Bush administration grew tired of what it perceived as ISI and Pakistani military duplicity.  As more attacks emanated from the Frontier regions, i.e.; truck bomb at the Danish Embassy in Kabul, the US decided to step up targeted assassinations, drone surveillance, and troops in North Waziristan.  The Pakistani's were not happy, but they remained quiet; however, no reform of the ISI would be forthcoming.  The Pakistani government explained there were "good Taliban" and "bad Taliban" but could not differentiate between the two.  Pakistan as always had its own agenda, and if they did cooperate with the US, jihadists would attack, i.e., the bombing of the Marriott Hotel in Islamabad.  For the ISI, Taliban radicals were still useful in destabilizing Afghanistan and providing recruits for Kashmir so there was no clear motivation to change.
(General Ashfaq Kayani, Head of the ISI)
The next major phase that Coll discusses is how the new Obama administration grappled with Afghanistan and Pakistan.   From the outset a three pronged strategy was employed.  One, counterinsurgency based on the principle of clear-hold-transfer performed by ground troops.  Two, CIA run independent drone war against al-Qaeda and the Taliban hold up in Waziristan.  Three, a diplomatic strategy designed to talk with Mullah Omar's lieutenants about peace.  The problem was very little of this was synchronized.  Coll is correct in that the dominant problem faced by the Obama administration in trying to achieve any progress with the war is best described as "triangular distrust."  Karzai was afraid the US would make a deal with Pakistan behind his back – the Pakistanis, obsessed with India believed that Karzai was to close with New Dehli – Washington had little faith in Karzai's corrupt regime, the ISI, and the Taliban.  Secretary of State Clinton was frustrated with Obama because the US did not have an "end of state vision" or a real Pakistan strategy or reconciliation strategy, just words and process, particularly after the failed bombing by a Pakistani trained terrorist in Times Square.  After Obama agreed to a surge of 30,000 troops, he also announced they would be withdrawn within 18 months which caused confusion as to US policy.  Coll describes it as "going in – while going out," a policy designed for domestic consumption, but did not sit well with the Pentagon and US allies.  According to Coll Obama's policy was "a system of parallel policies and priorities running on diverse premises." (433)
Perhaps the most disturbing chapters dealt with the "insider killing spree" by Afghan soldiers against Americans, be they soldiers, contractors, or civilians.  US authorities seemed at a loss to explain its constant increase because there was no precedent for this type of behavior in the history of modern counterinsurgency.  The Pentagon and State Department conducted a number of studies and investigations, but it became obvious that the US had overstayed its welcome as we were not only fighting the Taliban, seeking out al-Qaeda, but also fighting Karzai's soldiers.  Studies finally concluded it was not cultural incompatibility that caused the killings, but defections to the Taliban who instructed defectors to kill NATO soldiers as proof of their sincerity as they switched sides.
(Ambassador Richard Holbrooke and Secretary of State Hillary Clinton)
Overall "America failed to achieve its aims in Afghanistan for many reasons: underinvestment in development and security immediately after the Taliban's fall; the drains on resources and the provocations caused by the US-led invasion of Iraq; corruption fed by NATO contracting and CIA deal making with strongmen; and military hubris at the highest levels of the Pentagon."(667)  The end result there are about 9,000 US troops remain in Afghanistan with the increasing possibility that more will join them.
In 2001 President Bush announced Operation Enduring Freedom and vowed the United States would remain in Afghanistan until it finished the job, but 17 years later Vice-President Pence stated, "We're here to stay….until freedom wins."* If we examine the result of our blood, sweat, and tears, what we see is opium production on the rise in Taliban held areas, increasing corruption, a lack of effectiveness on the part of the government, and instability in Kabul.  Coll has written an excellent analysis of what went wrong with US policy, by mostly concentrating on the role of intelligence agencies operating in the region, many times at cross purposes.  Will this book impact American strategy, it seems not, based on President Trump's commitment to send more troops.  If you would like a greater understanding of what went wrong consult Coll, but do so knowing what he states should make you angry.
*Andrew Bacevitch, "The Never-Ending War," New York Times, February 18, 2018
(Bagram US Air Force Base, Afghanistan)