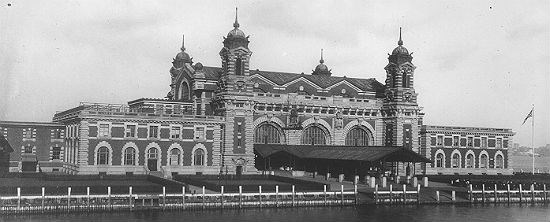 (Ellis Island, NY)
Recently I learned that the Trump administration finally concluded a tariff deal with Mexico which had a number of components related to illegal immigration into the United States.  Apart from Trump's stupefying rhetoric surrounding his "wall" and other asinine comments like, "why are we having so many people from these shithole countries come here," immigration and race have become litmus tests for certain politicians.  This political atmosphere in the United States makes Daniel Okrent's new book, THE GUARDED GATE: BIGOTRY, EUGENICS, AND THE LAW THAT KEPT TWO GENERATIONS OF JEWS, ITALIANS, AND OTHER EUROPEAN IMMIGRANTS OUT OF AMERICA an important contribution to the background history of our current views of people who are trying to escape tyranny and poverty and come to the United States.  Okrent focuses on what he describes as the "perverse form of 'science' [that] gave respectability to the drastic limits Imposed on the number of Jews, Italians, Greeks, Poles, and various other eastern or southern Europeans seeking to come to America between 1924 and 1965."  It is during this period that some of the arguments and attitudes concerning immigration were formed that still impact us today.
(Massachusetts Senator, Henry Cabot Lodge)
Okrent's narrative is scary as it points to the pseudo-science and ignorance employed from the late 19th century that is still exists today.  His history of the eugenics movement and its role in passing the Johnson-Reed  Act of 1924 is very disconcerting as it reflects the racism and bigotry that dominated American thought throughout the period, including historical figures ranging from Margaret Sanger to Woodrow Wilson.  Okrent points out that the key to the development of these ideas was the growing belief that the United States was being overrun by immigrants from southern and eastern Europe who brought certain traits and attitudes that would blend negatively with the American population.  As millions poured into the United States between 1890 and 1910 politicians like Massachusetts Senator Henry Cabot Lodge, the epitome of Brahmin superiority led the fight to keep these people from entering the United States through legislation that featured literacy tests and other obstacles.  This movement which fostered the Immigration Restrictive League (IRL) which came about in 1894 rested on the works of other Boston types who would come up short in passing their agenda until after World War I.  Once the war ended fears of these immigrants centered on labor union unrest, political radicalism, and racial conflict.  In the end it was Senator Albert Johnson with the assistance of eugenics and anti-immigration elements who was able to gain the passage of restrictive legislation in 1924 that would stem the tide.
In providing a general history of the eugenics movement and its marriage to immigration restriction from 1890 onward, Okrent zeroes in on the development of their convoluted ideas and the diverse personalities who came to be at the forefront of the movement.  A number of individuals emerge that moved the process forward.  In addition to politicians like Lodge who stoked American xenophobia from the 1890s onward as he took on the role of evangelist and propagandist from anti-immigration forces, Presidents Theodore Roosevelt and Woodrow Wilson also became proponents of many of the racial theories related to Hungarians, Italians, Jews, Poles and others that were propagated.
(Charles Davenport)
What is fascinating is how people bought into these ideas and concepts of racial breeding and how the United States was committing "racial suicide" by allowing these ethnic groups to enter. Okrent's narrative provides a who's who of those who advocated the selective breeding of human populations to improve their genetic composition.  Okrent reviews the ideas of Francis Galton who coined the term eugenics in 1883, Charles Darwin, the French anti-Semite Count Arthur de Gobineau, Houston Stewart Chamberlain a proponent of Aryan superiority, and William Z. Ripley, all popular authors in the late 19th century.
Okrent takes it further as he traces the further development of these ideas through the works and ideas of Charles Davenport, a prominent biologist and leading spokesperson for the eugenics movement who set up his "racial laboratory" in Cold Harbor, NY, funded at the outset by Mary Harriman, the heir to the railroad fortune.  In addition, +he focuses on James H. Pattern, an effective congressional lobbyist for the IRL;  Edward A. Ross, the author of THE OLD WORLD AND THE NEW that merged eugenics and xenophobia doubling down on the inferiority of Slavs;  Madison Grant, zoologist, lawyer and author of THE RACIAL BASIS OF EUROPEAN HISTORY;  Henry Goddard's famed Kallikak study convinced thirty states to pass legislation to impose forced sterilization on the "feebleminded;" and lastly Harry H. Laughlin who directed the Eugenics Records Office who advocated for the "involuntary sterilization of defectives."
(Harry Laughlin)
What is even more disconcerting is the list of the pillars of society Okrent uncovers that supported these ideas.  The reputable publishing company, Charles A. Scribner's editor Maxwell Perkins helped publish the works of a coterie of eugenicists that included Lothrop Stoddard's THE RISING TIDE OF COLOR AGAINST WHITE WORLD SUPEREMACY, that became a best seller and went through fifteen reprints (interestingly Scribner's published Okrent's history).  Samuel Gompers the head of the American Federation of Labor.  The Saturday Evening Posts editor  George Horace Lorimer published stories of the pariahs that threatened American society, even Eleanor Roosevelt, reflecting her aristocratic origins held negative racial views until she grew more intellectually mature and worldly.
Okrent's work is punctuated with documentary excerpts of the work of prominent eugenicists and their opponents.  He has drilled down in his analysis of their "quackery" and has a firm handle on his source material.  The narrative is excellent considering the topic, particularly how the Johnson-Reed Act became law, especially Johnson and company manipulated census and immigration figures to create quotas and the resulting impact on American history for decades to the detriment of millions. Historian, Linda Gordon writes; "previous immigration restrictions targeted particular groups — notably people from Asia — but this comprehensive law aimed not just to limit immigration but to preserve white Protestant dominance in America. It assigned a quota to each nation, ranging from 51,000 for Germany to 2,000 for Russia to 1,100 for the entire African continent." (New York Times, "The Last Time a Wall Went Up to Keep Out Immigrants," by Linda Gordon, May 20, 2019)
(Fairfield H. Osborn)
What is shocking throughout the book is Okrent's ability to explore the ideology of eugenics providing primary evidence of their views.  For example, Fairfield H. Osborn, paleontologist and teacher of Mary Harriman told delegates to the National Immigration Conference held in New York City in 1923 that army testing of soldiers during World War I showed 6,346,856 immigrants were "inferior or very inferior."  He commented further that "if the army tests served to show clearly to our people the lack of intelligence in our country, and the degrees of intelligence of different races who are coming to us [then] I believe those tests were worth what the war cost, even in human life."  Erwin Baur, Eugen Fischer, and Fritz Lenz, the authors of the definitive text on German eugenics, HUMAN HEREDITY AND RACE HYGIENE argued further that the "Nordic race marches in the vanguard of mankind."  Interestingly in 1924 Adolf Hitler, then an inmate at Landsberg Prison in Bavaria found the book useful "jailhouse reading." (322)
The title of Okrent's narrative, THE GUARDED GATE was inspired by an 1895 poem by the Boston patrician Thomas Bailey Aldrich, a leading restrictionist. Aldrich would have none of Emma Lazarus's words, chiseled into the Statue of Liberty, welcoming "the wretched refuse of your teeming shore." Writing in a mode more like Donald Trump, Aldrich warned:
Wide open and unguarded stand our gates,
And through them passes a wild motley throng . . .
O Liberty, white Goddess! Is it well
To leave the gates unguarded? (Washington Post, "When the Government Used Bad Science to Restrict Immigration," by David Hollinger, May 24, 2019)
(Maxwell Perkins)
Okrent has taken on an important historical topic as George Santayana has warned "those who cannot remember the past are condemned to repeat it."  It took the rise and fall of Nazi Germany discredit eugenics in the United States, but even in 1952 with the McCarran-Walter Act Washington continued to show its preference for people from northwestern Europe.  It would take until 1965 to drop that preference.  With a president who calls for the immigration of whites from countries like Norway as opposed to Hispanic types one must wonder where American immigration is headed for today – is race still the major qualification?