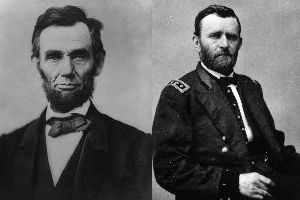 (President Abraham Lincoln and General U.S. Grant)
It goes without saying that intelligence gathering during the American Civil War was an inexact science.  Information was derived from a myriad of sources that included; newspaper articles, railroad passengers and riders, free blacks, runaway slaves, deserters, prisoners of war, local farmers and other non-combatants along with the Union's use of hot air balloons during the first half of the war.  This menagerie of sources produced a great deal of conflicting information that needed to be sifted through and analyzed.  The key information rested on how many troops each side possessed and their location.  The end result was a decision-making process that at times was flawed and battlefield decisions that rested on a weak foundation.  If one was to compare the intelligence strengths of the Union and the Confederacy, the northern spy network had major advantages and, in the end, would create an intelligence service that would later develop into an effective organization that contributed to victory.
Effective studies of Civil War spying are few in number and Douglas Waller's new book LINCOLN'S SPIES: THEIR SECRET WAR TO SAVE THE NATION is a wonderful addition.  Waller has previously shown himself to be adept at dissecting important aspect of the history of American intelligence in his previous works.  DISCIPLES: THE WORLD WAR TWO MISSIONS OF THE CIA, DIRECTORS WHO FOUGHT FOR WILD BILL DONOVAN, and WILD BILL DONOVAN: THE SPY MASTER WHO CREATED THE OSS AND MODERN AMERICAN ESPIONAGE are all thoughtful, well researched monographs with a strong element of analysis.  Waller has now shifted his focus to the Civil War and those interested in early American intelligence gathering and techniques should be very satisfied with the latest contribution to the topic.
(Allan Pinkerton)
Waller focuses on the Civil War's Eastern Theater, arguing that a comprehensive history of all theaters of the war would require a minimum of three volumes.  His approach includes Virginia, Maryland, Pennsylvania, West Virginia, and Washington, D.C. because some of the largest, costliest, and significant battles of the war took place in those states.  Waller zeroes in on a number of important characters but his main focus is on Allan Pinkerton, the founder of the Pinkerton Detective Agency, and a man whose ego knew no bounds and in the end was not a very effective head of Lincoln's spy organization despite the reputation that he himself  cultivated.  Lafayette Baker is another individual who plays a significant role in Waller's narrative.  Baker was a poorly educated aimless drifter who arrived in Washington after a rather questionable career as a detective in California.  He would eventually convince Secretary of War Edwin Stanton to employ him and set up a spy network for the military.  In the end the corruption, use of blackmail, coercion, and illegal means to extract information and bribes would lead to the end of Baker's career as a wartime spy by 1864.  Next, Waller introduces the reader to George Sharpe, probably the most effective Union spy during the war whose intelligence was the most accurate and in the end after his network of detectives was able to assist General George Meade at Gettysburg would join with General Ulysses S. Grant in helping to achieve final victory.  With a background as a lawyer who inherited a great deal of money Sharpe never could conceive that he would become the war's "preeminent spymaster."  Lastly, Waller discusses the contributions of Elizabeth Van Law, a Richmond socialite who abhorred slavery and all the Confederacy stood for.  Using her "social contacts" inside the Confederate government she was able to tap into a great deal of useful information.  She would create the "Richmond Spy Ring" and was very helpful for the Union cause.  She provided accurate estimates of Confederate forces in and around Richmond, assistance for runaway slaves to reach Union lines, helped organize prison breaks, and hid political prisoners and those suspected of spying against the Confederacy.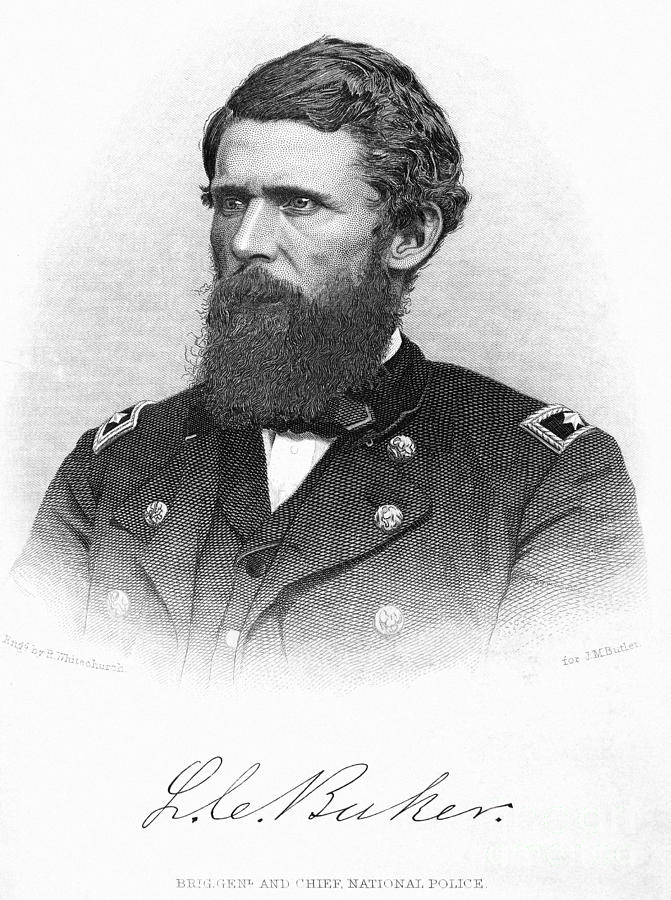 (Lafayette Baker)
Waller, a stickler for detail, provides mini biographies of all his characters particularly those who were involved with the aforementioned four figures.  His discussion of the course of the war and its major players, be it Generals Robert E. Lee, George McClellan, George Meade Joseph Hooker, Ulysses S. Grant, President Lincoln, Secretary of Defense Edwin M. Stanton, and Jefferson Davis among many others echoes the comments of earlier historians.  Waller excels in describing the differences and dislikes that led to competitions and downright hostility among allies especially Sharpe and Pinkerton; Baker and Pinkerton; Meade and Sharpe; Lincoln and McClellan; Meade and Grant among many presented.  The strategies and geographical and economic conflicts are presented in a cogent fashion and are easily understood by the general reader.
Perhaps Waller's best chapters include his analysis of the contribution intelligence made to the Union victory at Gettysburg which along with Grant's triumph at Vicksburg was the turning point in the war.  Another fascinating chapter deals with Allan Pinkerton and how poorly he ran his intelligence operation for Lincoln and how incompetent he was.  A key to finally defeating the Confederacy was Sharpe's relationship with Grant that Waller explores in detail.  Their mutual respect for each other's skills and capacity in their fields of expertise was the foundation of their personal alliance.  Lastly, and throughout the book Waller discusses Civil War spy craft and how it evolved into an effective tool for victory.
(Elizabeth Van Lew)
According to Waller intelligence gathering during the war also pioneered what today is called "all-source intelligence" under the leadership of George Sharpe.  The result was "merging espionage, cavalry reconnaissance, and signal intercepts with prisoner, deserter, and refugee interrogations to produce reports on Confederate strength and movement.  The phone tapping, human collection, and aerial snooping today's U.S. spy community engages in can be traced to the Civil War.  It's no wonder that the CIA tasked analysts to study era's tradecraft for lessons learned." (417)
The human side of the war is on full display as the carnage was unimaginable up until that time.  The book does not present itself as a history the war, but just a component that contributed to the northern victory.  An aspect of the war that has not been given enough treatment by historians.  The book itself does a remarkable job focusing on the Eastern front of the war and I recommend it to the general reader as well as Civil War aficionados.